GLOBAL
International Women's Day 2022
Ukraine has mobilised its men for war, and women are also fighting for their country. There could be no better way to celebrate International Women's Day than to recognise their incredible efforts.
Show More
Women are serving in politics and in government, including in the key portfolios of economy, European integration and social policy.
 
Women are serving in the Ukrainian military – more than 32,500, according to recent figures. No one in Ukraine wants to fight, but forced to defend their country, they are doing so with valour.

Women are serving as journalists and organisers in Ukraine's active media and civil society, including in leadership positions in groups that played key roles in the Maidan events and in helping to report the war now. Women in Ukraine are making their voices heard.
 
And every day, women volunteer to support the war effort, helping the displaced, collecting and distributing donations, stuffing sandbags, making camouflage and undertaking other tasks.
 
The women who leave Ukraine are also fighting for Ukraine.  I have twice travelled on the packed train to Poland, brimming with 1,500 or so Ukrainian women.
 
Sleepless and beyond exhaustion, they endure incredible stress and hardship over journeys lasting 50 hours and more, to bring their children out of harm's way, to give those at the front comfort that their families are safe, and to forge – for the time being – an uncertain life for themselves and Ukraine's next generation, to return and rebuild the country when they can.
 
More can be done with your support, and a specific engagement of women in politics, peace negotiations and post-conflict peace building will be important. But for the women of Ukraine, the struggle is theirs - and we dedicate this day to them.
Anthony Borden
IWPR FOUNDER & EXECUTIVE DIRECTOR
"We dedicate this day to Ukrainian women"
© IWPR
© IWPR
© IWPR
© IWPR
Ukraine: On the Train West
Tightly packed, women and children endure the long journey to safety.
 
By Anthony Borden
IWPR FOUNDER & EXECUTIVE DIRECTOR
"As we cross the border, sorrow rises. They are leaving Ukraine."
Ukraine: "I Am Not Scared to Serve"
The number of women who have signed up to the army and territorial defence has doubled.
By Galyna Ostapovets
More than 32,500 women serve among the 260,000 soldiers of the armed forces of Ukraine.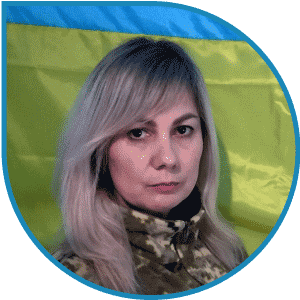 Myroslava Rudyuk
Junior lieutenant in the territorial defence
 
"There are families where the father is at a checkpoint, the mother is preparing food for the boys, and the daughter is a military medic. We are all focused on victory."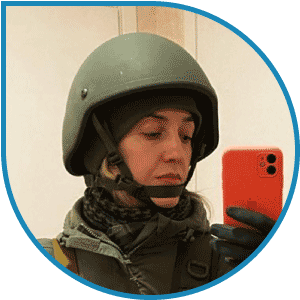 Anna Sevik
Member of the Kyiv territorial defence
 
"Yes, it is scary, sometimes very scary... But I would be more worried if I stopped being afraid.'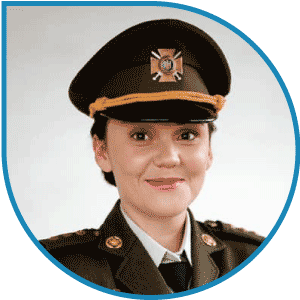 Victoria Dvoretskaya
Head of the veterans' department of the Return Alive charitable foundation  
"I very much want to be at the front. However, I will defend Ukraine by supporting the Ukrainian military."
Belarus: Life as a Political Prisoner
Freezing cold cells and long stretches in solitary confinement for those who defy the Lukashenko regime.

"I did not break the law, and I do not regret that I protested against the dictatorship and election fraud."
Natalia Hersche in a courtroom in Minsk during sentencing, 1 Dec 2020.
Ferdinand Marcos Jr., the son of the late dictator Ferdinand Marcos, and Davao city Mayor Sara Duterte, daughter of President Rodrigo Duterte, take part in a rally as they campaign for the presidency and the vice presidency on February 19, 2022 in Caloocan, Metro Manila, Philippines. © Ezra Acayan/Getty Images
Key Elections Test Philippines' Traditional Gender Roles
Crucial polls provide opportunity to confront misogyny in political power and public discourse.
By Edmalynne Remillano
Despite being outlawed, young girls are still being subjected to FGM in southern parts of Nigeria. © Erick Gibson/Wikimedia
Nigeria: FGM Rises Amid Pandemic
By Edoamaowo Udeme & Sekyen Dadik
Campaigners warn that lockdown left many girls and young women vulnerable to the practice.
Tajikistan: Women Mountain Guides Scale New Peaks
An almost unheard job for a woman in the conservative Central Asian country.
By Lola Olimova
IWPR CENTRAL ASIA EDITOR, TAJIKISTAN
A lake in the scenic Pamir mountains.
A Georgian woman checks her phone inside a flat she shares with fellow migrant workers. © Omar Marques/Getty Images
Georgia: "My Heart is Like a Stone"
By Tako Svanidze
Women labour migrants endure years of domestic drudgery and loneliness to support the families left behind.
Syria: My Stories Series
Videos produced under IWPR's "
Liberated T
" project – a Syrian advocacy campaign aiming to change negative gender stenotypes, it focuses on Syrian women's stories, battles, and experiences.
Coming Back to Life
A former detainee survives torture and rebuilds her life as a nurse.
The Courage to Lead
Highlighting women's political role before, during and after the revolution.
Managing Hope
Mother-of-four defies prejudice to manage a camp for internally displaced people.
Actor Saikal Zhumalieva and her co-writers brought the idea for It's Like This in My World to Theatre 705.
Kyrgyzstan's Feminist Theatre
Bishkek centre provides rare platform to explore social issues from new perspectives.
By Aigerim Konurbaeva
Kazakstan: Fighting to March
Attempts to hold an annual rally has become a highly symbolic tradition for the feminist movement.

"But we will not stop at one rally. We will not stop until women's rights improve."
A woman holds a sign that reads, "Thanks feminism for my rights."