Ukraine: "I Am Not Scared to Serve"
The number of women who have signed up to the army and territorial defence has doubled.
Ukraine: "I Am Not Scared to Serve"
The number of women who have signed up to the army and territorial defence has doubled.
Myroslava Rudyuk, 43, is a junior lieutenant in the territorial defence battalion of Sarny, Rivne region. © Photo courtesy of Myroslava Rudyuk
More than 32,500 women serve among the 260,000 soldiers of the armed forces of Ukraine. 
Over the last six years, the number of women in the armed forces has doubled, according to Victoria Arnautova, an adviser on gender issues to the commander-in-chief of the army. The main reasons were the ongoing conflict in the country's east and significant legislative changes that have allowed women to take a more active role in the army. 
Since the beginning of the conflict in 2014, over 30 women have received state recommendations.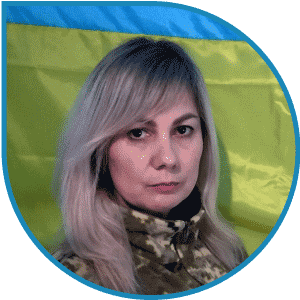 Myroslava Rudyuk, 43, is a junior lieutenant in the territorial defence battalion of Sarny, Rivne region.
---

"Prior to joining the armed forces, I worked in the state environmental inspectorate in Rivne oblast. When war broke out in 2014, I read in the local newspaper that women were being recruited to the armed forces. 
I am divorced, I am raising a child on my own and I really wanted to give her everything. And the environmental sector at that time only paid a small salary. I wanted to do my best to make my daughter feel happy. That's why I wasn't afraid for my life at all.
In June 2016, I signed a contract with the armed forces and took the introductory course, took my oath and received the rank of soldier. I began serving in the Sarny military enlistment office and wanted to become an officer, so took courses in Desna, the military unit which specialises in training for various branches of the land forces of Ukraine.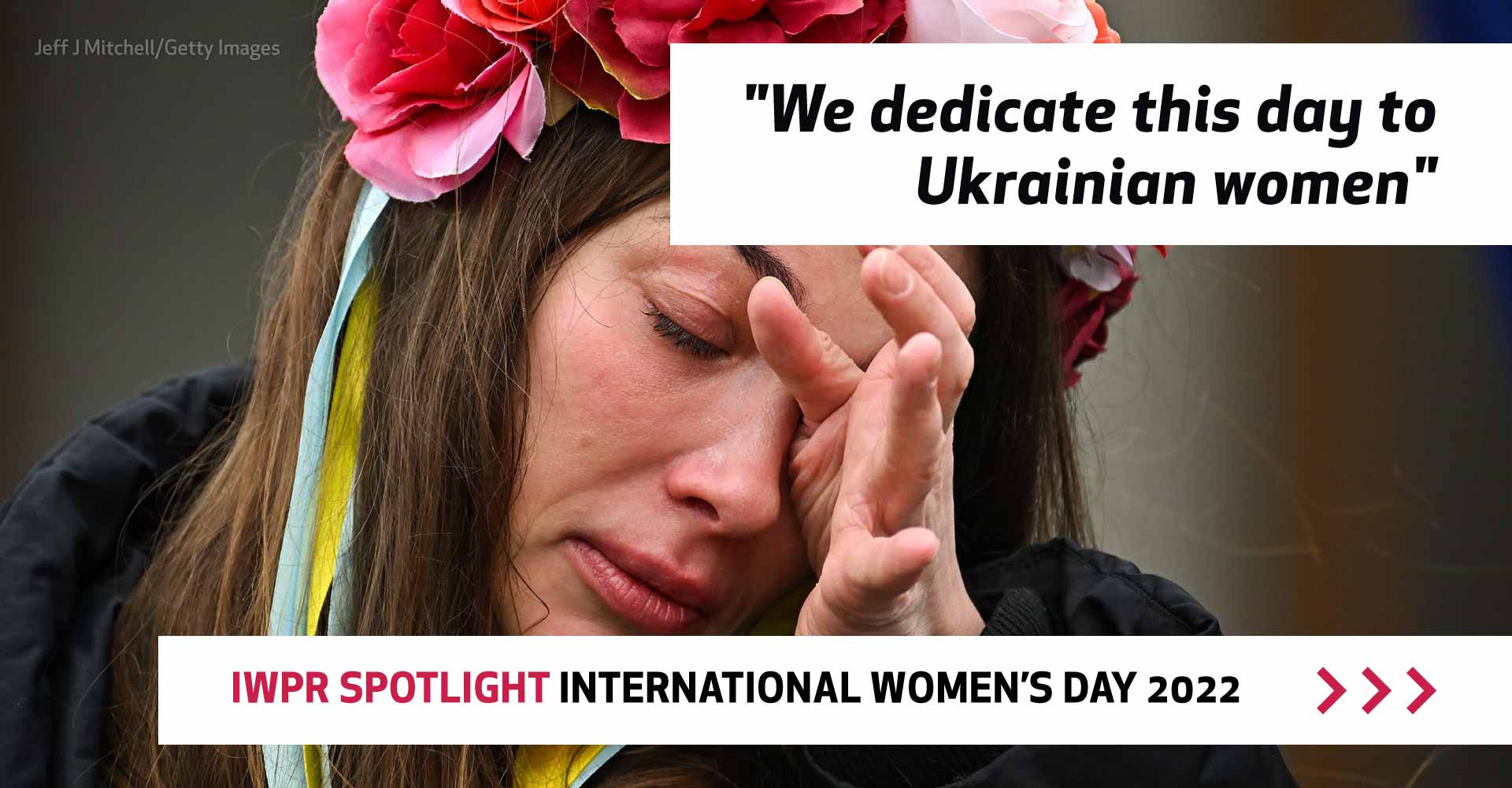 I remember one task was to climb a high beam. The instructor asked me, "Rudyuk, isn't it scary? In the military enlistment office, you used to sit only at a table."
I replied that I had nothing to fear because I wanted to become an officer, so I had to follow the same path as men, so that no-one would point a finger at me and say that she is a woman, so she can't do anything. And if I wear a uniform and the badge of a junior lieutenant, I have to stand on the same level with men. 
He listened and said, "Here's our real leader, go ahead." I climbed and completed the task.
I was very upset one time. I was going to the anti-terrorist operation zone, and my child was studying in the 11th grade. I was very worried that I would be killed, because then I would not be able tofulfill my promise to pay for university and give her a good start in life. 
When I broke up with my husband, she cried a lot and asked, how are we going to live? I replied, "Now I'm your mum and dad, and I will do my best for you. I'm going to the armed forces, I'll provide you a with a higher education and everything that other children have."
In December 2021 I was awarded the rank of junior lieutenant, and on January 15 I joined the territorial defence battalion of the city of Sarny. I am currently deputy chief of staff for mobilisation. Here I am surrounded by reliable men, I am not scared to serve alongside them. But some of their wives are jealous of me, although they are all just friends to me. Now it's war, many women are crying, and I'm holding on. Why? Because I am surrounded by my team.
Now huge crowds of people are going to defend the country, whole families. There are families where the father is at a checkpoint, the mother is preparing food for the boys, and the daughter is a military medic. We are all focused on victory.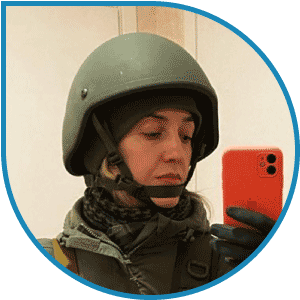 Anna Sevik, 34, is a member of the Kyiv territorial defence. 
---

"I am defending the country again for the second time in my life. The first time was in 2014, when I joined the Azov volunteer battalion, now a military unit in the armed forces, to head the press service. But then my main weapon was the written word, not the Kalashnikov rifle, as it is now.
On February 24, when mass Russian bombings began in Ukraine… there was a stupor at first, it took some time to get ourselves together. There were two options - either to die at home, or try to survive with weapons in hand, defending our land. I chose the second.
It's like jumping into cold water: you brace yourself for a long time, and then it's okay. 
First, I went to the defence of the Desnianskyi district - the left bank of Kyiv, less susceptible to missile strikes. I grew up there. My first post was a block from my grandmother's house, which she could not leave due to ill health, and two blocks away was where my godmother lived. Emotions ran high, but it worked out. Then I was transferred to the right bank of Kyiv, an area regularly exposed to missile attacks. 
Military affairs are not new to me. In 2015, I went to [the Donbas region] as a volunteer and photographer. I have two bulletproof vests, a military uniform, special shoes and a protective helmet. I knew what I was planning and where I was going.
Then I worked as the press secretary of the people's deputy, and for another year coordinated the press service of the Cherkasy city council. And for the last year and-a-half I have been working as a photographer, which I am going to return to after the war.
There are few women in territorial defence. Physically, this work is not suitable for women. It's not like in the army, where there are beds, showers and so on. You sleep where there is a place to sleep. If there is a rug - you sleep on it, if not - you sleep without one. If you manage to get home and take a shower, great. I didn't have time, so be it.
Yes, it is scary, sometimes very scary. But at some point the fear dulls, the psyche gets used to this and reacts less sharply. But I would be more worried if I stopped being afraid.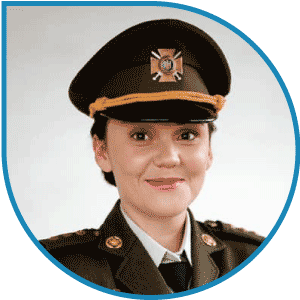 Victoria Dvoretskaya, 29, now head of the veterans' department of the Return Alive charitable foundation, was the first woman in Ukraine to qualify for combat training as a mechanised platoon commander.
---

"I was in a command position in the armed Forces on the front line, then worked in the general staff, but I am more useful now working in the fund. Together with the ministry of defence we buy ammunition, night vision devices, quadcopters and cars. They are transported by women because men are not allowed to go abroad. 
We cooperate with the largest volunteer organisations; there are so many offers that we do not have time to physically process all requests. We work almost around the clock. We now have great trust and support from business, the diaspora and ordinary people. On February 24, the first day of the war, we raised twice as much money as during all the years of the war in Ukraine - UAH 200 million (6.6 million US dollars). 
"I very much want to be at the front. However, I will defend Ukraine by supporting the Ukrainian military."
This publication was prepared under the "Amplify, Verify, Engage (AVE) Project" implemented with the financial support of the Ministry of Foreign Affairs, Norway.