Local resident Oksana, 47-year-old, speaks to journalists next to a destroyed Russian tank in Dmytrivka village, west of Kyiv, Ukraine. © GENYA SAVILOV/AFP via Getty Images
Ukraine Will Stand
Despite the severe risks and certain tragedies, the country has assured its dignity and forged a deeper sense of its own identity.
Local resident Oksana, 47-year-old, speaks to journalists next to a destroyed Russian tank in Dmytrivka village, west of Kyiv, Ukraine. © GENYA SAVILOV/AFP via Getty Images
What Ukraine has won over the past 12 months can never compensate for what the nation and its enduring people have lost. But still there is much to commemorate on this bitter anniversary.
For the losses, at least 8,000 civilians have been killed, with 13,300 injured, 6,000 children abducted, and many thousands subjected to extreme human rights violations, including torture, sexual violence and war crimes. In the range of 15,000 soldiers may have been lost in battle.
"Above all, Ukraine has assured its dignity and forged a deeper sense of its own identity.
A staggering total of up to 20 million people have fled their homes, with over five million internally displaced and up to 15 million or more fleeing the country - although many millions have now returned.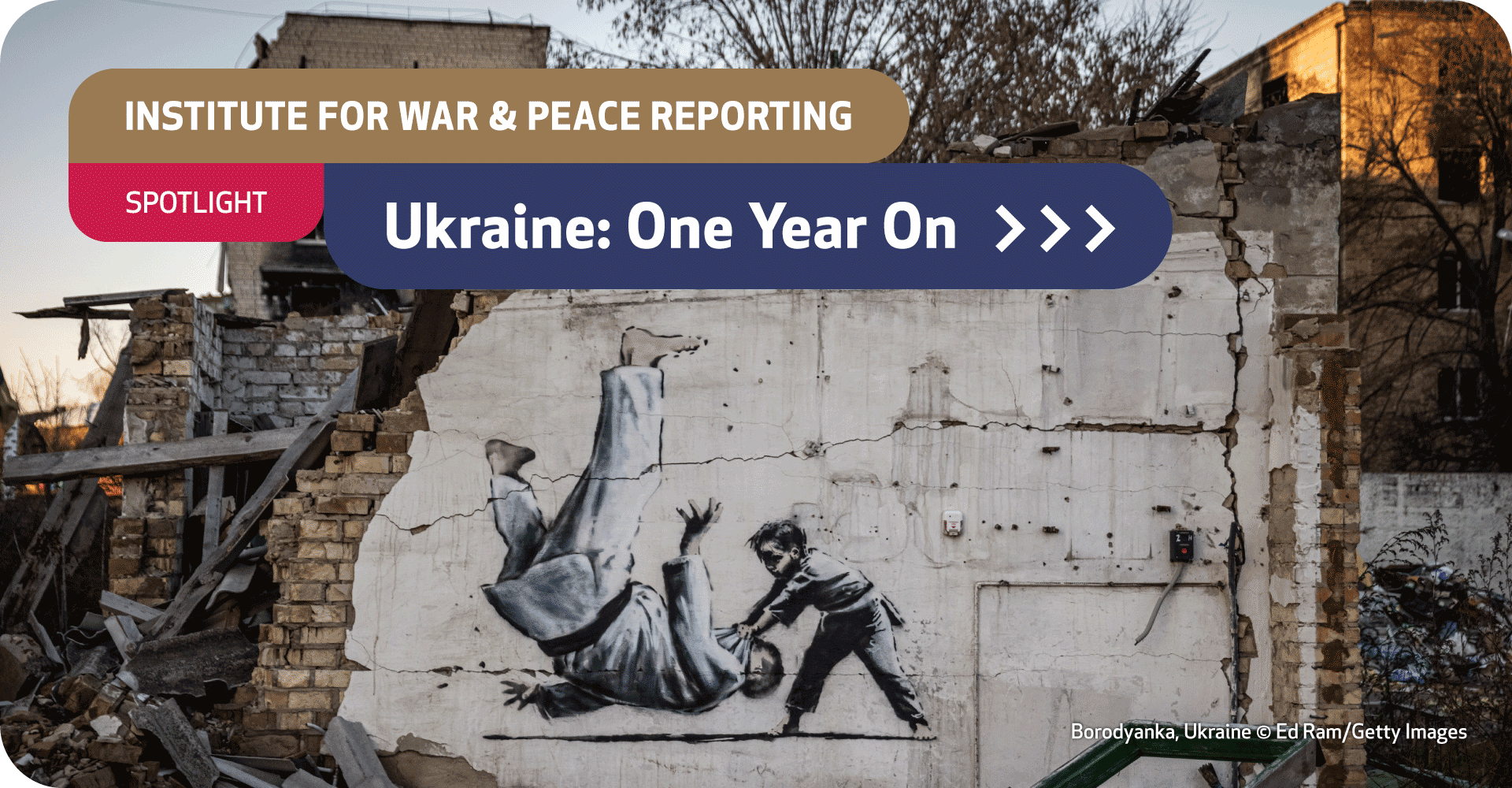 According to one estimate, more than a million homes have been destroyed.
Ukraine's GDP declined by more than a third, its power generating capacity has been seriously degraded by shelling, and the loss in terms of damages amounts to well over 100 billion US dollars.
Every day these numbers rise.
Yet against this terrible ledger, over the past year Ukraine has won much. Its armed forces have recovered around half the territory seized by Russia since the start of the full-scale invasion, and vow to continue their mission of full liberation.
If Moscow's purpose was to take over the country, topple the government, erase the Ukrainian language and eradicate its nationality, Kyiv has already defeated it. Ukraine will stand.
The solidarity the country has secured from across much of the world is unprecedented, symbolised by the US president's wartime train ride to Kyiv. This includes prevailing in the moral, intellectual and disinformation battle, a major accomplishment.
Ukraine has won an enormous level of international financial support, exceeding 150 billion dollars in humanitarian, budgetary and military aid. Poland's extraordinary welcome of more than five million refugees in the first months should also not be forgotten.
At home, the level of social cohesion and total engagement in the struggle is a remarkable phenomenon. From village volunteers to soldiers at the front to a president on the world stage, Ukrainians have demonstrated an astonishing capacity for strength and ingenuity, resilience and unity.
There remain enormous challenges ahead. NATO and EU membership will take time, and continued fulsome western aid and military supply remains critical for any positive outcome. But Ukraine is definitively a part of Europe and of the West, just as the Maidan protesters demanded in 2014.
Above all, from all this long struggle, Ukraine has assured its dignity and forged a deeper sense of its own identity.
Despite the severe risks and certain tragedies that lie ahead, it is this achievement that will enable Ukraine – in whatever form it takes – to secure that final victory.