Iryna Kondratova is head of the Kharkiv Regional Perinatal Centre. © Ihor Tambiiev
Kondratova: Saving Kharkhiv's Babies
The doctor never left her clinic, providing critical support to mothers and newborns.
Iryna Kondratova is head of the Kharkiv Regional Perinatal Centre. © Ihor Tambiiev
Iryna Kondratova's most vivid memory of February 24, 2022 is of noise and colour. 
"The sky was red, burning from shelling, I woke up at the sound of explosions," the  52-year-old doctor, head of the Kharkiv Regional Perinatal Centre, recalled. "The phone started ringing, I told everyone, 'Let's go to work'. I left home and went to the hospital."
She only returned to her home 42 days later, after adrenalin-fuelled weeks leading a team caring for pregnant mothers and critically ill newborns, all under fire.
Then, she said, "I… just closed the door behind me, sat down and started crying at home. I couldn't afford to do that [at work]."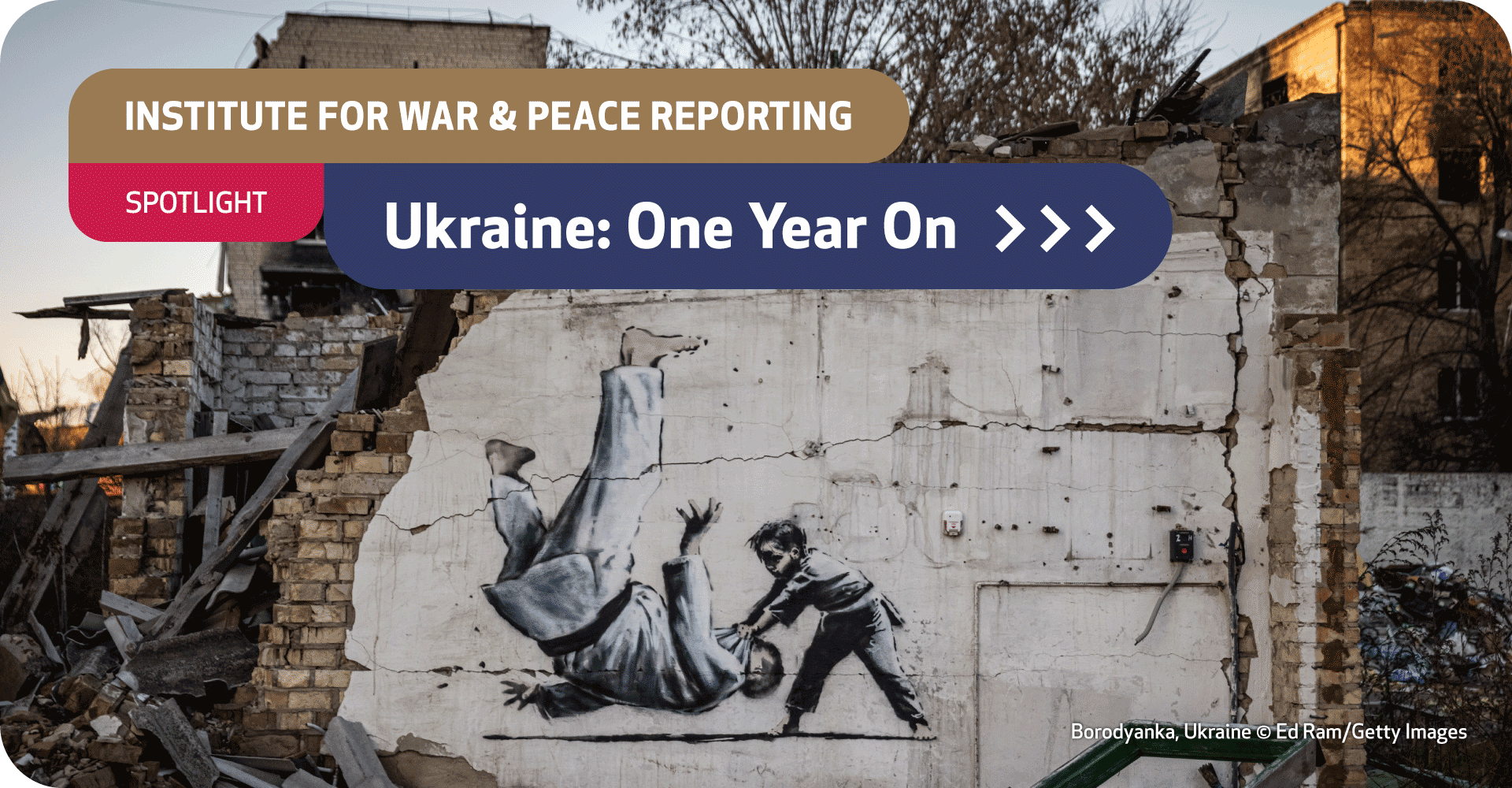 Kondratova has led the Kharkiv Regional Perinatal Centre since its establishment in 2011: the facility provides medical assistance to pregnant women with chronic diseases and pregnancy-related issues, as well as caring for premature babies and newborns unable to breathe independently. 
"Women give birth under the sounds of explosions; Grad and Iskander missiles, air raids, jets."
Ukraine's second largest city, 30 kilometres from the Russian border, was the Kremlin's key target in the first hours of the invasion. By 9am on February 24, Russian troops had reached the city's ring road.
As missiles rained on Kharkiv, Kontrakova decided to move all pregnant women, mothers and newborns to the basement.
"Ukrainian basements were not built to be bomb shelters or to give birth and provide assistance to newborns. Those frightened mothers crowded the space with young nurses and doctors. I saw those crazy eyes... I read them poems, when other people's poems ended, I started reading my poems. I remember that I was completely drenched with this tension."
​​Later, Kondratova and the staff centre took the decision to remain in the intensive care ward with the smallest babies, even after air-raid warnings.
"You can't take a premature baby to the basement. It would be a one-way trip. So we stay with the children and live through the bombings with them."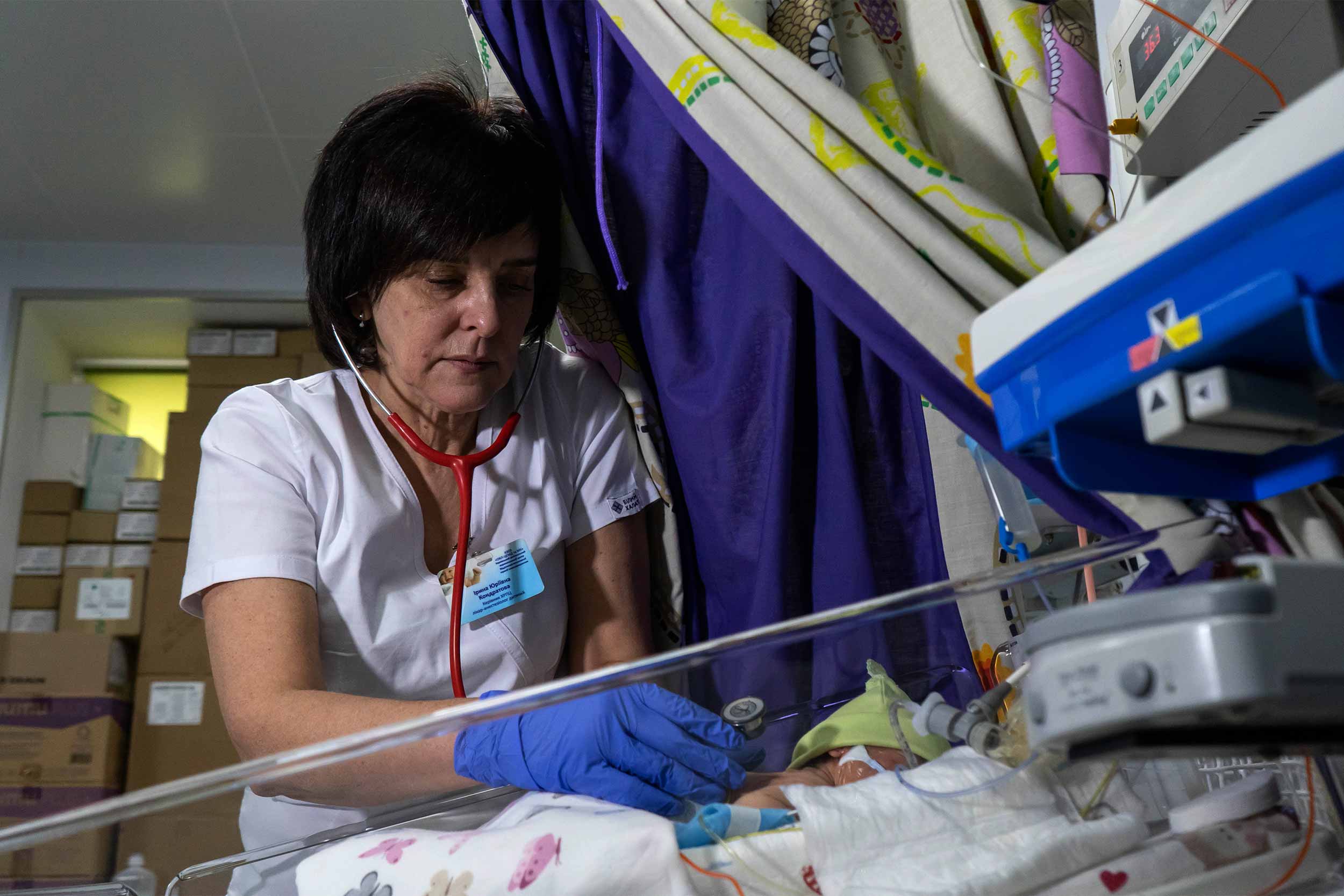 In September 2022, when Russians shelled critical energy infrastructure, Kharkiv plunged into darkness. The facility is critically dependent on specialised equipment; doctors and nurses had to find a way to provide newborns with life-saving oxygen.
"We had generators, but they were not enough for children's resuscitation and for the operating room as there must be a system of uninterrupted power supply," she explained. "We installed it, it was supposed to last two hours, but it did not turn on. So, we made them breathe with our hands. We have rubber bags connected to the oxygen and we compress and decompress the bag with our hands to regulate inhalation and exhalation."
Evidence gathered in the first six months of the full-scale invasion showed a sharp increase in pre-term births as a result of stress and medical issues linked to the war. In the east and in the south of the country, women spend long periods in crowded basements: poor ventilation and hygiene means that infections spread easily. It is harder for women to reach medical help if they need it.
"We were bombed all around," the doctor recalled. "Grads landed 30 metres from our building. I shouted: 'People, bomb!' And the surgeon, with special glasses and a flashlight on his forehead to illuminate the wound as he operates on a two-kilogramme child, doesn't even turn to me and replies, 'Irina Yuryivna, we don't mind.' And continued to operate."
As people fled the city of nearly a million-and-half, within weeks only a third of its doctors remained. In Kondratova's hospital, only two anesthesiologists stayed out of the pre-war staff of ten. But the workload did not decrease: as children's clinics closed, maternity and the perinatal centre started treating everyone.
"We decided to accept all newborns, from any medical facilities, from home, from the subway, wherever it was, simply because there was nowhere else to take them." 
Kondratova's work has received international recognition. Last year, the BBC named her among the world's 100 most influential women, one of six Ukrainians on the 2022 list. She has also featured on the cover of TIME magazine next to President Volodymyr Zelenskyi, and was recently part of the Ukrainian delegation at the World Economic Forum in Davos. 
On March 20, 2022, former British footballer and UNICEF Goodwill Ambassador David Beckham gave Kondratova his Instagram page for a day.  In a series of photos and videos, she shared what life under shelling looks like with Beckham's 70 million followers. 
"Women give birth under the sounds of explosions; Grad and Iskander missiles, air raids, jets… there is nothing scarier than an airplane dropping a bomb," she said. 
But Kondratova's greatest achievement remains the hard-won medical support she and her team managed to provide under fire. Although around a quarter went through intensive care, more than 1,000 babies were born in Kharkhiv over the last year.