Stories by the Author
Carl Hartzell, Head of the EU Delegation to Georgia and Kate Fearon, Deputy Head of EUMM at the launch of the 2019 EU Prize for Journalism. © IWPR
Entries formally open to mark World Press Freedom Day.
3 May 19
Zurab Balanchivadze (left), one of two finalists of the Special Prize for Peace Journalism at the awards ceremony on January 29, 2019 together with (l to r) Erik Høeg, Head of the EUMM in Georgia, Des Doyle, Head of Press and Public Information office at EUMM, Beka Bajelidze, IWPR Caucasus Regional Director and Nika Gablishvili, the 2018 Prize winner. (Photo courtesy of EUMM)
Winning article follows the struggles of an ethnically-mixed village.
31 Jan 19
Beka Bajelidze, IWPR Caucasus Director mentors a team called Metaphor, which produced a short video highlighting environmental issues that affected Georgia in recent years. (Photo: Iliauni)
Specialists develop innovative tools for eco-friendly journalism.
8 Dec 18
Header for the IWPR Radio Podcasts "Refugee News" and "Behind the Headlines" run by young reporters from conflict-affected regions of Georgia and students of media schools in Tbilisi. (Photo: IWPR Georgia)
Regional stations continue to play a key role addressing local issues and reaching community audiences.
31 Oct 17
Gvantsa Doluashvili, Winner of 2016 EUMM Prize for Peace Journalism. (Photo: IWPR Georgia)
In its fourth year, competition identifies outstanding submissions on conflict-related issues.
16 Feb 17
Young journalists receive training in responsible reporting and countering violent extremism. (Photo: IWPR)
This key sector can play an important role in supporting rule of law and combating radicalisation.
16 Jun 16
Award recognises reporting that promotes peaceful solutions to conflict.
12 Feb 16
Journalists interview construction company staff at the new station in Akhalkalaki. (Photo: IWPR Georgia)
Cross-border railway could tie region into trade with Europe, but there's been little discussion of it locally.
11 May 15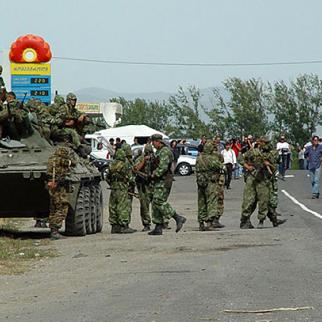 (Photo: Idrak Abassov)
August 2008 conflict resulted in formal Russian recognition of South Ossetian and Abkhazian independence.
4 Aug 14