Relatives and friends mourn during the funeral of Lilibeth Valdez on June 4, 2021 in Quezon city, Metro Manila, Philippines. An off-duty police officer was seen pulling the hair of 52-year-old Lilibeth Valdez, shortly before shooting her dead, fuelling a new wave of outrage directed at the government and a police force that many say acts with impunity. The shooting is the latest in a series of killings involving the Philippine National Police, which is currently the focus of an international investigation. © Ezra Acayan/Getty Images
Philippines: New President Brings Little Hope for Justice
Activists efforts to repair the Marcos' family' public image, but warn that interest in boosting the country's rights record is limited.
Relatives and friends mourn during the funeral of Lilibeth Valdez on June 4, 2021 in Quezon city, Metro Manila, Philippines. An off-duty police officer was seen pulling the hair of 52-year-old Lilibeth Valdez, shortly before shooting her dead, fuelling a new wave of outrage directed at the government and a police force that many say acts with impunity. The shooting is the latest in a series of killings involving the Philippine National Police, which is currently the focus of an international investigation. © Ezra Acayan/Getty Images
Families of victims of enforced disappearances in the Philippines say they have little hope that the country's new president will help efforts to find justice for the many hundreds of citizens who remain unaccounted for.
Ferdinand "Bongbong" Marcos, Jr, won a landslide victory in the May 2022 election, nearly four decades after his dictator father was ousted in a popular uprising.
According to the Families of Victims of Involuntary Disappearance (FIND), the Philippines has 2,047 documented cases of enforced disappearance since the Marcos senior dictatorship. Of this number, more than half - 1,204 - are still missing, 248 were found dead or exhumed and 595 returned alive.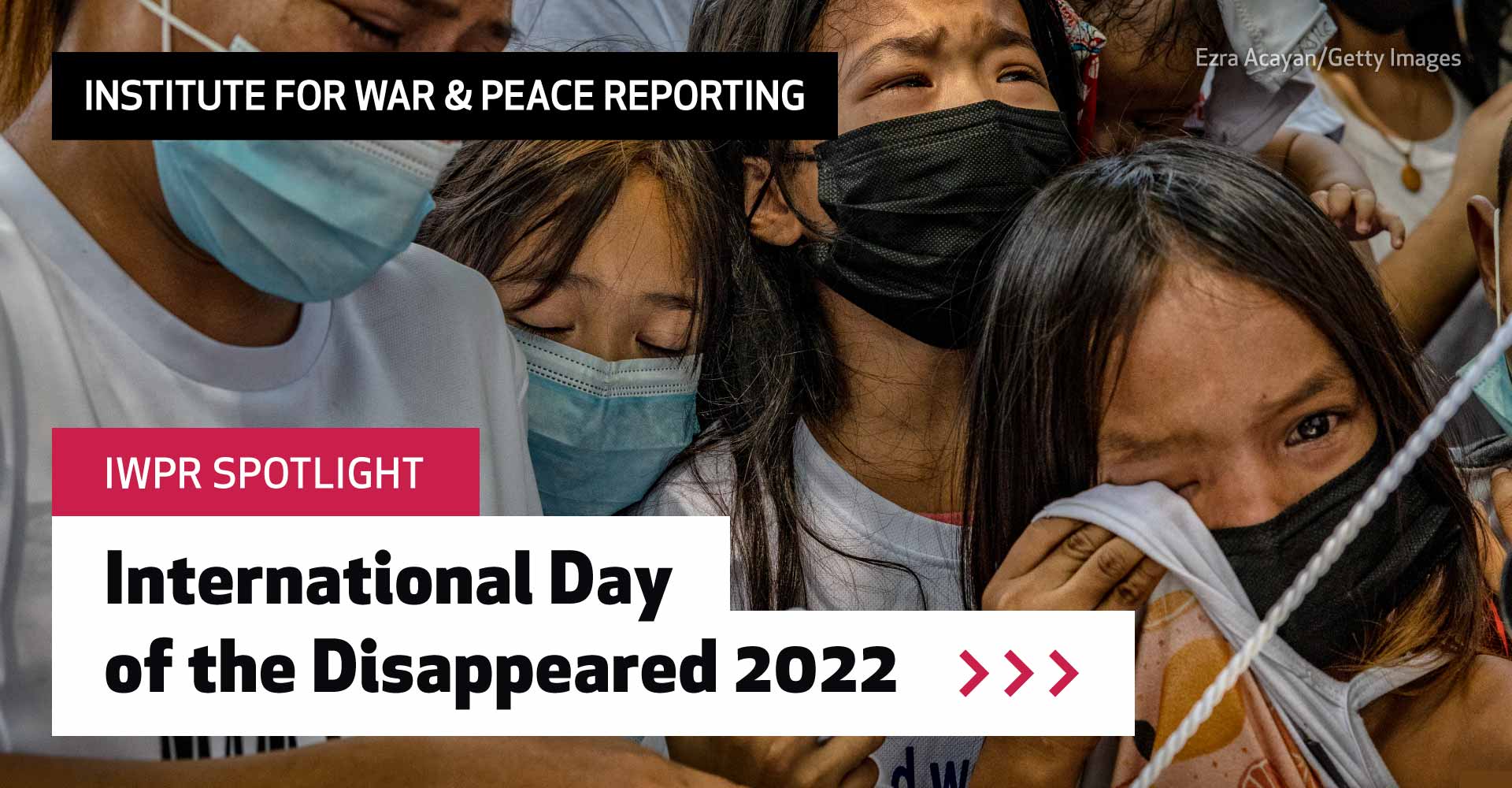 Of this number, 926 desaparecidos – as victims of enforced disappearances presumed to be carried out by state army or police are known - were during the time of Marcos senior, who ruled from 1965 until he was overthrown in 1986. Many remain missing to this day.
Some see his son on a quest to repair his family's public image after the autocratic rule of his father, but warn that his interest in boosting the country's rights record is limited.
"The president will be no different from that of his dictator father in treating activists and human rights defenders as enemies of the state," Concepcion Empeño, an activist mother of a disappeared daughter, told IWPR.
Marcos Jr did not mention human rights as a policy priority in his first state of the nation address in July, despite calls from activist groups to take a different path to his predecessor Rodrigo Duterte, whose violent war on drugs reportedly led to more than 12,000 deaths and several disappearances. 
According to the UN, the Philippines remains Southeast Asia's top country with the highest number of unresolved enforced disappearances, taking almost half of the more than 1,300 cases in the region.
The Philippines is also yet to ratify the International Convention for the Protection of All Persons from Enforced Disappearance despite continuing calls from the UN Human Rights Office for Southeast Asia. The convention deems enforced disappearance to be a crime against humanity when the state or its agents practice it in a widespread and systematic manner. So far, Cambodia is the only country in Southeast Asia which has ratified the convention, and three others– Indonesia, Lao PDR, and Thailand - have signed it. 
Human rights advocates link the Philippines' inaction to reluctance to risk international scrutiny, and inevitably, accountability for the unresolved disappearances, many of which were a legacy of the Marcos dictatorship. 
Marcos confirmed in early August that the Philippines was not keen to rejoin the International Criminal Court (ICC) from which it officially withdrew in 2019 following a planned probe on extrajudicial killings in the context of the war on drugs. Activists fear that this is a sign that the current administration will continue to veer away from binding agreements like the convention. 
LEGAL PROCESS
Empeño is among the small number of relatives of the disappeared who has seen some form of justice for their loved ones.
The 72-year-old's daughter Karen, who was studying sociology at the University of the Philippines (UP), was taken at gunpoint on June 26, 2006 along with fellow student Sherlyn Cadapan while carrying out research in Bulacan, just north of Manila. A local farmer, Manuel Merino, who stepped in to try and help after hearing the students' scream, was also kidnapped. 
More than a decade later, in September 2018, a landmark court conviction found that it was military personnel who were responsible for their abduction and illegal detention.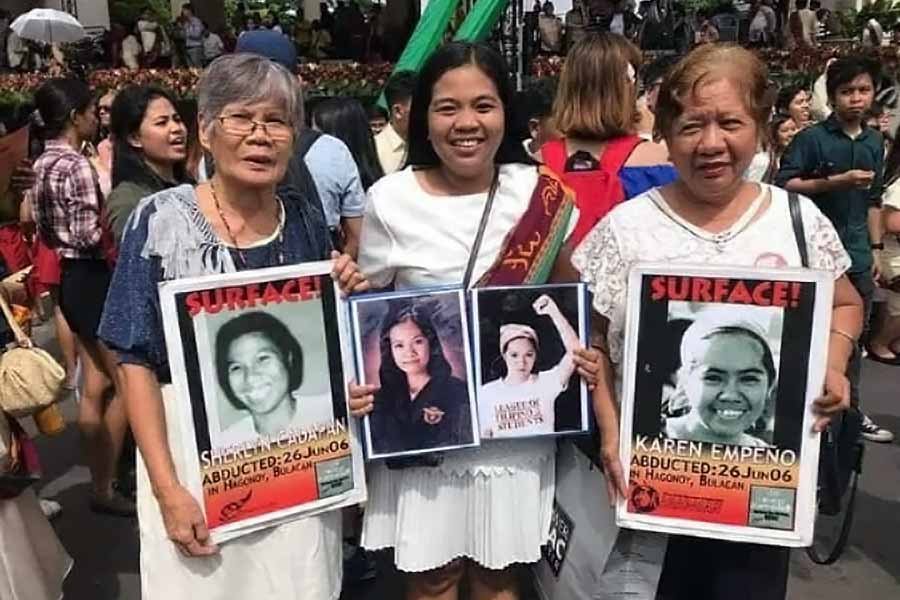 A regional trial court sentenced retired Philippine Army major general Jovito Palparan and two other military men to life in prison in relation to the case of the UP students, who according to eyewitness accounts were also tortured and raped. They did not face charges over the case of Merino, because none of the farmer's relatives had come forward to file a case.  
Palparan, who human rights activists dubbed "the butcher" for a deadly crackdown on activists and dissidents as the leader of the anti-insurgency campaign, had gone into hiding in December 2011 to evade arrest. He was captured in August 2014 in Manila. 
Human Rights Watch regarded the verdict as "an important step" for justice in the Philippines, where extrajudicial killings and other human rights abuses by state security forces are rarely penalised.
Progress towards justice has been slow. The country's Anti-Enforced or Involuntary Disappearance Act of 2012 was a landmark law, making the Philippines as the first and only country in Asia to criminalise a continuing human rights violation often committed by state security forces. 
The law includes a prohibition for those of this crime to invoke the "order of battle," a military list of names of alleged enemies of the state, as justification. 
In an interview in Manila in late 2010 on human rights abuses committed against activists under his watch, then-army top official Palparan told an IWPR journalist that many alleged victims had been listed in the order of battle. 
Ten years after the landmark act, however, enforced disappearances not only remain unresolved, but also have increased reportedly in relation to the former administration's war on drugs. FIND as well as other groups supporting families of the disappeared said many undocumented cases of enforced disappearances under Duterte involved individuals from low-income families accused of selling illegal drugs. 
According to the UN, the Philippines remains Southeast Asia's top country with the highest number of unresolved enforced disappearances, taking almost half of the more than 1,300 cases in the region.
For her part, Empeño - a retired teacher, now an active community leader in the coastal Masinloc town in Zambales north of Manila – the fight continues.
All year round, she joins rallies and media conferences in Manila to make sure the disappeared are not forgotten. Then, in late July, Empeño organizes a deeply personal commemorative event to mark her and her daughter's consecutive birthdays (Karen on July 22, and her own on July 23).
This year, she organized a double celebration at home, even making an invitation card with both their photos. 
Karen's death has never been confirmed, only that of her and her colleague's kidnapping and illegal detention. Empeño said that despite the court conviction, justice will not have been really served until her daughter is found.
"She is now 39," she said. 
Last year, Empeño commissioned a respected local composer to put a poem she wrote - "Para Sa Iyo, Anak" (A Song For Karen, My Child) - to music. She uploaded the song on YouTube as part of the joint birthday celebrations last year, with one listener commenting that she felt the pain "of a mother longing for her daughter".
For Empeño, now is not the time to give up. 
"As long as I still can, I will not stop from calling for justice for my daughter and all other victims of enforced disappearances," she said.
Rorie Fajardo-Jarilla is IWPR Asia & Eurasia programmes coordinator and Philippines country director.