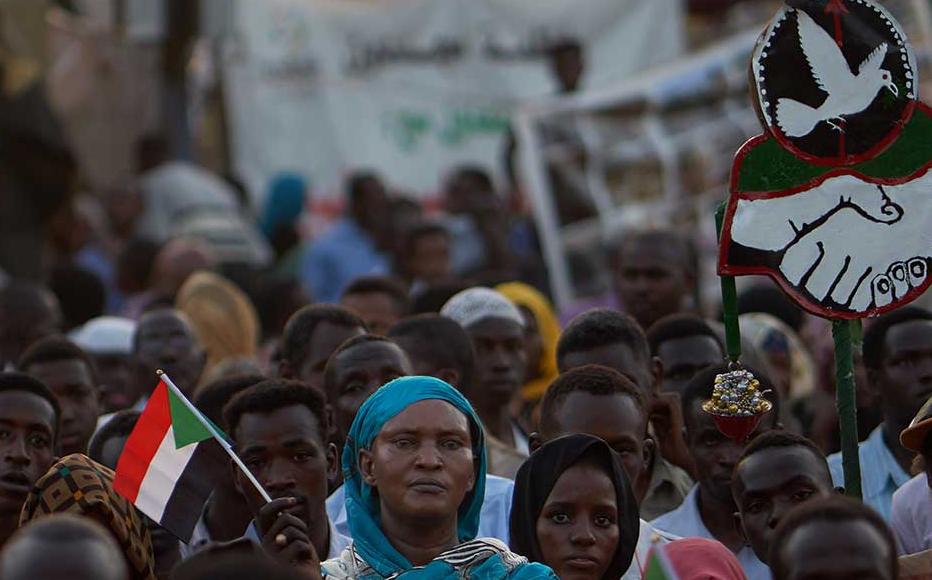 Protesters listen to speeches bout their hopes and plans for the future government on May 03, 2019 in Khartoum, Sudan. Thousands of demonstrators continued their mass sit-in outside military headquarters in Khartoum to call on the country's military rulers to cede control. © David Degner/Getty Images
Sudan's Struggle For Reform
Many repressive laws have been repealed – but progress is slow.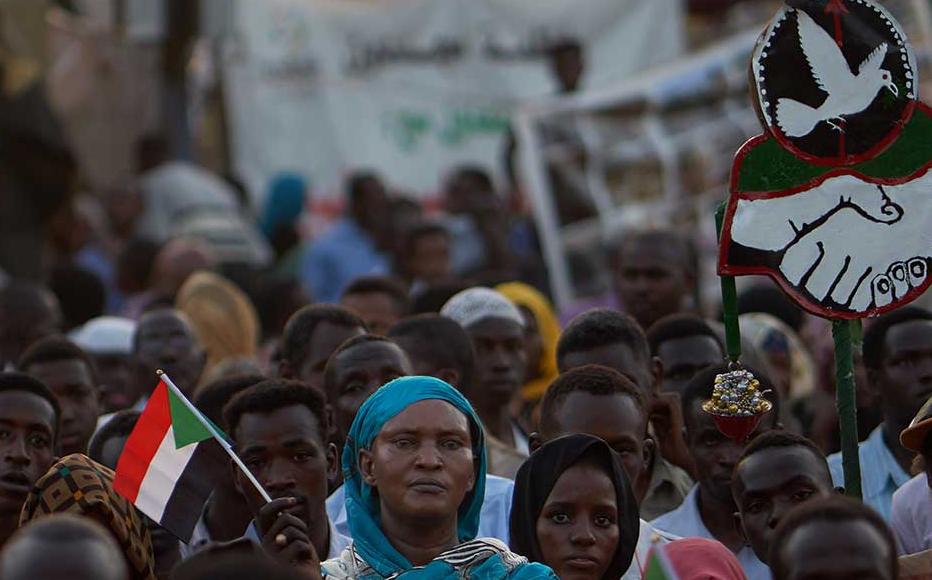 Protesters listen to speeches bout their hopes and plans for the future government on May 03, 2019 in Khartoum, Sudan. Thousands of demonstrators continued their mass sit-in outside military headquarters in Khartoum to call on the country's military rulers to cede control. © David Degner/Getty Images
Journalists in Sudan warn that major threats remain to freedom of expression in the country, despite the hard-won gains of the 2019 revolution. 
"The situation of freedom of expression goes up and down. It is still far away from what we hoped," said Durra Gambo, a journalist who participated in the protest movement that led to the fall of President Omar Bashir in April 2019. "The situation is still far from normal, although it is better than during the time of the former regime."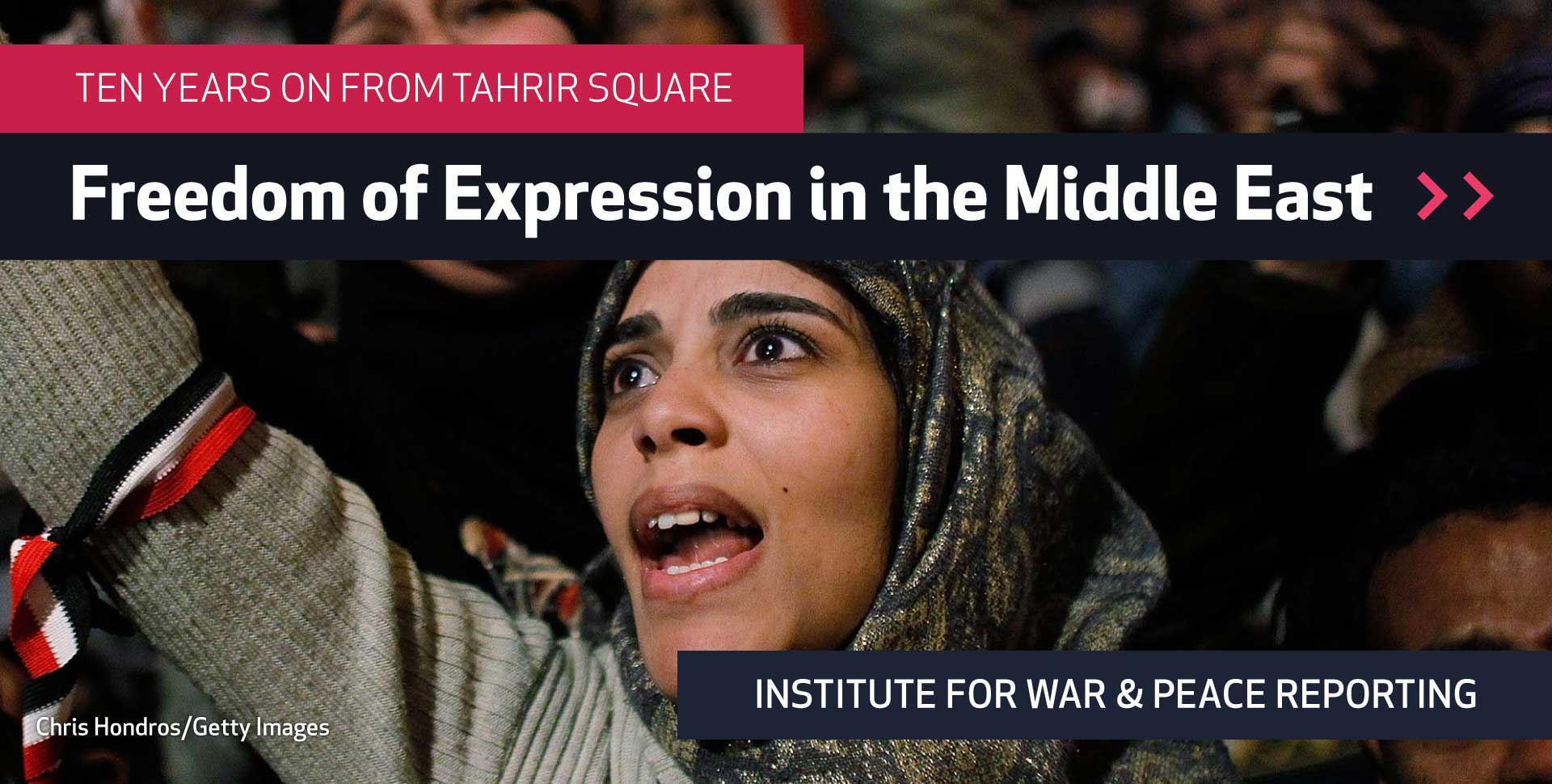 The transitional administration has made major commitments towards ensuring basic freedoms are respected, including the repeal of the notorious public order laws which strictly regulated interactions between the sexes.
In one high profile case in 2009, journalist Lubna Ahmed Hussien was prosecuted for wearing trousers, supposedly indecent dress under the public order legislation. The law's articles on prostitution were also often used to control media workers and activists, for instance, enabling police to raid any event that included both men and women. 
Journalist Ali Aldali noted that other legal changes had improved the situation by removing regulations that severely restricted media workers.
"The great step forward was that the security services lifted their hands from journalists and newspapers as they used to do, because of the cancelling of some articles of the security service law related to the censorship of newspapers," he said, although he added that legislation was still needed to manage a situation where "there are no regulations and every one considers him or herself a journalist". 
Albagir Afif, manager of the Al-Khatim Adlan Center for Enlightenment human rights NGO, agreed that the situation of freedom of expression had already improved significantly compared to during the previous regime.
There were no restrictions or self-censorship comparative to the former situation, he continued, adding, "The Al-Khatim Adlan centre was closed by security service in 2012, six years before the revolution. Now it has reopened and the authorities are very cooperative with us."
Other articles in criminal law have also been changed to accord with international standards, in particular those of women's rights. For instance, a committee was formed, headed by lawyer Samia Al Hashimi, to reform family law and try to resolve whether this field should be decided by Islamic or legal jurisprudence. 
Female politicians and officials still face pressure, however. Out of the 18 new civilian state governors announced by the prime minister in July 2020, only two were women. 
One of them, Amna El Mekki in River Nile State, faced immediate protests calling for her resignation from the Islamic council of the northern Sudanese Galien tribe, who argued that the Koran taught that people governed by women never succeeded.
Two Years of Change 
On December 19, 2018, demonstrations broke out in the city of Atbra, in River Nile state in north Sudan. They quickly spread, with peaceful protestors facing brutal repression. Hundreds were killed, detained, tortured and wounded. 
The protests continued until on April 6, 2019 thousands of protesters began a sit-in in front of the defence ministry, calling the end of the regime. Five days later, vice president and minister of defence Awad Ibn Oaf announced that President Omar Al-Bashir had been deposed, with an army council to lead the nation for two years. 
The opposition refused and demanded an immediate change to civilian rule. Again, protests resumed until they culminated in mass violence on June 3 2019 with more than 120 protestors killed. About 70 women and men were raped and tortured.
The African Union and the international community pressured the military council to hand over power to civilians and after some two months of negotiations a three-year civilian-military transitional government was agreed, led by Abdalla Hamdok as prime minister.
Sudanese human rights lawyer Nabil Adib is heading an investigation committee into the June 3 events, but many fear that there will not be justice for the killings.
Critics note that the Rapid Support Forces (RSF) militia, now effectively legalised and absorbed into the regular security forces, were reportedly among those behind the June 3 massacre. 
The RSF was also accused of committing grave human rights abuses in Darfur since conflict began there in 2003. Its commander Mohamed Hamdan Dagloo, popularly known as Hemetti, is now serving as vice president as part of the civilian-military government.
In October 2020, RSF forces arrested sports commentator Musab Al Dai Bushra for posting a video criticising the force and its leaders on social media. He remains in detention in one of their facilities, charged with undermining the constitutional order - an offence which potentially carries the death sentence.
Afif said the RSF were "not only abusing the right of expression, they also abuse the right to life. There are reports of many detainees arrested and investigated by RSF in their special prison units".
Last December, Sudanese citizen Bahaa Aldin Nouri died after being detained in an RSF facility. His family said he had been snatched while sitting in a coffee shop in Khartoum and that his body showed signs of beating and torture when it was returned to them. 
His death sparked widespread anger among activists and political groups opposing the power of the army and its associated militia.
"According to many indicators, [freedom of expression] is still under threat and prone to relapse; the security and military institutions still follow citizens and activists," Gambo said. "Even the police still watch citizens' freedom of expression, for example, there was the case of Waad Bahagat, an activist sentenced to one year in prison for a quarrel with a policeman at a petrol station."
Gambo said that one set of restrictive laws had been exchanged for another, with Sudan's press institutions too poorly resourced to protect their constituencies.
"Instead of security service [interference] there is a new information law that was approved last year by the ministry of justice," she continued. 
This introduced even harsher penalties as part of the 2007 vaguely-worded cybercrimes law, often used to by the former regime target online criticism. 
"This law is a disaster for freedom of expression as it approves terms of up to ten years in prison for publishing articles on certain issues. This is a real hazard for the press and a deep stab in the back for the revolution. With this fragile situation for newspapers, we don't know what will happen in the near future."
Amal Habani is a journalist and women's rights activist and the winner of prizes including the CPJ 2018 award for freedom of expression and the 2015 Amnesty International award for women's rights defenders.
She is also a member of The Marie Colvin Journalists' Network, an online community of more than 200 Arab female journalists, offering support through mentorship and networking. It was set up in honour of Marie Colvin, the Sunday Times reporter who was killed in Syria in 2012.