Misogyny Plagues Moldova's Politics
International organisations have urged Chisinau to act against discriminatory discourse.
Misogyny Plagues Moldova's Politics
International organisations have urged Chisinau to act against discriminatory discourse.
Former prime minister and pro-European politician Maia Sandu was often targeted with comments based on sexist stereotypes and prejudices. © Sean Gallup/Getty Images
In the run-up to last year's presidential election – the first time a woman had ever run for the top job – Moldovan politics witnessed an outpouring of misogynistic hate speech.
Former prime minister and pro-European politician Maia Sandu was competing against the pro-Russian incumbent, Igor Dodon. He and his allies made frequent statements throughout the campaign focusing on the fact that Sandu was not married and had no children.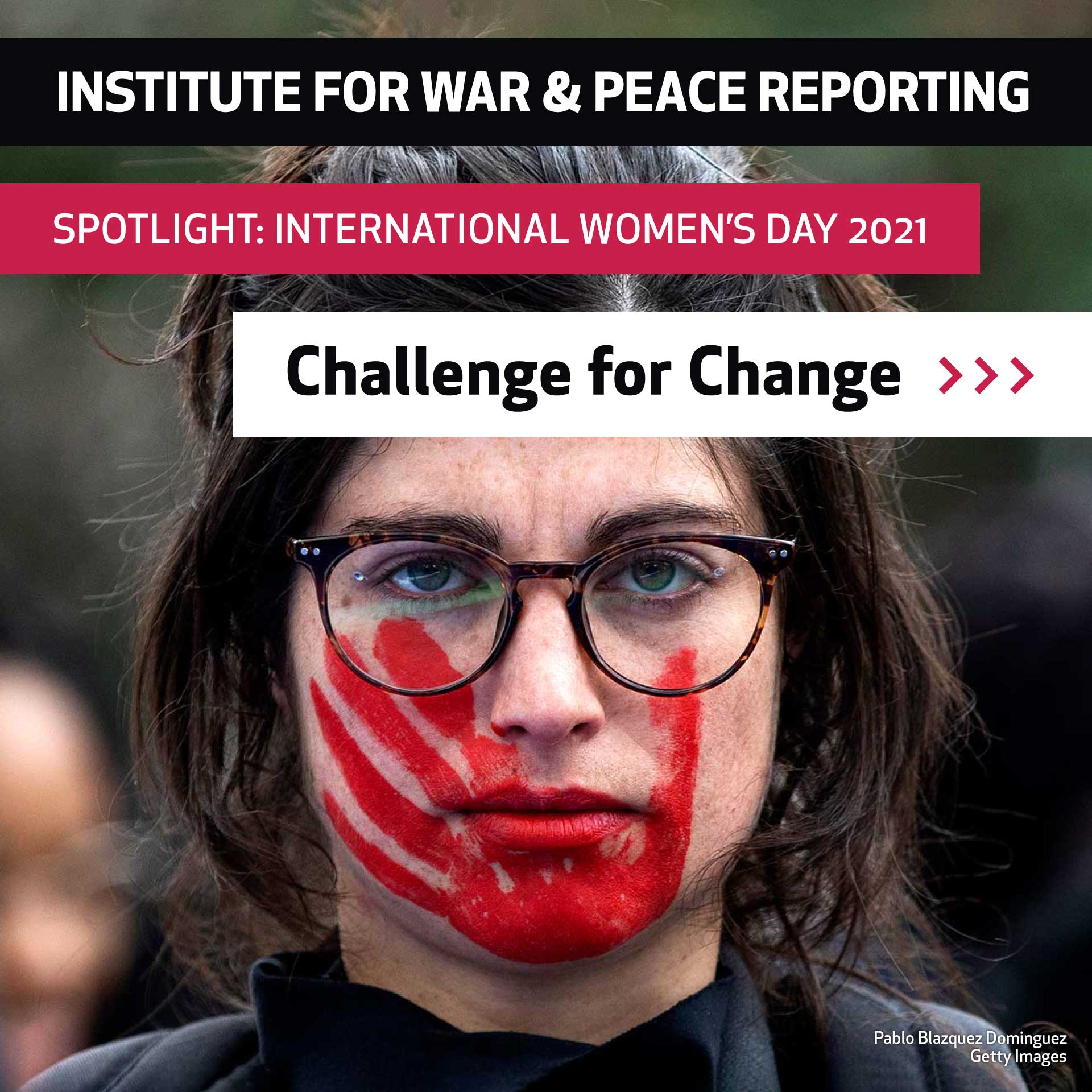 In one August speech, for instance, Dodon urged Moldovans not to vote for Sandu because "she is not interested in what is happening in the country. 
"Because she has no children here, she has nothing," he said. 
Similarly insulting comments based on sexist stereotypes and prejudices proliferated on television, in electoral campaign meetings and on social media. They mainly targeted Sandu but were also directed at other female figures including Shor Party candidate Violeta Ivanov. 
Irina Corobcenco, an anti-hate speech campaigner at Promo-LEX, one of the country's leading human rights NGOs, said that this kind of discourse had become a standard part of the Moldovan political scene.
"Since 2018, we have monitored the manifestation of hate speech and incitement to discrimination in the public space and Moldovan media, including in the context of electoral campaigns," Corobcenco said. 
"In recent years, electoral candidates and politicians use mostly the same rhetoric based on stereotypes and prejudices that affect social groups like women, people with disabilities, the LGBT community, etc," she said. 
"The hate speech promoted by Igor Dodon was taken over by the [lower] level factors of the Socialist Party and their media," added political expert Mihai Isac. "A lot of fake news about Maia Sandu and her relatives was circulated, a trend that continues today." 
He noted that this also went beyond personal, misogynistic attacks against Sandu. Religious figures also weighed in to the attacks against her, playing on her public defence of the rights of the LGBT community as part of her general pro-Western and democratic outlook. 
"Based on Maia Sandu's speeches in favour of the protection of this community's rights in Moldova and [given] the Metropolitan Church of Moldova subordinated to the Moscow Patriarchate, it launched a series of attacks during the election campaign," he said.
Corobcenco said that hate speech around elections appeared to be a growing trend.
In 2018, out of 369 cases of hate speech logged, 133 cases were in a political context, and most of them took place during the campaigns for Chisinau's May local elections. 
Last year, nearly 450 cases of hate speech and incitement to discrimination were recorded in the three months preceding the November 1 presidential election. 
According to the Promo-LEX report, in 2018 there were an average of two new cases of hate speech recorded during each day of electoral campaigning. During the seven months of campaigning ahead of parliamentary and local elections in 2019, Promo-LEX recorded an average of over four cases per day.
Around a third of the cases recorded in 2020 were generated by journalists and media institutions, both traditional and online.
International organisations have urged Moldova to act against the phenomenon. In 2020, the Council of Europe Commissioner for Human Rights (CoE) Dunja Mijatovic drew attention to the importance of preventing hate speech in the presidential election campaign in Moldova. 
The Promo-LEX report noted that she "was concerned about the hate incidents, especially those from politicians, which intensified during election campaigns and targeting especially women, the LGBTI community and other social groups".
The UN Committee on the Elimination of Discrimination against Women (CEDAW) also recommended that Chisinau adopt a law on hate speech and protecting women. 
"The ministry of labour, health and social protection has announced its intention to develop a bill to prevent and sanction sexist discourse, and Promo-LEX has been open to contribute to its development," Corobcenco said.
The Council of Europe is currently developing a guide for monitoring hate speech in which both Promo-LEX and Moldova's audiovisual council have been invited to participate.
However, efforts to introduce such legislation have been ongoing since 2015, when a bill to regulate crimes motivated by prejudice passed its first reading, but did not advance to a second. This means that hate speech for the most part, remains unpunished, despite a large number of cases identified in the public sphere and in the media. 
Isac stressed that a major problem was that, despite public statements by the authorities defending women's rights, Moldova had not instituted an effective policy towards that end. 
"Political misogyny is not only typical in Moldova, but rather typical of former Soviet communist states and Eastern Europe. An example of this is Romania itself, an EU member state, which has a smaller number of women ministers than Iran," he said. 
In the absence of political enthusiasm for driving change, Corobcenco said that education was key to raise awareness of just why this kind of discourse was unacceptable. Promo-LEX monitoring data showed that intolerant language was most often used by people aged 35-50. 
She concluded, "Certainly any investment in youth education will ensure a generation that chooses to focus its energy and efforts on identifying smart solutions to improve the quality of life and respect for the rights of all, and not on false issues generated and fuelled by politicians."
"Unfortunately, heightened misogyny exists in Moldova," Isac agreed. "A generational education effort is needed."