Ukraine: Lviv Maintains a Sense of Sanctuary
As war edges closer, distance from Russia and closeness to NATO member Poland provide the city with a sense of confidence.
Ukraine: Lviv Maintains a Sense of Sanctuary
As war edges closer, distance from Russia and closeness to NATO member Poland provide the city with a sense of confidence.
A view of the city of Lviv, Ukraine. Once the centre of Ukraine's 2014 Revolution, Lviv is back in the spotlight as a safe haven for people escaping from Kyiv amid ongoing attacks by Russia. © Gaelle Girbes/Getty Images
As Russia's vicious attack on Ukraine continues, the western "safe haven" town of Lviv is bracing itself to join the theatre of war.
"We expect there could be an attack," says Olga Myrovych, 34, head of the Lviv Media Forum. "We are far from Putin's border, but this will distract the efforts of the Ukrainian army."
Lviv is a central European jewel, an exceptionally elegant town with a long history of culture and tragedy.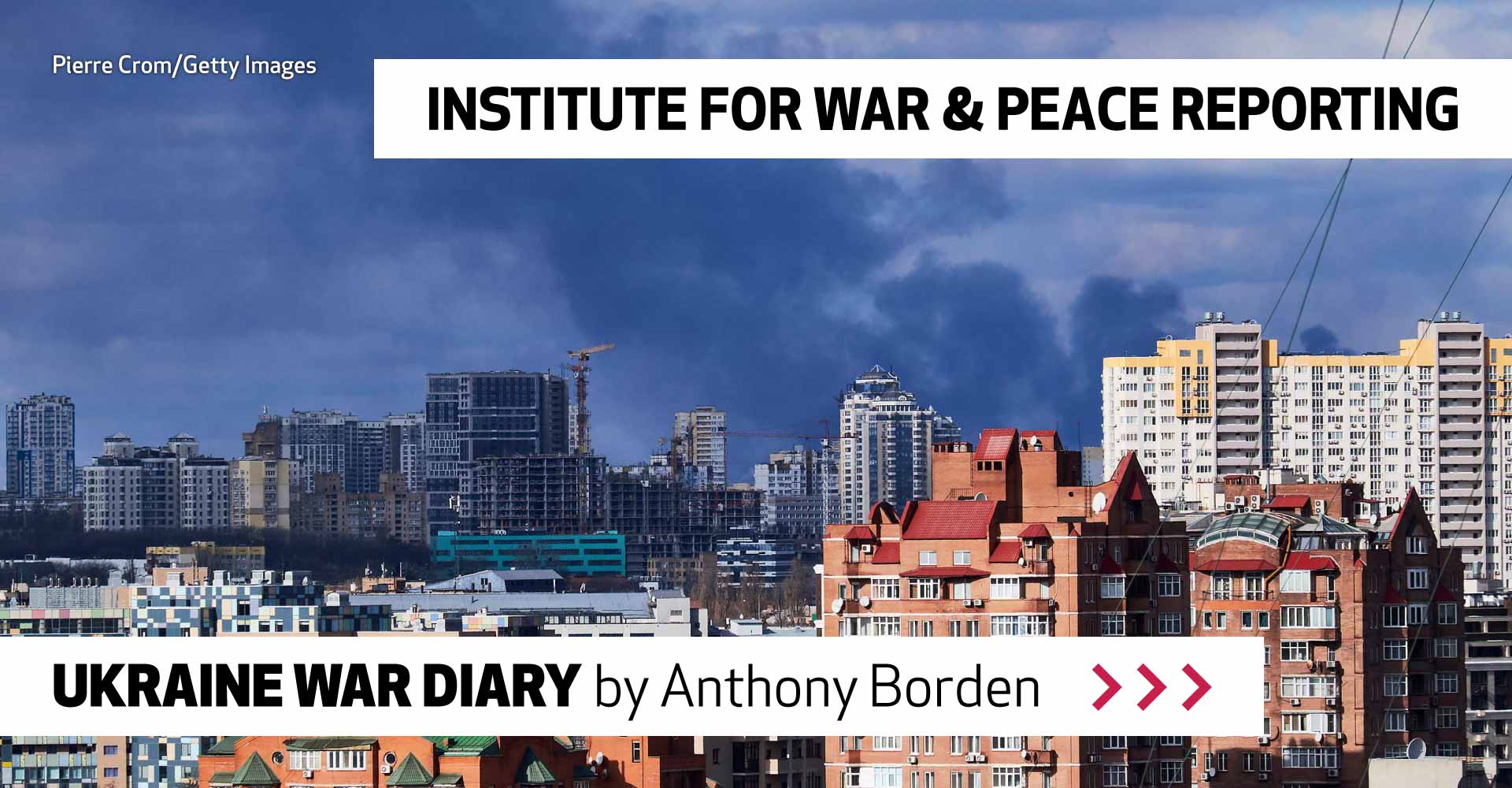 Due to its location, so far there has also been no fighting and, according to city officials, only one ineffective missile attack on an outlying military airport. The civil airport has closed, but remains untouched.
But as fighting in Kyiv and elsewhere has intensified, the feeling of war edges closer.
"First, I have to save my family. Then I will think about myself."
There have been intermittent air raid alerts and armed Ukrainian soldiers seen on the streets. Amid a strict curfew, many shops are closed, and aside from lines outside of pharmacies, banks and cash machines, the streets are almost empty.
At the same time, this city of 750,000, only 70 kilometres from the Polish border, is bracing for an influx of people displaced from across the country, especially Kyiv.
Lviv received thousands of displaced during the 2014 conflict, and the total displaced from that limited engagement was 1.4 million. Now the country is suffering Putin's total war.
The Ukraine defence minister predicted in December that an attack could result in between three million and five million refugees – that is, people fleeing the country.
The national rail has stopped requiring tickets, and trains from the capital are bringing an increasing number of people fleeing the bombardment and encirclement by Russian troops.
"It was bad, very bad, they are shelling and it makes no sense," said a young man with his girlfriend, just off the morning train from Kyiv. Stressed and edgy, he declined to give his name but said he had unable to find any rooms in the Lviv hotels, all now full.
After an hour they were still looking, frantically working phones and laptops to find a solution. When I asked his plans, he said, "First, I have to save my family. Then I will think about myself."
To accommodate the influx, the city has established six coordination centres, one for each district, to help find places for people to stay. A set of Telegram channels have also been created, to help people share information about available rooms, supplies, medicines and anything else incoming fellow citizens may want.
"All services are still functioning," said Andriy Sadovyi, the city's mayor. "We are asking for donations of sleeping bags, mattresses, hygiene products and clothes." He said that the district had 140 schools that could be used as temporary shelters, although he did not expect to have to use them all.
Ukraine has a highly active civil society – they overthrew Putin's man in the Maidan Revolution of 2014, which he cannot forgive – and it, too, is gearing up in Lviv.
The Lviv Media Forum, a vibrant civic group that works nationally, has offered to host displaced journalists from across the country, and on the first day of the war secured a large van full of sleeping bags and mattresses.
By the next morning, the first displaced journalist arrived, a board member of a Crimean Tartar TV channel from Kyiv, with her family. The Forum quickly found them a space in a private house.
The Tartar journalists were expelled from Crimea during the 2014 conflict, so this is their second expulsion. Since then, staff have been sentenced in absentia by the Russian-backed authorities to 20 years in prison, so they cannot risk arrest if Kyiv falls. Several more of the team are expected. 
At least five other journalists from around the country came to the offices during Friday. Calls to the Forum seem constant, with repeated calls and enquiries for help with accommodation and transport.  
But the first displaced were the western diplomats. One European ambassador told me the diplo core are suffering a Vietnam syndrome relapse because of the shameful collapse in Afghanistan. Hence they started leaving the capital well before the war, and now US, UK, European, Israeli and other embassies have all re-located here. The British are now in a hotel some 10 kilometres from the centre.
Distance from Russia and closeness to NATO member Poland does provide people in Lviv with a sense of confidence. But there is a deeper role Lviv may be called upon to play – think General de Gaulle in London. 
No one wants to talk about it, certainly not in the early days of battle. Yet if Kyiv falls and the country is divided a la Germany – as predicted in an intriguing sourced report in Ukraine's leading paper Ukrainska Pravda – the capital of a Free Ukraine would be here.
Lviv has endured spells under Polish, Hapsburg and Soviet (read: Russian) imperial control. But western Ukraine never experienced an extended period under the Russian empire as central (including Kyiv) and eastern (including Kharkiv and Donbass) parts of the country. 
Western Ukraine has a stronger preponderance of Ukrainian speakers, as compared to the central and eastern parts. And it is known for playing a particularly formative role in the development of Ukrainian nation and national feeling, including as a driver for the 1991 independence from the Soviet Union.
"We don't expect it to happen, Kyiv is our capital," says Marianna Krasavina, 42, an associate professor of international relations at Lviv University. "But if Russia takes over the rest of the country, Lviv will serve as the base of the resistance, and we will fight on.
This publication was prepared under the "Amplify, Verify, Engage (AVE) Project" implemented with the financial support of the Ministry of Foreign Affairs, Norway.