Surprise Candidate for Tajik Opposition
Opposition bloc settles for leading civil society figure rather than politician.
Surprise Candidate for Tajik Opposition
Opposition bloc settles for leading civil society figure rather than politician.
Oinikhol Bobonazarova, the joint opposition candidate in the Tajik presidential election. (Photo: Galim Faskhutdinov)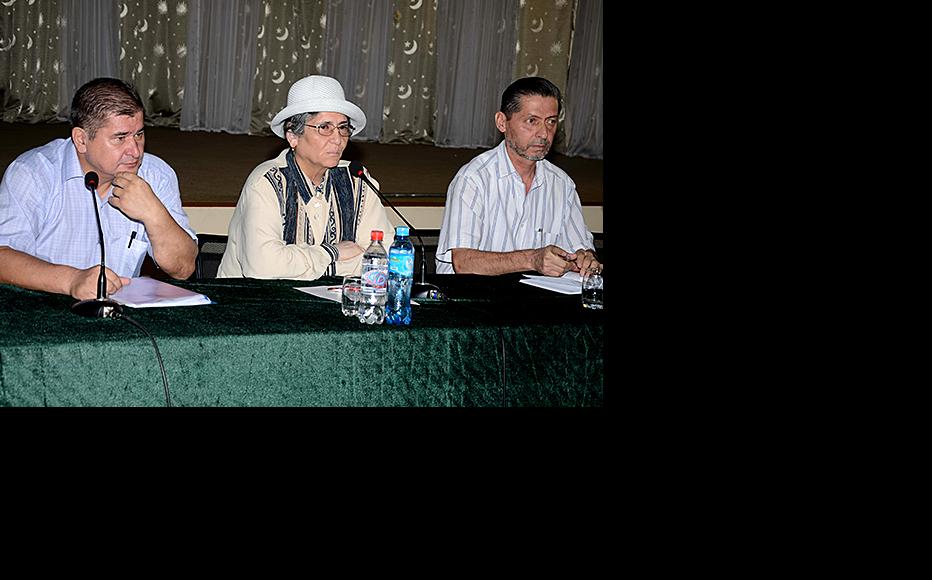 Bobonazarova with Social Democrat leader Rahmatillo Zoirov (left) as her nomination is announced. (Photo: Galim Faskhutdinov)
Islamic Rebirth Party leader Muhiddin Kabiri. (Photo: Galim Faskhutdinov)
Two major Tajik opposition parties have decided who they want to run against President Imomali Rahmon in this November's election, and it is an unexpected choice. 
Instead of picking one of their own, the Islamic Rebirth Party (IRP) and Social Democrats have agreed on Oinikhol Bobonazarova, a veteran of Tajikistan's NGO scene.
The decision was made at a September 9 meeting of the Union of Reformist Forces, an electoral coalition set up in July which also includes the recently-founded New Tajikistan party, Group-24, National Movement of Tajikistan, and the Vatandor movement.
The decision neatly sidesteps the issue of which section of the opposition the joint candidate should come from – Bobonazarova is not a member of any party.
Furthermore, she might help deflect the concerns of those voters who fear that the IRP ultimately wants to make Muslim-majority Tajikistan into a theocratic state; and she will also appeal to the female electorate.
"Oinikhol is an apolitical figure," IRP leader Muhiddin Kabiri told IWPR. "It's possible she will manage to win over people who have traditionally voted for other parties."
The 65-year civil society activist is not seen as the kind of high-profile politician whose personal ambitions might be viewed as threat by the current administration, and hence invite reprisals.
Earlier this year, Social Democratic Party leader Rahmatillo Zoirov said he might put himself forward as the joint candidate, but he has stepped back, in part because some IRP members were not keen on the idea.
After Zoirov suggested he might stand, state-run media ran a campaign to discredit him, hinting that he was a spy for neighbouring Uzbekistan, a country with which Tajikistan has a difficult relationship.
Zayd Saidov, a former government minister, was arrested in May shortly after setting up the New Tajikistan party, which is now part of the opposition coalition. (See Emerging Force in Tajik Politics Arrested.) The government is also seeking the extradition from Dubai of Umarali Quvvatov, founder of the opposition Group 24, another bloc member.
Other opposition politicians are naturally wary of putting their heads above the parapet and becoming a target.
President Rahmon, who has been in power continuously since 1992, has not yet announced plans to stand, but his People's Democratic Party has already said it will back him, and there seems to be little doubt that he will stand and win.
A lawyer by profession, Bobonazarova was part of the first movement for democratic reforms in the latter years of Soviet rule.
In recent years, she has worked for high-profile international organisations in Tajikistan, like the Organisation for Security and Cooperation in Europe and the Soros Foundation. She now heads an NGO called Perspektiva Plus which is involved in human rights protection.
Bobonazarova says her campaign will centre around the election manifesto put together in August by the Union of Reformist Forces, whose plans include shifting power from the president to parliament and greater decentralisation so that local communities can elect their own leaders. On the economic front, the coalition says it would support agriculture and small and medium-sized businesses, and address Tajikistan's chronic energy shortage.
Some commentators say the opposition's strategy appears to be to use the election campaign to raise its profile without seriously expecting to oust Rahmon from office, especially since they have only two months left to try to do that.

"The Social Democratic Party and the IRP may be looking at their chances with a healthy dose of scepticism," Ravshan Abdullaev, a political analyst and head of the Eurasia Foundation's mission, told IWPR. "Defeat at the polls could undermine their leaders' reputations… whereas if an apolitical candidate loses, it will probably be less painful."
Bobonazarova herself is realistic about the challenges she faces in trying to build a nationwide constituency.
"We have no access to television [airtime]. Opposition members are under fire from the state media," she told IWPR. "Of course it's going to be difficult for us to get our message out under these circumstances."
According to Kabiri, "Our maximalist goal is to win. The minimum goal is to achieve a good result and get the ideas in our programme over to the populace of Tajikistan. Once the majority have taken them on board, they [ideas] will start having an effect on their own."
The next step is for Bobonazarova to secure formal approval to stand. The coalition will need to supply the national election commission with 210,000 signatures in support of its candidate by October 7.
Galim Faskhutdinov is an IWPR contributor in Tajikistan.