Occupied Energodar, as Quiet as a Graveyard
The city, home to Europe's largest nuclear power plant, fell into Russian hands on March 4, and it is now impossible to leave.
Occupied Energodar, as Quiet as a Graveyard
The city, home to Europe's largest nuclear power plant, fell into Russian hands on March 4, and it is now impossible to leave.
Russian troops control the entry and exit to Energodar, a city in southern Ukraine, which is home to the country's largest nuclear power plant. The city, with a pre-war population of 53,000 people, was occupied in the early days of the Russian invasion. The sign reads "Energodar. Russia, forever." © IWPR
Life is now as quiet as in a cemetery in a city which once had 50,000 people. The atmosphere is nervous and bleak. The Russian military is everywhere. If you go to the market for groceries, you will see at least 30 or 40 of their soldiers. Russian flags flap everywhere.
Representatives of so-called Luhansk People's Republic (LPR) check the entry and exit to the city. These people are Ukrainians who have been poisoned by Russian propaganda. They are less aggressive than the Russians and allow residents to travel out of town to their suburban dachas, or holiday cottages.
When I drove a car with seedlings, they did an inspection and said, "Oh, we wasted the garden season this year."
One of them asked me if we had already harvested the grapes, then complained that he had not done anything in his garden yet.
"What the hell are we doing here," he concluded.
It is now impossible to leave the occupied territory. Until early May, the line of cars at the checkpoint in Vasylivka seemed endless. Convoys with over 1,000 cars were trying to leave this city, 67 kilometres east of Energodar, on the Dnieper River's Kakhovka reservoir. The Russians let through a maximum of 40 cars a day. These lucky ones managed to get to Zaporizhzha, to freedom. After mid-May, the Russians closed this checkpoint and said that they would not let anyone in for at least a week.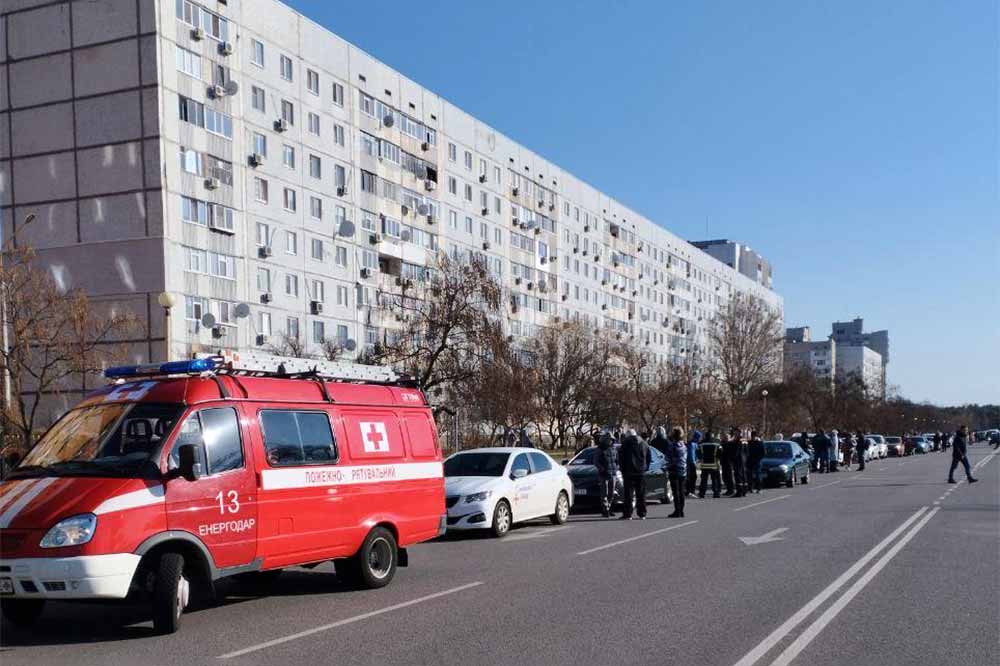 There are no filtration camps in Energodar. People are not brought here from other cities captured by the Russians. The city is now more of a hub, a storage facility for the military. Soldiers come here to rest.
Likewise, there are no talks in the city about a referendum to join Russia and local men are not being enlisted to fight in the Russian army - perhaps because they are mostly employed at the nuclear power plant and it would be complex to replace them. There are not many people who can be employed in a nuclear power plant.
Russians largely leave the residents alone, there is no widespread repression. But they have their targets. They randomly grab businessmen, politicians or Ukrainian army veterans and take them away. Where, we don't know. Some return, others are taken to other occupied cities and kept in custody there. And some never come back.
On May 23, Russian soldiers broke into the home of Serhiy Shvets, an employee of the energy repair unit of the Zaporizha nuclear plant, and shot him with automatic weapons. Doctors are still fighting to save his life. Most likely, they targeted him because they learnt from local collaborators that he served in the Ukrainian army and got his details from. There are quite a collaborators here, even in my circle of contacts there are three people who support the Russians.
On May 22, an explosion hit his house of Andriy Shevchyk, the de-facto mayor of occupied Energodar. He suffered a broken collarbone, but survived. Residents believe that it was other collaborators, not Ukrainian partisans, who tried to kill him. Shevchyk was taken to the neighbouring occupied city of Melitopol and Ruslan Kirpichev, a local racketeer, now rules the city. 
"They are removing everything in Ukrainian language from all spheres of life."
All business people are now obliged to pay fees to collaborators and the Russians and they can only trade in goods from Russia or from occupied Crimea. Russian soldiers escort entrepreneurs to know exactly what goods and in what quantity they trade. Of course, there is no tax system and no documents. The invaders simply say: you owe us this amount. If you refuse, they beat you - at best. Almost all the goods in shops now are from Russia.
So far, the Russian rouble has not been introduced and the Ukrainian hryvnia still circulates. Some shops accept both. 
Wages have fallen and food prices have gone through the roof. For example, frozen vereniki, potato-filled dumplings, now cost 160 hryvnia per kilogramme (six US dollars), more than double than February. When I bought two packages of kefir [a fermented milk drink, similar to yogurt] of one litre each, one bottle of milk, one kilo of sausages and one of chicken, I paid 800 hryvnias (27 dollars); before the occupation, the same basket would have cost half of that. Grocery shops can only sell beer, but people find spirits like vodka and cognac on the illegal market. Sellers have to pay fees to the Russians to do that. 
High prices and product shortages means that we had to ration food. My family now eats twice a day: mainly porridge, a small piece of meat or sausage, and home-made preserves.
Cash terminals do not operate, and you can only pay in cash or through card-to-card, which adds about 10 per cent in commission. People can receive cash from their relatives and friends in non-occupied territories through the card-to-card system but banks and ATMS are not functioning, so it is hard to cash in the transfers. 
Medicines and hygiene products are hard to find. Few pharmacies are open as they cannot get supplies. In late May, I saw 12 trucks with a red cross on their sides, but they were parked at the entrance to the city. They were probably full of stolen medicines that the Russians then sold.
Tech products are rare and if your phone breaks you cannot replace it, unless you find someone selling theirs. Petrol is an exception, there is enough as it is brought from Russia and sold for 38 hryvnia (one dollar) per litre.
The power plant, Europe's largest with six reactors, continues to operate and produce energy. Thankfully, none of its safety systems have been affected. Workers report intimidation, and say they are afraid to even move around the station. They say you can walk down a corridor and suddenly hear the click of a Russian military machine gun. 
The occupying administration has brought in employees from Rosatom, Russia's state atomiс energy corporation, with the aim of directing supplies from Zaporizha to Russia. But this effort could take over a year-and-a-half.
The occupying administration has changed street names from Ukrainian to Russian, placed their flags at every corner, and painted the monument at the entrance to the city in red, white and blue. They said that in thesummer, Russian teachers will arrive to teach our children to love Russia and [its President Vladimir] Putin. 
They are destroying everything Ukrainian, removing the Ukrainian language from all spheres of life.
You understand why we are waiting for the Ukrainian army. We are waiting for freedom.
The author is an Energodar resident who asked to remain anonymous for security reasons.