Georgia: Further Protests After Journalist Dies
Media workers demand immediate action over "green light for violence".
Georgia: Further Protests After Journalist Dies
Media workers demand immediate action over "green light for violence".
Protestors gathered in front of Parliament on July 11 to condemn the death of Lekso Lashkarava after he was injured during the violent events of July 5 at the hands of far right groups. © Anastasia Mgaloblishvili
The death of a cameraman who was badly beaten during protests against the planned Pride rally in Tbilisi has sparked furious calls from Georgian journalists for the prime minister's resignation over allegedly inciting violence ahead of the July 5 event.
Alexander Lashkarava died on July 11, five days after being attacked by an angry mob. The TV Pirveli cameraman was among 53 journalists beaten during the day's events, and Georgia's media community have demanded immediate action including the resignation of Prime Minister Irakli Gharibashvili.
They accuse the premier of having fueled a campaign of hatred against the media, including, just hours before Pride was due to begin, announcing that former President Mikheil Saakashvili and his allies were behind the event and that it would "only serve to increase the discrimination of these minority groups".
Journalists warn that protests against the government will continue until Gharibashvili resigns and all those responsible for the violence are held accountable, including the organisers and leaders of the far-right mobs.
Khatia Ghoghoberidze, editor-in-chief of the online On.ge news outlet, said that Gharibashvili's statement, alongside officials' general rhetoric towards critical media, had led to a "targeted hunt" on journalists.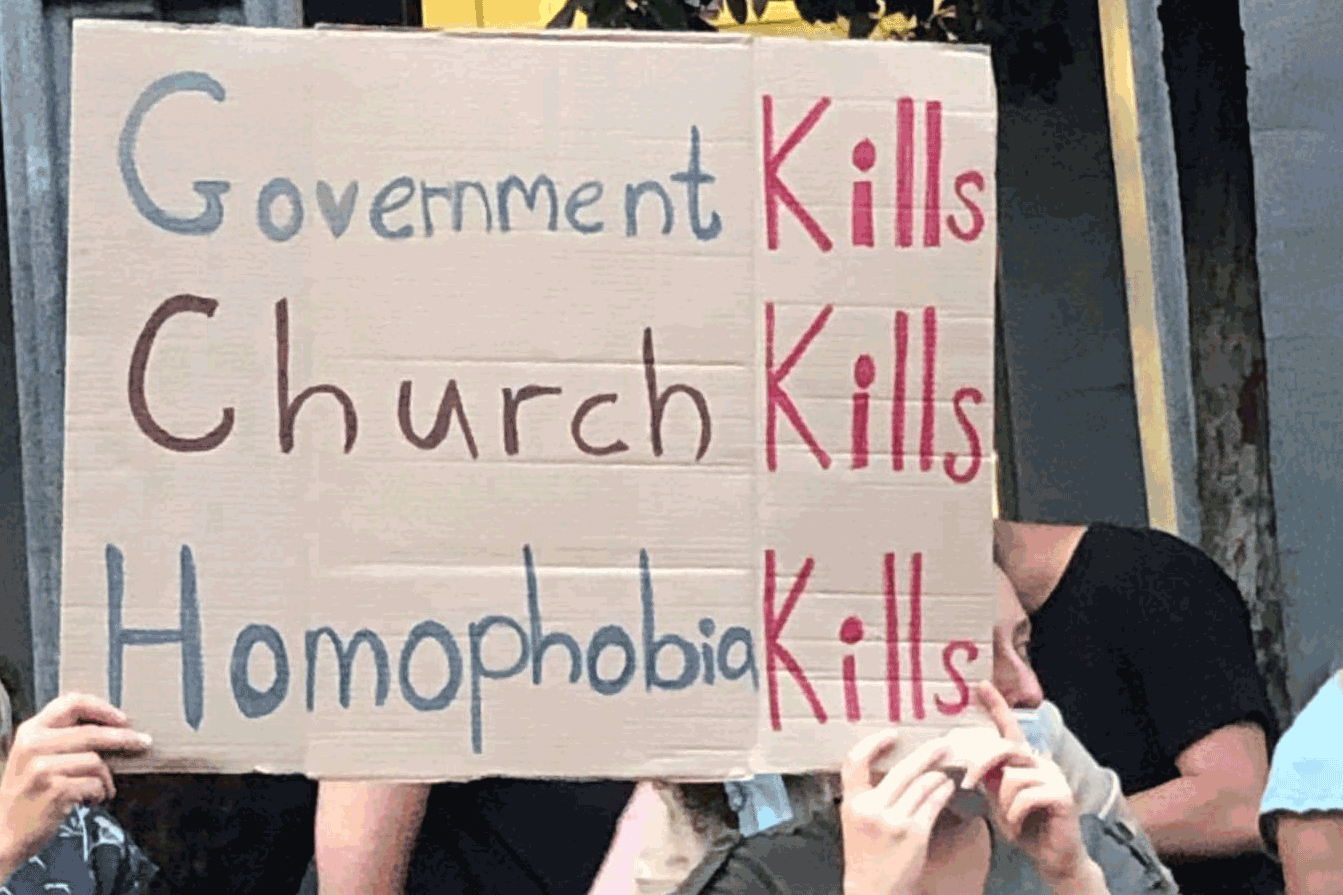 "Throughout the whole day, the government watched journalists get attacked in one of the main avenues of the country, and they did absolutely nothing except encourage it ahead of time," she said. "The prime minister's statement on the morning of July 5 was a green light for violence. And before that, Georgian Dream members' rhetoric towards critical media, their direct insults towards critical media, helped spread this idea in a segment of society that journalists are bad and that violence against them is normal and is acceptable."
Irakli Kobakhidze, chairman of the ruling Georgian Dream party, had also announced that "the radical opposition" organised the march for its own political interests and that its purpose was not to protect "the rights of anyone".
Others said that the police had stood by without intervening to help media workers under attack.
Radio Free Liberty journalist Tornike Mandaria, who was filming a documentary on Tbilisi Pride, suffered a broken nose, several damaged teeth and cuts requiring stitches. He said that at least ten police officers looked on and refused to help as the mob assaulted him and his colleagues.
"They heard our voices, our screams, they could see what was happening to us," Mandaria said, adding that despite his pleas "They did absolutely nothing, didn't move from the spot, just like I was talking to a wall. They were looking at me with cold eyes. Then one of the police let me go inside the garden of the UN office and told me to clean myself with water. I don't remember the exact formulation, but he told me something along the lines of 'What else did you think, coming out at the faggots' protest?'"
Mandaria said that he had also faced obstacles when giving a statement to the police.
"The part [of my testimony] where I mention that the police were 20 metres away but didn't do anything was completely taken out. Of course, I said that this is an important detail and then bargaining started – [the officer] asked me. 'is it significant for you that they stood there and didn't do anything?' 'How do you know it was 20 metres?'"
After threatening legal action, Mandaria had the testimony written as he asked.
Tabula journalist Mako Jabua was following far-right mobs from the Qashveti church to the parliament when she was attacked.
"At one point, I saw a crowd chasing journalists and cameramen, and I started calling the police," she said. "There weren't many of them - ten scattered around the place, a bit lost, like they were given an assignment to not get involved. Suddenly, out of instinct, I turned around where there was a man standing in front of me two times bigger than me. He was cursing, insulting me, and he was holding a flag. As soon as he saw me with my badge and camera, he told me to fuck off.
"And when I looked around, there was no one who could defend me. I've been covering protests like this for years, and I'm never scared because I always have hope that someone will defend me. But there was no one around."
A suspect is in pre-trial detention in connection with the assault, and the case will come to trial in September.  
Other media workers argued that the July 5 highlighted wider issues with press freedom in Georgia.
Anna Gvarishvili, the managing editor of Tabula, said that her and her colleagues faced an unfair struggle when it came to doing their job.
"In general, even in developed countries it's difficult and requires boldness to be a journalist against the majority [political] viewpoint," she said. "But in countries like Georgia, it requires a completely different type of boldness because in these cases it's not only your discomfort that is at stake but also your physical, and in frequent cases, mental health."
Access to information was also particularly difficult for critical media, Gvarishvili continued.
"Aside from these violent threats, being an opposition journalist means accepting the fact that no government official will give you an interview, will answer your call, that you'll be the last to receive information from the government press and during press briefings they will do everything to try and not answer your legitimate questions," she said.
She said that drastic action was now needed, adding, "The most important goal personally for me is a change in government - since I firmly believe that it is impossible that Georgian Dream's team will guarantee media and LGBTQ+ security.
"In reality, isn't it their 'protection' that led to all this?" she continued. "The goal is to have our protest reach the biggest portion of our society as possible before the 2021 [local] elections. And for people to realize that they also face this threat, and to let our international partners know that the country is marching towards authoritarianism."
There was indeed outside criticism over the July 5 violence, with 25 EU embassies releasing a joint statement, calling for "immediate and appropriate political and legal actions" to be taken.
US state department spokesman Ned Price said that the US was "committed to seeing to it that those responsible are held accountable" and mentioned sanctions as one of the tools available "to hold accountable those responsible in some way for human rights abuses".
This publication was prepared under the "Amplify, Verify, Engage (AVE) Project" implemented with the financial support of the Ministry of Foreign Affairs, Norway.