Fears Rise Over Gender Violence in Georgia
Legal experts warn that the judicial system is not doing enough to convict perpetrators.
Fears Rise Over Gender Violence in Georgia
Legal experts warn that the judicial system is not doing enough to convict perpetrators.
Women demonstrate against the rising rate of gender-based violence in Georgia. According to law enforcement agencies, since 2014 186 women were killed by their former partners; in 2022 alone 16 women were murdered. Human rights groups blame authorities' ineffective preventive measures and inadequate prosecution actions. © Gvantsa Seturidze/IWPR
Nino (not her real name) met her former partner at work and for a year or so, they were happy. But then he began taking drugs which, she said, drastically changed his behaviour.
"He started cursing, swearing and insulting me," she told IWPR.
"When he was sober again, he would apologise promising that it will not happen again and that this was the last time. He was a completely different person when he was sober, but once he took these drugs, he became radically different. Over time, things only got worse."
When Nino wanted to end the relationship, he threatened to expose her private life.
"I knew he was capable of doing this, because when he was on drugs, he was out of control," she continued. "He threatened me that he would come to my work and my home and tell my colleagues and my family about intimate details of our relationship."
When Nino finally decided to break up with him, he assaulted and tried to rape her. She resisted, injuring herself, but managed to escape and went straight to the police.
Feeling too ashamed to report the attempted rape, Nino filed a complaint against her partner accusing him of stalking. But her lawyer Tamuna Lukava explained that as soon as the man was released on bail and the restraining order expired, he continued the harassment.
Amid alarming rates of gender-based crimes in Georgia, legal experts fear that not enough is being done to keep women safe. According to the prosecutor's office, 16 cases of femicide were recorded in Georgia in the first ten months of 2022 alone. Since 2014, 189 women have been killed on gender grounds.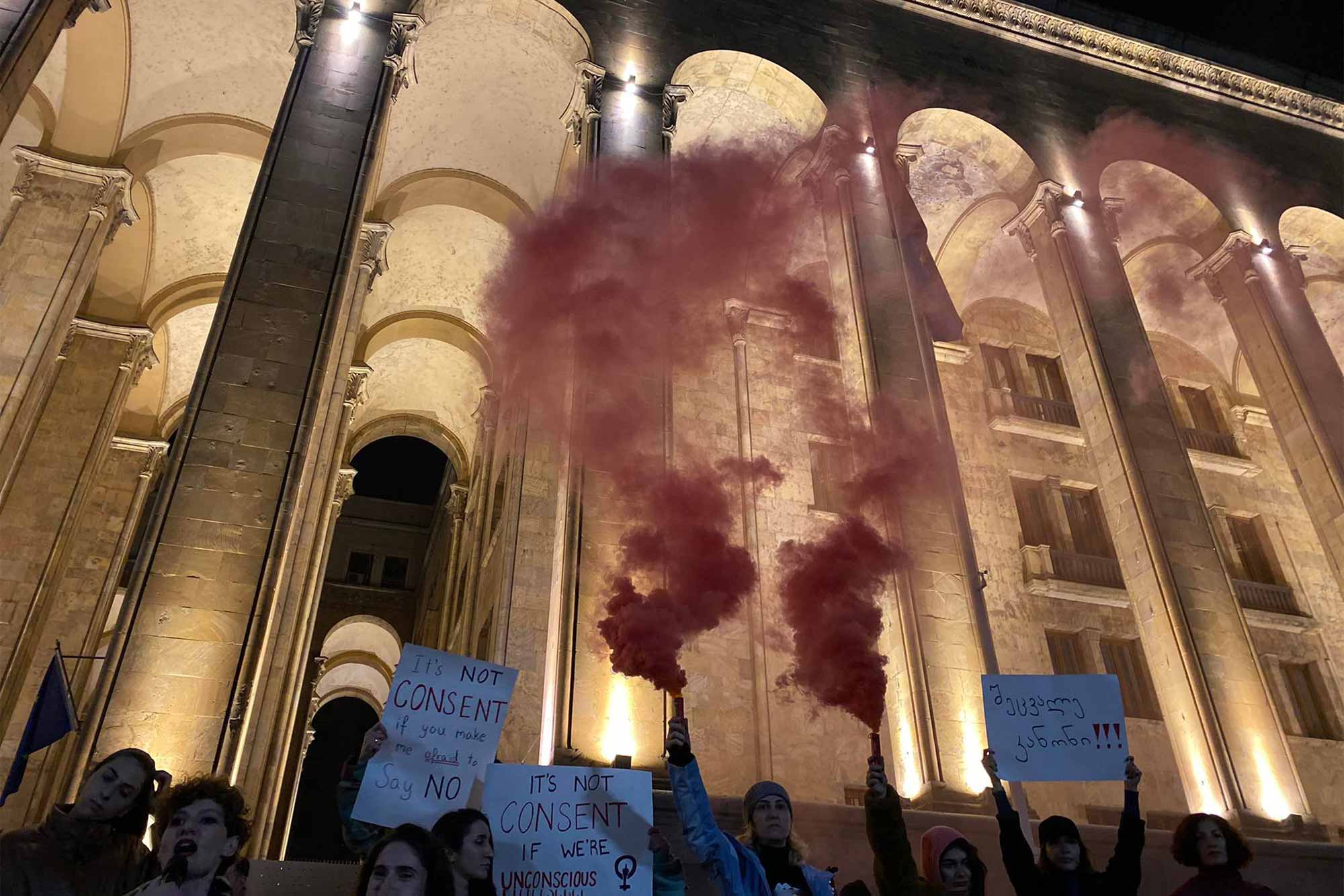 Lukava, from the Safari NGO, said that while the investigation against Nino's ex-partner continued, she was not hopeful that the evidence attached to the case would be sufficient for a conviction.
"It is because of changed approaches in the court," she said, arguing that judges had raised the bar for what was needed to ensure a conviction.
"In the cases of victims of gender-based and domestic violence, the standard of proof is lower and the court makes a ruling with less evidence - this is the attitude of the investigation and the prosecutor's office. But such an approach is no longer relevant, the courts have a totally different attitude now. On the contrary, they want more evidence on the case in order to reach a guilty verdict."
"The focus of the state must be on prevention."
In addition, Lukava continued, there had been numerous cases in which the police had failed to collect enough evidence, sometimes because the time-frame between when the culprit was detained and charged was very limited.
"Since the evidentiary standard has been low in the court until now, they think that the same approach continues, but it does not work that way anymore," she continued, adding that bail was very often granted to those suspected of gender violence, and was not always accompanied by a restraining order.
This was partly a legacy of the Covid-19 pandemic, when detainees were bailed in cases not deemed high risk rather than undergoing a two-week quarantine before going to prison.
"Now the quarantine is no longer required, however the practice persists," she said. "Previously, the courts followed stricter policies."
NO TRUST
Two legal cases in 2022 proved particularly controversial. On May 20, a court acquitted former city council member Ilia Jishkariani, a former member of the ruling Georgian Dream party, of sexual violence. Then on October 21, tennis player Nikoloz Basilashvili was also acquitted of alleged domestic violence against his ex-wife.
Ana Tavkhelidze, the lawyer for Basilashvili's ex-wife Nely Dorokashvili, said that the judge's decision had reinforced stereotypes and placed the burden of proof solely on the victims. She warned that every woman who approached her for assistance now felt hesitant about pursuing legal proceedings.
"In the long term, if such attitudes are not changed, if the relevant authorities including the courts do not clearly tell the victims that this was the wrong approach, it can lead to huge negative consequences and we can already see the results," she said. "Look how many cases of femicide we have, all of this is connected."
Deputy public defender Ekaterine Skhiladze agreed that gender-based and domestic violence remained a challenge in Georgia, sustained by ineffective prevention and response mechanisms.
"The focus of the state must be, first of all, on prevention, including through raising awareness campaigns, in order to prevent such facts from happening," she continued. "But, on the other hand, the state must definitely work on strengthening the response mechanisms once the fact of violence has happened. So that, when a citizen reports the crime to the police or any other law enforcement body, the response must be effective, enabling the prevention of repeated violence, because we see how high the number of extreme forms of violence - femicide and femicide attempts – are in Georgia."
Skhiladze noted that many cases of systematic domestic violence were never reported, due to minimal trust in law enforcement agencies, an inability to escape from the abuser or other circumstances, including conservative attitudes towards gender roles.
Support needed to be extended beyond simply enabling women to leave a violent environment, for instance introducing dedicated programmes for long-term housing.
She concluded, "The recommendation of the public defender includes providing stronger guarantees for economic independence of the victims of gender-based and domestic violence."
This publication was prepared under the "Amplify, Verify, Engage (AVE) Project" implemented with the financial support of the Ministry of Foreign Affairs, Norway.