A journalist holds a sign labelling a draft law currently under discussion in Georgia as "a Russian law" during a protest staged in front of the Parliament on 2 March, 2023. The government is facing domestic and international calls to backtrack on plans to adopt a "foreign influence agents" bill as critics say it mimics a similar law in Russia. © Gvantsa Seturidze/IWPR
Draft Law on Foreign Agents Sparks Outcry in Georgia and Abroad
Ruling party says that bill ensures transparency; critics argue it mimics Russian laws and will crush EU integration.
A journalist holds a sign labelling a draft law currently under discussion in Georgia as "a Russian law" during a protest staged in front of the Parliament on 2 March, 2023. The government is facing domestic and international calls to backtrack on plans to adopt a "foreign influence agents" bill as critics say it mimics a similar law in Russia. © Gvantsa Seturidze/IWPR
Chanting "No to Russian law," journalists and activists protested in front of the Georgian Parliament on March 2 as committees discussed two widely-criticised draft bills on so-called foreign agents. Police were deployed and scuffles resulted in the arrests of several protesters, including journalists, who were released later that night.
The bills would require non-governmental and media organisations receiving more than 20 per cent of their annual funding from "a foreign power" to register in a Foreign Influence Agents Registry or face fines of up to 25,000 laris (9,400 US dollars).
The proposals triggered a political storm. Georgian civil society as well as international partners described them as attacks on free expression and legitimate civic activism that worryingly mimicked Russia's law on foreign agents.
Kornely Kakachia, director of the Georgian Institute of Politics, noted that, if adopted the law would push Georgia closer to authoritarianism and further isolate the country internationally.
"The government is trying to consolidate forms of authoritarianism, which will certainly impact both domestic politics, limiting democratic development, and internationally as there is a great chance that Georgia will not receive [EU] candidate status," Kakachia, who is also professor of political science at Ivane Javakhishvili Tbilisi State University, told IWPR. "This is in contradiction with the Georgian people's aspiration of Euro-Atlantic integration."
President Salome Zurabishvili voiced her opposition to the bill, warning that it would "distance Georgia from Europe" making the country "a vicious model of Russia". She added she would veto the "unacceptable" proposal. The ruling Georgian Dream party (GD) could easily override the presidential veto, as it did in the past, but Zurabishvili's opposition highlights widespread concern that the law would jeopardise Georgia's aspirations for EU accession.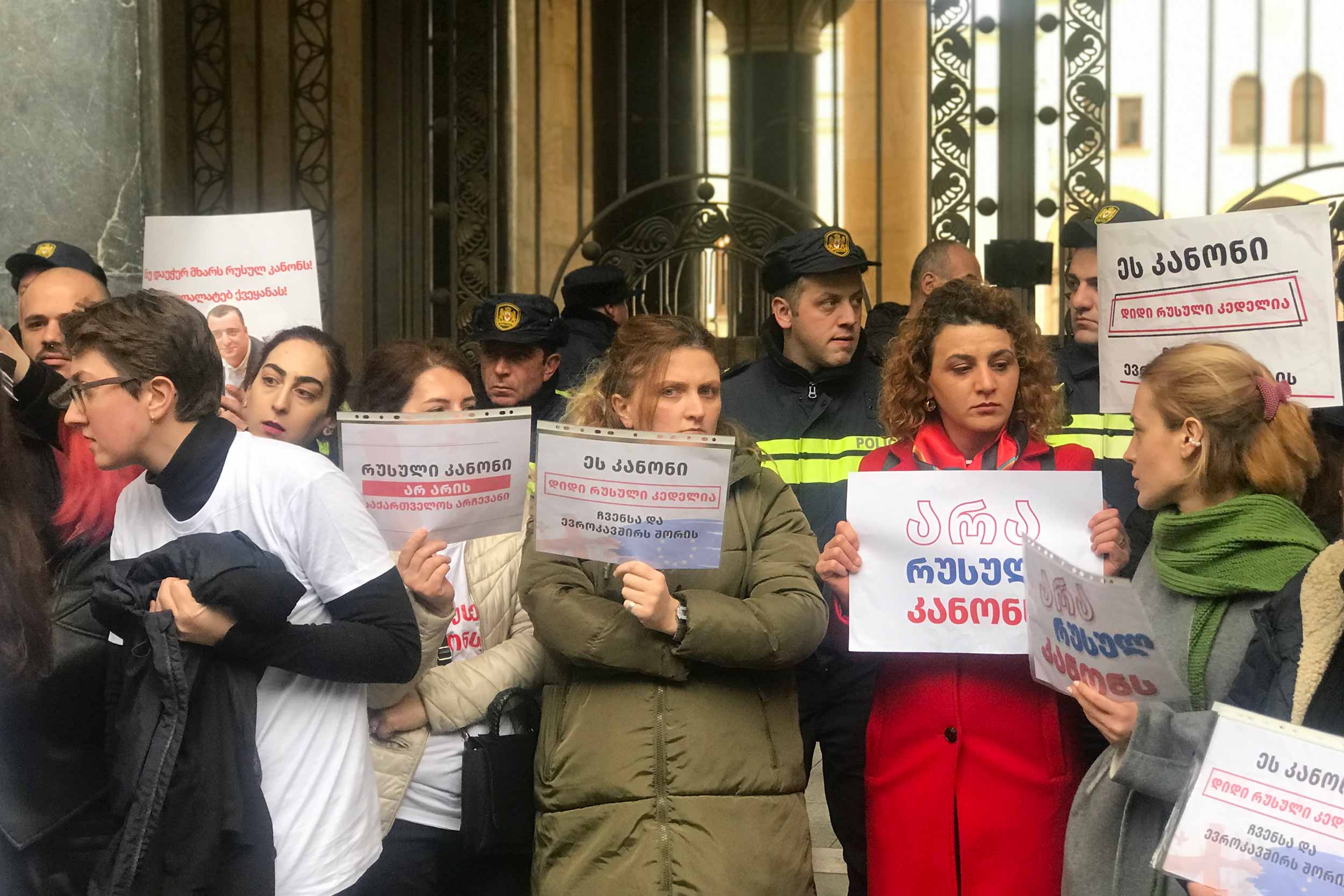 In March 2022, the Georgian government applied for EU membership status along with Moldova and Ukraine. Long-hailed as an example of regional democracy and reform, Georgia is no longer a frontrunner: the EU commission has issued a list of 12 recommendations Tbilisi must enact in order to be considered for membership status. One is to undertake to make "stronger efforts to guarantee a free, professional, pluralistic, and independent media environment".
"This is essentially a Russian law."
The first bill was initiated by the People's Power faction, a GD offshoot known for its anti-western statements and open criticism of the US and the EU. Following the backlash, the faction drafted a second bill, which introduced even stricter provisions as it expanded the list of foreign influence agents to include individuals. 
In the wake of the outcry, the ruling party said that it would send the drafts for review to the Venice Commission, an advisory body of the Council of Europe.
Opposition groups joined the criticism. For the United National Movement, the bills were "Russian laws" and their adoption would stop EU integration, while the Lelo party denounced them as "a clear sabotage" of the accession process.
As memes comparing GD's chief Irakli Kobakidze with Russian President Vladimir Putin gained traction on social media, Aleko Elisashvili, a lawmaker with the Citizens party, told reporters that instead of the Venice Commission the bill should be sent "to the [Russia's State Duma] and the "Savet Federatsii" [Federation Council]… it is essentially a Russian law".
The ruling party's chairman Irakli Kobakidze rejected the criticism, saying that the law aimed to ensure the "minimum standards of transparency" and is in "full accordance" with human rights values "unlike its American and Russian analogues". 
In an extensive interview on state-aligned Imedi TV, Kobakhidze said that the protest in front of parliament was that of "detractors of the Church," and that their activity was "political propaganda against identity".
"AGENTS OF NO-ONE"
International funding is critical for hundreds of NGOS working in a variety of fields; supporting independent media as well as providing assistance to victims of domestic violence, people with disabilities, minority communities, vulnerable families, young people, farmers, homeless and displaced persons.
A total of 400 civil society and media organisations signed a statement calling for the proposed draft to be rejected, saying that "the Russian law is not the choice of Georgia, for which we have been fighting for decades".
Ana Arganashvili is head of the Partnership for Human Rights, which has been providing assistance to people with disabilities since 2012. She said it would be forced to shut down as the conditions the law imposed were unacceptable.
"The government has successfully managed to fragment the political opposition."
"The protection of human rights is fundamental and we cannot fall under anyone's influence. We could not continue working in such environment, it is disgraceful and is aimed a discrediting us," Arganashvili told IWPR, adding that the organisation's staff provided help to those in need in remote areas, including legal aid.
More than 60 media outlets vowed not to register as foreign influence agents.
"We serve the public and are worried about the future of our country," their letter read. "If the Russian law is adopted, we will refuse to register as 'foreign influence agents.' It insults our professional dignity."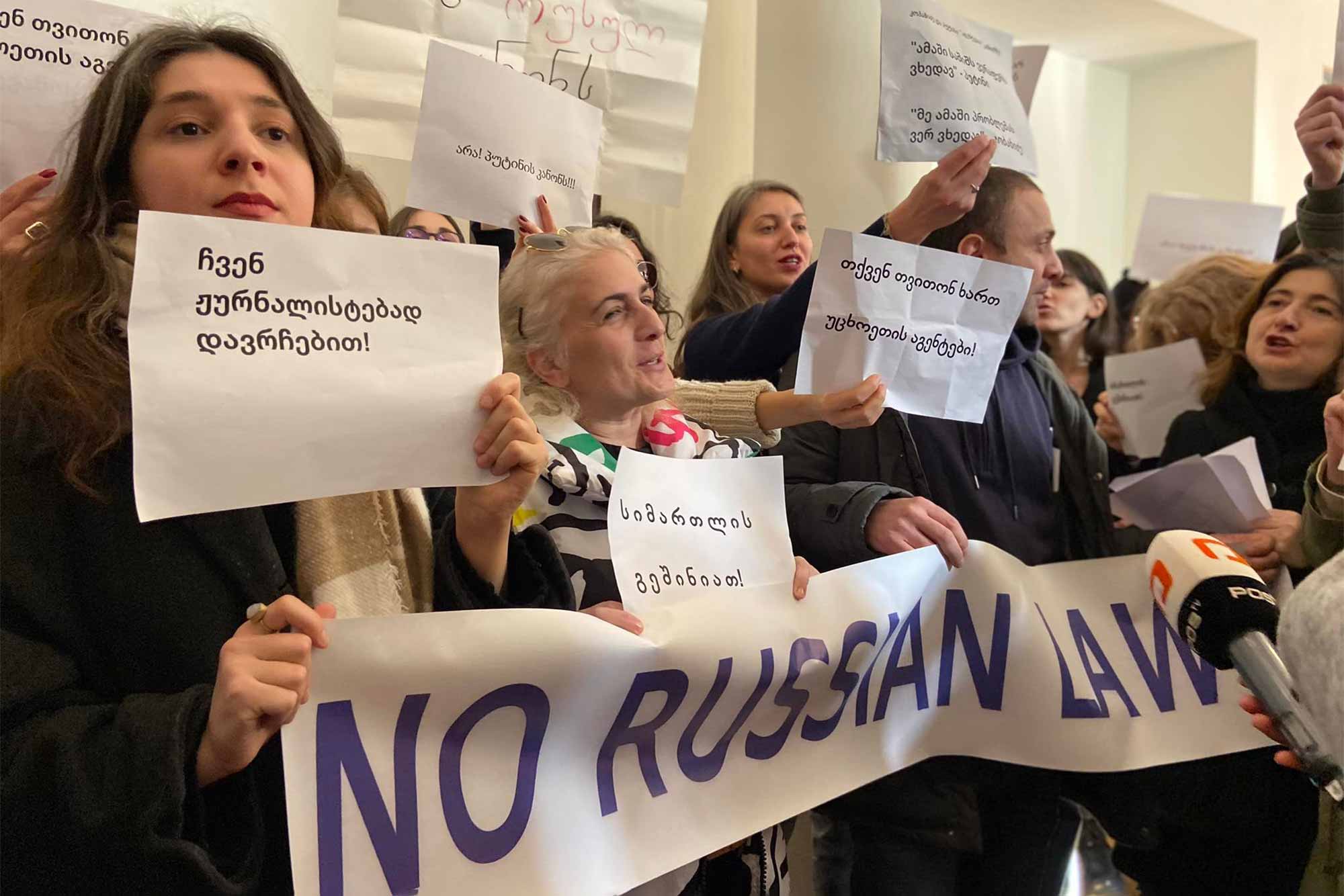 Grants from international organisations are key to keep independent media afloat as small outlets in medium-income countries like Georgia cannot rely on advertisement revenues
"This law aims at erasing freedom of expression," said Lika Zakashvili, editor-in-chief of the news site Publica, adding that the wording jeopardised the security of independent reporters. "Society perceives the word 'agent' as a spy, a traitor; and the government is going to work daily to discredit journalists labelled as agents. Radical groups have been chasing us in the past, but if the law is adopted, it will become more dangerous."
On July 5 2021, as Tbilisi was due to hold its first Pride march, at least 53 media workers were injured when far-right crowds took to the streets and attacked journalists and civil society groups. Authorities faced sharp criticism for their apparent inaction.
Salam, a support group that focuses on protecting minority rights in the Kvemo Kartli region, home to a large Azerbaijani community, is also worried about a backlash.
"The next stage will be that the [radical] groups, that we saw on July 5, will start calling us agents," Beniamin Kasimoglu, a Salam board member, told IWPR.
With Georgians set to vote in 2024 parliamentary elections, stigmatising civil society could also serve electoral purposes.
"The government has successfully managed to fragment the political opposition, marginalising it," Kakachia said. "It is now trying to get rid of a potential opponent who could threaten its victory at the next ballot, that is, civil society and free media, which have not yet been fully subdued."
Zakashvili added that if independent media registered as foreign agents, this would be used in smear campaigns against them.
"[Candidates] will focus their campaign, rhetoric and information war on discrediting independent organisations, targeting independent media…to portray us as we represent the interests of a foreign country. We are editorially independent…reporting on issues [important] for Georgia and Georgians. This is what they do not like," she said.
Georgia's international partners were similarly concerned.
The US state department stated that the proposed legislation "would stigmatise and silence independent voices", while the EU said its "adoption would be inconsistent with these aspirations and with EU norms and values," calling on Georgia's leadership to implement reforms in line with the stated objective of joining the union. The UN office in Georgia noted that civil society had been "at the forefront of delivering essential services to the most vulnerable" and "the draft law poses risks to the full respect of freedoms of association and expression, the right to participate in public affairs, the right to privacy and the prohibition of discrimination"
This publication was prepared under the "Amplify, Verify, Engage (AVE) Project" implemented with the financial support of the Ministry of Foreign Affairs, Norway.