Coming Out in Gagauzia's Conservative Society
"Living life with a constant feeling of fear; this is what you have to get used to here if you are gay."
Coming Out in Gagauzia's Conservative Society
"Living life with a constant feeling of fear; this is what you have to get used to here if you are gay."
Andrey Kolioglo came out in March 2018 and faced widespread harassment. Since March 2022 he lives in France, where he was granted asylum in the wake of the discrimination he faces in his native Moldova.
Born and raised in Kopchak, a village of nearly 10,000 in Moldova's southern region of Gagauzia, Andrey Kolioglo came out as gay in 2018. Four years later, he was given asylum in France due to the danger he faced back home.
"Hello. I'M GAY!...Yes, I like guys and always have. God created me this way, nothing can be done about it," he wrote on March 11, 2018 in a post on VKontakte, a social media and messaging platform largely used in Russia and by Russian speakers. "[I came out] maybe because my life was poisoned by your homophobia, maybe because I wouldn't wish that kind of [fearful] life to another guy….Please don't treat other gay people as badly as you treated me."
Insults and threats poured in, warning that there was no place in the world for people like him. Not all responses were negative - "messages of support cheered me up and gave me hope," he said – but the harassment even extended to Kolioglo's family. Friends and relatives cut relations with his parents, who ended up moving to another village.
"They went through the same abuse [there], if not worse," Kolioglo continued. "Finding work became difficult; my father was also attacked, even though he is a war veteran from Afghanistan. My sister had a nervous breakdown after she was fired because of me; she also decided to leave Moldova. Despite the social pressure, I have a good relationship with my parents, we communicate regularly, I help them in any way I can."
Moldovan society is conservative. In 2012, the government approved an anti-discrimination law which safeguards people from discrimination including on the basis of sexual orientation, but positive attitude towards the LGBTI community remains low.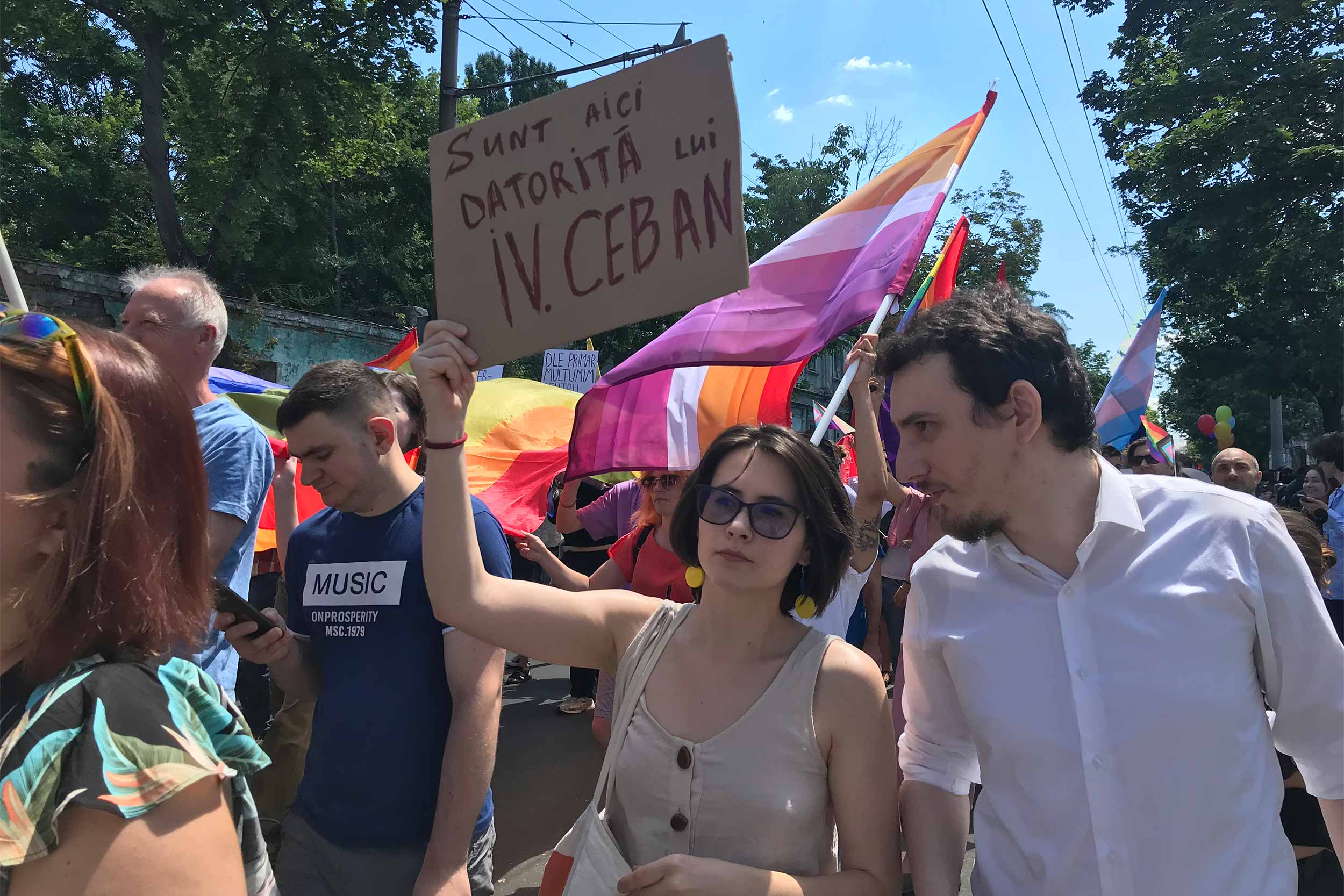 The harassment a young conscript faced when his sexual orientation was discovered sparked debate in society and in political circles as it did the suicide of a transgender teen who had been bullied by classmates.
As the country of 2.6 million moves closer to the EU, however, acceptance is slowly growing. In June 2022, Moldova held its largest-ever Pride march, with large police presence but in spite of threats and disinformation from conservative groups. The participation sent a rare signal of support for the LGBTI community.
In Gagauzia, the mood is different. Comrat, the administrative centre of 20,000, lies some 100 kilometres south of the capital Chisinau, but the cultural gap between the cities feels huge.
"Our people will not accept these anti-Christian values."
Sergey, a gay man in his 30s who asked to remain anonymous, said that he had not dared come out for fear of the backlash, including against his family.
"I am sure that after if I'd come out in Gagauzia I will lose equal access to many things, including non-discriminatory protection from local law enforcement agencies," he told IWPR.
"Living, unfulfilled, a life with a constant feeling of fear; this is what you have to get used to here if you are gay."
In May 2022, the  assembly adopted a resolution banning LGBTIQ "propaganda of non-traditional relations". The new bill states that the "traditional family" is the basis of Gagauz society, prohibits promotion of "non-traditional relations" and bans local media from publishing anything positive relating to same-sex couples.
"We realised that the central authorities of Moldova would try to hold an LGBT march in the autonomous region, so we made this decision to ban such marches [here]," Ivan Dimitroglo, a deputy in Gagauzia's assembly, told IWPR.
No Pride march was planned in Gagauzia, activists noted.
"They referred to the events planned in Chisinau. It looks like propaganda and manipulation," Angelika Frolova, an activist at GenderDoc-M, an LGBTI community advocacy centre, told IWPR.
As Gagauzia's resolution clashed with Moldova's constitution, it was taken to court by the Coalition for Inclusion and Non-discrimination, a grouping of human rights bodies across Moldova. 
"It has no legal value, it is merely declarative, so it will not bring any changes. Gagauzia cannot have laws that contradict the constitution of Moldova," Frolova noted. As yet, no ruling has been reached.
The bill mirrors similar ones adopted in the Russian Federation, with whom the region has strong ties. Lack of employment opportunities drive many Gagauz to migrate to Russia and three buses connect Comrat to Moscow. Russian is by far the most commonly spoken language.
"Homophobia is deeply rooted in Russia's authoritarian regime, which has successfully used it in the territories it influences, including some areas in Moldova," Kolioglo said. "People in Gagauzia struggle and revert to survival mechanism, rejecting anything that is different and encouraging homogeneity. In other words, 'everyone who is not like me is a traitor.'"
Kolioglo decided to leave Moldova in the wake of the Russian invasion of Ukraine.
"I feared that Russia would commit acts of aggression against Moldova and I was scared of the growing aggressive pro-war and xenophobic sentiments in Gagauzia and Transnistria [Moldova's breakaway region supported by Moscow], artificially created by the Russian propaganda machine," he said.
Gagauzian authorities maintain that the resolution does not violate the constitutional right to assembly.
"We do not ban talking about it [LGBTI], what we ban is that they must not be seen. Our people will not accept these anti-Christian values," Dimitroglo told IWPR.
In June, GenderDoc-M awarded regional lawmakers with the Plastic Basin, a symbolic mock trophy awarded every year to the most homophobic individuals and organisations. 
Observers maintain that the LGBTI issue is manipulated to divert the population's attention from problems affecting the region, including poverty and unemployment.
Frolova stressed that such an approach brought no benefits.
"Countries hostile to their citizens are doomed to poverty and under-development," she said. "Changing this country and making it a place where every person feels happy and safe must be our common aspiration; otherwise we will continue to lose people and hope for the future," Frolova continued, referring to Moldova's high migration rate.
Although Andrey and Sergey are not optimistic about short-term changes in Gagauzia, they believe that it is important to continue to fight.
The Pride march was an important statement of the community's search for rights and freedom, Sergey maintained, adding, "We want to be heard, we want to show we are members of our society and not some outcasts or sick people, as politicians sometimes call us."
In Paris Kolioglo is safe, but has not left the advocacy for his community behind.
"When I say that I am gay, I stand up for my civil rights, I make a political statement," he said. "Discrimination remains a daily staple, it is impossible to escape, but you can fight it."
This publication was prepared under the "Countering Disinformation in Moldova Project", implemented with the support of the United Kingdom's Conflict, Stability and Security Fund (CSSF).