Moldova's Largest Ever Pride March Defies Critics
Discrimination remain common as the country edges towards the European integration.
Moldova's Largest Ever Pride March Defies Critics
Discrimination remain common as the country edges towards the European integration.
Moldova's largest Pride march took place on June 19 under heavy security. Police officers outnumbered participants by one to four. © Aliona Ciurca
On June 19, about 500 people participated in the Pride march in Chisianu, including eight parliamentarians and representatives of the diplomatic community. © Aliona Ciurca
Moldova's largest-ever Pride march, which went ahead successfully despite threats and disinformation from conservative groups, has sent a rare signal of support for the LGBTI community as the country of 2.6 million moves closer to the EU.
The June 19 event came days before the EU Commission's recommendation to the European Council to grant candidate status to Ukraine and Moldova.
It saw a river of rainbow flags wind its way through the capital Chisinau for two kilometres, accompanying about 500 participants, including six parliamentarians and several representatives of the diplomatic community. The march was escorted by nearly 2,000 police officers in riot gear.
City mayor Ion Ceban,  a former member of the pro-Russian Socialist Party (SPRM), had led fierce opposition against the event, promising to ban the Pride march in a series of posts on social networks.
Genderdoc-M Information Centre (GDM), Moldova's leading advocacy organisation for the LGBTI community, responded that "according to the law on freedom of assembly, the permission or prohibition of holding peaceful public actions is not within the competence of the mayor".
Moldova has already lost two cases before the Strasbourg-based European Court of Human Rights (ECoHR) over previous bans on LGBTI assemblies and had to pay thousands of dollars in damages as a result.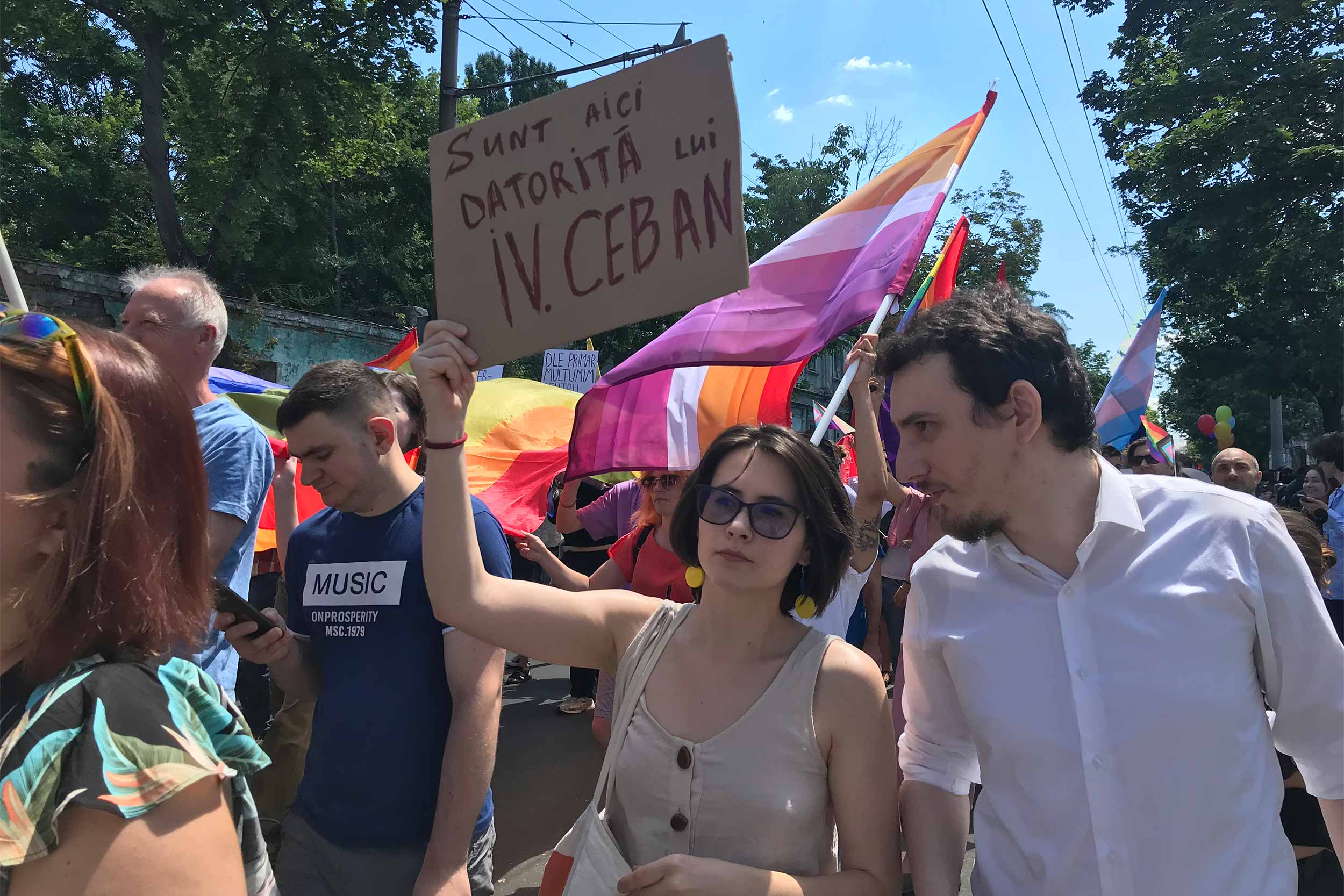 "The mayor does not have the power to cancel any meeting," added human rights lawyer Doina Ioana Straisteanu. "All Ceban did was to incite hatred, but on the other hand, [his actions] motivated people to come in large numbers, to defy him."
Among the placards carried during the march, some read, "I'm here because of Ion Ceban."
The mayor's stand, however, was welcomed by conservative groups, church representatives and supporters of pro-Russian parties like the SPRM.
On May 31, the Moldovan Orthodox Church's highest ranking cleric, Metropolitan Vladimir, signed an address requesting authorities that "this destructive scourge, [the Pride March], which morally defiles our Orthodox society and upholds the values of the family, be stopped".
Ceban and Metropolitan Vladimir's statements fit into a wider anti-western narrative and gendered disinformation which specifically targets women's rights and the LGBTI community. Legislative measures like the ratification of the Istanbul convention against domestic violence or the anti-discrimination bill are seen by conservative forces as a threat to family values.
HISTORY OF DISCRIMINATION
Alina Cebotari is a member of the Board of the National Coalition Life without Family Violence, a network of 23 NGOs and public institutions working to prevent and combat domestic violence.
"People need generalisations and stereotypes to simplify their lives," she said, "and here politicians use hate speech…  to maintain the same power relations in society: submissive women, dominant men, marginalised Roma, discriminated LGBTQI + community, and so on."
Ceban's posts on social media manipulated facts suggesting that the march could take place on June 1, International Children's Day, or that President Maia Sandu would be participating even though she has never attended a Pride event. 
The reference to Sandu follows a long-running campaign against the president who, at 50, is not married and has no children, two facts which been manipulated to question her sexual identity for years.
In 2016, when she ran for the presidency for the first time, a church representative said at a press conference that "she has no children, no husband, didn't gave birth to a child, […] it this is the case at the age of 40 or so, rightly speaks of the fact that she is a dry bean, she is barren".
Sexist discourse as a form of hate speech has become common in Moldova's public life, activists note, with attacks peaking during election campaign. Political parties like the SPRM have positioned themselves as protectors of Moldova's traditional ethics.
Promo Lex Association, Moldova's leading human rights NGO, reported that during the president election campaign in 2020, 448 cases of hate speech were registered, more than double the number recorded during the parliamentary and local votes of 2019. Apart from political adversaries, they focused on women and LGBTI people
"Research has shown that the more socially dominant heterosexual men are, the more likely they are to resort to the objectification of women," Cebotari told IWPR. "And when these men reach a position of subordination in relation to women, sexism and sexual harassment become a way to reaffirm their power and control in their relationship with women."
Change has been slow. In 2012 Moldova passed an anti-discrimination bill to protect minorities, including the LGBTI community. Ten years on, negative attitude towards sexual minority rights persists, with a recent survey showing that 64 per cent of respondents said they would "exclude" LGBTI people from the country.
"They try to divide us and to distract us from really important issues."
In April 2013, the regional assembly of Moldova's autonomous region of Gagauzia passed a bill "on the prohibition of propaganda of non-traditional relations, LGBT" in its territory. The so-called anti-gay law asserted that Gagauz society was rooted in the "traditional family" and prohibited the promotion of "non-traditional relations". The bill was invalidated by a court decision two months later, but remains a clear sign of the anti-LGBT stance in the country.
Experts note that sexism and homophobia for political gain exploit two sensitive issues in Moldovan society: the lack of sex education in schools and prejudice against the LGBT community.
"It is convenient to choose a group and make it a scapegoat, to distract people from unfulfilled promises," GDM's executive director Anastasia Danilova told IWPR. "The SPRM resorts to it most often: homophobia and transphobia are used to scare people even more, so that they do not vote for the so-called pro-European parties. They constantly contrast LGBT rights to 'traditional values', and they associate LGBT rights with European values, which they oppose to traditional ones."
According to GDM, a transgender teenager committed suicide in April after years of bullying that included being chased by a group of school boys, knocked to the ground, beaten and urinated on.
In late 2021, the case of Marin Pavlescu sparked a debate on anti-LGBTI discrimination in the army. The 18-year-old conscript left the military after denouncing the abuse he had experienced after his homosexuality surfaced. Accused of desertion, Pavlescu was spared jail thanks to the support provided by rights groups like GDM.
In the capital, however, the situation is improving. A survey conducted by GDM earlier this year revealed that negative attitudes towards LGBTI people in Chisinau had falled to 36 per cent from the 54 per cent recorded in 2019.
Danilova maintained that hate speech and disinformation impoverished society, keeping part of the population ignorant and easy to manipulate.
"They try to divide us and to distract us from really important issues: that is, instead of people pointing to problems whose solution is, in fact, in the power of the mayor, for instance, they come to believe that something else bothers them.
This publication was prepared under the "Amplify, Verify, Engage (AVE) Project" implemented with the financial support of the Ministry of Foreign Affairs, Norway.