Armenian Migrants to EU Face Rejection
Thousands apply for asylum in Europe on flimsy grounds; very few are accepted.
Armenian Migrants to EU Face Rejection
Thousands apply for asylum in Europe on flimsy grounds; very few are accepted.
A makeshift shelter for migrants in Berlin. © Armine Avetisyan/IWPR
Arsen Danielyan moved to Germany when his daughter was diagnosed with cancer as the health care in Armenia was insufficient to cure her. She recovered in Germany. The family recently returned to Armenia within the framework of the "European Return and Reintegration Network" program., which provides support to returning migrants. © Armine Avetisyan/IWPR
Hakob (not his real name) left Armenia to find work in Germany eight years ago.  
"My leaving Armenia was specially planned; I was looking for a good life, at that time I had no job in Armenia, there were money problems," the 38-year-old told IWPR. "I had many acquaintances abroad who encouraged me, saying that if I went there, I would have some problems at first, then it will settle down."
Having got a work visa for a year, Hakob found a job working in a food court in Berlin, but life was tough.
"There were days when I slept on the street, I am ashamed of those days now," he said. "In my country, I always walked with my head held high, I was never hungry, I never reached out to anyone for a piece of bread. And in Berlin I slept on the street like a homeless person."
After a couple of months, he saved enough money to bring his wife Ani and their young child over, and when Hakob's visa expired, the family did not want to leave. They decided to claim asylum on political grounds and had to move to a dormitory for applicants.
"I can't describe in words what bad conditions we lived in," Hakob said. "The room was a large hall where people of different nationalities, men and women slept mixed together. The bathroom was shared. While I was there, I missed my home every single day."
After six months, their application for asylum was rejected. After another six months, their subsequent appeal was also turned down.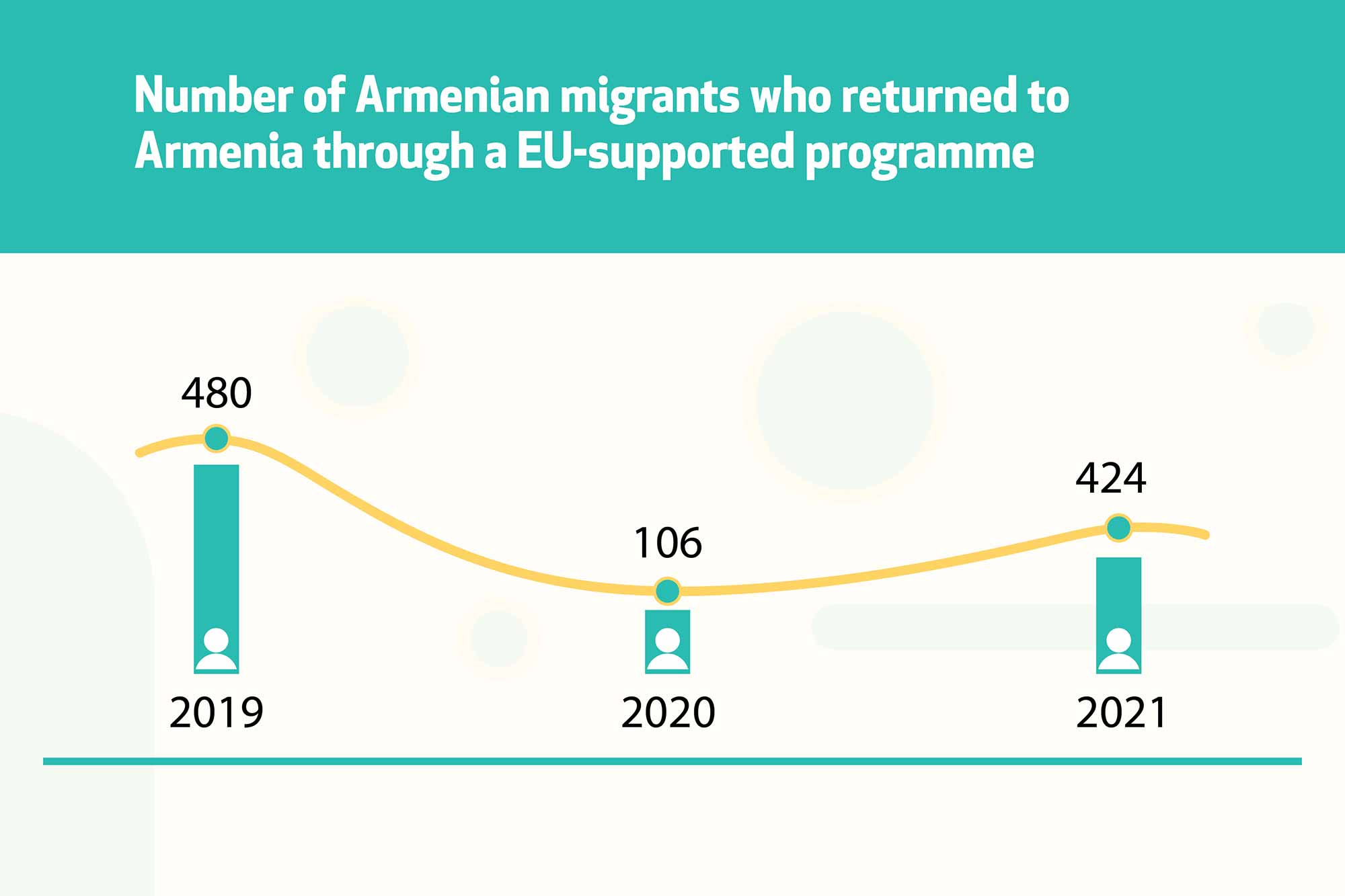 The family were among thousands of Armenians who apply for political asylum in Europe each year, mostly motivated by the search for a better life rather than any form of persecution.
The vast majority are unsuccessful, and face forcible repatriation and a ban on returning to the host country for five years.
Indeed, after the final rejection of their asylum claim, the family was sent back to Armenia in what Ani said was a profoundly traumatising experience.
"I had run away into uncertainty."
"We were sleeping in another dormitory at night when the police came… We had no time to get dressed properly, to take a couple of things. They put us in a car like dangerous criminals, took to the airport and sent us to Armenia... I didn't even have time to put on my shoes, I came with house slippers," Ani said.
The family now lives in Armenia's second city Gyumri. Both have found work, and they have no plans to try to get to Europe again.
"Even if we want to, we can't go now," Hakob said. "When they deport you, you can't go back for about five years, and we returned three years ago."
Only a small minority of those Armenians who claim asylum in Europe, often seeking better medical care than they can access at home, are successful.
Between 2010-2018, 57,250 asylum claims were submitted by Armenian citizens in EU and European Free Trade Association member states, generally for political or sexual discrimination or on health grounds.
Out of this number, 1,080 were granted refugee status, 1,015 humanitarian protection status and 880 auxiliary protection status.
Germany, France, Austria and Belgium were the main destination countries, with nearly 90 per cent of Armenian asylum seekers heading there.
Maria Harutyunyan heads the European Return and Reintegration Network programme of the International Centre for Migration Policy Development, financed by the EU Asylum, Migration and Integration Fund (AMIF).
The scheme facilitates cooperation between the migration services of 16 member countries and provides services to returning migrants including professional development, a monthly housing allowance of 60,000 drams (150 US dollars) for up to half a year and support to start a small business.
Running for the last three years, in 2019, the programme facilitated the return of 480 Armenian migrants, a number that dropped to 106 in 2020 because of the pandemic. Last year saw 424 returned through the programme.
Harutyunyan said that Germany was one of the preferred destinations for migrants.
In the first half of this year, the Migration Service of Armenia received 305 readmission applications from nine European countries, 61 per cent from Germany.
"Germany carries out the most returns of illegal migrants," Harutyunyan said, adding, "Those returned from France, the Netherlands and England make up a very small percentage."
Arsen Danielyan, who lives in the Armavir region, is one of the beneficiaries of the European Return and Reintegration Network programme.
He was among the many Armenians who travel to Germany to access medical treatment.
"A few years ago, my daughter Milena was diagnosed with cancer," he explained. "We started treatment immediately. It cost a lot of money."
After more than a year of treatment, they were told there was no hope of a cure. Danielyan sold the family home so as to seek a second opinion in Germany.
"We were thinking of taking this one last step so as not to blame ourselves later," he said.
The whole family travelled to Germany, where Danielyan's daughter received treatment that saved her life. When the time came for them to leave, they decided not to overstay their visa or try to claim asylum.
On their return, they received support from the migration service, including a grant that allowed Danielyan to start his own farm.  
"A hardworking person will not stay hungry," he said.
For his part, Hakob now regrets having tried so hard to stay in Germany, given the hardship he and his family suffered there.
"There was no way I wanted to go back, now I honestly don't understand why I had such desperate thoughts at the time," he said. "I had run away into uncertainty."
This publication was prepared under the "Amplify, Verify, Engage (AVE) Project" implemented with the financial support of the Ministry of Foreign Affairs, Norway.