IWPR's weekly Ukraine Justice Report provides an overview of key events and links to essential reading from Ukrainian and international reports alongside dedicated IWPR reporting and analysis.
Dry sunflowers hang their heads as a destroyed Russian tank points towards a former frontline on March 06, 2023 in the Kharkiv region of northeastern Ukraine. © John Moore/Getty Images
Ukraine: The Frustrating Pace of Justice
The length of time needed to build a case and follow due process is challenging for many victims and their families.
Tuesday, 25 April '23
This week's overview of key events and links to essential reading.
•  Registered War Crimes Cases Exceed 75,000 
•  SBU Reported Suspicion to the Head of Zaporizhzhia Nuclear Power Plant 
•  Russian Official Who Ordered Torture Identified
•  Russian Commander Accused of Zaporizhzhia Torture Identified
•  Russian Security Official Accused
Leonid Shchotkin appeared in a video interview with Volodymyr Zolkin. © V. Zolkin
Russian Officer Sentenced for Attack on Residential Building
Although tanker was captured on the day his offence was committed, he was exchanged in a prisoner swap.
More from IWPR's Ukraine coverage
Rescue workers and forensic police exhume bodies from unidentified makeshift graves at the Pishanske cemetery on September 21, 2022 in Izium, Ukraine. The bodies will be examined by forensic officials for possible war crimes. © Paula Bronstein/Getty Images
The Reckoning Project Reaches Millions
The J9 group is tasked with searching for the bodies of servicemen, including Russians.
(L) Member of the of White Angel crew trying to persuade a local resident Valeriy Oleynikov to evacuate. (R) Iryna, a local resident who refuses to leave Avdiivka and lives in a basement with her son, cats and dogs. © O. Golovina
The White Angels of Donetsk
Evacuation crews try and take locals to safety, but many in the hard-hit region are still reluctant to leave.
Forensic investigators remove an exhumed body from what is believed to be a mass grave on October 11, 2022 in Lyman, Donetsk oblast, Ukraine. © Carl Court/Getty Images
Covering War Crimes in Ukraine
IWPR reporting project provides unique insight and access to historic opportunity to see justice done for wartime atrocities.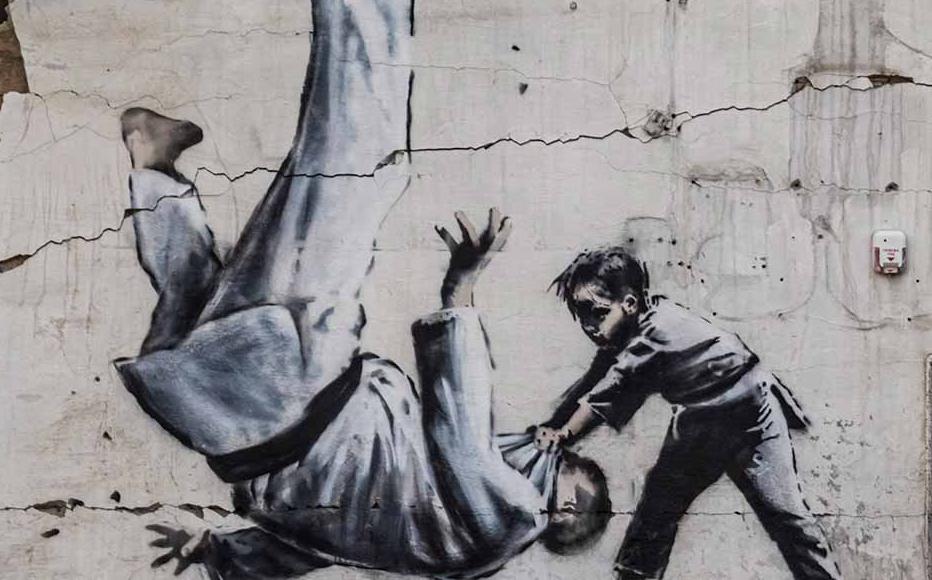 Graffiti of a child throwing a man over on the floor is seen on a wall amid damaged buildings in Borodyanka on November 09, 2022 in Kyiv Region, Ukraine. Borodyanka was hit particularly hard by Russian airstrikes in the first few weeks of the conflict. © Ed Ram/Getty Images
Oleksandr Kamyshin is head of Ukraine's rail state company. © Ukrzaliznytsia's press office
Like any other Ukrainian, the last 12 months have presented Sevgil Musaieva, Ukrainska Pravda's editor-in-chief, with innumerable challenges: from her team's safety and security to the outlet's financial support to how to operate amid power outages caused by Russian shelling. © Courtesy of S. Musaieva.
Iryna Kondratova is head of the Kharkiv Regional Perinatal Centre. © Ihor Tambiiev
Serhiy Prytula is a former TV presenter, actor and politician who has been fundraising since 2014 in the wake of the Kremlin's annexation of Crimea. © Lesya Kharchenko
Ulyana Moroz, Lviv Puppet Theatre director. © Still from video by Lviv Puppet Theatre.
A celebrated Ukrainian medic Yuliia Paevska, code name Taira, rose to fame on March 15, 2022 when she managed to smuggle out of Mariupol footage of the southern city under Russian siege. She was by Russian forces the day after and spent 94 days as a prisoner of war. She developed a course on tactical medicine and organised a unit of volunteers, called later the Angels of Taira, which has evacuated hundreds of wounded servicemen and civilians. © Courtesy of Y. Paevska. © Courtesy of Y. Paevska.
Olena Khromova and her husband Oleh opened the café Protagoniste in 2019 and planned to create a space to bring Kharkiv's creative youth together. © Liudmyla Budina
Ukraine: One Year On
IWPR looks at the impact of the full-scale invasion on ordinary Ukrainians.
Since February 24, 2022 Ukraine has withstood bombing, siege and unbearable atrocities. Russia's full-scale invasion of Ukraine has brought the worst destruction Europe has seen since WWII.
But the Russian missiles have not shattered Ukrainians' resilience.