Dry sunflowers hang their heads as a destroyed Russian tank points towards a former frontline on March 06, 2023 in the Kharkiv region of northeastern Ukraine. © John Moore/Getty Images
Ukraine: The Frustrating Pace of Justice
The length of time needed to build a case and follow due process is challenging for many victims and their families.
Dry sunflowers hang their heads as a destroyed Russian tank points towards a former frontline on March 06, 2023 in the Kharkiv region of northeastern Ukraine. © John Moore/Getty Images
"I would like to look into the eyes of these people, I would like to be sure that they will be punished. It will be easier for me after that," said Oleksandr Chekmaryov, whose wife and two sons were killed in front of him in Bucha in early March 2022.
The Chekmaryov family had moved to the town near Kyiv from the Donetsk region seven years before to escape the fighting in Ukraine's east.
"We were running away from the so-called 'Russian peace,' Chekmaryov recalled. "But Putin caught up with us in Bucha."
The Chekmaryov family were reluctant to leave when the full-scale invasion began on February 24, 2022. But they finally fled when columns of Russian tanks began moving unhindered through their town, and artillery shelling became intense.
On the way out of the city, their convoy of civilian cars were fired upon from a Russian infantry fighting vehicle (IFV). Chekmaryov survived but his wife Margarita, and two sons, Matvii and Klym, died before his eyes.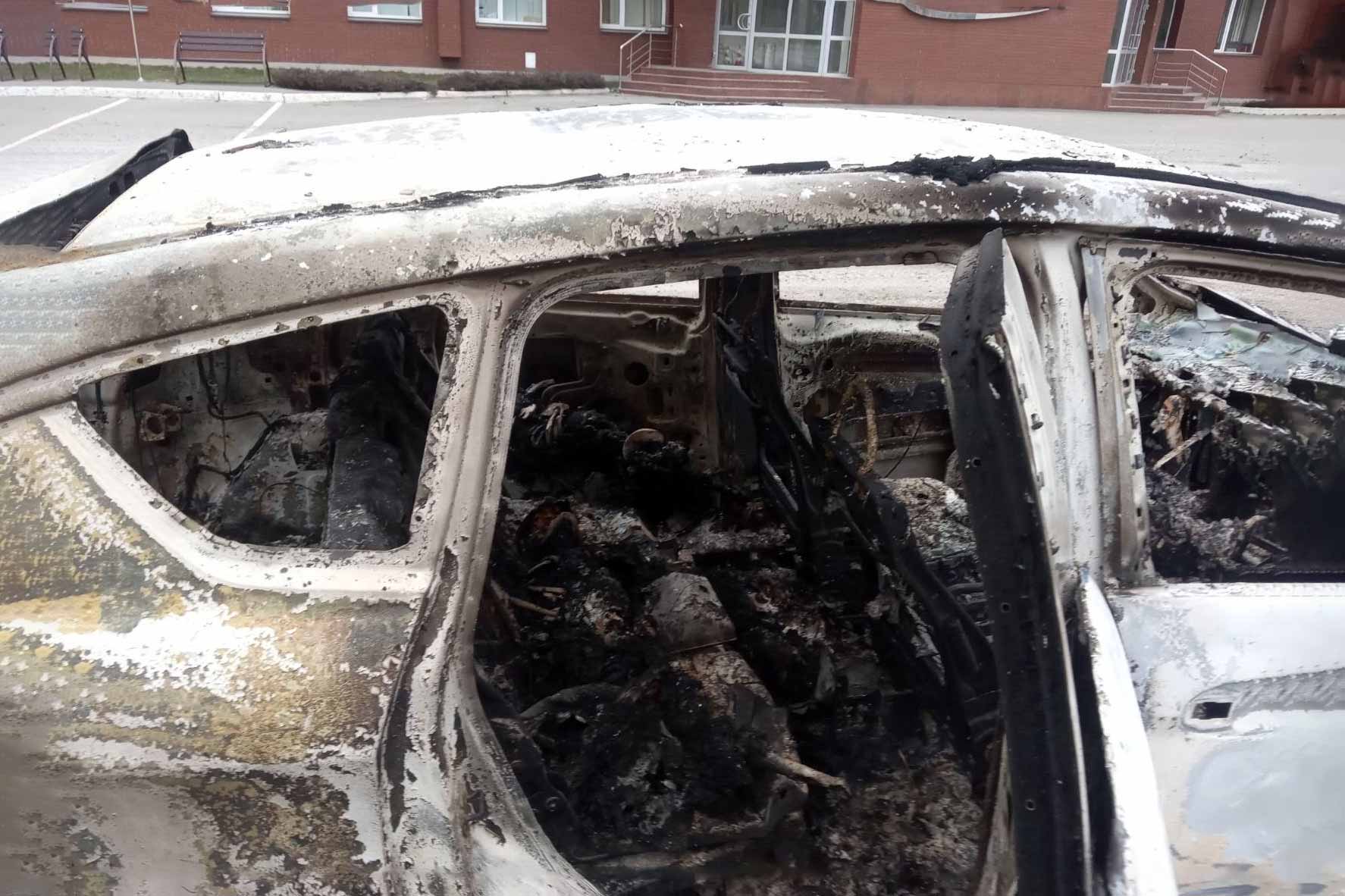 The murders are among some 80,000 alleged war crimes by the Russian military being investigated in Ukraine.
The scale of the task is enormous, but has overwhelming public support. According to surveys conducted at the end of last year, 65 per cent of Ukrainians believe that Ukraine's law enforcement system in the investigation of Russian war crimes is effective. 
Three-quarters of respondents believe that court cases investigating Russian war crimes should begin as soon as possible. 
However, the reality is that it will take years to process potential cases. The length of time needed to build a case and follow due process can be baffling and infuriating; the fact that many convictions will inevitably be in absentia adds another layer of frustration. 
"Emotionally, people need quick revenge, and this can be understood," said Larysa Denysenko, a lawyer and human rights defender. "It is very important to link the justice process directly with justice and retribution for war crimes." 
Oleh Tkalenko, the deputy head of the Kyiv prosecutor's office, said that despite the fragmentary nature of the evidence and the laborious process of collection, prosecutors hoped to bring many suspects to trial and have verdicts handed down before the end of this year. 
The first phase of investigation was "to assemble a complete evidentiary foundation as well as eyewitness accounts," he continued, explaining that Russian prisoners-of-war often gave the names of comrades who had bragged about abuses.
Indeed, one of the witnesses in the ongoing Chekmaryov investigation is a Russian soldier who was at the scene of the murders. 
"He was arrested [later], he is in the Lukyanivska Prison and is testifying," Chekmaryov said. "The investigators also brought me photos of all the Russians who were involved in the shooting. They found out which regiment it was, which military unit, and found their phones."
While a substantial amount of evidence had been gathered and the suspects identified, Chekmaryov acknowledged that the process was likely to take longer than a year. Any convictions were also likely to be in absentia.
Tkalenko said that while he understood that victims and their families could find in absentia trials unsatisfactory, he stressed that those convicted would all be added to international wanted lists.
"Ukraine has signed a number of international treaties for the extradition of such criminal," he said. "We hope that some of them will be apprehended abroad and returned to Ukraine to pay for the crimes they have committed while the war is still ongoing. We will find the rest after we win."
Oleg Havrysh, chief consultant of the president's office, said that there was a further difficulty punishing Russian soldiers who were already in Ukrainian custody.
"Those [Russian] soldiers who were captured and whose guilt in the commission of war crimes was proven by Ukrainian courts are exchanged for Ukrainian prisoners of war," he said, adding, "We were faced with a choice - either we save our prisoners by exchanging them, or we punish the Russians for crimes on the territory of Ukraine. The president made a conscious choice. He said, first of all, it is necessary to return those who are captives."
Amidst these issues, Denysenko said that public advocacy and discussion of justice processes was key, she continued, calling for the media to make this part of their routine output. 
"Unclear, absentee justice is perceived as justice delayed," she continued. "Therefore, it's necessary to explain that this is an inevitable process - why it does not happen quickly, what the quality of justice is and what it affects, what is happening now, and that it is worth any wait."
Denysenko argued that the case of Malaysian Airline flight 17, shot down by Russian-controlled forces in July 2014 with the loss of more than 300 lives, was a good model of such outreach.
After a two-year trial, a Dutch court found two Russians and a Ukrainian separatist guilty of mass murder and sentenced them to life in prison in absentia. Another suspect was acquitted.
"Yes, the process is long and difficult, but [it was] full of respect for the victims and their families," Denysenko said. "Yes, the process is based on evidence, and if the evidence is insufficient or not relevant, someone can escape responsibility. Yes, the sentences are in absentia, but they are passed; the system works."
Alyona Kryvulyak, director of the national hotline department of the La Strada-Ukraine NGO also noted that war crimes, including cases of sexual violence, did not have a statute of limitations. 
"Even if 50 years pass, it will still be possible to bring people who committed such crimes to justice," she said. "Of course, we really want it to happen quickly, but, unfortunately this will not happen today or tomorrow."
INTERNATIONAL PROCESSES
As Ukraine continues its own work domestically, more than 20 countries have now opened investigations into Russian war crimes. Recently, the International Criminal Court (ICC) in The Hague issued arrest warrants for Russian President Vladimir Putin and his commissioner for children's rights Maria Lvova-Belova on suspicion of kidnapping Ukrainian children.
However, the ICC cannot prosecute the Russian leadership for the overarching crime of aggression, since neither Kyiv nor Moscow has ratified its founding document, the Rome Statute. 
Ukraine is working on the creation of a special tribunal to facilitate this, with the formal support of 34 states. Meanwhile, in Vilnius this month, members of the Joint Investigation Team (JIT) - which includes numerous Euroepan states as well as the ICC - also signed an agreement to investigate the crime of genocide.
Almost 100 per cent of Ukrainians surveyed last year supported the idea of involving international legal organisations to document Russia's war crimes.
Nonetheless, these processes can appear very distant for victims who want to see those responsible for atrocities held to account.
Chekmaryov said that he had been interviewed by ICC representatives, and that he would probably testify in an international court if asked to do so.
However, he added, "The ICC is involved, but this is far from me."
 
Ideally, Chekmaryov said, those responsible for killing his family would face execution, but he knows this is not possible.
While the pain of his losing loved ones will never go away, he feels that any kind of trial will bring some satisfaction. 
"Even if this trial will be in absentia, I want to see some results - that these people will be punished," he said, adding, "To see a Russian soldier in a courtroom would be a relief for me."
Please take a minute to complete a short survey. For any further feedback email us at editor@iwpr.net.