Stories by the Author
Georgians are thinner on the ground than anyone thought. (Photo: Regina Jegorova-Askerova)
Latest census shows big drop in population, not picked up by previous flawed data collection.
19 Nov 15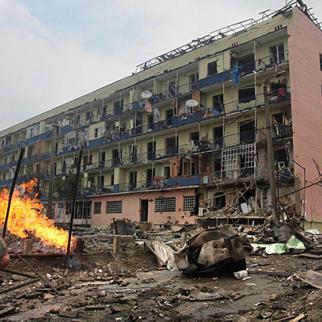 One of many buildings damaged in the August 2008 conflict. (Photo: Leli Blagonravova)
Prosecutor Fatou Bensouda says there are reasonable grounds to look into crimes allegedly committed during 2008 conflict.
3 Nov 15
A rally in Tbilisi in support of greater female participation in politics, spring 2015. (Photo: Regina Jegorova-Askerova)
Politicians seem prepared to consider a measure that would guarantee women a quarter of seats in the legislature.
27 Oct 15
IWPR and visiting journalists meet community leaders in Duisi. (Photo: Onnik Krikorian)
Journalists have heard the stories of fighters going off to Syria. Now they've had a chance to visit an area said to be a hotbed of radical Islam.
25 Jun 15
Journalists interview a resident of Zardiantkari as he crosses a Georgian police checkpoint. (Photo: Heather Yundt/IWPR)
IWPR takes Georgian reporters to a village on the fragile boundary with South Ossetia.
28 Jan 15
Some analysts fear stricter visa rules will deter foreigners who contribute to Georgian economic growth.
29 Sep 14
Behind the Headlines – 7
6 Jun 14
Behind the Headlines – 6
28 May 14