How Should Central Asia Deal With Afghanistan?
International experts discuss potential threats and opportunities to stabilise ongoing tensions.
How Should Central Asia Deal With Afghanistan?
International experts discuss potential threats and opportunities to stabilise ongoing tensions.
Central Asian states must develop a coordinated regional response to the current crisis in Afghanistan, according to speakers at a recent IWPR event.
Ariel Cohen, a non-resident senior fellow at the Atlantic Council Eurasia Centre, said that the entire model of statehood in Central Asia and the agency of each individual country had been challenged by the Taleban takeover.
This had also facilitated a multitude of other actors across the country, such as the Turkistan Islamic Party, ISIS-K and al-Qaeda, none of which pursued a paradigm that prioritised ethnicity.
"Thousands of fighters from Central Asia went to Syria, Iraq, and other places for the jihad, [they] subscribed to this ideology," Cohen said. "If not checked, if not rendered non-competitive by any means possible, that ideology will challenge the statehoods of the still newly independent states.". 
Central Asian governments needed to deter the Taleban from exporting its Islamist model, he continued, noting that the Kabul government might exploit drug trafficking and other abuses of power "if and when it comes to discrediting the existing regimes" in neighbouring countries.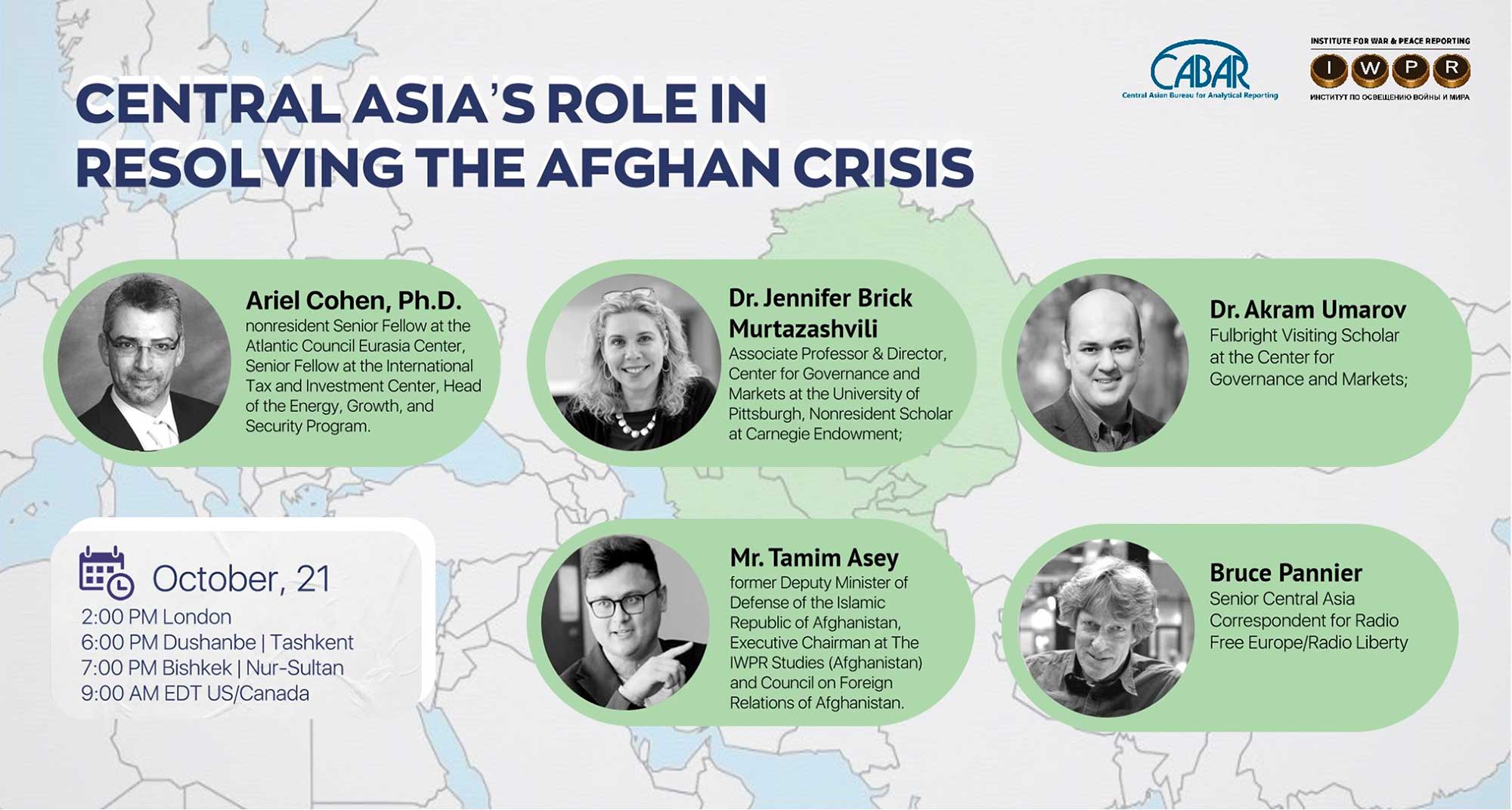 Tamim Asey, a former Afghan deputy minister of defence, said that Central Asian leaders were right to fear the rise of jihadist Islamic movements that could threaten their national cohesion.
"We see how the Taleban and the Islamic ideological umbrella are using the ethnic card and instrumentalising ethnicity for their global and regional jihadist objectives," he said.
Asey noted that significant numbers of Uzbek and Tajik citizens were among the Taleban fighters, including as part of suicide bomber deployed on the borders of neighbouring countries. Afghanistan's new model of jihadist ideology was already inspiring extremist groups in Central Asia and beyond, he concluded.
The level of engagement with the Taleban varies significantly among the five states of Central Asia. For instance, while Turkmenistan has been interacting with the group for years, Tajikistan has a tense history, in part because of Tajik militants based in northern Afghanistan.
Uzbekistan's relationship has fluctuated given to previous tensions with Pakistan, but the strategic partnership Tashkent signed with Islamabad in July – in the presence of then Afghan president Ashraf Ghani – may signal a change in attitude.  
Akram Umarov, a Fulbright Visiting Scholar at the University of Pittsburgh, stressed that more regional cooperation was needed rather than this current piecemeal approach.
While most states in Central Asian had been interacting with the Taleban on a bilateral basis, they should make use of established consultative mechanisms and use a more cooperative approach to deal with the crisis, he continued.
"In order to demonstrate our agency, we should act more proactively and demonstrate that we, as a region, are ready to have more responsibility and have a united position," Umarov said.
The current humanitarian and refugee crisis was a priority, he argued, taking precedence over the issue of the recognition of the Taleban regime. Lacking internal coordination and struggling to organise public institutions and provide public services, the current government remained an unpredictable force and - considering the involvement of Pakistan - its independence remained questionable.
However Jennifer Brick Murtazashvili, an associate professor at the Center for Governance and Markets at the University of Pittsburgh, said that while the fall of the Ghani government undoubtedly posed multiple threats, Central Asian states were well prepared to deal with the crisis.
Despite their divergent foreign policies, the various countries had long been aware of the security threats Afghanistan posed and had come to realise that the US military presence was fueling the situation, she concluded.
This publication was prepared under the "Amplify, Verify, Engage (AVE) Project" implemented with the financial support of the Ministry of Foreign Affairs, Norway.