Fighting Corruption in Ukraine
Specialist guide proving key to stamping out graft.
Fighting Corruption in Ukraine
Specialist guide proving key to stamping out graft.
Anti-government protesters in Kiev calling for ousting of President Viktor Yanukovych over corruption and an abandoned trade agreement with the European Union, February 2014. © Jeff J Mitchell/Getty Images
Demonstrations outside Ukrainian parliament in Kiev on June 5, 2020 calling for the Interior Minister's resignation over corruption allegations. © Sergei Supinsky/AFP/via Getty Images
A handbook produced by IWPR's Ukrainian partners has become the go-to text for the country's main anti-corruption body.
"I keep it on my desk as a challenge for myself and my colleagues," said Oleksandr Novikov, the head of Ukraine's National Agency on Corruption Prevention (NAPC), who said he had also ensured that all key members of staff had their own copy.
Corruption is a crucial issue for Ukraine. It has the second worst record on corruption in Europe, and there are entrenched interests at every level of state, government and business. 
The country's access to international aid, not least a five billion US dollar programme agreed with the IMF in June 2020, is dependent on its ability to curb this endemic problem.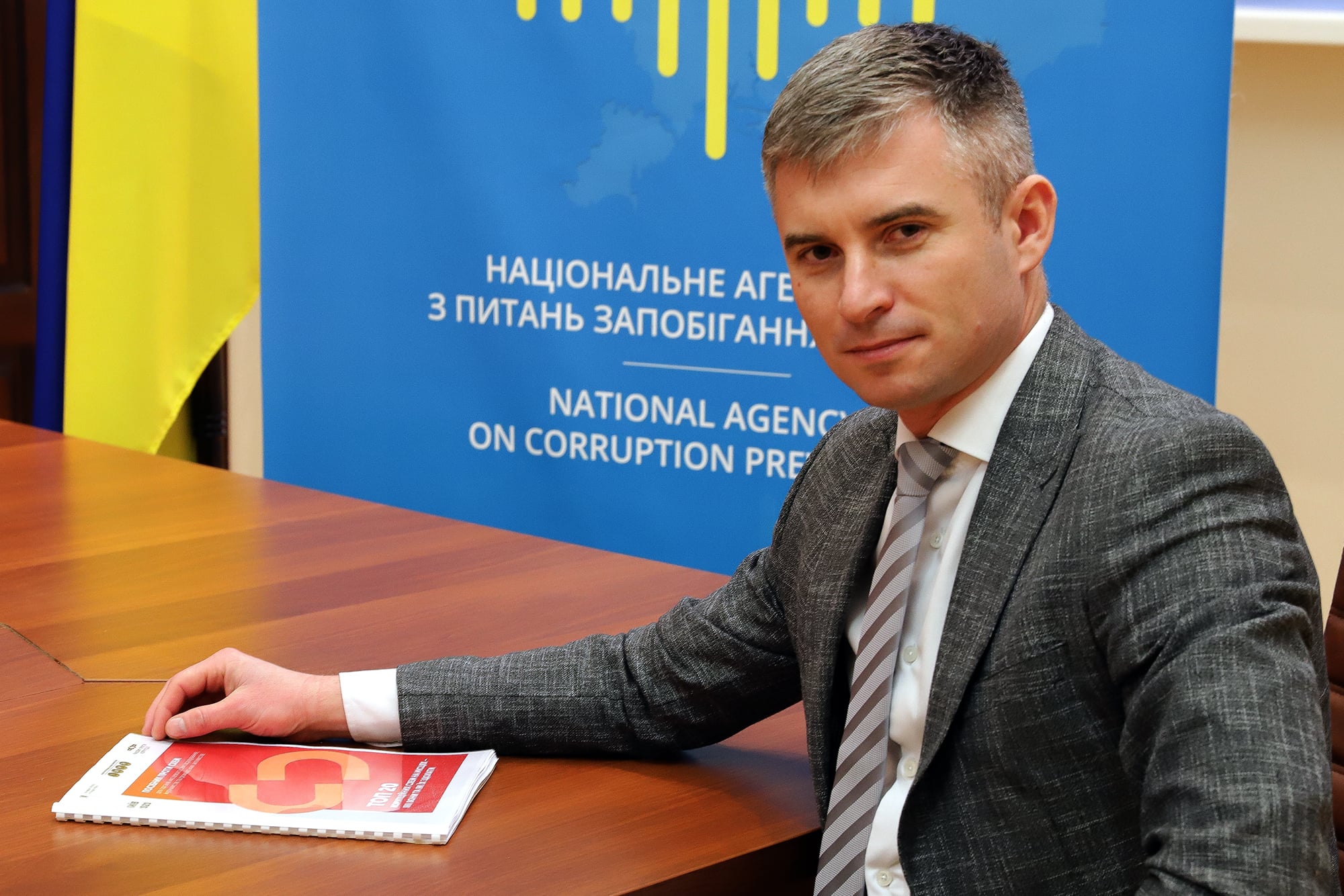 The handbook, produced by the Ukrainian Together Against Corruption NGO with the support of IWPR, provides detailed insights on areas commonly open to abuse and suggests legislative solutions, along with a roadmap to ensure political support. 
This is key to the work of the NAPC, one of three national bodies created after the 2014 Euromaidan revolution to combat corruption. 
But the guide has also proved invaluable to individuals working on the ground, dealing with issues including planning permission, construction contracts and transport tenders. 
"The handbook has been distributed to 1,000 anti-corruption specialists throughout national and local government bodies," said Oksana Velychko from Together Against Corruption. "Many of these people are lawyers who need help with industry issues."
Amongst its practical applications, the handbook tackles the abuse of planning processes, a particularly visible manifestation of corruption in Ukraine. Many historic buildings in cities including Odessa and Kyiv are being rapidly replaced by ugly high-rise commercial ventures as a result of officials subverting local laws.
In Ukraine's most visited tourist city, Lviv, which boasts a historic UNESCO world heritage site, developers illegally obtaining plots is of acute concern. 
Ulyana Fedorovich, the chief specialist for the prevention of corruption in Lviv municipality, a role similar to an ombudsman, is using the handbook as a guide for preliminary investigations into this issue. 
"We use it to compile a list of areas that are vulnerable," she said. "It is important that the handbook also contains recommendations for the participation of the media, non-governmental organisations and residents on how to contribute to overcoming corruption schemes, which is extremely important for achieving results." 
Elsewhere, in Kyiv, Filip Alid - an administrative assistant for the Holos faction in the city council - said that his team were using the handbook's recommendations to set up working groups to investigate this illegal leasing of state-owned properties. 
Alid estimated that many municipal-owned properties in the city were being leased to friends of local officials for as little as 30 cents per building, and then used to run private business ventures. 
"We are conducting an inventory of the municipal property available in the city and the conditions under which it's being leased," he said.
Katya Laba, IWPR Ukraine project manager, explained that the specialised guide had been compiled in collaboration with anti-corruption activists, business leaders, industry experts and local officials to provide a uniquely integrated approach. 
"It provides guidance for all sections of society to identify the problem, and lays out what local government, journalists, NGOs and activists can do," she continued. "It's necessary to integrate all these elements. For instance, sometimes there is a lot of evidence of corruption on paper, but it can't be acted on because there is no mechanism to enforce."
"When we talk about tackling corruption, prevention is as important as prosecution. Otherwise, you catch one high-profile case but nine others continue," she continued. 
The path to reform has been far from smooth. In October 2020, Ukraine's constitutional court stripped the NAPC of part of its authority amid ongoing tensions between President Volodymyr Zelenskiy, some judges and the opposition. 
Ukraine's parliament restored these powers in December, and the body's work continues. Novikov has asked Together Against Corruption to contribute ideas for the NAPC's new four-year plan of action.