"Welcome to Odesa, Hero City"
Locals say that they are determined to help keep the historic port's spirit alive.
"Welcome to Odesa, Hero City"
Locals say that they are determined to help keep the historic port's spirit alive.
Military barricade in central Odesa, in rear, Spaso-Preobrazhensky Cathedral. © A. Borden
Anti-tank hedgehogs barricades in central Odesa. © A. Borden
At Odesa's train station, Viktoria, 33, runs down the platform to greet her fiancé, Andrei, and their long embrace tells of more than a mere week's absence.
"See the sign," said the actress and aspiring producer, pointing in excitement to the top of the expansive train station, gleaming in the crisp morning air. "We're home."
Huge lettering spells out, "Welcome to Odesa, Hero City."
Odesa's official designation of valour arises from its residents' bravery holding off the 1941 assault by Romanian and German troops, only succumbing after nine harsh weeks.
With a devastating attack expected any moment, this time from Russia, the question is whether the city can show the same spirit.
Russian forces are gaining across the coast – surrounding Mariupol, seizing Kherson and attacking neighbouring Mykolaiv, 110 kilometres east. Odesa, the Black Sea diamond, appears to be next in their sights.
The Ukraine military are securing the city as best they can. The port is heavily fortified, and sandbags, concrete barriers, tire spikes and anti-tank roadblocks are emplaced throughout.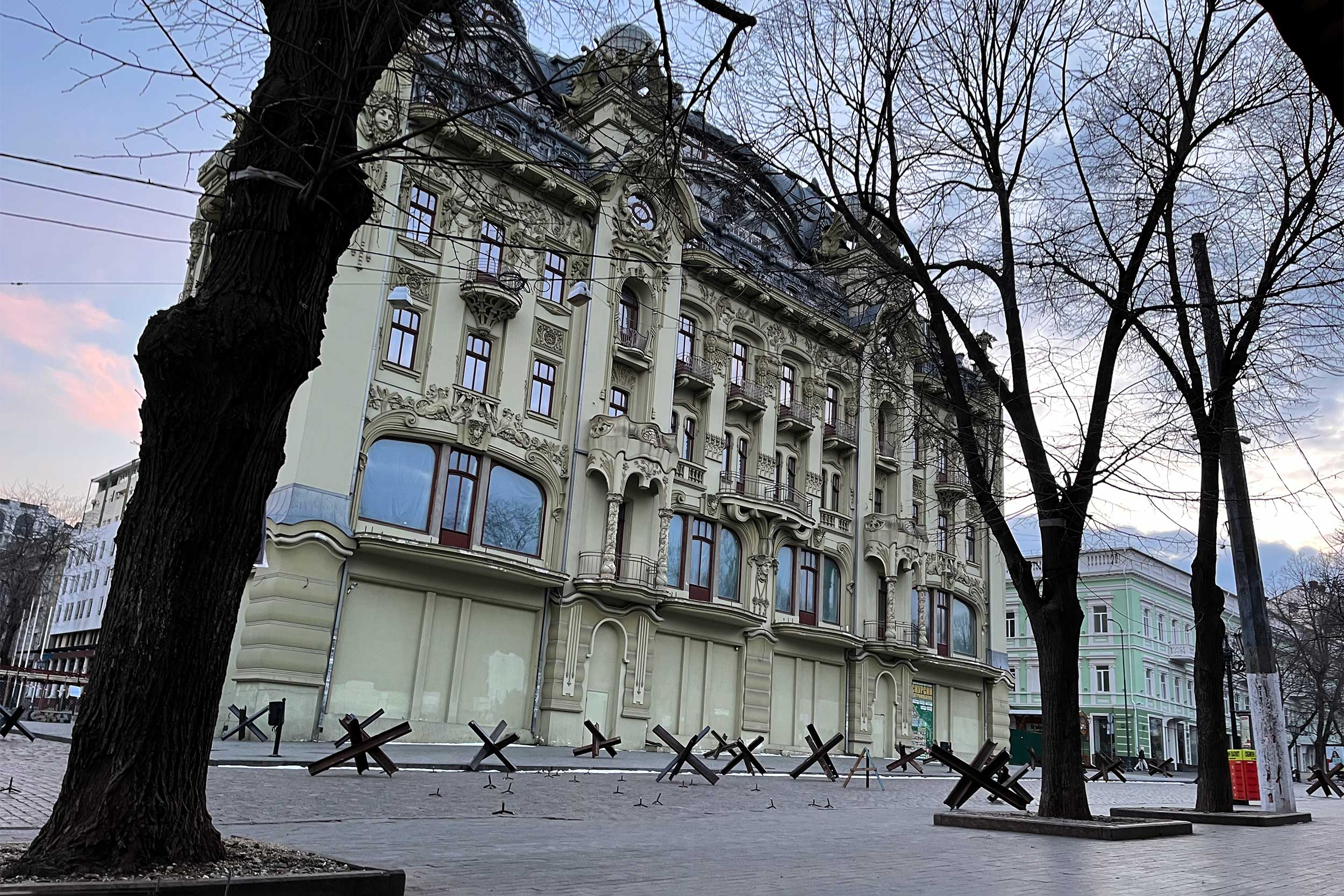 As in many cities in Ukraine, volunteer centres are collecting and preparing food, water and other essential goods, in case an attack disrupts supply lines.
While a steady flow of people departs, many are determined to stay and even, like Viktoria, to return. Trains out of Odesa are jam-packed with passengers, but those arriving are also mostly full. Many passengers are men, coming from elsewhere in the country or even abroad, some to take up arms in the territorial reserve.
Viktoria made the exhausting train journey last week to bring her son to safety in Germany – a trip of more than 50 hours on three trains from Odesa.
"There is war in my country, my son is far away and it is terrible," she said. "But this is my city, and I am not going to be away from here now, sitting somewhere in Europe."
This sense of connection at a time of war is strong, binding those that remain, even as the Russian troops come closer. Some feel a particular responsibility to be in the city given their public roles.
Anastasia, a well-known singer, is a local celebrity with many international connections. She performs regularly and hosts numerous high profile events in the city.
#Odesa is preparing for whatever comes next #UkraineWar #RussiaUkraineWar pic.twitter.com/2COkoWFZHc

— Anthony Borden (@tonyborden) March 13, 2022

"I sing, 'Hello, Odesa, I love you'. On New Year's, it's me who is singing," she said. "I'm a part of this town, so I don't understand how I could be away from my people in this time."
Despite several options to move abroad, the singer remains here together with her family.
"We understand that we may die. It's a time of war, and it is very dangerous to stay in Odesa," she continued. "But I want to be with the people who stay here because they are the best people, they are incredible, amazing people, and I am proud to with them."
Many feel that those in the cultural sphere can make particular contributions.
"I cannot shoot a gun," said Dmitriy, 34, an actor and director. But he is busier than ever, teaching online for free, working at centres to help with supplies, performing for volunteers and writing songs and poems – all, he stresses, in the Ukrainian language.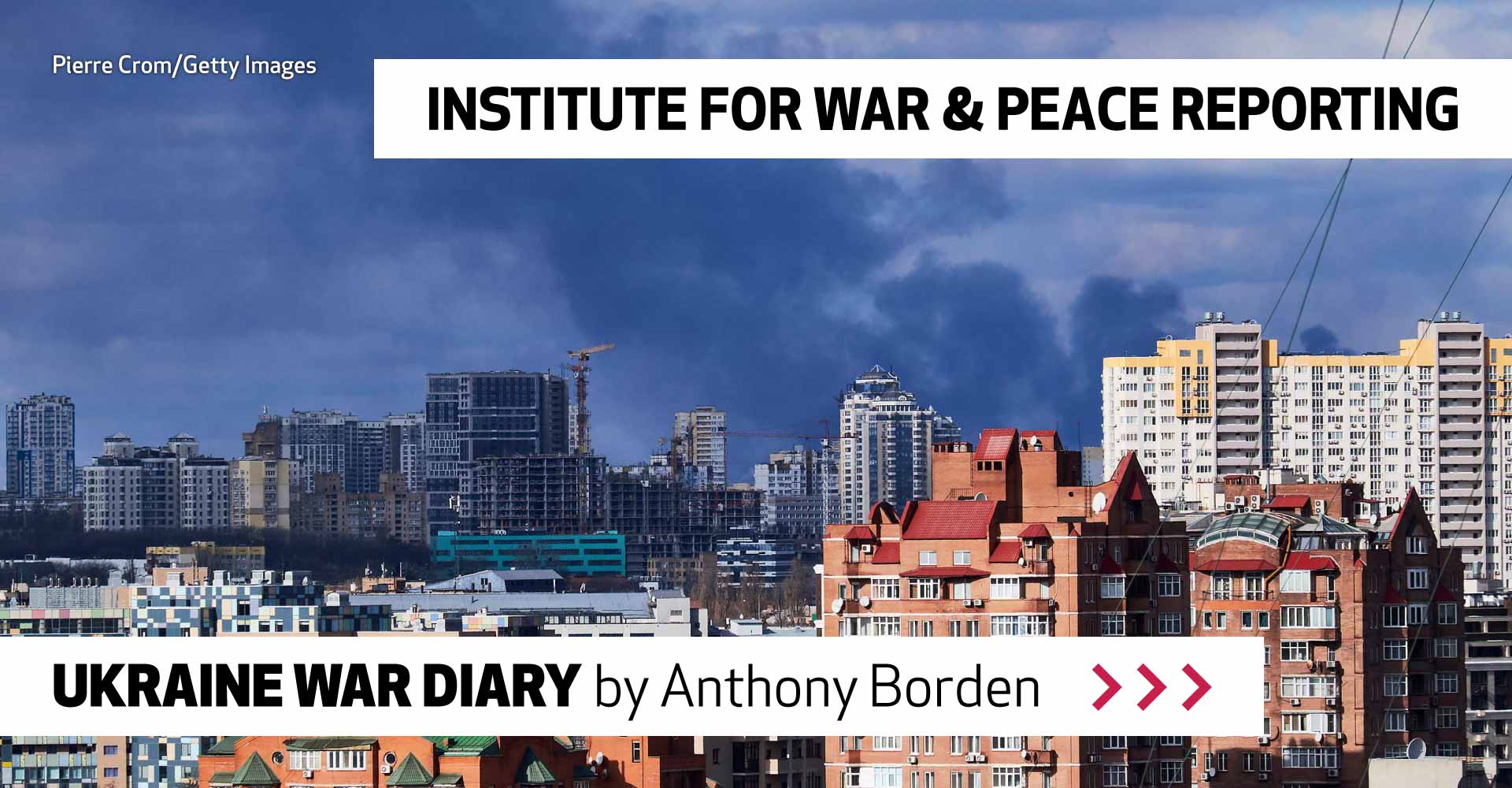 His new idea is to launch a war radio, both internet and he hopes broadcast, to support the troops and show the people of Odesa that life is continuing.
"We'll try to make it like Good Morning Vietnam," he said.
A port city founded by Catherine the Great, Odesa boasts of its special diversity and culture, with a historic Jewish community.
Odesan trade, sometimes shady, and Odesan humour, sometimes off-colour, are renowned. It is home to the giant Odesan, or Potemkin Steps, from Sergei Eisenstein's seminal Soviet propaganda film, perhaps the single most famous scene in cinematic history.
Along with Russian- and Ukrainian-language native speakers, the city has over the centuries hosted significant populations of Germans, Bulgarians and other Europeans. Pushkin and Gogol both spent time here amidst its broad boulevards and classical buildings. Formerly a "free port", and then the Soviet Union's primary warm water access, it has also had both an identity apart from and a strong link to Moscow and St Petersburg.
The Russia links are particularly complex. Some feel that even President Vladimir Putin would not dare destroy a cultural gem so associated with Russia, and with so many family and business links to the Russian capital. These family and professional linkages are now under severe strain.
Some suggest a deal could be cut, some kind of Crimean takeover, although none would say this publicly. Others cast serious doubt on any such hopes for either a protected status or the idea that the town will do anything but fight.
"It is very dangerous here," the singer said, "and we don't understand why Odesa has not yet been attacked. We are afraid it will be the worst scenario, like in Kharkiv and Mariupol. We understand that it can be."
"My grandfather was a Soviet hero, so he was given an apartment in the centre of town," said Denys Kuzman, a senior research fellow and European Studies programme coordinator at Odesa National University. "It is on the corner, so if fighting comes, it will be destroyed. I have moved somewhere else in town, and taken what I can. But I cannot move the books."
In the worst case, the Moldovan border is only a few hours' drive west. Much effort is being made by Ukraine forces to hold the line at Mykolaiv, seen as a bell weather here.
For now, many Odesans are determined to stay in their city, to fight for it and to help keep its spirit alive.
"This is the best city for my life. I thought about going somewhere else. But I understood that on February 24 [the day the war started], somebody tried to steal my heart, my soul. Odesa is not just a city," said Dmitriy, the actor. "It is the smile of God."
This publication was prepared under the "Ukraine Voices Project" implemented with the financial support of the UK's Foreign, Commonwealth, and Development Office (FCDO).
This publication was prepared under the "Amplify, Verify, Engage (AVE) Project" implemented with the financial support of the Ministry of Foreign Affairs, Norway.