The skeleton of Kharkiv's school #134, which was destroyed in the first days of the war. © Maria Avdeeva
A municipal worker in front of a shelled apartment block in Buchmy Street, in Kharkiv's Saltivka neighbourhood. © Maria Avdeeva
Two Months Under Siege in Kharkiv
Ukraine's second largest city is critical for control of the country's east, but resistance is holding up.
The skeleton of Kharkiv's school #134, which was destroyed in the first days of the war. © Maria Avdeeva
A municipal worker in front of a shelled apartment block in Buchmy Street, in Kharkiv's Saltivka neighbourhood. © Maria Avdeeva
On April 24, as Orthodox Christians around the world celebrated Easter Day, Ukrainians marked two months since Russian President Vladimir Putin ordered tanks to roll into their country. It was the beginning of a devastating war that has broken, split and ripped apart the lives of millions of people – including mine.
I have remained in Kharkiv, Ukraine's second largest city which lies a mere 40 kilometres from the border with Russia. I chose not to leave because I wanted to document Russia's war crimes in my country, to show that Kharkiv and its people are united and strong and will stand their ground, no matter what.
Russian troops invaded the Kharkiv region on that first day, on February 24, quickly reaching the city's border and encircling it from the north and east. About 1.5 million people were attacked by the army of the neighbouring country where many of their relatives live.
Since then, residential areas have been shelled day in and day out from the air and on the ground, with any possible weapon – artillery, Grad, Smerch, and Uragan multi-rocket launch systems, ballistic missiles and high-explosive FAB-500 munitions. Parachute bombs and anti-tank and anti-personnel landmines bombarded the city from the air.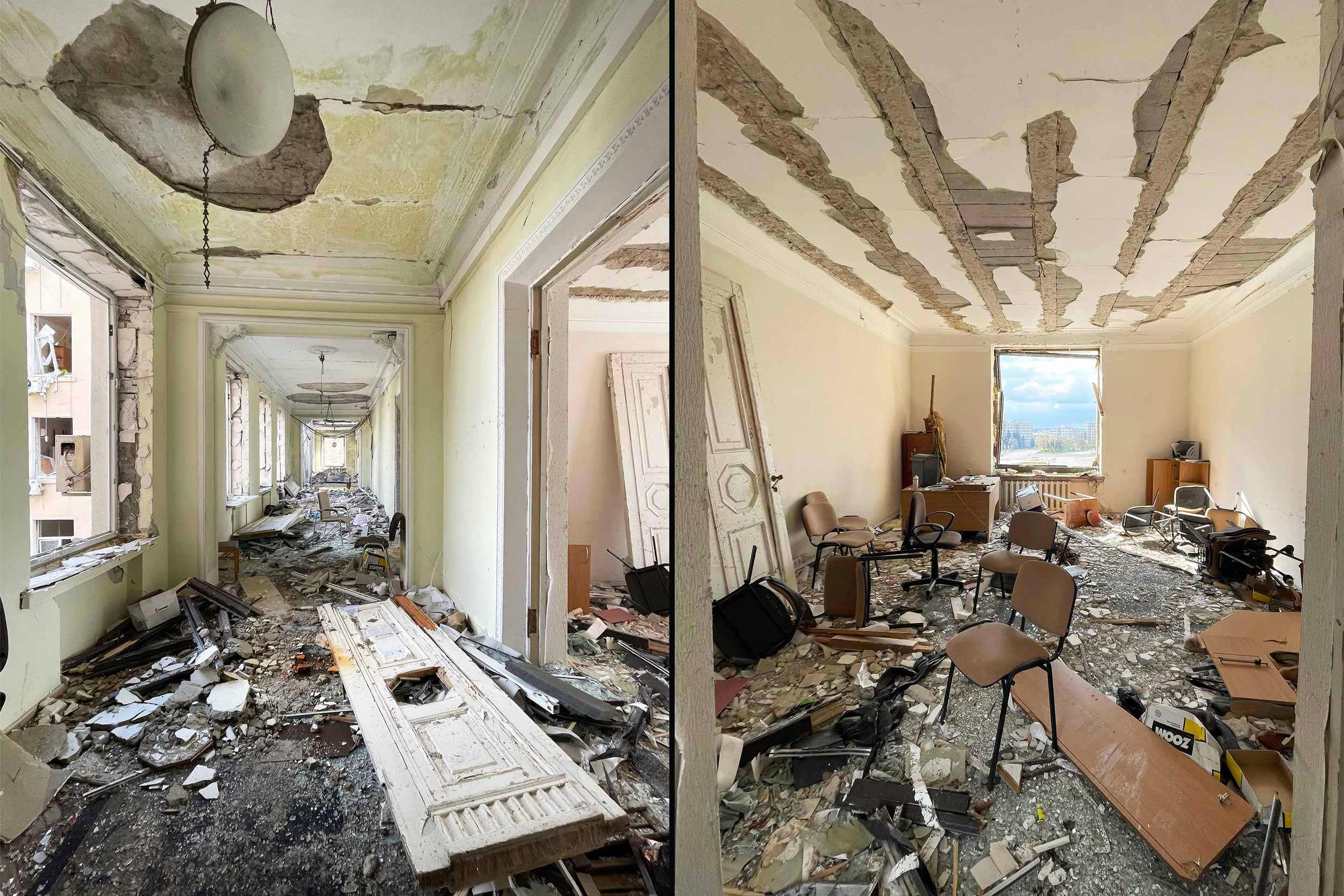 This was Putin's retaliation for Kharkiv's resistance and defiance. The city was one of the Russian military's primary targets; the plan was to capture it within the first two or three days. When the Blitzkrieg plan failed, a methodical siege ensued.
Russian forces are deliberately destroying Kharkiv's civilian infrastructure, shelling schools, nurseries, hospitals and aid distribution hubs. According to official reports, 2,195 out of 8,000 buildings, over 25 per cent of all residential housing, have been destroyed. The neighbourhoods of Saltivka, Obriy, Oleskiivka, and the Kharkiv tractor factory have been left practically abandoned under the bombing.
In the brief pauses between shelling, I visit these areas. The sounds are strange; the pigeons now nesting in apartments with blown-out windows, the grinding of metal, the whistle of incoming missiles and the roar of outgoing strikes. The only people left are there because they refuse to abandon their homes. In moments of calm, they go outside and heat water for tea on a fire.
Saltivka is one of the city's largest residential districts, in the north-east. It is the closest to the frontline. More than 400,000 people lived there before the war, about the same number as in Mariupol, the port city in Ukraine's south-east that Russian forces have levelled to the ground, killing thousands. Saltivka is today a ghost town, constantly pounded with Grad rocket launchers.
Elderly residents often refuse or are unable to leave. Volunteer organisations help them by delivering assistance to each address since some are too frail or are otherwise unable to picking up aid themselves. Some families have been living in subway stations and basements since the beginning of the invasion because they have nowhere to flee to and are hoping to shelter there until it's safe to return home. Two months on, that moment has not yet arrived.
"Kharkiv has held up for 60 days, operating in a state of war"
Not a single day has passed without reports of people killed or wounded because of shelling. At least 560 civilians have been killed, including 26 children; the youngest was just seven months old.
Many of the victims were hit by cluster munitions. These weapons explode to release and scatter sub-munitions: small, very heavy fragments that can inflict a larger area of damage. They are banned under the convention on cluster munitions, agreed in 2009. Russia was among the treaty's critics and did not sign it. The Ukrainian prosecutor's office has deemed missile strikes on Kharkiv to be war crimes, a violation of the laws and customs of war, and premeditated murder.
The truth about Russian war crimes has emerged where the Ukrainian military has counterattacked and liberated occupied villages on the outskirts of Kharkiv like Vilhivka, Mala Rogan' and Husarivka. Horrifying atrocities committed by Russian troops have become apparent, with accounts of women raped in front of their children, families tortured and killed in the basements of their own homes, and women and children forcibly displaced to Russia. The exact number of the victims remains unknown.
We are also unable to get any information about casualties in the occupied territories, as Russian troops immediately cut off any communications after they seize control of an area. Once there, the occupying forces switch the currency to the Russian rouble and connect mobile communications with the Moscow operator MegaFon.
We can only imagine the sorts of horrors that are happening. In Volchank, a town north-east of Kharkiv just a few kilometres from the border, the Russian military set up an internment camp on the territory of a factory it had entirely pillaged. Inside, they subject Ukrainians to torture to force them to collaborate. Similarly, in Izium, a town about 125 kilometres south of Kharkiv, Russians are attempting to forcefully conscript the male population.
Russians also use disinformation as a weapon. Ukrainian intelligence reports that false news disseminated include the claim that Kharkiv is almost entirely in the hands of the Russian army and that Ukraine has cut off its power supply.
But Kharkiv has held up for 60 days, operating in a state of war. Those who decided to stay have had to adapt to life without public transport, with evening blackouts keeping curtains shut and lights off - and have learned to distinguish between incoming and outgoing shelling.
Russia is well aware that many of its inhabitants rely on humanitarian aid and are now targeting railway and transportation infrastructure to halt these supplies and to cut off escape routes for thousands of people. On the morning of April 25, five railway stations in western and central Ukraine came under fire, causing massive transport delays in numerous cities throughout Ukraine, including Kharkiv.
The full-scale battle to take over Donbass and Kharkiv is still in progress, presenting challenging weeks or even months ahead. Russia is trying to move troops through Kupyansk and Izyum to the Donetsk and Luhansk regions to build up its military force there and capture as much territory as possible. There are ongoing attacks directed at Sloviansk and Barvinkove, key cities in Donetsk just over the border of Kharkiv region. Ukraine's general staff reported that the Russian assault on the Kharkiv region had been unsuccessful; Russian troops were forced to retreat to previously occupied positions.
Kharkiv is key to Putin's efforts to capture eastern Ukraine. So his army continues the partial blockade of the city and intensifies its fire on Ukrainian troops and critical infrastructure. The geographical area and intensity of the shelling is increasing.
The objective is to sow panic and fear, but this will never succeed in Kharkiv. Russia will lose this battle. Ukrainian troops are now battle-hardened, well-equipped, and ready to defend their country to the very end.
Maria Avdeeva is research director at the European Expert Association.
This publication was prepared under the "Amplify, Verify, Engage (AVE) Project" implemented with the financial support of the Ministry of Foreign Affairs, Norway.