Designer Kateryna Uvarova transforms used cartridges into art objects. Based in Lviv, western Ukraine, Uvarova is originally from Makiivka, in Donetsk region; she fled to Kharkiv in 2014 and then again had to relocate when Russia invaded Ukraine in 2022. © Courtesy of Kateryna Uvarova
Turning Shell Casings into Patriotic Souvenirs
Entrepreneurs and volunteers launch schemes to help support war efforts.
Designer Kateryna Uvarova transforms used cartridges into art objects. Based in Lviv, western Ukraine, Uvarova is originally from Makiivka, in Donetsk region; she fled to Kharkiv in 2014 and then again had to relocate when Russia invaded Ukraine in 2022. © Courtesy of Kateryna Uvarova
Ukrainian entrepreneur Kateryna Uvarova was always interested in recycling, as a student setting up her own business turning discarded canvas banners into bags. It was after being displaced by war for the second time that she came up with her most ambitious idea yet – to repurpose used shell casings from the current conflict into souvenirs to help support war efforts.
"If you can make something useful out of this horror, why not use it for charitable purposes?" asked Uvarova. 
In 2014, Uvarova and her mother fled their hometown of Makiivka in Ukraine's eastern Donbas region when the Kremlin-supported conflict began. They settled in Kharkiv, where after graduating from university Uvarova launched an environmentally friendly business, PIBAN, producing shopping bags, wallets and laptop covers.
Her close-knit team, which included her mother Julia as financial director, built up a thriving trade – until, in March 2022, a Russian rocket hit the workshop.
"It's hard to understand that we had to go through the horror associated with the war for the second time," the 23-year-old said.
Since the start of the full-scale invasion, huge numbers of businesses have dedicated part of their profits to the Ukrainian army or humanitarian aid work. Social enterprises have sprung up, for instance the Made in Ukraine project where Ukrainian women knit socks for soldiers. There are also dozens of initiatives providing food to those in need.
Creative and heritage industries have also been mobilised, with products featuring symbols of Ukraine in high demand.
"The war in Ukraine has encouraged business people to develop social entrepreneurship," Victoria Kulakova, founder of the It's Craft social platform, told IWPR. "The annexation of Crimea, the war in the east of Ukraine, political games, made us as a people more mature as time went by."
Now living in Lviv after a short stint in Germany, Uvarova and her mother decided to join these volunteer efforts, working with contacts in the Kharkiv region to gather the used cartridge cases that are the raw materials for their craft.
"We have a desire to take responsibility for Ukraine as our country."
Financial support for the implementation of the project was provided by the Ukrainian Social Venture Fund, and the project is designed to run for the whole period of the war.
"Volunteers collect shell casings of various calibres, which are found in the fields after the battles," Uvarova explained.
The materials are then sorted, metal-worked and polished. Souvenirs so far produced include keyrings, bracelets, candlesticks and wine glasses, sold in shops across Ukraine and online.
"People buy them because this is their history and they want to tell future generations about these events," Uvarova said.
Foreign online orders most often come from the US, Canada, UK and Scandinavian countries, Uvarova explained, adding that people wanted to both support Ukraine and get a keepsake.
Currently, about 30 people are involved, from those who collect casings to the metal processors and administrative staff.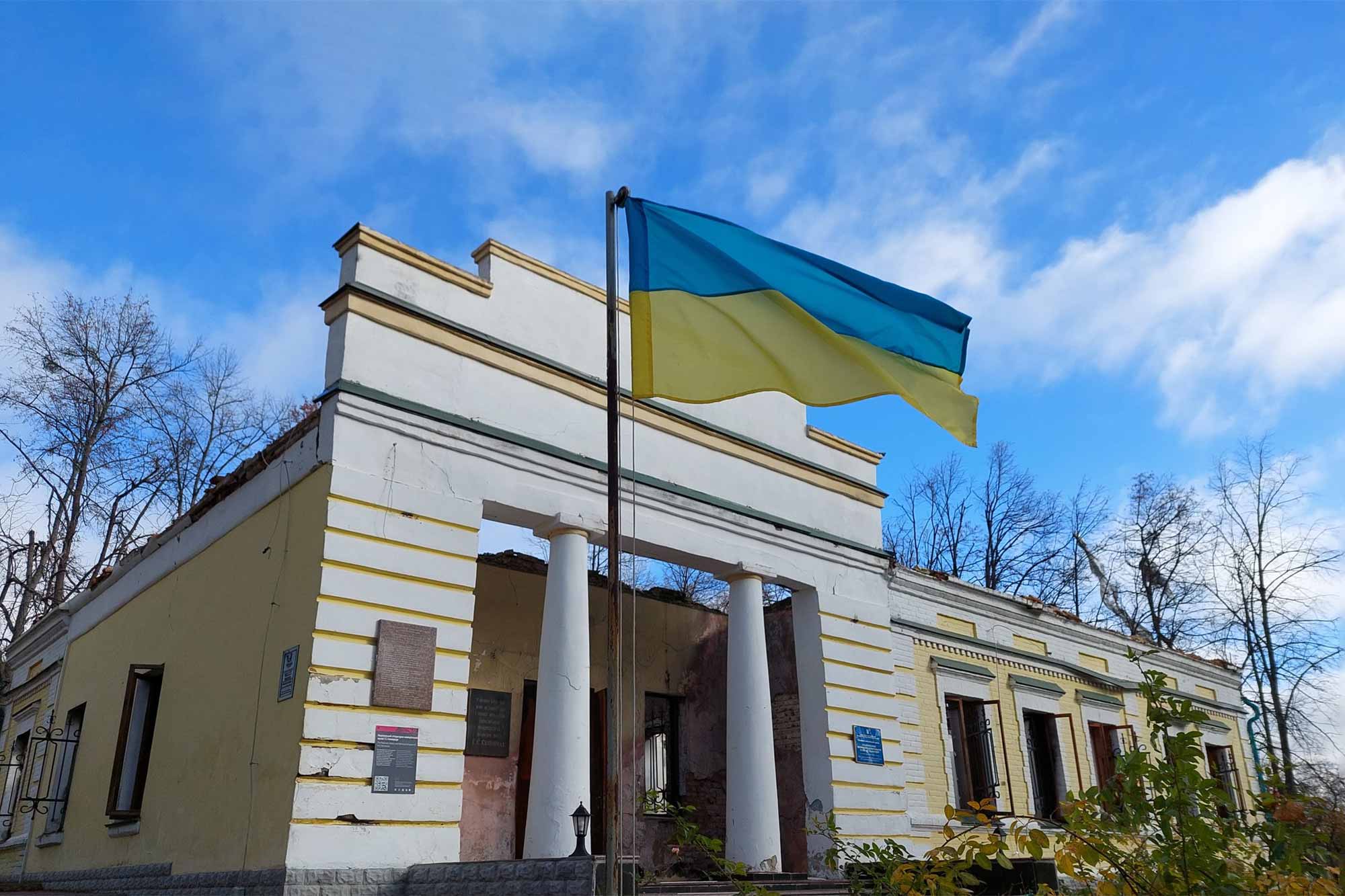 "The largest casings that were brought to us - from the Mukha grenade launcher - had a diameter of 15-20 cm," Uvarova said. "We made two souvenir vases from them, which have stainless steel inside. One vase was sold at an auction held to raise money for a drone for the Ukrainian army. The second vase became one of the new exhibits of the Hryhoriy Skovoroda Museum."
In May 2022, a rocket hit the museum dedicated to the renowned Ukrainian cultural figure, located in the village of Skovorodynivka in the Kharkiv region.
 "Irreparable losses have been caused," said Halyna Golovko, a tour guide at the museum, noting that although the most valuable items had been saved, the building had been devastated.
"Russia destroyed the Skovoroda museum... the museum of the philosopher and poet who lived in the 18th century, who taught people how to live with love in their hearts, to know their soul, to be spiritually rich and to appreciate everything around us," she continued. "This is evidence that this is a conscious ideological action. They actually hit the very heart of the Ukrainian philosopher, the heart of Ukrainian identity for the total destruction of Ukrainian history and the nation as a whole".
The destruction of the historical building was a painful for many Ukrainians, and its reconstruction became a priority cause for Uvarova and her mother.
"Now we are doing everything to help restore it. After all, the protection of cultural heritage is as noble a cause as its creation," Uvarova said.
By the end of 2022, Uvanova's business had raised 15,000 hryvnias for the museum. She also dedicated funding to the Kharkiv territorial defence and the armed forces, donating 75,000 hryvnias to the army last year.
Kulakova said that such enterprises had helped build a Ukrainian sense of unity even further.
The ongoing conflict had fuelled the growth of Ukraine's already vibrant civil society, she continued, adding, "Now we have a desire to take responsibility for Ukraine as our country, and not only for our home or family.