A woman holds her child in the remote village of Burog, in Bamban, Tarlac province, Philippines. © Ezra Acayan/Getty Images
Philippines: Single Mothers Continue to Fight Stigma
The notion of family is still strongly influenced by rigid norms in this conservative nation.
A woman holds her child in the remote village of Burog, in Bamban, Tarlac province, Philippines. © Ezra Acayan/Getty Images
As Manila begins rolling out a landmark law giving lone parents more benefits and legal protection, single mothers say that the stigma that sees their situation as shameful is proving hard to shift.
"There is nothing wrong with being a single mother," said Maria, 30. "I never took advantage of anybody when I decided to be one." 
The bank employee recalled how the father of the child had begun to avoid her when she told him she was pregnant. Then, when she was five months pregnant, "he told me he was not ready" to be a parent. 
"Instead of putting the blame on single mothers like us, know first the circumstances and learn to respect more the sacrifices we are making to raise our children."
What worried Maria more than the burden of caring for the child on her own was the judgment of others and the shame she was accused of bringing on her family.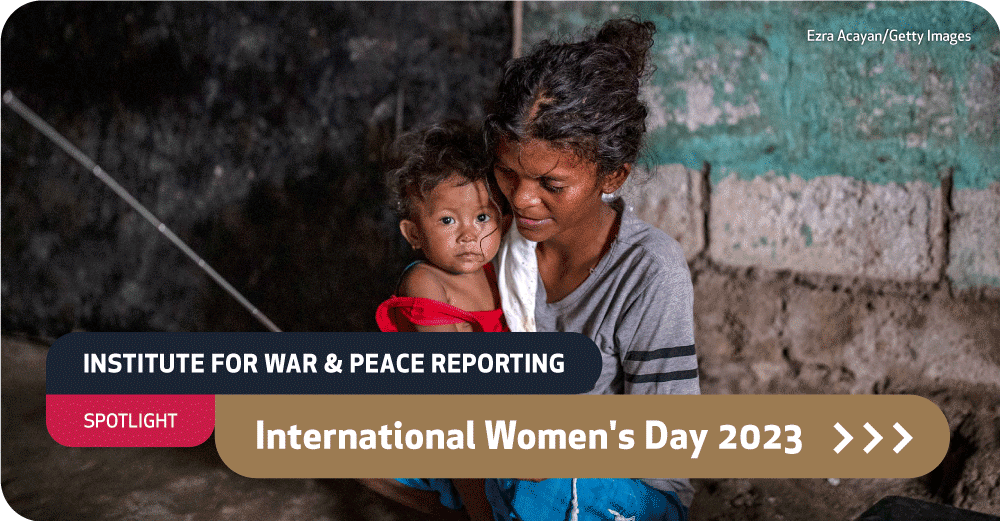 She said that the July 2022 passage into law of the Expanded Solo Parents Welfare Act had given her more courage to talk back to those who looked down on her for being a single mother to her eight-year-old daughter. 
Nonetheless, she – like all the single mothers interviewed for this article - asked not to be identified. 
Sheila (also not her real name), a former household helper, told IWPR that her married boyfriend disappeared a day after she informed him that she was carrying their child. 
Now 31, Sheila went on to marry a former high school classmate and have another child with him. She said that her husband "accepts" her situation, and also her first child as his own. 
Such stories are commonplace in a predominantly Catholic and conservative South East Asian nation where the notion of family is still strongly influenced by rigid norms; the Philippines is the only country in the world – apart from the Vatican – which outlaws divorce. 
Latest data from both the government and NGOs indicates that nine out of ten single parents in the Philippines are women (or 95 per cent of the total 15 million single parents in the Philippines). 
They often have little support; Maria said that, until recently, she had to beg her child's father - who now has his own family - for financial help. She now receives only about 80 US dollars a year for schooling and other needs. 
Teenage mothers in particular, remain particularly vulnerable. They were highly likely to stop going to school to take care of their children, forced to work instead especially if their partners abandoned them. 
According to the Philippines Statistics Authority (PSA) 500 girls aged between ten and 19 give birth every day. The issue was so grave that then-president Rodrigo Duterte declared in 2021 that preventing teenage pregnancies was a "national priority". 
MORE PROTECTION 
Jaye Bekema is the chief legislative officer for Senator Risa Hontiveros, who became a single mother-of-four herself after being widowed and was among those pushed for the 2022 act.
Bekema told IWPR that the passage of the new law faced stiff resistance not only from religious groups but also the state finance department, under pressure to help the country recover from economic problems which the pandemic exacerbated. 
The act prioritises state services in education, health, employment, and housing among other benefits. Despite some delays due to the pandemic, government agencies led by the country's social welfare and development department are preparing to fully implement the law after its required implementation guidelines were finalised in October 2022. 
"The challenge now is finding the sweet spot to enforce this law for the benefit of everybody," Bekema said, adding that their office was also working to file a bill to address the country's alarming rate of teenage pregnancies. 
Some single mothers have argued that the law is too restrictive in determining who fits into this category, she continued. In some instances, single mothers with boyfriends find themselves burdened to prove they still support their children on their own. 
Local governments tend to interpret the law in different ways, thus potentially depriving single mothers of benefits including discounts on certain basic medicines and baby milk and foods. 
This extends to imposing an absolute requirement for single parents to live with their children under one roof, which fails to consider that many need to leave their homes to earn money to support their families. Many Filipino workers travel overseas or work as household helpers staying in their employers' homes. 
Bekema stressed that much still needed to be done to help improve the situation of single mothers because "there is still stigma and there are still a lot of undertones".
She highlighted the perception that single mothers cannot be relied on at work because they need to be away often for their children. 
"Our conversations want to make sure single mothers are not discriminated against, starting from hiring," Bekema concluded. 
For Maria, the single mother working in a private bank, she is thankful that her company is fully compliant with the paid parental leave she is entitled to under the Expanded Solo Parents Welfare Act.
"I take them especially when my daughter has school activities where I need and want to be there with her," Maria said. 
She emphasised that what was now needed to support lone parents was more respect and compassion from their own communities. 
"Instead of putting the blame on single mothers like us, know first the circumstances and learn to respect more the sacrifices we are making to raise our children," Maria said. 
For Sheila, her child was more important than peoples' judgment of her supposed wrongdoing. 
"It was – and will always be – the best choice I made," she concluded.