Kupiansk: Fireworks in the Rain
Eastern town sees a third wave of departures, as even the most stalwart residents see little future there.
Kupiansk: Fireworks in the Rain
Eastern town sees a third wave of departures, as even the most stalwart residents see little future there.
The late afternoon comfort of an overcast sky was broken by the close crack of an artillery shell, loud but invisible amid the fog.
Occasional explosions are routine background noise in Kupiansk, and grey skies are usually reasons for cheer, as they tend to reduce incoming fire. But with the front around six kilometres away, and a fresh Russian offensive predicted soon, optimism is not easy to find in this battered city, 120 kilometres east of Kharkiv. 
"The chance for Kupiansk to be destroyed is more than 60 per cent," said Denys Tsyba, 30, a local humanitarian worker. "I'm trying not to think too much about this situation, that Kupiansk will again be under Russian control, that Kupiansk will be destroyed, like all the towns all over the frontline."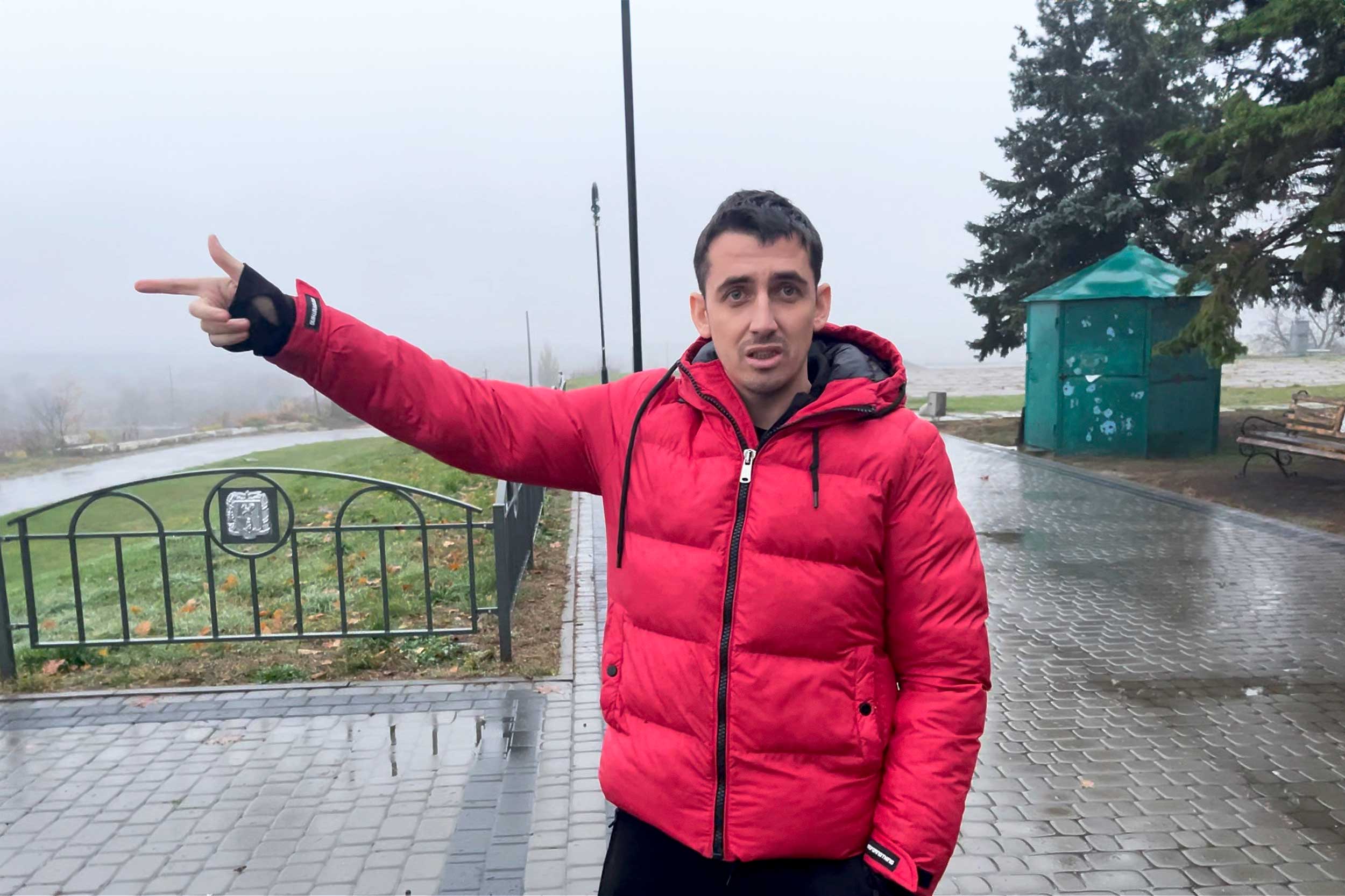 Dozens of people have been killed and hundreds wounded and traumatised since the occupation began. Through most of this year, authorities have urged residents to leave, and have issued a compulsory evacuation order for families with children on the east bank and eastward villages. From a pre-war population of 27,000, the total in the town is now estimated at around 5,500, and falling. 
Kupiansk controls an important railway hub and, divided by the Oskil River, boasts notable surrounding nature areas. But it is also 40 kilometres from the Russian border and suffered the humiliation of being surrendered by then-mayor Roman Petrenko three days into the full-scale invasion. 
Petrenko was immediately charged with treason and subsequently fled to Russia. But the seven-month occupation left deep scars. Although the townsfolk mounted initial demonstrations, the inevitable crackdown left some imprisoned and tortured and others disappeared. Deprivation has been severe, especially in outlying areas. 
Russia sought to make the town into one of its flagships – laying on much tri-colour paint and issuing Russian diplomas. Yet they also allowed people to leave through one checkpoint, a stream which escalated following Ukraine's counter-offensive in September which liberated large swathes of the north-eastern Kharkiv region.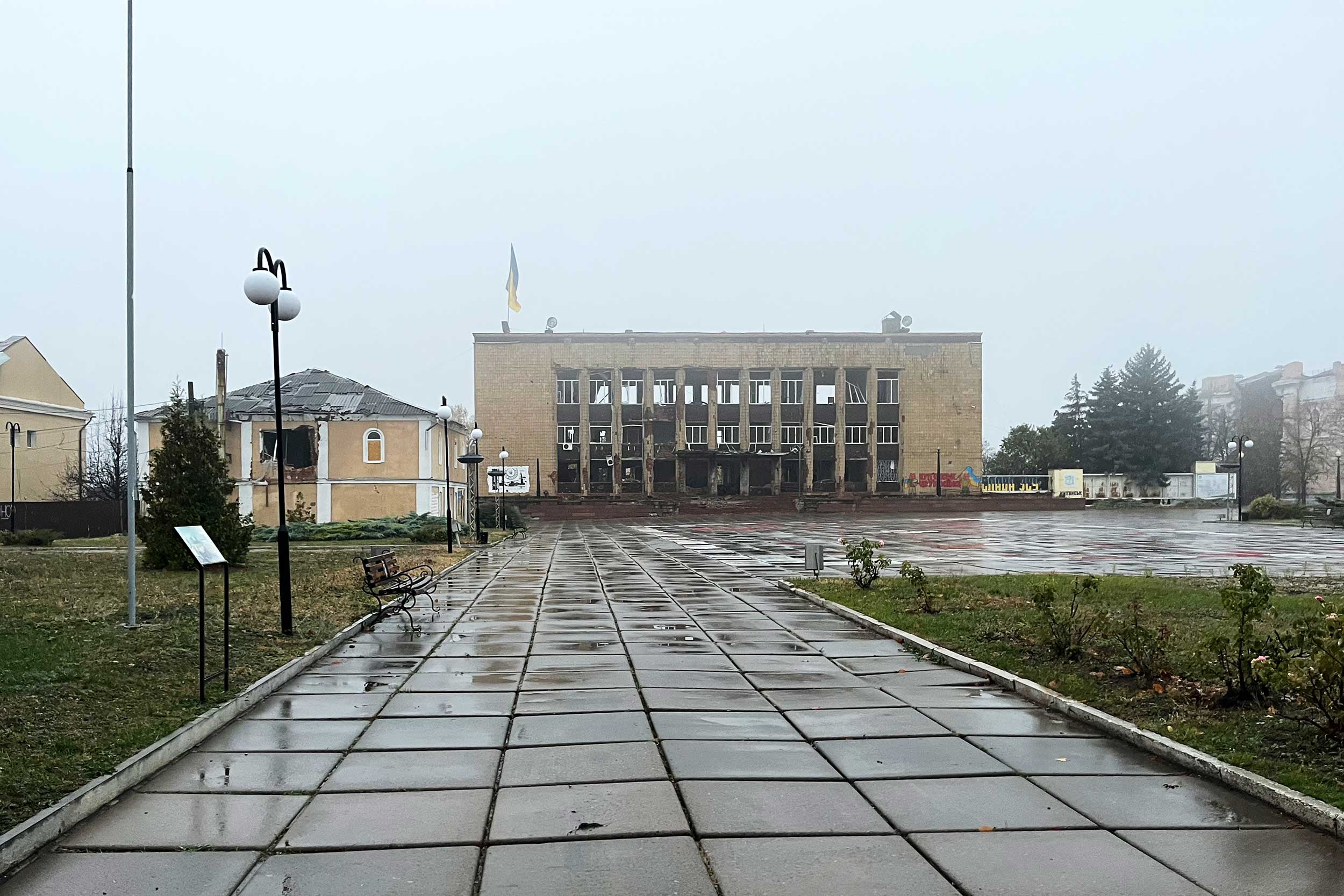 A short, fierce battle for Kupiansk was fought across the two sides of the river, causing much destruction. Across Ukraine, many of the classic town centre municipal buildings have been destroyed, but Kupiansk's has the distinction of having been bombed by both sides. 
Russia was beaten back but has continued shelling the town ever since, accelerating the flight. As a result of continual attacks since de-occupation, commercial and residential buildings have been damaged and destroyed, bridges collapsed, the power grid compromised. The local museum and house of culture are in ruins, and schools all closed their doors, reverting to online learning for the dwindling numbers of students. Primary medical support remains available, but there has been no inpatient care since the central hospital was hit with four ballistic missiles.
Shops and small stalls still operate, but nothing more. In the mornings, people emerge to visit the market and walk around, but by early afternoon, streets clear. At the town centre, two friendly dogs canter by, but their soldier owner continues on, reticent. A lone elderly man declines to stop and talk, hurrying home.
Now there is a third wave of departures, as even the most determined – or those who had no resources to allow them to go – see little future here. It doesn't go well for contested towns in eastern Ukraine, and one scenario is Russians on the east bank, pummelling the town again from close range. Kupiansk watches the fate of Bakhmut and now Adviivka, wondering if it will be next. 
"We evacuated in April 2022 and returned in July 2023," said Ksenia, 15, as she and her mother boarded a van in the town of Borova, east of Kupiansk. "It was quite safe. We thought everything would be fine. But heavy shelling started, so we have decided to leave again."
A bus still runs to Kharkiv, but volunteers drive out from the regional capital with mini-vans to surrounding areas to take families away, laden with the ubiquitous large plastic-weave carry bags. Some will have plans and destinations, many will not. 
"Sometimes, it's calm and you may spend one hour clear," said Tsyba, the humanitarian worker, who explained that he had helped hundreds of people leave. "But sometimes you came in and it's like, Boom, boom, boom, boom, boom, all over, all around the village . . . trying to find our position."
In Kupiansk, four volunteers and two evacuees were recently killed by shelling as they crossed a bridge over the Oskil river. 
Tears are shed as small groups of mothers and children leave their homes and bundle into a van. This is how the journey of the displaced begins.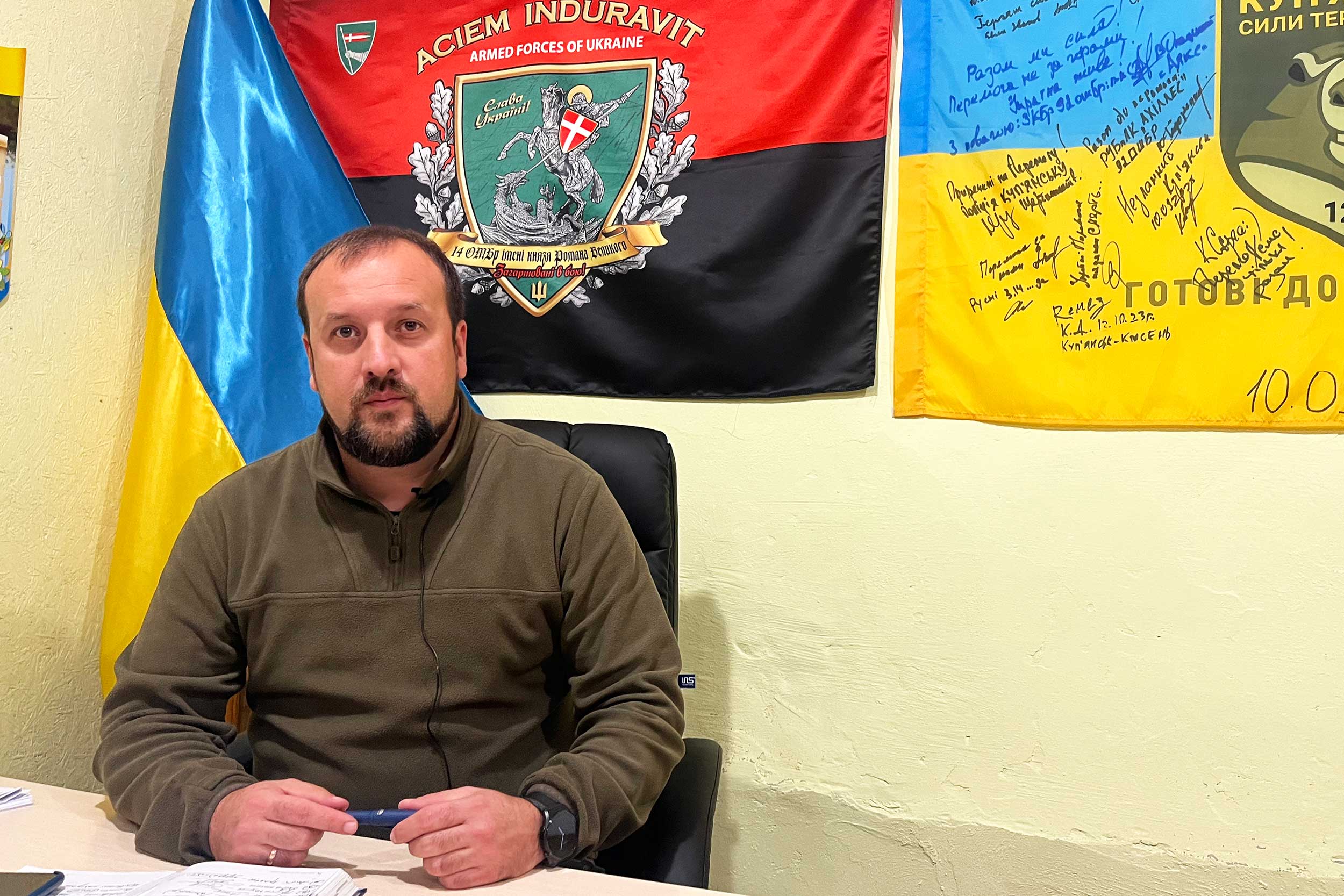 "All summer, the aggressors have been grouping their capabilities, and then in September they started advancing on our city," said Andrii Besedyn, head of the town's military administration.
The fighting see-saws, with the Russians taking a kilometre and then losing it, then taking it again. In any case, Besedyn continued, "The distance is not so big, so that means all the Russians' weapons are able to hit the city. . . There is almost no building in the city centre that is not damaged or destroyed. So the citizens suffer every day." 
Along with this excruciating struggle, Russians have shifted tactics, according to Nadya Zamryga, spokeswoman for the 14th brigade which is fighting in the area with several others. Over the summer, she explained, Russia fought in large movements. Ukraine forces – liaising closely with artillery units and air reconnaissance, and relying heavily on drones – inflicted heavy losses that required the Russians to regroup.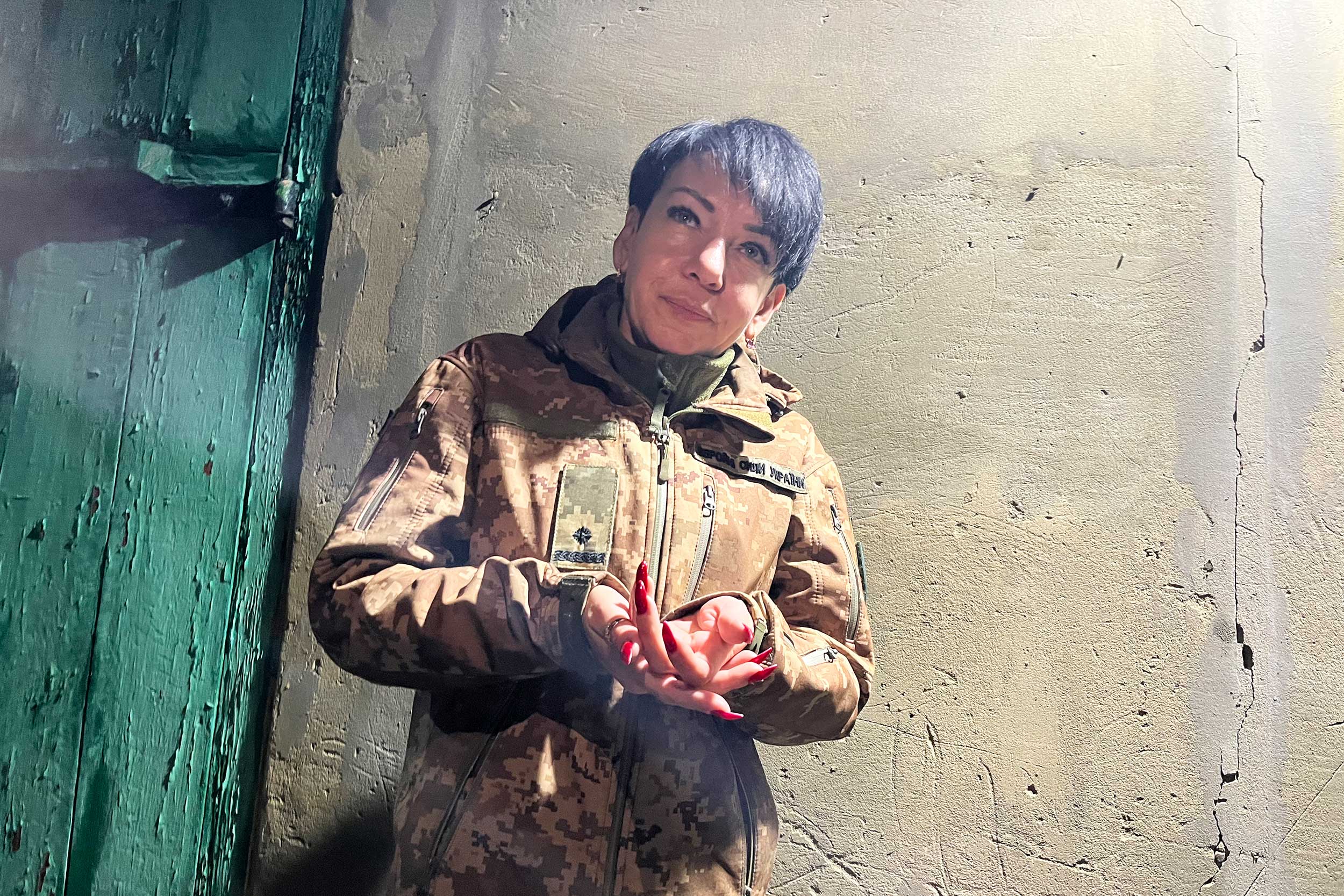 She described wave after wave of Russian soldiers, coming close enough to the Ukrainians forces that they would open fire with rifles, adding, "Then two hours later, when they had been killed, there were more and more waves, marching against Ukrainians." 
Now, she said, they were coming forward in smaller units, of ten or even fewer, to probe for weaknesses in the Ukrainian line. The Russian infantry move without armoured vehicles, which drop them off and return. This increases the challenge for Ukrainian drones and air reconnaissance of locating them and requires the Ukrainians to use more shells against smaller targets. 
Aside from the strategic importance of Kupiansk for rail links and potentially staging further advances westward, Zamryga believes there is a strong morale factor. "From my point of view, one cannot forget about the psychological issues. Russian occupation here lasted more than half a year. It was quite comfortable for them. So, I suppose they want revenge," she said.
A senior military source in Kyiv warned that the situation in Kupiansk is becoming "very hot", with the Russians aiming to continue their advance from there. This would seem to be a development very contrary from a Ukrainian counteroffensive. 
For her part, Zamryga emphasised that a counteroffensive was not necessarily a grand move, but could equally comprise small villages, parts of forests, moving a few hundred metres at a time, all the while degrading Russian forces. She stresses that Ukrainian forces, while on the defensive, are also preparing offensive actions, too.
"At the same time, Ukraine pays a high price, and needs many resources to make even such things," she said. 
Town head Besedyn stressed his confidence in the Ukrainian forces and insisted "100 per cent" that Kupiansk would not surrender again to Russians as it did last time. 
"Not so long ago we even bought new equipment for the municipal enterprises to clean the streets," he continued, adding, "We believe that Ukrainian armed forces will repel the aggressors, will liberate Ukraine, and we are preparing for that." 
This article was produced with translation and additional reporting by Mykhaylo Shtekel.