Kharkiv: Besieged But Not Defeated
"The only thing Russia has achieved is a united hatred against Russian occupiers in this once-loyal city."
Kharkiv: Besieged But Not Defeated
"The only thing Russia has achieved is a united hatred against Russian occupiers in this once-loyal city."
Devastated buildings in the aftermath of Russian shelling in Freedom Avenue, a street once buzzing street with cafes and boutiques. It is just off Freedom Square, Kharkiv's architectural landmark and Europe's second largest city-center square. © Maria Avdeeva
Streets of Kharkiv devastated by Russian shelling. © Maria Avdeeva
Streets of Kharkiv devastated by Russian shelling. © Maria Avdeeva
Streets of Kharkiv devastated by Russian shelling. © Maria Avdeeva
Streets of Kharkiv devastated by Russian shelling. © Maria Avdeeva
Streets of Kharkiv devastated by Russian shelling. © Maria Avdeeva
I have stayed in Kharkiv since the first Russian Grad rockets started to shell my home city on the morning of February 24. Until that day, my work was as a security expert and disinformation researcher. Since then, my life has turned into a non-stop marathon of uncovering and documenting Russian lies and war crimes in Ukraine. 
Every day, I go out to the destroyed streets of Kharkiv to tell the world the true story of this city. I visit makeshift shelters in school basements and underground stations filled with children and their mothers sleeping in subway train cars. I accompany police and territorial defence units. I see patients in the hallways of Kharkiv hospitals hiding from constant bombardments and meet heroic emergency medicine doctors working under fire.
I have witnessed devastating, unprovoked acts of aggression towards innocent civilians by Russia, which lies only 40 kilometres away from my home – as well as unprecedented heroism and self-sacrifice among the people of Kharkiv.
This is a new nation, and one that will never be crushed by evil powers, no matter what Russia is doing or plotting.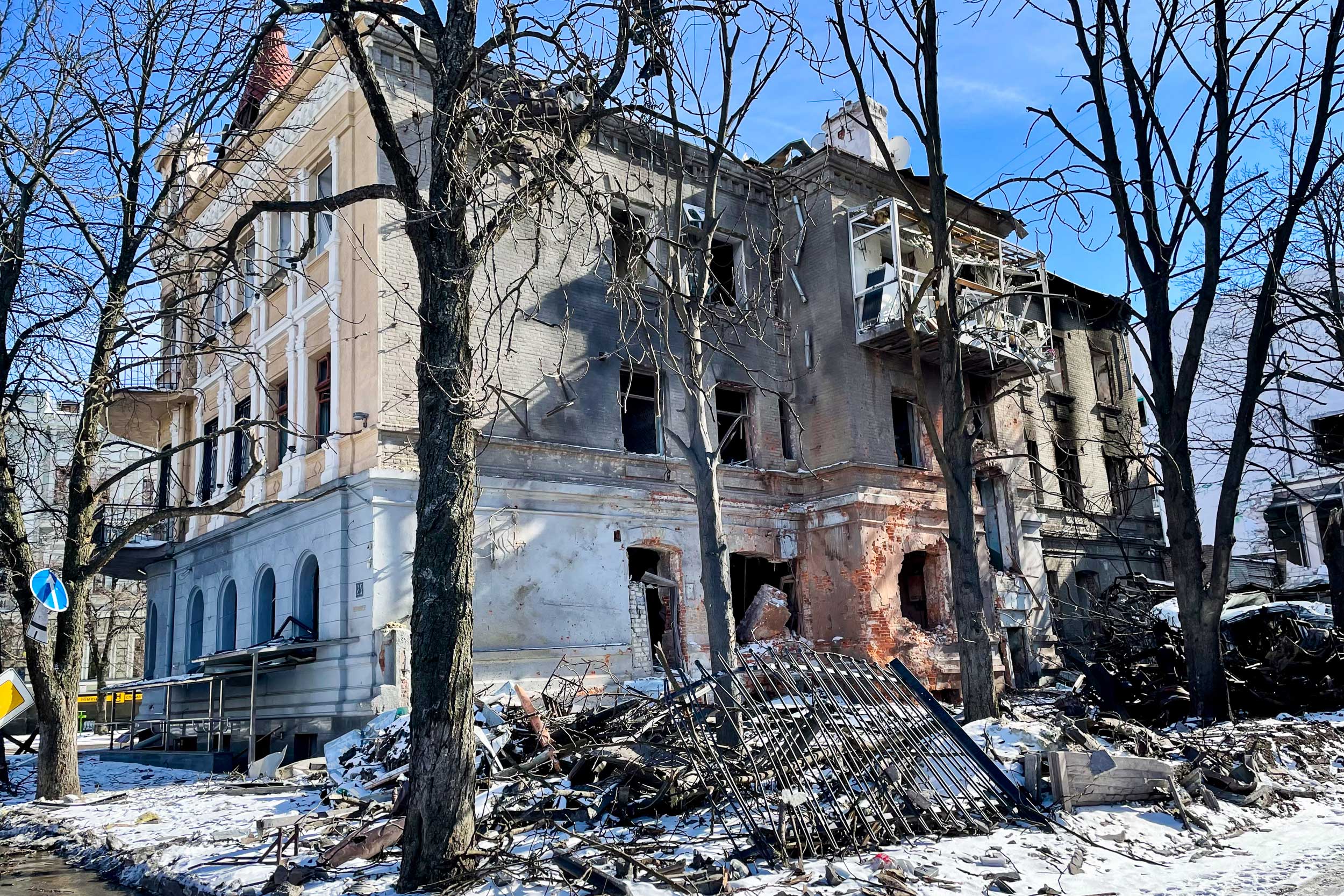 Since February 24, 600,000 people have left this city of 1.5 million by train, and the number of women and children fleeing to safer places is constantly growing. My friends and colleagues who were forced to leave the city have lost everything they had here, and now must adjust to the new reality of the ongoing war. It is very hard to lose your home and even harder to lose your loved ones. I have never seen Kharkiv so empty, silent, and dark. After days of bombardment, the historical city centre looks like a scene from WWII.
Supermarkets are open only a few hours a day. There are long lines and people simply cannot buy food. On February 28, people who came out of apartments and basements to find water and food were killed during a Russian artillery strike. One video clip showed a woman with horribly wounded legs left lying near a shop— a few days ago, such footage would have been unimaginable in an independent, peaceful European Ukraine.
But the morale of Ukrainian defenders is growing. They know that they are protecting their homes, their wives and children. There's no other option for the people of Ukraine than to fight for every bit of Ukrainian territory, pushing Russian troops out of our country step by step.
"This is Putin's revenge for Kharkiv's refusal to surrender."
Those who remain in Kharkiv are trying to be as helpful as possible to the fight. Many have become volunteers, using their cars to deliver humanitarian aid and help people leave the city. Others are organising food supplies. Men are standing in line to enlist in the territorial defence battalions that will defend Kharkiv and are very upset when they are not accepted due to an excess of volunteers. One colleague, a university professor, has joined the territorial defence fighting Russian troops on the front line. Every day, my only hope is that everyone stays alive.
Evidently, Russia's operations are not going to plan. I myself visited a nearby site where six Russian military vehicles were destroyed and saw the torched machines with the letter Z on them. 
Their troops are suffering major losses: aircrafts, helicopters, tanks, trucks and personnel. Last week, the third Russian major general was killed in Ukraine - Major General Andrei Kolesnikov, commander of the 29th army of Eastern military district.  Never in the history of modern warfare has the Russian army suffered such critical losses at the highest levels of command.
Kharkiv always was a majority Russian-speaking city, one that used to be called the "first capital" by those who still remember the Soviet Union, because the Bolsheviks declared it the capital in 1919. Located so close to Russia, it is natural that the city had both close economic and family ties with the neighbouring country.
But now everything is different.
Residential districts are under daily missile strikes by Russian Grads, Hurricanes and Tornadoes. A rocket struck Kharkiv Freedom Square, one of the largest city squares in Europe, in a clear and highly symbolic attempt to destroy the regional state administration.
Russian troops are deliberately targeting apartment buildings. The civilian death toll grows each day. It is reported that more than 200 civilians have died since the beginning of the war—11 children among them. This is Putin's revenge for Kharkiv's refusal to surrender.
The Kremlin continues to brazenly lie to Russians and the whole world that some mythical liberation operation is taking place in Ukraine. But Russia cannot liberate Ukraine from Ukrainians.
Russia's armed forces are killing my people, but the only thing they have achieved is a united hatred against Russian occupiers in once-loyal Kharkiv. We will not give up. Kharkiv will stand. Kharkiv is united like never before; it was and will be Ukrainian. We will win.
Maria Avdeeva is research director at the European Expert Association.
This publication was prepared under the "Amplify, Verify, Engage (AVE) Project" implemented with the financial support of the Ministry of Foreign Affairs, Norway.