Items are seen inside a cell at a preliminary detention centre which is believed to have been used by Russian forces to jail and torture civilians on November 16, 2022 in Kherson, Ukraine. © Chris McGrath/Getty Images
Justice Under Fire in Kherson
Despite huge obstacles, the regional war crimes unit is steadily assembling its cases for torture and shelling.
Items are seen inside a cell at a preliminary detention centre which is believed to have been used by Russian forces to jail and torture civilians on November 16, 2022 in Kherson, Ukraine. © Chris McGrath/Getty Images
"We went outside and started looking at each other. I was holding my leg. Somebody was trying to stop the blood from his head. There was a woman near me who sat on the fence holding her stomach. And nobody was crying," said Tetiana Yeryomenko, describing the first moments after the December 24, 2022, shelling of the central market in Kherson. 
"Nobody was shouting. We were in deep shock, feeling lost and trying to understand what had just happened… Everything was full of smoke."
It was a crisp, fresh morning and the 45-year-old university administrator had been shopping for the holiday season in the large pavilion, looking forward to the New Year's family gathering and another chance to celebrate the city's liberation the previous month.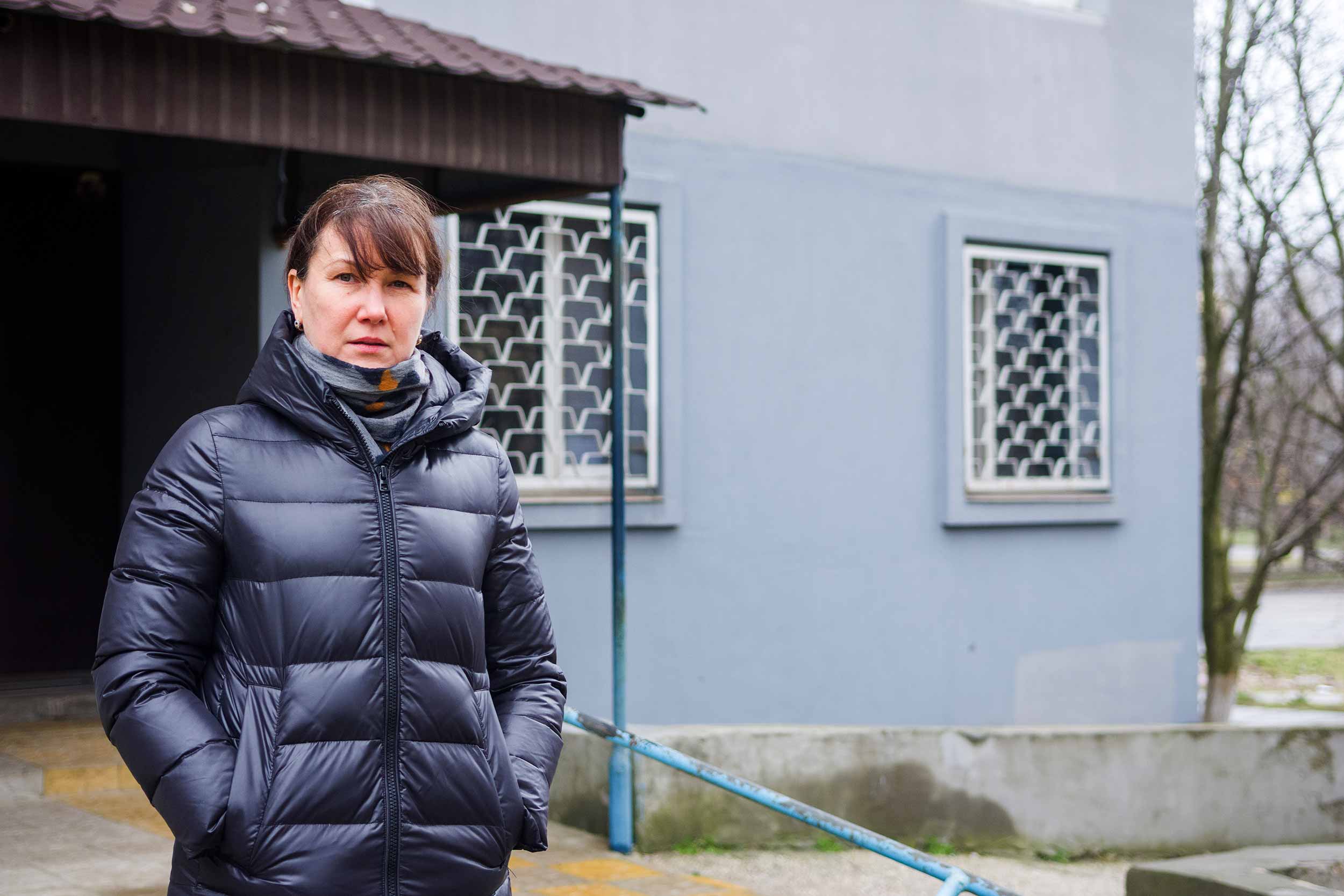 At around 11am, a grad missile from a multiple-rocket launch system struck a nearby shop, shattering the roof. Yeryomenko, lingering at a butcher's stall, saw broken glass cascade down on a vegetable stand where she had been heading. As the sound of another shell erupted, she threw herself behind a concrete bench. 
With no ambulances arriving, she called her son-in-law, who struggled to drive her through the packed and rubble-strewn streets, turning up Mayakovs'koho, which hosts the area's main supermarket. Always crowded, with a queue out front and pedestrians on the intersection, this was where the first shell had struck.
"It was an absolute disaster," Yeryomenko recalled. "I saw bodies of people still alive, lying in the street, and lots of blood, buckets of blood along the street."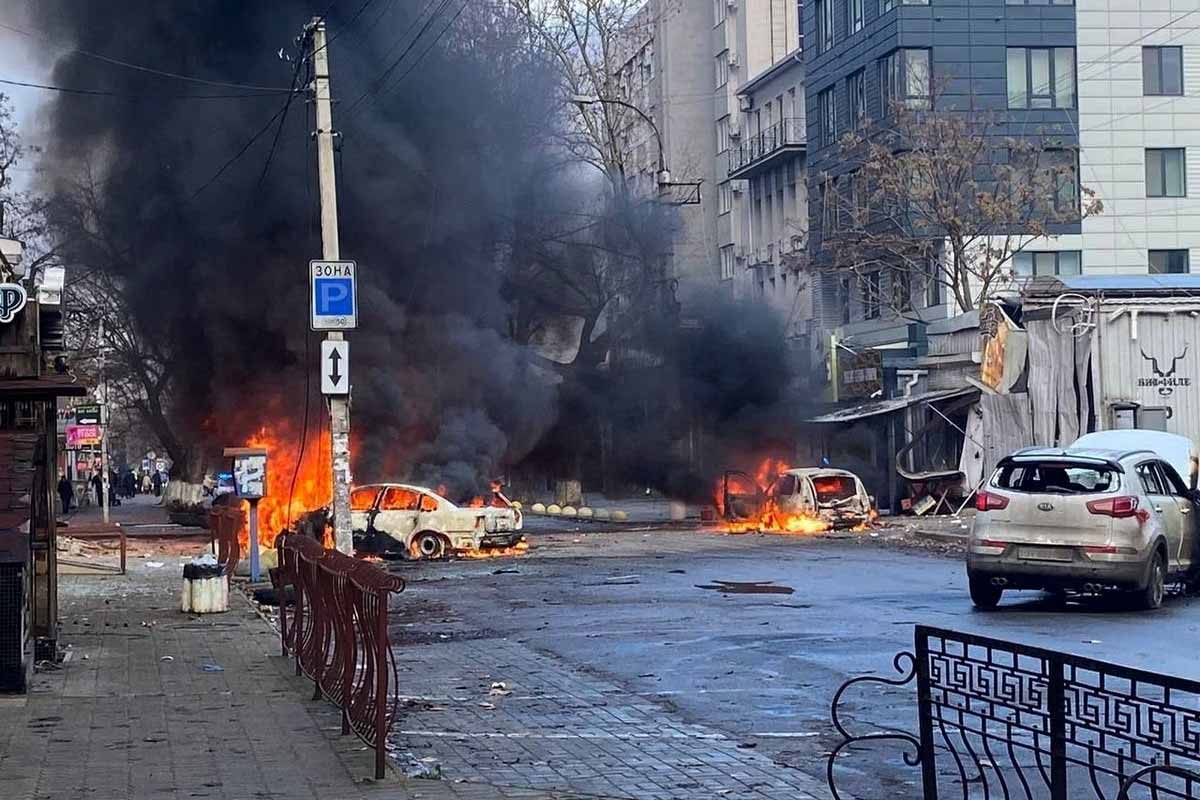 Continuing on, they almost crashed into the rocket, jutting out of the tarmac.
"I remember a woman by the intersection in a red jacket," Yeryomenko continued. "She was dead. I remember two people at the intersection that were still alive, moving their hands. I remember a white minibus at the intersection, and a guy there, dead. He had half-fallen out of his bus."
According to the regional military authority, the Kherson region is hit by between 35 and 100 shells daily, around half within the city itself. On December 24 the number in Kherson city was 28. 
Fourteen targeted the central market area, killing 11 people and injuring up to 70. Another 14 shells struck in the afternoon, around the hospital where many were being treated – an appalling double-tap syndrome that seems too frequent to be coincidental.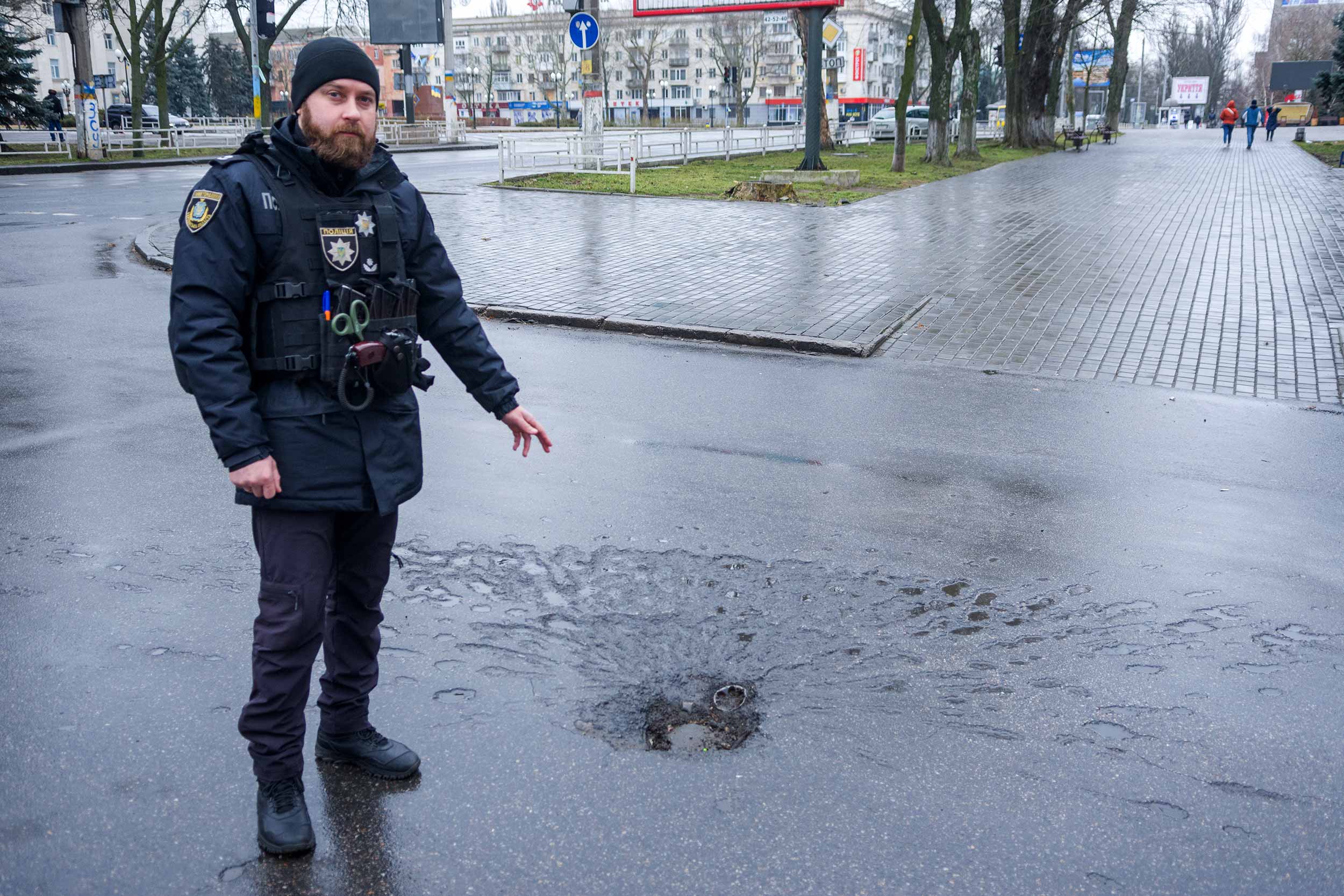 TRACING THE SHELLS 
With fighting still under way, bringing a prosecution into Kherson's market massacre faces significant challenges.
Yet a vigorous investigation is ongoing, led by the Kherson division of the office of the prosecutor general and supported by the military, police and the Ukrainian secret service (SBU). 
For security reasons, the office, led by prosecutor Andriy Kovalenko, 41, is based in neighbouring Mykolaiv. The office, which is responsible for investigating war crimes across the Kherson region, has just 15 prosecutors in total. A commensurate international criminal investigation team might have as many as 50 people or more.
Investigating a shelling is complex, but follows standard procedures. 
"First, we inspected the site of the shelling, every location where a rocket hit," said Kovalenko. "The remnants, the debris, the rockets were taken away from the scene. We inspected the sites and the remnants together with artillery experts. We directed experts to provide medical assessments on every injured person. We also questioned those who were wounded during the shelling, and we spoke with the relatives of those who were killed."
Army experts assessed the type of weaponry as well as the systems and techniques used to fire them. Artillery units helped determine trajectory and point of origin. From that, the army provided information on the units in the relevant areas, and the regional and local administration provided assessments of the damages, including the costs. 
The challenge is to work from analysis of trajectory to confirmation of firing point to identification of the military detachment and finally to the names of people in those detachments. Typically, such an investigation may also utilise open-source information, satellite images and intelligence supplied by allies.
So far, the location from which the shells were fired, in Russian-held territory across the Dnipro River, has been identified and a preliminary identification has been made of the responsible Russian unit.
But this is only the beginning of building a successful prosecution, and one amid a spiralling number. Kovalenko said that 1,500 shelling sites had so far been viewed.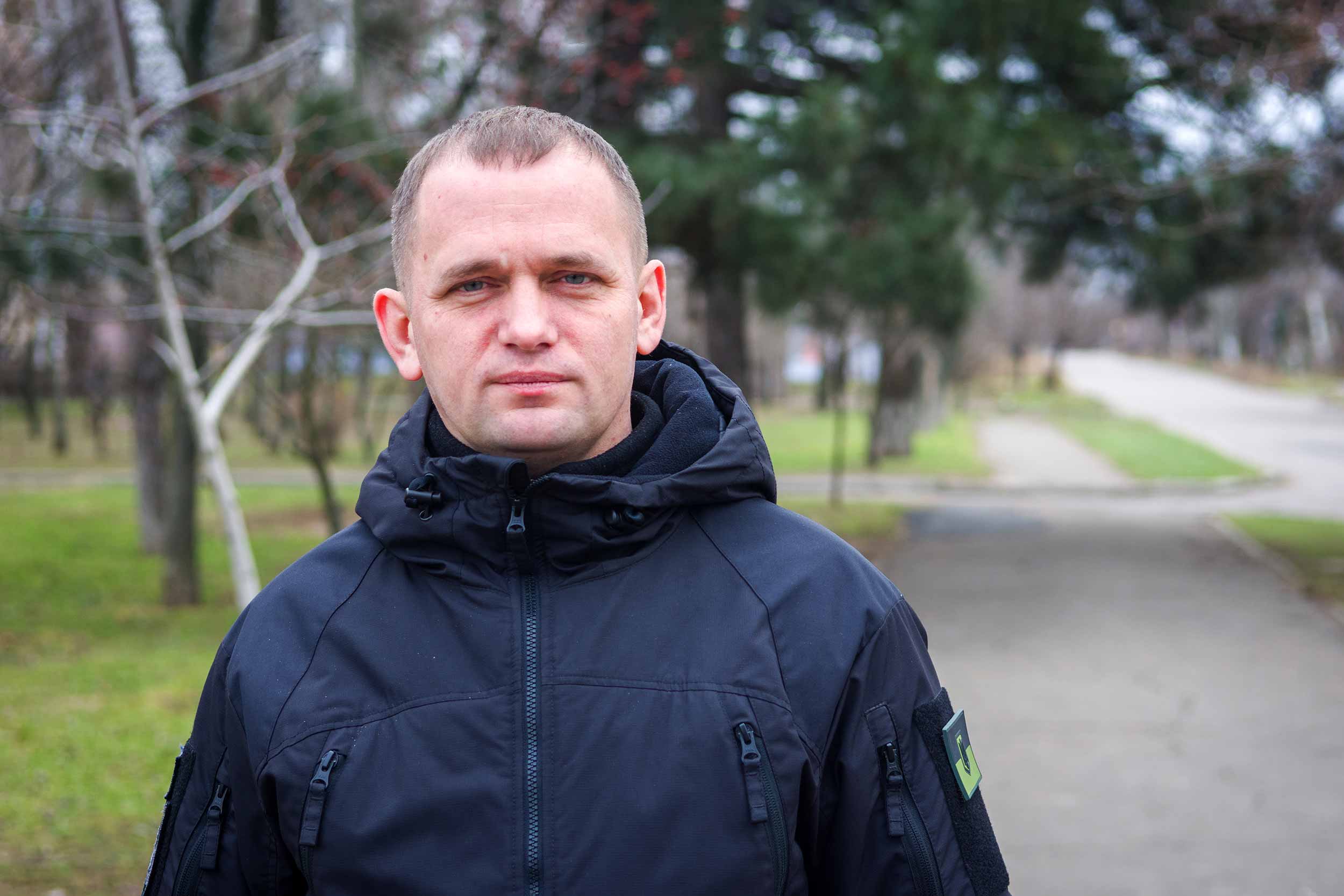 TRACKING THE TORTURERS
Illegal detention is another major area of investigation for the Kherson unit. During the occupation, people were seized for supporting Ukraine on social media, taking part in peaceful protests or making negative comments about the Russian Army. 
State officials, police representatives and clerks were arrested and pressured to work with the Russian administration. The Ukrainian underground was another particular focus for kidnapping and torture. 
Olexandr Diakov, 47, a community property supervisor, was part of a grass-roots network that feed information to the Ukrainian security services on the movements of Russian officers and materiel. 
"Thanks to the efforts of the partisans, including our group, it was one reason the armed forces of Ukraine were so swift in entering the city and so successful in winning the city back," he said.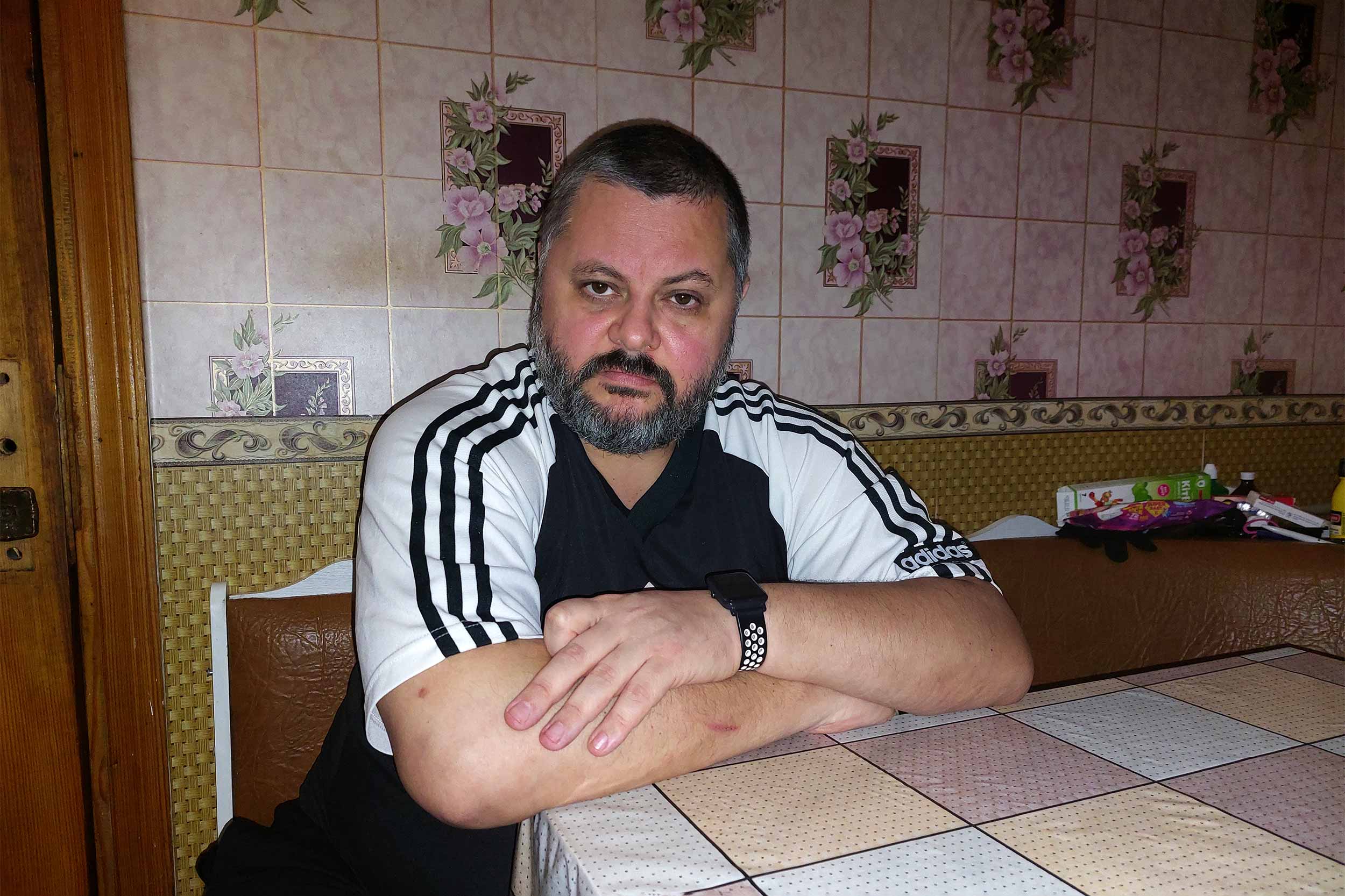 This came at a cost. Under torture, another network member identified Diakov, who was then detained and brutally beaten over 17 days. 
"We were passing crucial information about where the Russian military were based, how their machines were moving around the town," said Diakov. "We also passed information about Ukrainian collaborators, Ukrainian citizens who betrayed their country. And information about where FSB [Russian security services] workers lived. And that is why I got my trauma."
After four brutal interrogations and electric shock torture, Diakov was so badly injured that he was transferred for hospital treatment, following which – with the connivance of a Ukrainian doctor and the distraction of the Russians' impending withdrawal – he was able to escape. 
He remains in pain even after two operations, including skin grafts, and faces further treatment. 
On current calculations, at least 1,232 people were illegally detained in a network of ten places of imprisonment. There may have been many more locations. 
The main prisons were Kherson's pre-sentencing detention centre – which held at least 500 prisoners during the occupation, including Diakov – and the basement of the Financial Crimes Court. Dank, long-abandoned cells in the basement of the National Police regional HQ were also used.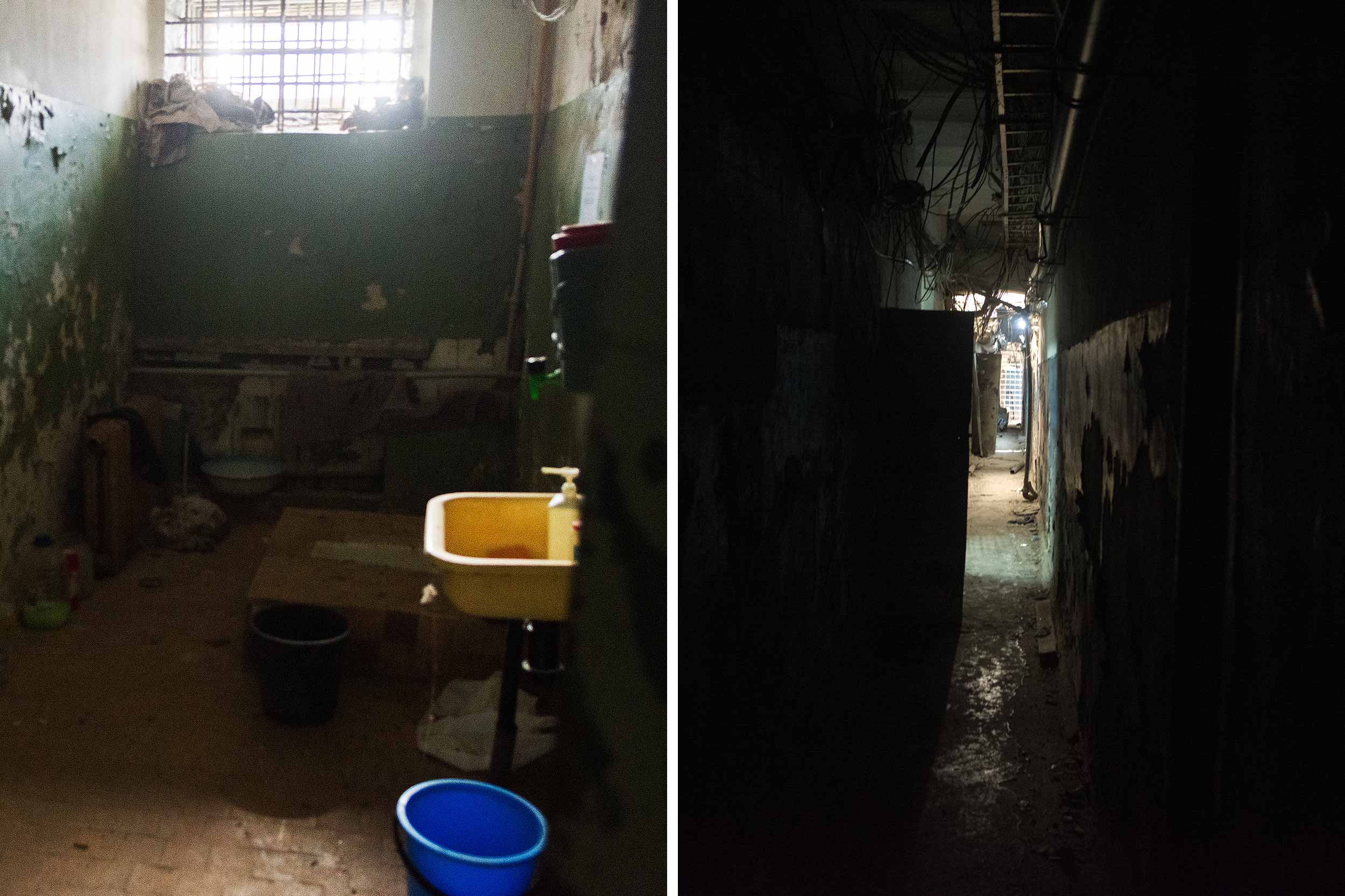 Of those imprisoned, 642 were released, some during the occupation and the rest as the Russians withdrew. A further 590 were not released or are not accounted for. 
Kovalenko believes the actual number of detained is potentially far higher. With much of the Kherson region still under occupation, it is certain that detention and torture continue.
PROSECUTING LEADERSHIP
There are real difficulties in identifying prison guards and other perpetrators, not least because most wore masks and covered prisoners' heads with bags. 
But the real challenge – and the opportunity – in Kherson is to build a case against the occupation leadership and their superiors in Russia.
"The detention camps and what happened in Kherson are a microcosm of the overall Russian criminal plan," said Wayne Jordash, managing partner of Global Rights Compliance, an international legal consultancy group that is supporting the prosecution team in Kherson with advice and analysis.
Given the ten months of occupation, Jordash said it should be very possible to establish command authority over the camps and build a case against the occupation leadership. 
"The Kherson prosecutor's investigation into the detention centres is really good, especially on the main detention centre," he continued. "Now the next step is to look at the bigger picture, to show that these various detention centres were being run as a system and that system was connected to Russia. They were not ad hoc run by militias."
Jordash noted that collaborators could serve as a critical source of information on the structure and personnel of the occupation. Even where identities of individual guards may be difficult to determine, the units they were part of can be determined. 
Other crimes will also require specific focus. Child abduction is a major area, while Jordash highlighted extensive third-person reports of sexual violence in detention centres as a form of torture. A large number of interviewees, he said, have reported others being raped and abused. A dedicated sexual violence unit will investigate this extremely sensitive issue. 
"So far, the prosecution is at the very beginning of these investigations," said Jordash. "We're hoping that, over the next three to four months, the investigation can look not into uncovering everything but into building a coherent and convincing case against the upper management of the Kherson occupation authority, and possibly higher to Russia itself."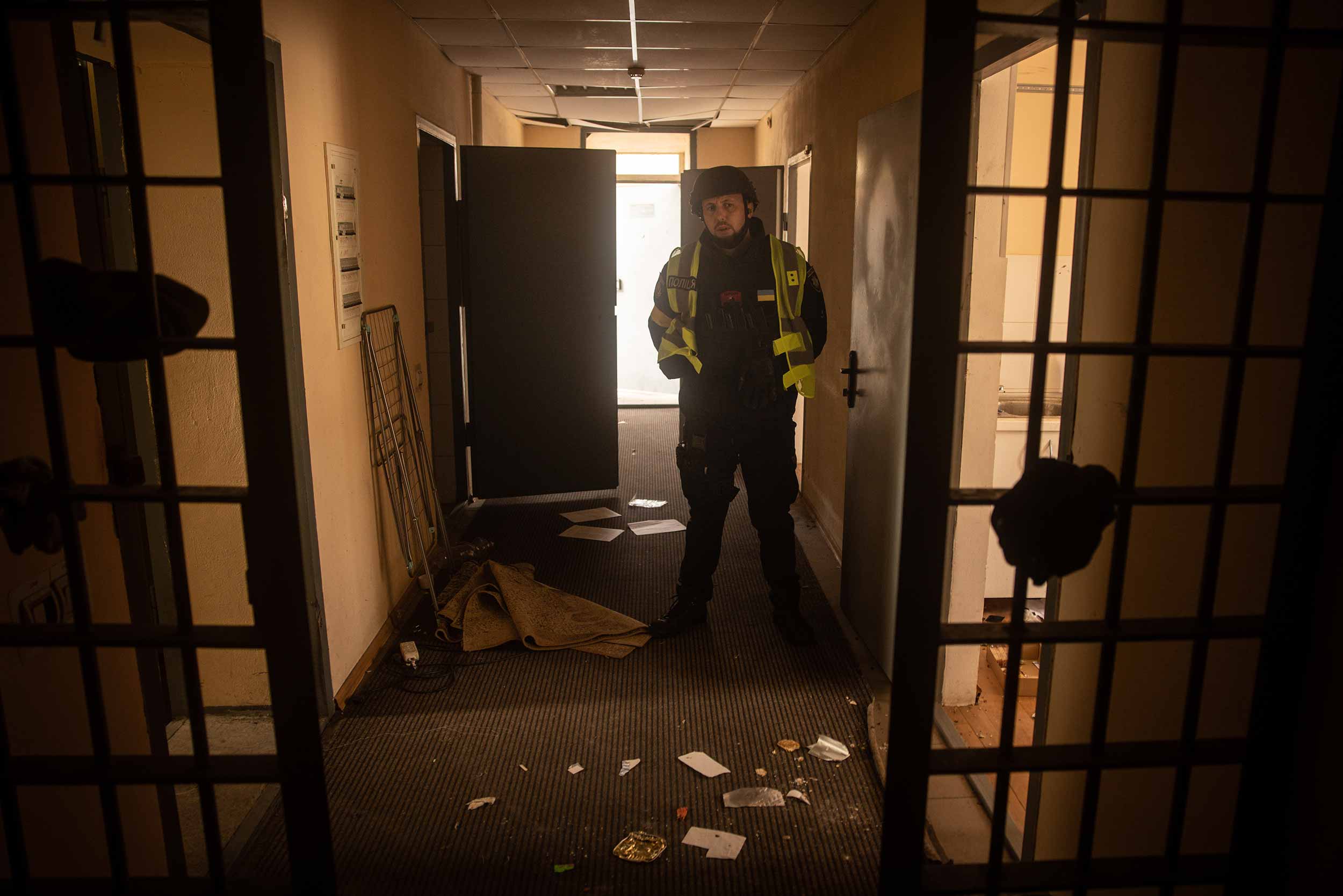 BRINGING JUSTICE
The total number of alleged war crimes currently registered in Kherson is 10,926, out of a national figure of nearly 70,000.
Although these numbers represent reported incidents rather than cases, this presents a daunting challenge, especially with the war still under way. 
"Kherson is a frontline region, and a lot of people have left. Battles are still being fought," said Kovalenko. "So, we definitely do not have full information about what is going on… We understand the numbers are much, much bigger."
Documentation is hard to obtain, and perpetrators, mostly in Russia, will be hard to identify and all-but-impossible to put in the dock. 
So far, 17 people have been charged in seven cases. Four cases have been brought to court, with six defendants, both Russian and Ukrainian citizens. Only one, a Russian, is in custody.
Under Ukraine law, trials in absentia with court-appointed representation will be held where defendants are not available.
It is early days. But Kovalenko is clear that the process is a long-term one, in no small part dependant on a successful end to the war. 
"Charging [Russian soldiers] with crimes and putting them to answer for those crimes will be possible when we have victory against the Russian Federation," he says. "After that, we are going have access to the documents of the military detachments which were in Ukraine and in Kherson region.
"We are moving towards the situation when every Russian soldier who committed war crimes has to know that he will be prosecuted and punished. We do not have any forecasts . . . [but] we know that our work may continue for years, possibly for dozens of years, the same as it was after WWII."
Yeryomenko – herself wounded in the market attack – has so far been too afraid to return to Mayakovs'koho, where the police station is located, to give evidence.
"As soon as the shelling stops, I will go there, I will testify. But no, not earlier," she said.
Yet for her, the process of securing justice for what has happened in Kherson is not only essential, but urgent.
"After the war, after victory, I want all of them to be held responsible for their actions," she said. "And I want it to happen as soon as possible because every day people die. Every day we are shelled. Every day somebody's house is on fire."
Translation and additional reporting by Mykhaylo Shtekel.
Please take a minute to complete a short survey. For any further feedback email us at editor@iwpr.net.