Ukrainian flags dot streets in Georgia's capital Tbilisi. Georgians overwhelmingly support Ukraine, but the government did not join its western allies in the sanctions against Moscow. Prime Minister Irakli Garibashvili stated that the country's economy would suffer if Tbilisi sanctioned one of its main trading partners. © Gvantsa Seturidze
Georgians Struggle with High Prices Amid War in Ukraine
The influx of Russian exiles have pushed the cost of living up, while Tbilisi's trade ties with Moscow have expanded.
Ukrainian flags dot streets in Georgia's capital Tbilisi. Georgians overwhelmingly support Ukraine, but the government did not join its western allies in the sanctions against Moscow. Prime Minister Irakli Garibashvili stated that the country's economy would suffer if Tbilisi sanctioned one of its main trading partners. © Gvantsa Seturidze
When her landlady suddenly announced that she wanted to triple her rent, Tamuna Gegidze recalls feeling that she was about to faint. It was a month after Russia's full-scale invasion of Ukraine had begun and thousands of Russian citizens were arriving in the capital Tbilisi, with plenty of cash in hand.
 "I was paying 650 laris ( 253 US dollars), but she said she could find tenants ready to pay 800 dollars. I could not afford that sum, she said that she understood and she would not ask me that much as I had been living there for years… She asked if I could at least add some 150 lari ( 58 dollars)," Gegidze told IWPR.
The 29-year-old editor agreed and the rent of her flat in the central district of Saburtalo rose to 800 laris ( 311 US dollars). Her landlady assured her that was it, but that autumn, as thousands of Russian men entered Georgia to escape mobilisation, she raised the rent again, to 1,000 laris (390 dollars). 
Gegidze had to move back with her parents outside Tbilisi for a few months; she is now sharing a flat with a friend in one of the capital's suburbs.
Since late February 2022, Russian exiles have flocked to Georgia, a neighbouring country accessible without a visa. According to official data, in 2022 869,874 people entered Georgia from Russia and 809,873 left. 
While economists say that the influx has stimulated the gross domestic product (GDP) and strengthened the national currency, for many Georgians the most tangible economic change has been spiraling inflation and property prices. 
 "Some owners asked their Georgian tenants to vacate their apartments to rent them out to Russians. It became difficult for Georgians to find new homes as prices soared by at least 50 per cent in days," said Avtandil Todria, an estate agent operating in Tbilisi and Batumi, the country's second largest city located on the Black Sea shore.
Keti Evsia, the manager of an online gaming operator, had a similar experience to Gegidze. In autumn 2022, the 23-year-old's landlady increased the rent of the flat she'd been in for four years by 400 lari (154 dollars). 
"I never delayed a payment, not even during the pandemic… One day she told me that she was raising the rent to 1,000 lari (386 dollars). I told her that I could not afford it and she started to bring in potential tenants, they were mostly Russians," Evsia told IWPR, adding that "the process of searching [for an affordable flat] was terrible".
Anti-Russian sentiments are also on the rise. A poll by the International Republican Institute (IRI) found that 79 per cent of Georgians opposed visa-free travel for Russians, including those  registering businesses or buying property in the country, while 25 per cent tolerated their presence for the economic benefits.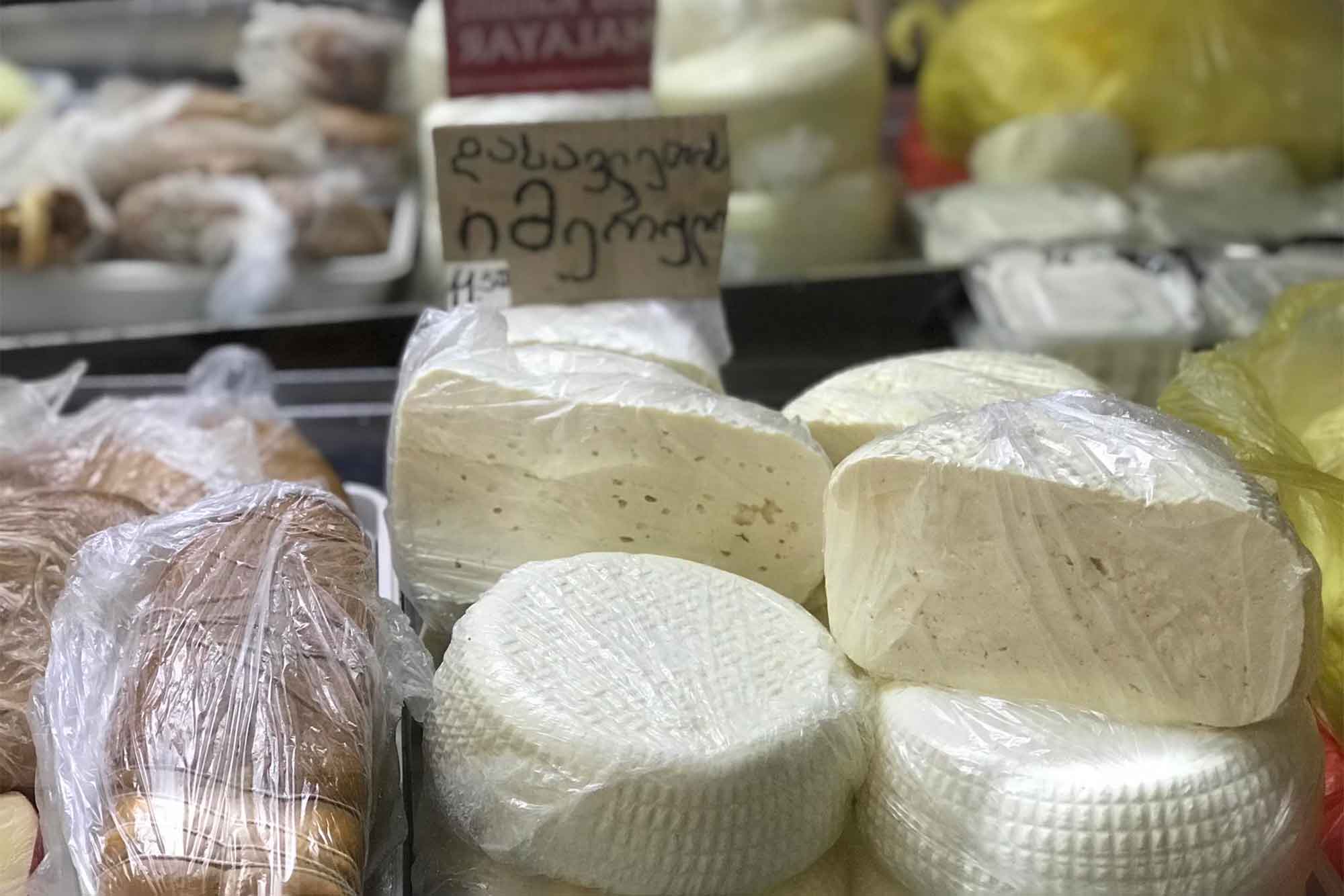 HIGH PRICES
Inflation has also soared. In December 2022 the annual rate reached 9.8 per cent, far higher than the target of three per cent set by the National Bank of Georgia. In April 2023, however, it dropped again to 2.7 per cent.
"I have always managed my finances well, but at one stage I realised that I could not cover everything… for example the price of bread doubled," explained Gegidze. "My salary is higher than the Georgian average [about 450 dollars], but there is no money to spend on leisure, my income was just enough only for rent and food." 
Economists noted that while high food prices have affected the disposable income of all Georgians, some were suffering more than others.
"The situation of low income households is particularly dire, because the share of food and basic consumption items in their consumer basket is high," Davit Keshelava, senior fellow at the Tbilisi-based International School of Economics' (ISET) Policy Institute, told IWPR. "The massive influx has increased demand for certain goods and services, which made these categories more expensive and pushed inflation upwards." 
The Institute compiles the Khachapuri Index, which tracks inflation based on the ingredients needed to cook one khachapuri, a cheese-filled bread that is Georgia's essential staple. 
In December 2022 the average price to cook one khachapuri was 6.99 laris (about three dollars), 21.7 per cent higher than the December figure of the previous year. In April 2023, the cost dropped to 5.99 laris (2.31 dollars), which is still 1.4 higher than in April 2022. 
"In general, prices have increased catastrophically, although now they are gradually stabilising," Mariam Rizhvadze, manager of a large supermarket, told IWPR. She recalls cases of upset customers, like one who asked to cut a cabbage in half because she could not afford an entire one. 
Higher prices are also connected with the disruption of supply chains as a result of the restricted transport caused by the war in Ukraine. 
"The war affected the transit sector because the transportation from Asia to Europe was mainly carried out through the Northern Corridor via Russia," explained Keshelava. "Due to the sanctions, the load on the Northern Corridor decreased and it increased on alternative routes, including the 'middle corridor', which passes through Georgia. As a result the demand for cargo transportation rose, and with it goods' prices."
He added that Georgia had failed to use the potential of its strategic location and access to the Black Sea because of infrastructural problems, including the ports' inefficiency.
In 2022 trade ties with Russia deepened. As their memory of the 2008 war with Russia is still fresh, Georgians overwhelmingly support Ukraine, but the government did not join its western allies in the sanctions against Moscow. Prime Minister Irakli Garibashvili stated that the country's economy would suffer if Tbilisi sanctioned one of its main trading partners. 
The increase of export rate by 32 per cent in 2022 was largely towards the Commonwealth of Independent Countries (CIS), including Russia where Georgian exports rose by seven per cent. 
As Georgian buyers took advantage of weak demand for Russian goods, imports hiked. According to official data, in the first quarter of 2023 Russian imports to Georgia increased by 79 per cent compared to the previous year, reaching a total of 490 million dollars.
Trade relations with Russia tended to increase when the region was shaken by economic and geopolitical turbulence, noted Keshelava.
"If Georgia continues to be dependent on the CIS countries, as it has been over the recent years, then Georgian export data will remain turbulent and the country will often face negative shocks, which is certainly not good," he said.
Recent history shows the dire impact of Georgia's dependence on trade with Russia: the 2006 embargo that Moscow imposed on Georgian wine and mineral waters crushed one of the country's key economic sectors. 
Since then Georgian producers have diversified: a report published by Transparency International Georgia indicates that today Georgia's economy would not face a deep crisis if it had completely cut economic ties with Moscow.
This publication was prepared under the "Amplify, Verify, Engage (AVE) Project" implemented with the financial support of the Ministry of Foreign Affairs, Norway.