Crimea: Tortured into Confession
The detention and sham trial of a reporter illustrates how the Russian-controlled authorities treat independent media on the peninsula.
Crimea: Tortured into Confession
The detention and sham trial of a reporter illustrates how the Russian-controlled authorities treat independent media on the peninsula.
Vladislav Yesypenko in court. © Crimea.Realities/Radio Free Europe
On March 10, 2021, journalist Vladislav Yesypenko was in Simferopol, filming a story about commemorations of the anniversary of the death of famed Ukrainian poet Taras Shevchenko. Ukrainians in Crimea traditionally lay flowers at a monument to the much-loved national poet on this day, despite police threats and detentions. It was to be part of a series for Radio Liberty exploring how life had changed for residents of Crimea since the Russian 2014 annexation.
"I knew that Vladislav would work and shoot in Simferopol, so I didn't bother him," recalled his wife Katerina. The couple live with their young daughter in Kryvyi Rih in central Ukraine; Yesypenko commuted to Crimea for work trips. "By the late afternoon, when my husband did not call me back, I began to look for him. HIs phone was already out of range. There was no answer to my messages. I realised that this wasn't a situation where the battery had just run out."
The next morning, Katerina began sounding the alarm, reporting her husband's disappearance to the Russian-controlled law enforcement agencies of Crimea.
Later that day, it became clear that Yesypenko was in custody.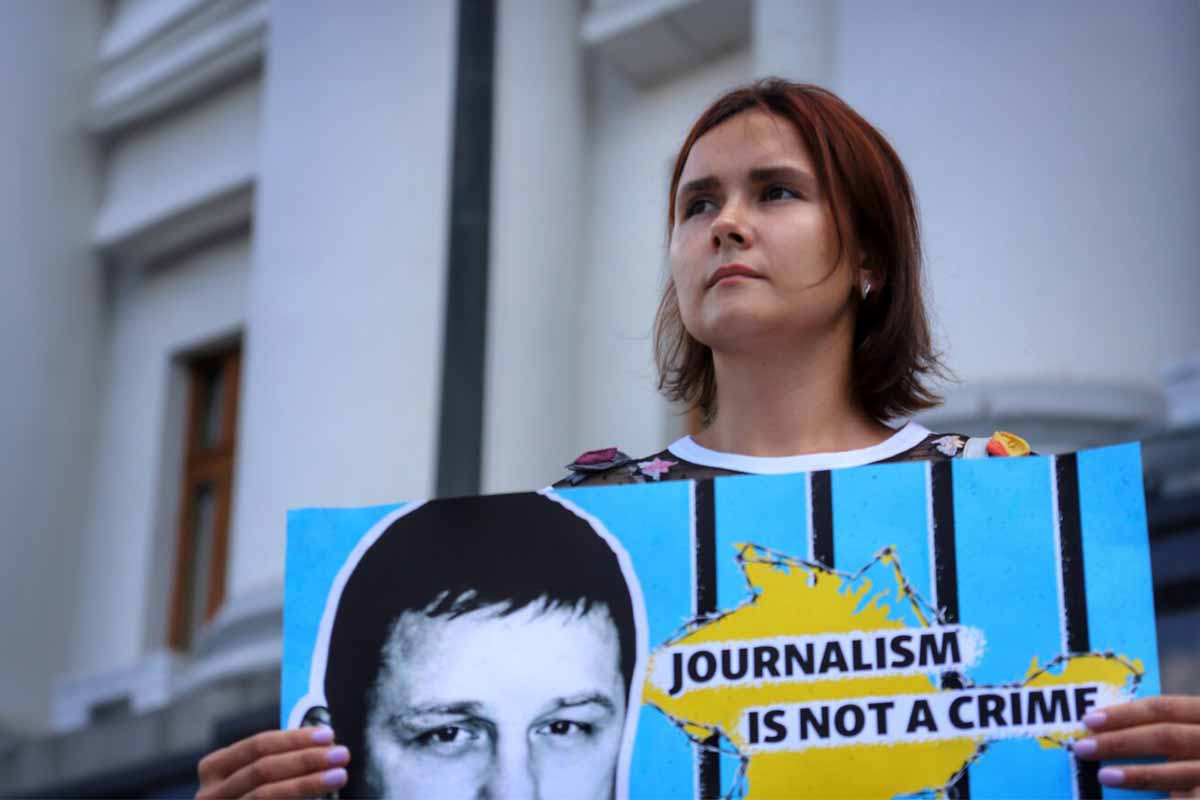 His car had been stopped by traffic police as he drove back to Alushta town, where he rented a flat with a friend, and searched by Crimean Federal Security Service (FSB) officers, who then raided Yesypenko's apartment.
The FSB announced that a grenade was found in Yesypenko's car and he was accused of manufacturing a homemade explosive device. 
Nearly 18 months later the freelancer remains in custody, having being forced under torture to videotape a confession.
Ukrainian human rights defenders describe his case as a typical illustration of how the FSB treats independent media on the peninsula – and despite international protest at his detention, the authorities have refused to release him.
FORCED CONFESSION
Although initially denied access to his own lawyer, Yesypenko was finally able to tell the story of what happened to him when he appeared in court.
"During the search, a grenade was planted on me, which, in [one] case file, was in the glove compartment of the car, and in the other they write that it was in a niche under the steering wheel," he said. "Although, I don't have a niche under the steering wheel in my car, the glove compartment is on the left side. There is a fuse there, and it is physically impossible to put it there. In addition, when I came close to the car, I saw a grenade was already lying on the seat. For some reason, the case file indicates that it was in two places. If an examination had been carried out, it would have been easy to prove that it could not have been in the glove compartment. A maximum of a pack of cigarettes will fit into this niche, maximum," he told the court.
Once at FSB headquarters, he was taken to the basement and tortured.
"An FSB operative put me on a concrete floor," Yesypenko recounted. "They stripped me naked and put copper wires over my ears. I tried to resist, but because I was naked and handcuffed, nothing came of it. That is, I was lying naked on the floor, they connected wires to me and started an electric current. The pain was such that my brains boiled and my eyes exploded. I screamed a lot, asked them to stop and not do it, but it continued."
The journalist was asked about his connections with the Ukrainian special services and military as well as the aims of his work in the Crimea.
"I explained that I work as a journalist in the Krym.Realii project and come to Crimea in order to do public opinion polls. The last task was to go to Simferopol to interview about the demolitions of residential buildings of the Crimean Tatars. I did interviews with them," the journalist said.
After hours of torture, Yesypenko agreed to sign all the documents he was given.
"They said, 'It's okay, we will take you out and bury you behind the forest park and that's it.' That is, in addition to physical torture, they also used moral ones. At that time, I was depressed and understood that if I didn't confess now, they would simply disable or kill me," he told Judge Dlyaver Berberov in court.
FSB officers alleged that Yesypenko had been carrying an improvised explosive device with him in his Skoda car since February 2021, having obtained it from a cache in the city of Armyansk from persons unknown to the Russian special services.
The FSB assigned Yesypenko a state lawyer, Violetta Sineglazova, to represent him. But when he reported that he had been tortured immediately after his arrest, Sineglazova declined to lodge a complaint.
"She explained to me that she had similar cases, and that if I slander myself and give confessions, then they will give me a maximum of three years and then parole," he told the court.
It was only in court that Yesypenko managed to meet with the legal team chosen by his family to represent him, Dmitry Dinze and Taras Omelchenko. They went on to file a complaint over his physical abuse, but a military investigation – which did not include an interview with Yesypenko himself - concluded that the facts of torture were not proven.
Before the verdict was announced Yesypenko told the court that his case was politically motivated.
"I worked for a Ukrainian media outlet and I think that the FSB wanted to show how unacceptable freedom of speech is," he concluded.
Yesypenko was sentenced to six years in prison and a 110,000 rouble fine. The Court of Appeal later reduced his term by a year, explaining this was due to him "actively contributing to the disclosure of the crime".
The journalist is serving his sentence in a penal colony in Kerch, in the eastern part of Crimea. He has been denied private meetings with his lawyer, but is nonetheless preparing for an appeal.  
"Almost every week the administration of the colony summons him and warns him not to say anything superfluous to me and the lawyer," his wife said. "The administration of the colony is afraid that we will turn to the ombudsman, to human rights activists."

This publication was prepared under IWPR's Ukraine Voices: Protecting the Frontline project funded by UNESCO. The authors are responsible for the choice and the presentation of the facts contained in this discussion and for the opinions expressed therein, which are not necessarily those of UNESCO and do not commit the Organization