Bosnian Army "Shelled Own Side" – Karadzic Witness
Former UN observer claims Serb units were not responsible for certain shelling incidents blamed on them.
Bosnian Army "Shelled Own Side" – Karadzic Witness
Former UN observer claims Serb units were not responsible for certain shelling incidents blamed on them.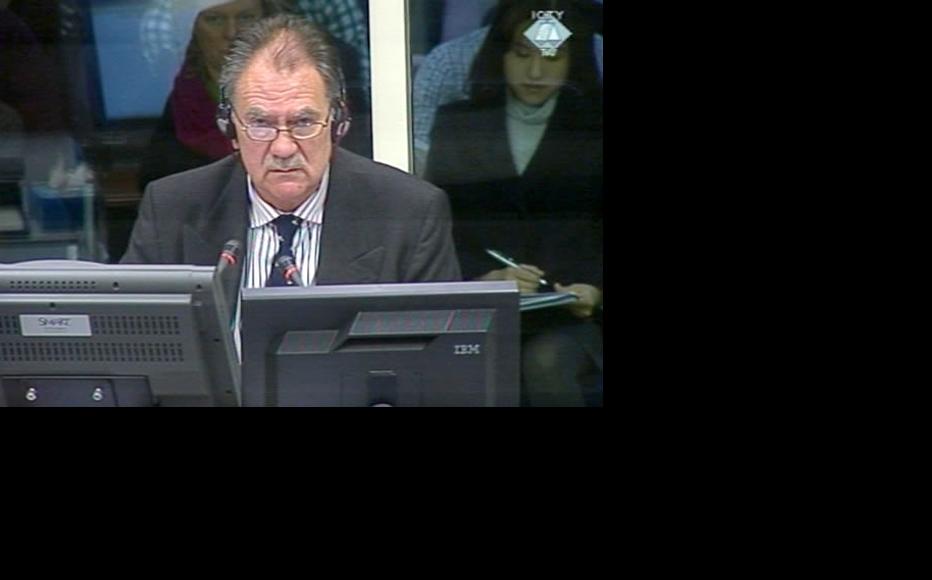 Richard Gray, defence witness at the Karadzic trial. (Photo: ICTY)
A former United Nations military observer testified this week that the Bosnian government army targeted civilians on its own side in Sarajevo in order to provoke an international military intervention.
"I believe that it was part of a strategy, a general strategy of the Bosnian government, to cause an international intervention. Therefore they did what was necessary, including shooting at their own civilians," said Richard Gray, a retired officer in the New Zealand army, who appeared as a witness on behalf of wartime Bosnian Serb president Radovan Karadzic.
Gray served as a UN military observer in Sarajevo from April to September 1992.
He said that when British foreign secretary Douglas Hurd visited the city on July 17, 1992, "the Presidency building was shot at [with mortar fire], and that resulted in the deaths of some ten [people]".
Gray said that because the mortar shell was fired from a distance of approximately 200 metres, "it could only have been fired from a position controlled by the Bosnian army".
The witness failed to explain how he concluded that the mortar was based at such a close location.
Gray mentioned another incident in July 1992, in which he said "a group of teenagers were being shot at by the Bosnian army while some UN peacekeepers were trying to give them candy".
He also claimed that Bosnian army kept firing at Bosnian Serb Army, VRS, positions from the vicinity of civilian buildings and UN headquarters, in order "to cause the [Serb army] to fire back at these objects".
"This was a general strategy. In fact, we even lodged protests to the Bosnian government against this kind of activity, which we considered illegitimate," Gray said.
Gray added that the Bosnian army even fired directly on a group of UN observers stationed in Sarajevo.
In the prosecution's cross-examination, Gray acknowledged that it was "very hard for UN military observers to determine who was actually the first to have opened fire".
"We were in a difficult position, but it was obviously hard to know all the details", Gray explained.
In addition, Gray was asked whether a quote he apparently gave an American journalist – that "the Serbs actually wanted peace"- reflected his views.
Gray said this quote was "not accurate".
"But that doesn't surprise me – journalists tend to misquote and simply state things which aren't accurate," Gray said.
Karadzic, who served as founder and president of the Bosnian Serb entity Republika Srpska, RS, from 1992 to 1996, is alleged to be responsible for crimes of genocide, persecution, extermination, murder and forcible transfer, committed across a number of municipalities throughout Bosnia and Hercegovina. He is also charged with the responsibility for the 44 month sniping and shelling campaign against Sarajevo and the massacre of more than 7,000 Bosnian Muslim men and boys at Srebrenica in July 1995.
Another witness appearing on behalf of Karadzic this week was Savo Simic, the former head of artillery for the 1st Sarajevo Motorised Brigade of the VRS. Simic said he was "on the front line for a rather long time, for most of the war", but could not remember the exact dates of his deployment.
At the outset, Karadzic – who represents himself in court – read out a summary of Simic's written statement. It said that "the only activity that the [Bosnian Serb army] had around Sarajevo was defensive, and… that several incidents involving civilians were obviously caused by fire from the Muslim side".
Simic's zone of control was "in the western part of the front", around the area of Dobrinja and towards Lukavica.
"There was never any kind of intention to terrorise the civilian population," he adde.
In court, Simic said there was "a simple reason" why it was practically impossible for the VRS to shoot at civilians:
"You see, we were under permanent UN observation, and our positions were being constantly monitored by UN peacekeepers."
Simic rejected claims that fire from positions under his control related to incidents mentioned in the indictment.
Under cross-examination from prosecutor Alan Tieger, Simic was asked to explain his statement that VRS troops around Sarajevo were "under double siege, from within and from without".
Simic answered that "one couldn't quite call it a typical siege... rather a major half-siege". He said the presence of Bosnian army troops not just inside Sarajevo but also in areas adjacent to the city created an "internal siege for the Serbs", while the presence of troops of the Bosnian Croat armed forces or HVO could be "considered an external siege".
He failed to explain how the concept of a "siege" fitted these explanations, given that VRS troops were never truly isolated from other Serb units.
"We were all under a kind of siege," he said. "You see, it would have been disastrous for the Bosnian Serbs if the Sarajevo corps of the Bosnian Muslim army connected [up] with the other units of their army. That was a very strained position we were in."
The cross-examination will continue next week.
Velma Saric is an IWPR contributor in Sarajevo.