The press conference of the participants to the 2023 Eurovision song contest. The event is held in Liverpool, UK, on behalf of Ukraine, which won the 2022 edition but could not host the event due to the ongoing Russian invasion. © Maria Romanenko
The Blue-And-Yellow Eurovision
Song contest provides highly symbolic moment of national unity for Ukrainians both at home and abroad.
The press conference of the participants to the 2023 Eurovision song contest. The event is held in Liverpool, UK, on behalf of Ukraine, which won the 2022 edition but could not host the event due to the ongoing Russian invasion. © Maria Romanenko
"The whole of Liverpool is blue and yellow, and it's very pleasing," exclaimed Anna Kovalska, a Ukrainian refugee from Lviv now living in London. She made the three-hour journey to the northern city with her three children to enjoy the spectacle of a Eurovision final that should have been held in Kyiv, given Ukraine's 2022 win with the Kalush Orchestra song Stefania.
But the ongoing war has made that impossible. The 2023 final in Liverpool has instead become a highly symbolic moment of national unity for Ukrainians both at home and displaced as refugees.
Around 3,000 tickets were handed out free to Ukrainians living in the UK, although Kovalska ended up paying for hers. It was a price worth paying, as was the nearly ten pounds she splashed out on at the Eurovision Village on varenyky dumplings with potatoes, onions and sour cream. Back in Kyiv it would have been at least half that price - but national pride gave it a special flavour.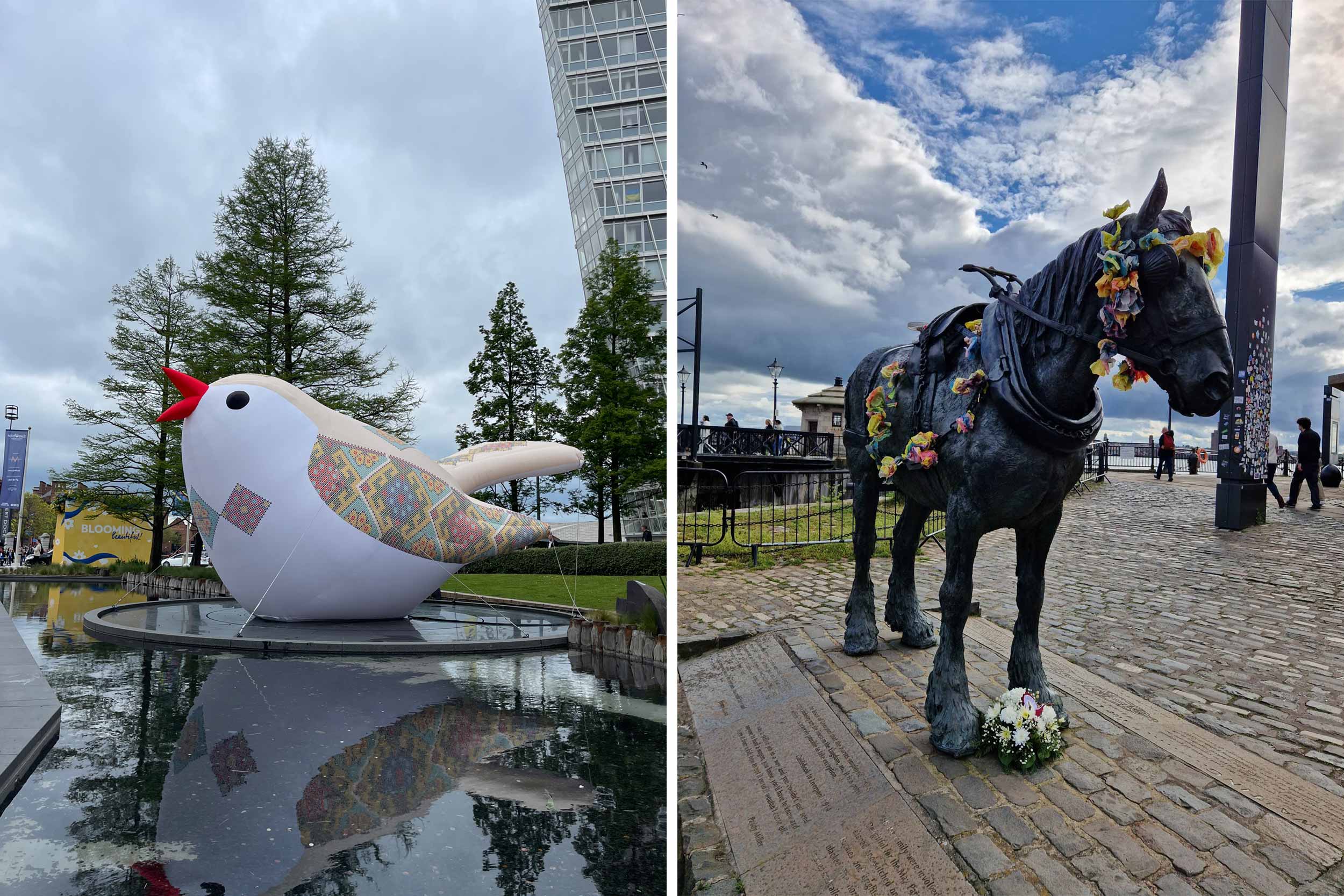 "This is the most expensive portion of dumplings in my life, but probably the tastiest," Kovalska said.
"The atmosphere in Liverpool is great," agreed Maria Romanenko, a journalist from Kyiv who has lived in Manchester for more than a year and is one of many Ukrainians among the 500 volunteers welcoming guests and stamping tickets. "It feels like a big party city. There are lots of Ukrainians, which is good to see. I hear so much Ukrainian in the streets, I see so many Ukrainian flags, and Ukrainian style T-shirts.
"It does of course feel that it is the Ukrainian Eurovision because the flags are everywhere. The city is full of Ukrainian activities – theatre, exhibitions, Ukrainian food and drinks. I think Liverpool has done a great job representing Ukraine."
"A song is also a history lesson."
On May 9, the frontwoman of Ukrainian band The Hardkiss and the host of the show from Ukraine, Yulia Sanina, opened the semi-final with the song Mayak amid thunderous applause, surrounded by blue and yellow colours.
The theme this year is United by Music and even performers from Tvorchi, the group representing Ukraine, said that winning was not a priority.
"The most important thing is to win the war with Russia," said its singer Geoffrey Kenny in one interview.
Although the contest is avowedly apolitical, longtime fan Andriy Panchenkov, from Kyiv, said that the international tensions it regularly revealed were part of the appeal.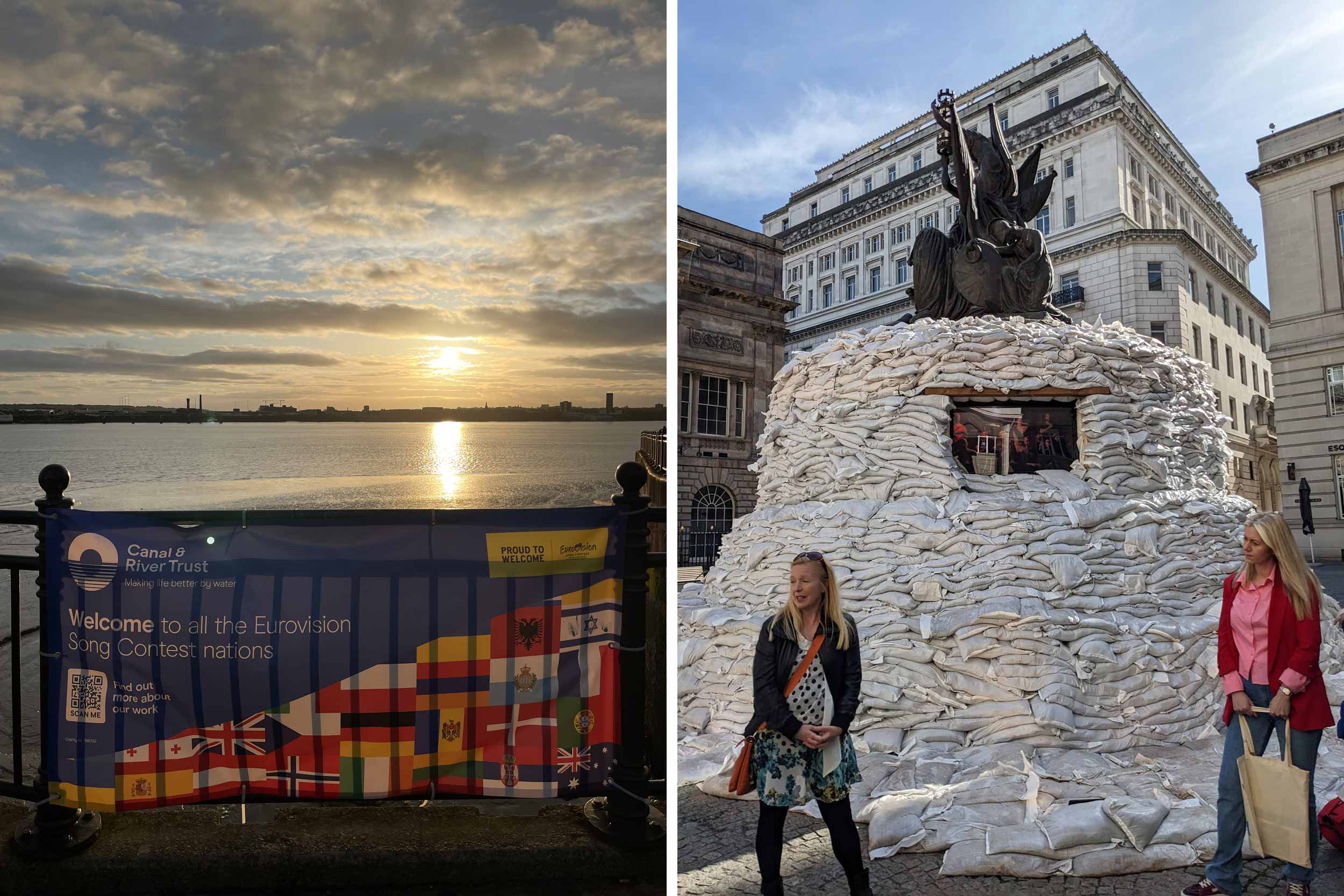 "I am interested in observing the geopolitical features of voting in the competition, when certain countries give the highest points to their neighbours, or ethnic 'relatives,' or political allies," he said. "Then you understand that a song is also a history [lesson] and geopolitics are no less important things."
Russia, unsurprisingly was banned from participating following the full-scale invasion and this year's event was full of further symbolism.
In central Liverpool, a monument to Admiral Nelson was covered with sandbags as a sign of solidarity, mimicking how Ukrainian monuments have been protected since the start of a full-scale invasion.
A 14-hour-long installation by Ukrainian artist Katya Buchatska entitled Izyum-Liverpool opened in the city's cathedral, depicting the journey of Ukrainians fleeing the war by rail.
"We really like how the English represent Ukraine, all these symbolic little things in Liverpool are very nice," said Natalya Pivovarova, a mother-of-three from Kyiv who fled to Spain after the full-scale invasion began. She will be watching this year's competition from her new home in Torrevieja, a welcome distraction from her job working in a restaurant and her efforts to learn Spanish.
"It is a very cool idea to show video clips that show how much Ukrainian cities have in common with other European cities. It is important that the contestants cover the topic of the war in Ukraine."
A POWERFUL SYMBOL
Ukraine's Eurovision debut in 2003 was swiftly followed by its first win in 2004, with singer Ruslana's victory with Wild Dances and in 2016 with Jamala's 1944.
The contest has long proved popular in Ukraine, with fan clubs, Eurovision parties and energetic debate on social media.
"With my friends, we got together like watching football, only Eurovision: cheering, discussing, predicting, waiting at night for the results," said Lesya Fedorenko, a tour guide from Chernihiv, who recalled how a huge screen would be installed in the city centre for the occasion, with performances from local musicians.
Last year Fedorenko also watched the Eurovision in Chernihiv, but in completely different circumstances. The Russians had occupied the city from February 24 until early April and having been displaced, she only managed to return the day before the contest.
Evgeniya Virlych, a journalist from Kherson now living in Kyiv, has watched every Eurovision since 1999 when she was 13 years old.
The superfan even developed a Eurovision in Kherson tour that visited city sites associated with the relevant European nations, accompanied by a playlist drawn from the contest's long history "sometimes half-joking, sometimes quite serious," she said. "We completed the last route on February 21, 2022 - four days before the invasion."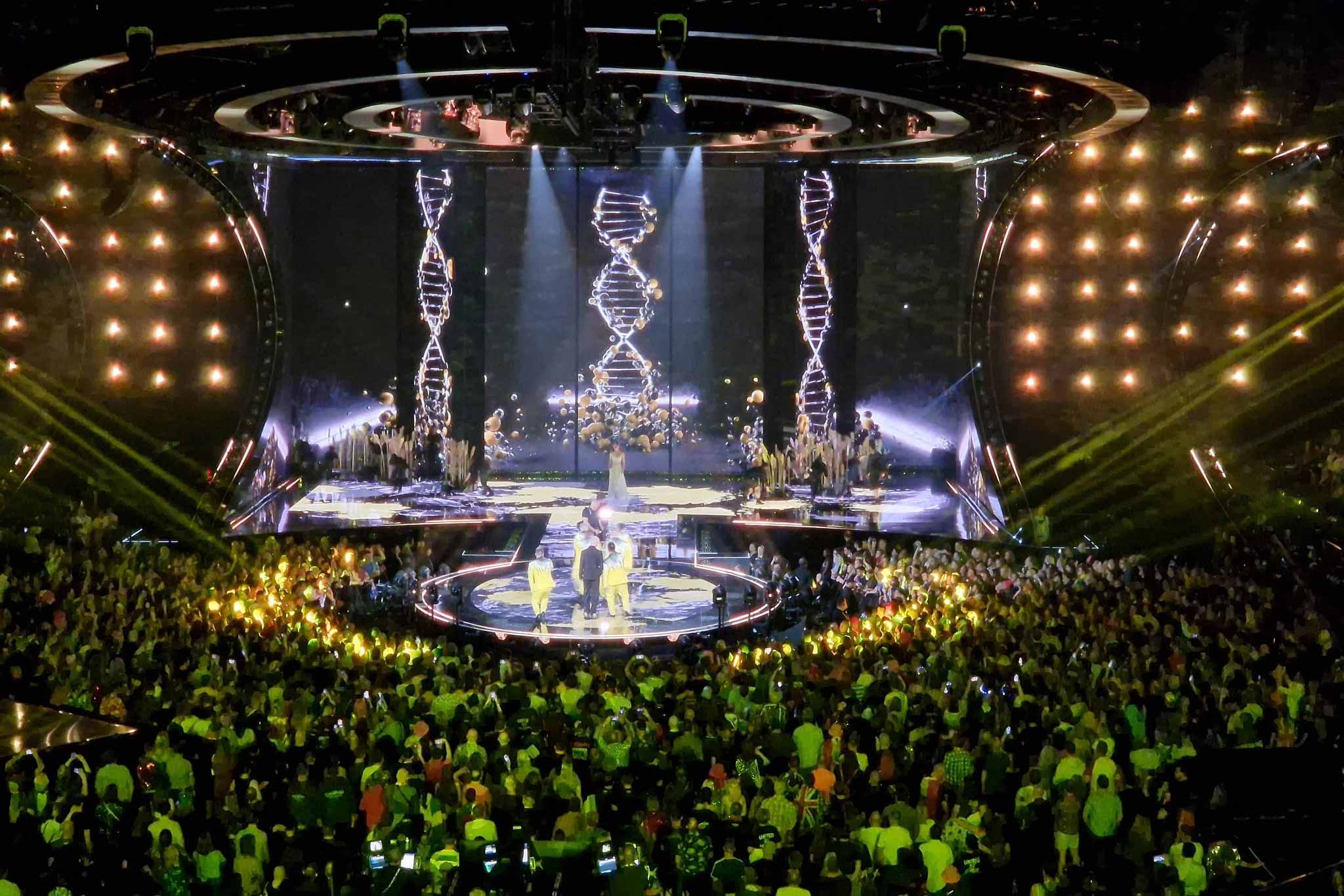 Even last year, when Kherson was occupied by Russian troops and Virlych was on the wanted list, she did not miss the contest.
"It was a special quest: understanding and knowing that the FSB [security service] officers are definitely looking for me, to not miss my favourite show," she said, recalling hearing children singing the winning entry in playgrounds as a subtle sign of defiance.
"And my friends, who did not like Eurovision too much before, watched the competition during the occupation. It was something unifying and very Ukrainian - to watch the Eurovision Song Contest and vote for performers in Kherson besieged by the Russians."
For Virlych, the contest has special symbolism, emerging as it did barely a decade after WWII as a means of bringing a Europe mutilated by war together.
"As a long-time fan of the contest, I believe in the unifying power of Eurovision against war," she said. "This is a unique chance for Ukraine to convey all the pain and horror of war with the help of culture."
Ksenia Smirnova, who lives in the small town of Stryi in the Lviv region, said that the 2022 performance had been a key moment amid the first few months of the full-scale war.
"Eurovision will be held next year in our country, after winning the war."
Heavy fighting was ongoing in Mariupol, and the first atrocities of the Russian troops were emerging after the liberation of Bucha and Borodyanka. For those watching from Ukraine, however, more than a year of war had taken its toll.
"Last year, winning Eurovision seemed important, to attract more attention to Ukraine," she continued. "Attention is also needed now, but most people live with other problems."
Indeed, the excitement around the Eurovision in Ukraine this year was subdued, not least because Russia has intensified its missile attacks in recent weeks.
On April 28 in Uman, a town around 125 miles south of the capital Kyiv – and some 200 miles from the front line – two rockets hit three high-rise buildings, killing 23 people including six children.
On the night of May 8, Russia forces launched a massive attack on Kyiv and Odesa, killing at least one person and wounding several more.
But Eurovision is still an opportunity to demonstrate national pride – and look to the future.
Eleven-year-old Ilya will watch the competition from his home in Kyiv. But like most Ukrainians, he regrets that the event is not being held in the Ukrainian capital.
"I believe that Ukraine now has a good chance to win again and then Eurovision will be held next year in our country," he said. "After winning the war.
This publication was prepared under the "Amplify, Verify, Engage (AVE) Project" implemented with the financial support of the Ministry of Foreign Affairs, Norway.