Armenia: a Young Gay Couple's Tragic Fate
The apparent suicide led to an outpouring of homophobic hate speech in a country that ranks low on LGBTI rights.
Armenia: a Young Gay Couple's Tragic Fate
The apparent suicide led to an outpouring of homophobic hate speech in a country that ranks low on LGBTI rights.
Arsen and Tigran, a young Armenian couple, committed suicide together on 20 October '22. © Instagram/rayyyyyennnnn
On the evening of October 20, two young men jumped to their deaths from a bridge in Armenia's capital city Yerevan.
The couple - 16-year-old Arsen and 21-year-old Tigran - had recently posted photos on Instagram with the caption, "Happy end: decisions about sharing the photos and our future actions were made jointly by both of us."
Although an investigation into their deaths is ongoing, with few details having yet emerged, the deaths led to an outpouring of hate speech on social media.
The reaction to the Instagram photos, showing the two young men kissing, applying face masks and displaying what appeared to be wedding bands, included some emotional tributes – but were largely expressions of jubilation that they were dead and calls for other gay people to kill themselves.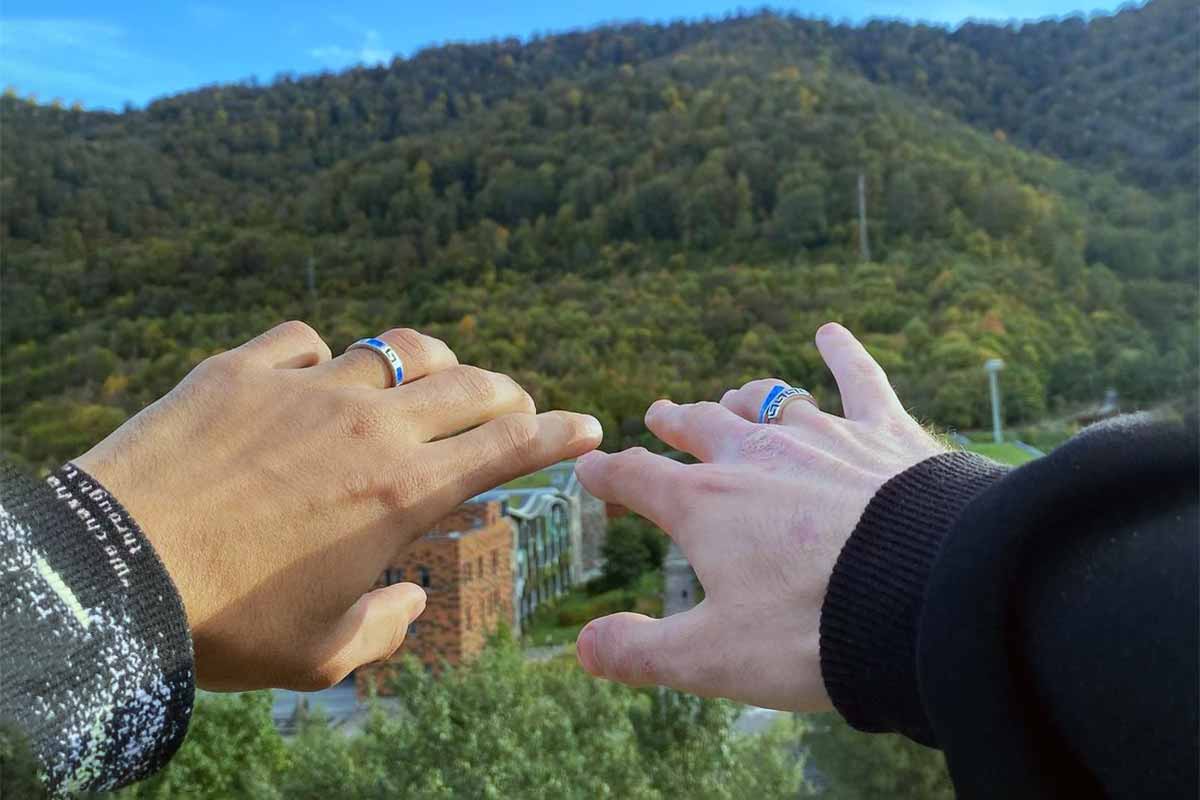 Although homosexuality was legalized in Armenia in 2003, widespread prejudice remains. The state is yet to allow same sex marriage or adoption, and there is no dedicated anti-discrimination legislation to protect LGBTI people.
IGLA-Europe's Rainbow Index ranks Armenia 47 out of 49 countries in Europe and Central Asia for LGBTI rights, and society remains overwhelmingly hostile to same sex relationships
Some members of Armenia's LGBTI community said that they were not surprised by the young men's tragic fate. Social attitudes to same-sex relationships remained overwhelmingly hostile.
Armen (not his real name), lives in Yerevan, has a good job in a top IT company and leads an active social life. When it comes to personal matters, however, he prefers to keep silent.
"I am not interested in the opposite sex, have never been interested. When I was younger, I thought I just hadn't found my other half yet, that's why I didn't have the feelings that my classmates were talking about. However, already at the age of 15, I began to recognise…that I have a different sexual orientation."
Armen was born in a village in the Armavir region, in western Armenia. If his sexual orientation had become public knowledge, he continued, not only he but his entire family and all his relatives would have been disgraced.
"It is especially difficult in the village when you are different," Armen continued. "Society will not only refuse to accept you in its ranks, but will also destroy you, make you feel like scum. I understood this very well the moment I started talking to my parents about a homosexual couple. To test them, I told them that I heard there was such a couple in the next village. My parents' reaction was terrible. I realized that they will not even spare me in this matter."
This deeply-rooted prejudice led Armen to leave the village at the age of 16 for Yerevan. After finishing school and graduating from university, he found work there in a well-known company.
"It is easier in Yerevan," he explained. "Well, here too, no one welcomes you with open arms when they understand who you really are. However, there are clubs and cafes where I can go and spend time without thinking that someone will harass me at any moment, unfortunately there are not many of them, but I can still endure."
Armen said that he believed he would leave Armenia eventually to start a life elsewhere. He dreamed of adopting children; something both Armenian society and the legal system prevented him from doing as a gay man.
Mamikon Hovsepyan, communications director of the Pink human rights NGO, said that many young LGBT people followed the same trajectory as Armen.
"From the very beginning, people with a different sexual orientation face the problem of intolerance in the family," he said. "It is because of discriminatory treatment in the family that young people prefer to run away from home, do not stay in a small community, move to Yerevan, as Yerevan is large in size and they can get 'lost' here."
Armenian culture allowed for little privacy in a person's private life, Hovsepyan continued.
"When there is a family gathering, the first question an unmarried young man is asked is when will he get married, when will he have a girlfriend? Sometimes they even say that someone they know has a good daughter or son and offer to introduce them, and in this case, no one even thinks about your sexual orientation."
Activists argue that changing social attitudes was key to preventing future cases where young people felt they had little choice but to take their own lives.
Human rights campaigner Zara Hovhannisyan noted that while the age of consent was 16 for both straight and gay couples, the legal situation had little impact on prejudice.
She added, "We cannot solve the problem with legislative changes alone, society must be ready.
This publication was prepared under the "Amplify, Verify, Engage (AVE) Project" implemented with the financial support of the Ministry of Foreign Affairs, Norway.