Armenia Moves to Control NGOs
Civil society leaders believe the state intends to restrict their activities.
Armenia Moves to Control NGOs
Civil society leaders believe the state intends to restrict their activities.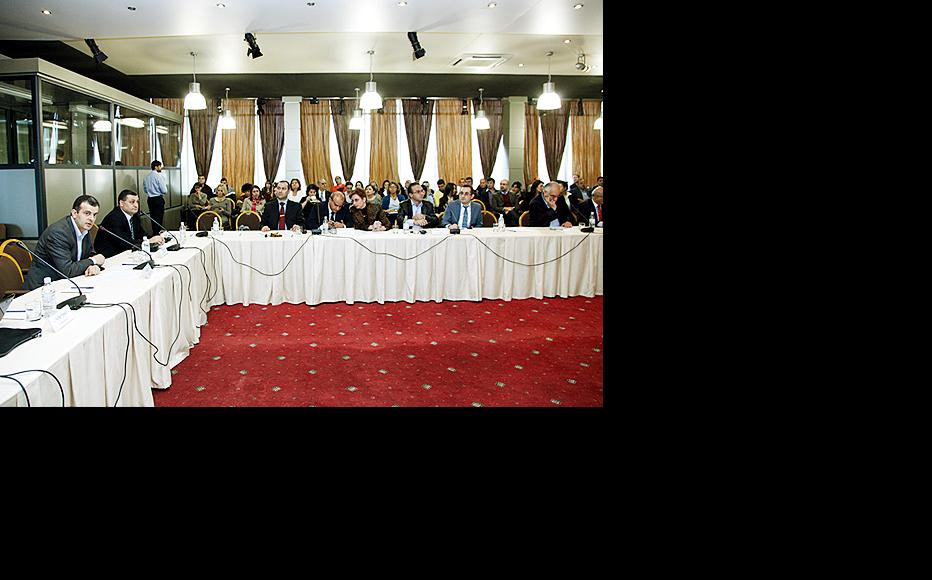 David Amiryan (left), deputy director of Open Society Armenia, speaks at a meeting on civil society on November 5. (Photo: Civilnet TV)
The Armenian authorities say they want to encourage civil society to grow and flourish, but many non-government groups are suspicious of what they believe is a new plan to control them.
A strategy for developing the NGO sector was published earlier this month by the Public Council, an advisory body which, although set up by the president, claims to be non-partisan.
Hovhannes Hovhannisyan, who is in charge of civil society development at the Public Council and led the group that drafted the document, said the real aim was to help NGOs raise money in Armenia rather than having to rely on foreign funding.
"The plan sets out a National Fund for Civil Society Assistance, through which [government] budget money can be allocated to organisations," he said.
Hovhannisyan said Armenia needed a development plan for the NGO sector just as much as for areas like education, agriculture or national security.
"The world is changing and the laws have to change with it. The council has discovered more than 400 contradictions in the structure of civil society, including legal ones, so why shouldn't we remove them?" he asked.
Armenia's highest-profile NGOs, however, have rejected the plan as both worrying and illogical.
"This plan is part of a whole process of controlling civil society which began long ago, but which lacked the easy control mechanisms that this plan provides," said Larisa Minasyan, director of Open Society Institute Armenia, which gives grants to support democracy and the rule of law. "Of course there have been changes in civil society – some organisations have grown stronger and gained greater importance both domestically and internationally.
"Hence these attempts to set the boundaries within which civil organisations can operate."
Others questioned the idea of a quasi-governmental organisation defining the limits of freedom.
"The preamble [to the plan] says that the state provides freedoms to society – a formulation characteristic of authoritarian systems, since democracy presupposes freedom," Avetik Ishkhanyan, head of the Armenian Helsinki Committee, said.
Artur Sakunts, head of the Vanadzor office of the Helsinki Civil Assembly, said the plan's suggestion of an "interpenetration" between state and civil society was nonsensical.
"What's this 'interpenetration'? Civil society is a sphere where the authorities have no role, it is self-regulating and self-organising, and citizens themselves decide when, how and which issues to raise," he said.
The Armenian state already funds some NGOs, and has allocated five million US dollars so far this year, although it is unclear what criteria it uses to select beneficiaries.
Ishkhanyan said the proposed civil society fund was likely to become another channel for supporting government-friendly NGOs.
He also expressed concern at the lack of a consultation process on the plan.
"If the government is drafting a paper to describe its cooperation with civil society, then it needs to organise serious discussions rather than just summoning some people to sign off on it and calling that a discussion," he said.
The Public Council, set up on 2008 and modelled on a similar Russian institution, is supposed to allow the NGO world to transmit its concerns to the government. Activists say it works the other way round, passing on government instructions to supposedly independent groups.
"It has no legitimacy in defending the interests of civic organisations, and this is shown by the fact that we weren't even invited to discuss this new plan," Minasyan said. "We received it by post, although some organisations which are part of the Council took part in closed discussions."
Hovhannisyan said he was happy to listen to any constructive criticisms, but added that "if they're telling us not to do this, they should say what they would do instead".
In any case, he said that President Serzh Sargsyan had already signed off on the plan. The plan will be brought into force via changes to the law.
Minasyan warned that these new legal regulations could make it easier for the authorities to shut down NGOs, a process that currently requires a court order.
Armenia has a vibrant NGO sector, which international studies put on a par with those in Ukraine and Georgia. As of October, Armenia had over 3,400 registered NGOs, of which the Public Council says it represents more than 1,200.
Naira Melkumyan is a freelance journalist in Armenia.