Stories by the Author
Dushanbe civil registry office. (Photo: Ekaterina Shoshina)
Impact felt most in cross-border marriages – not what was intended.
26 Jul 13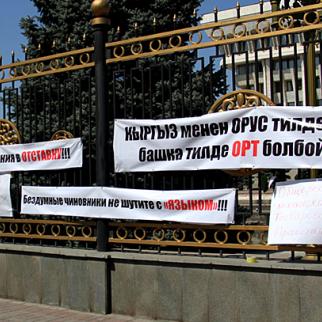 Posters demanding an end to Uzbek-language exams in schools, during an April 18 protest outside Kyrgyzstan's parliament. (Photo: Kloop.kg)
Calls for minority language to be dropped as option from school exams are dangerously incendiary, experts warn.
5 May 12
Celebrating International Day Against Homophobia and Transphobia, May 17, 2011 in Bishkek.(Photo: Labrys group, Kyrgyzstan)
Prejudicе, abuse and fear of attacks keeps LGBT community in shadows.
2 Feb 12