In the border town of Kozacha Lopan, in the Kharkiv region, police discovered a jail that they believe Russian soldiers used as a torture chamber. © Paula Bronstein/Getty Images
Ukraine: Investigating Torture
As criminal cases mount, a pattern emerges as to who was targeted for inhumane treatment.
In the border town of Kozacha Lopan, in the Kharkiv region, police discovered a jail that they believe Russian soldiers used as a torture chamber. © Paula Bronstein/Getty Images
Numerous cases of torture have been reported in areas previously occupied by Russian forces. Spartak Borysenko, acting head of the department for combating crimes committed in armed conflict of the Kharkiv regional prosecutor's office, told IWPR's Tetyana Dotsyak that investigators were convinced that such abuse was a planned strategy by the Russian command to humiliate the Ukrainian people.
How many criminal proceedings for torture have been registered in the Kharkiv region?
Borysenko: Seventy-five criminal proceedings have been registered regarding the torture of Ukrainians by the Russian military; 158 victims were subjected to torture and abuse, eight of them, unfortunately, were killed. This number is incomplete, as there are more than 1,000 cases of kidnapping or disappearance of Ukrainian civilians whose fate is unknown. At present, nine citizens have returned from captivity, having been held in the territory of the Russian Federation. During interrogations they described constant torture, beatings, lack of food and water. We qualify all this as inhumane treatment of citizens, subjected to torture solely for their pro-Ukrainian position. Many people are still being held captive on the territory of Russia.
After liberation from the occupation of most of the Kharkiv region, 23 torture chambers were found where the Russian military abused Ukrainian citizens. According to the National Police, this figure is higher, because the prosecutor's office defines places where the victims have already been interrogated as torture chambers. Therefore, in the future, the number of such places will increase. In addition, there are torture chambers that have not yet been inspected, such as the one on the territory of the Hoptivka international checkpoint on the Ukrainian-Russian border. This is a dangerous zone and we cannot go there either with the victims or alone.
People were treated horribly, for example, in the town of Balakliya, a 70-year-old man was tied upside down and beaten on the head and other parts of the body. The most frequent abuses of men are beatings in the groin area and using of electricity.
In particular, the facts of sexual violence against women and rape should be noted - there are currently 16 such facts. In April, suspicion of committing a crime was reported in absentia to three Russian servicemen, one of whom was a colonel, who directly committed sexual violence against women and directed the actions of his subordinates. There are also facts of sexual violence, such as women forced to change clothes, go to the toilet, and do carry out hygiene procedures under video surveillance.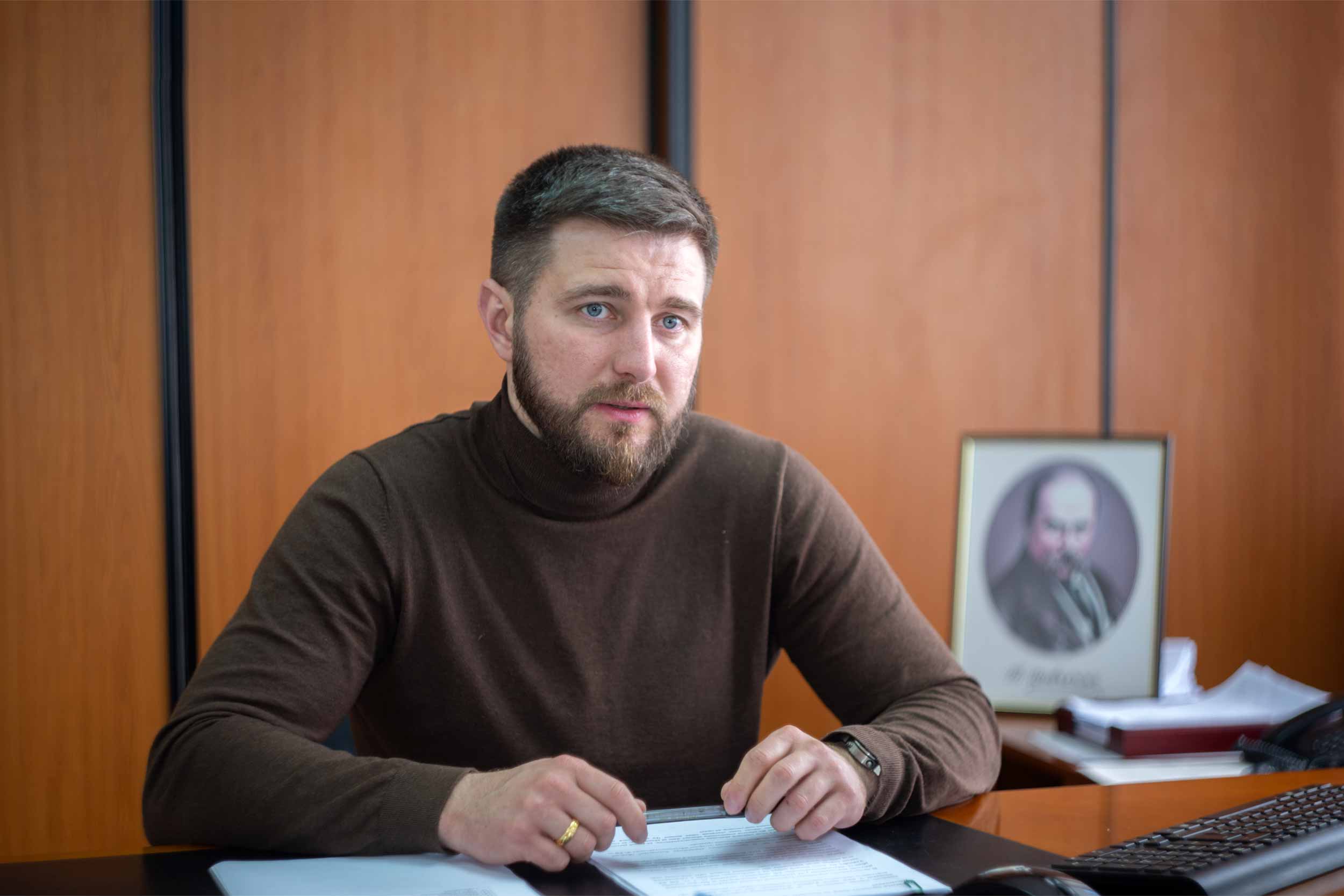 Has a pattern emerged as to who was selected for torture?
We are identifying the trend of torture of Ukrainians for their pro-Ukrainian position, former ATO participants - servicemen who have defended the sovereignty of the state since 2014, and their family members. Russian soldiers, who were captured by us and later convicted, reported that they were given lists of addresses [to work through]. They could arrest people for Ukrainian symbols found during the search.
I personally questioned a woman from Balakliya. A small Ukrainian flag was found on her during the search, she was thrown into a torture chamber that the occupiers had set up in the police station and held captive for 15 days. She was pregnant and began bleeding due to the inhumane conditions and lost her child. And even when she was transferred to hospital, she lay in the corridor under the constant surveillance of the Russian military.  Finally, she was forced to record a video about cooperation with the Russian military and after that was expelled from the territory of occupied Balakliya.
Is there reason to assume that this is a planned Russian strategy and not a series of local initiatives by commanders?
First of all, people with a pro-Ukrainian position, civilian patriots and former military personnel were subjected to torture - the initiative came directly from the administration of the occupying power, from the commanders. We are convinced that torture is a planned strategy of the Russians to humiliate the Ukrainian people, suppress the Ukrainian resistance in the occupied territories and demonstrate their supremacy towards the Ukrainian population. This is evidenced by the lists of anti-terrorist fighters and patriots compiled by representatives of the command. Victims say that at Russian checkpoints, after passing the passport check, their names were checked on the lists, after which they could be detained, taken to torture chambers and abused.
What difficulties do investigators face during the collection of evidence?
Evidence can be lost if, during the de-occupation, the enemy did not retreat in a hurry, but destroyed documentation, victims' belongings, instruments of torture. But we found electric wires, batteries, which indicate that electric current, ties for hands, feet, and tape were applied to people.
In the village of Pisky-Radkivski - this is the Borivska community of the Izyum district - the victims were branded on the thighs with a hot metal skewer. There are medical examinations that confirm the testimonies of witnesses and the burns on the bodies of the victims. In April 2023, we reported a suspicion in absentia to the military of the Russian Federation, which directly issued orders to detain and torture these people.
Besides, the victims, for the most part, are reluctant to talk about torture, because they are in a very difficult psychological state and they fear the possible return of the Russian army.
What measures are taken to ensure psychological support during investigation?
Whenever we work with victims, they are provided with psychological assistance. First, a psychologist works with them, and then an investigator. And a lawyer is always present.
It is important to have a minimum number of contacts with the victim so that he or she does not have emotional outbursts and suffer psychologically when remembering those circumstances. A video can also be recorded, which can later be used in court as evidence so that the person is not again subjected to psychological trauma.
The profile data of the victims and witnesses are changed and classified so that in the future, when the information will be published on official resources, it will be impossible to identify the person. Surname, first name, patronymic, place of residence, passport data are stored in a secret volume, and if the judge needs primary data, it can be requested.
Do the victims participate in the court processes or is their testimony during the investigation sufficient?
Victims are directly involved in court proceedings, and judges usually receive the information about torture directly from them. However, the criminal code of Ukraine provides for the use of evidence obtained during the pre-trial investigation - for example, a video recording of an interrogation. It is also possible for witnesses or victims to be interrogated in court using video conferencing. Mostly, people want to participate in court-  it is important for them that the offender will be punished.
Many videos of atrocities have been published on social networks. Are they legally admissible evidence, and if so, what role does this play in an investigation or in a trial?
We constantly monitor pro-Russian Telegram channels and social networks, and if we find video evidence of atrocities, we document them. An inspection is drawn up using the Berkeley protocol and information is recorded and archived. Also, during the detention of prisoners of war, we find videos of torture in their phones. All this is later used as evidence in criminal proceedings. We are… studying audio interceptions where Russian soldiers confess to their relatives about atrocities. That is, evidence is gathered for these videos, and if there are matches, we attach the videos to the proceedings.
What arguments do lawyers for the accused put forward in such cases, and do they succeed in obtaining a mitigating action?
All suspects have a lawyer, even in those proceedings where the suspicion is reported in absentia - in the absence of the suspect directly. Lawyers do take measures to mitigate the court's sentence, and also try to prove the person's possible innocence to the court. If there are three or more mitigating circumstances, the court cannot punish the accused for more than two-thirds of the maximum term of punishment for this type of crime.  This can be sincere repentance, cooperation with law enforcement agencies, and compensation for damages. These norms, as I understand, are demonstrated to them by their lawyers. I can say that all those accused who have already received sentences had mitigating circumstances. According to the results of the pre-trial investigation into the facts of torture, 11 servicemen of the Russian Federation were notified of suspicion, two criminal proceedings were sent to the court for the facts of torture of seven people. Four Russians were sentenced to 11 years in prison. For example, Russian soldiers who tortured people at the Svitlo Shakhtarya tourist centre in Borivska community were given mitigating circumstances such as sincere repentance and active assistance in disclosure of crime, and they were sentenced to 11 years in prison instead of 12. If additional mitigating circumstances were taken into account by the court, the court would apply two-thirds of the maximum term.
Please take a minute to complete a short survey. For any further feedback email us at editor@iwpr.net.