The Syrian Women Saving Lives
Defying social prejudice to serve in the civil defence.
The Syrian Women Saving Lives
Defying social prejudice to serve in the civil defence.
A paramedic examines a child at the Syrian civil defence centre in Maarrat al-Nu'man. (Photo: IWPR)
It was no easy matter for Abeer, 31, to pursue her ambition to wear the uniform of a Syrian civil defence worker.
Not only did she have to learn to handle the stress of dealing with medical trauma, but she also had to defy conservative traditions that deemed it unsuitable work for a woman.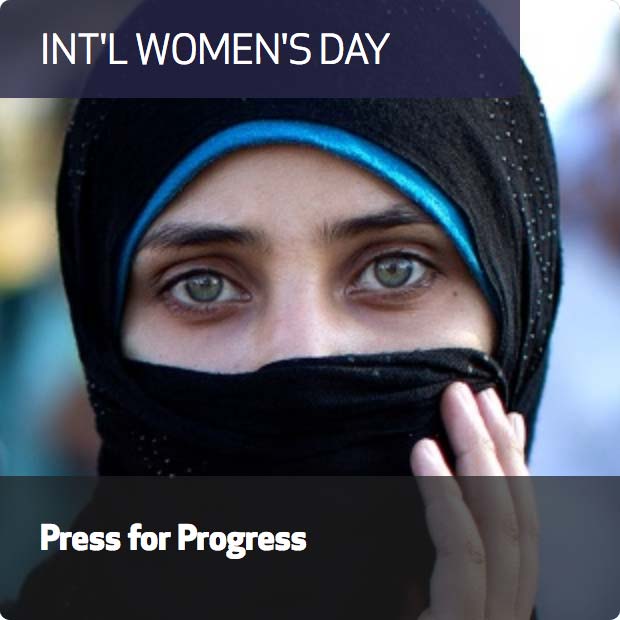 "I encountered many difficulties at the start," said Abeer, from Maarrat al-Nu'man. "At first I was afraid, affected by the tragic scenes we encountered, but I was courageous, patient and insistent and so I was able to adapt to the reality and block out my fear so as to accomplish these important tasks."
Abeer also had to deal with social prejudice. When she started working in civil defence, many people assumed that women could not deal with the physical or mental strains it involved.
"Many people questioned our ability to cope with the difficulties of our work, but we proved our competence amid the most difficult circumstances," she said. "Many families are now encouraging their daughters to join the civil defence."
Abeer said that one incident involving a ten-year-old girl from will remain with her forever.
Amera and her brother had been left trapped in rubble after an airstrike on their house in the village of Jarjnaza. The girl's feet were stuck under debris and she was in agony until the civil defence paramedics managed to shift the rubble and get her to a field hospital.
"I can't forget the tears of pain and sadness in the child's eyes and her brother who was crying in fear but at the same time was encouraging her to hang on," Abeer said.
The Syrian civil defence now has centres especially for women, which also provide health services, such as wound and burn care as well as the treatment of leishmaniasis, which is widespread in summer.
In addition, the centre also monitors signs of malnutrition among children and high blood pressure and diabetes among older women.
Mustafa Haj Yusuf, director of civil defence in Idlib, said that training women in first aid and healthcare was vital amid the conflict.
"The difficult circumstances we live in means that everyone needs to take part in rescue operations after each bombing, so it was necessary for women to get involved in the field of civil defence."
The 39-year-old said that nine centres had opened in Idlib and its countryside and a further five would open soon. Each unit included eight experienced and licensed nurses.
"The female paramedics attend courses in order to develop their ability to deal with difficult situations and provide emergency medical assistance. They are also trained in search and rescue operations," he continued.
Nermin al-Hassan, 27, is from Tell Mannas in the Idlib countryside and said of her work that "nothing makes us happier than seeing a hand move through the rubble or hear a cry that defies death".
She added, "We are the first to rush to the site of the bombing to remove rubble and look for survivors. The same place may be targeted again which puts our lives in danger, but the difficulties and risks will not prevent us from doing our humanitarian work."
"The heroic role women have played hasn't been less than that of men during the war years.," said Jaber al-Mustafa, a local council member in Tell Mannas. "Women work courageously to save lives under fire, defying bombing and destruction."
The 36-year-old continued, "The willpower shown by the women in civil defence is an incentive for other women to join this risky work. They face death head on and take care of innocent civilians just as their male colleagues do."
The female paramedics deal with everyday emergencies as well as bombing casualties. WOmen say that they feel far more comfortable receiving medical assistance form same-sex carers.
Um Adel, a 39-year-old from Maarrat al-Nu'man, was injured after the gas heater in her house exploded. Women from the local civil defence team not only treated her burns but helped monitor her condition until she fully recovered.
She described them as "noble and heroic," adding, "Having female paramedics in our conservative society is very important because they can treat sick women and can more easily visit homes and schools to provide medical and psychological assistance and health awareness."
---
This article was originally published on IWPR's Syria platform: SyriaStories.net.