Meskhetian Turks Hope to Leave Ukraine's Frontline for Turkey
As fears of Russian invasion mount, many see their future in a potential resettlement scheme.
Meskhetian Turks Hope to Leave Ukraine's Frontline for Turkey
As fears of Russian invasion mount, many see their future in a potential resettlement scheme.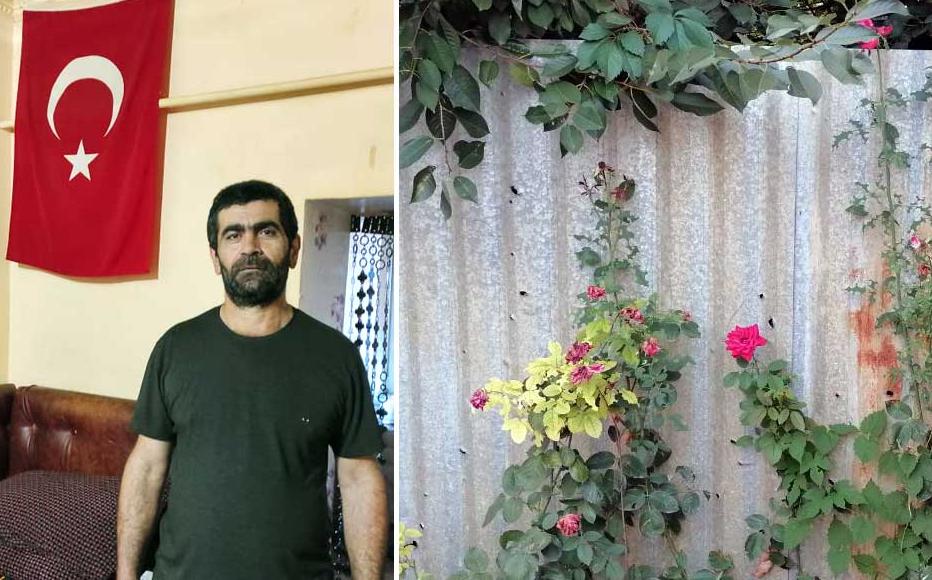 Kamil Bashatov, 51, arrived in eastern Ukraine in 1989 from Uzbekistan. He wishes his children could move to Turkey, but if the security situation allows it, he would rather remain in Ukraine. His house bears the scars of heavy artillery from the 2014 fighting between the Ukrainian army and Russia-backed armed forces for the control of Sloviansk. © Ismayil Fataliyev
Sadri Ahmadov (R), chairperson of the Ahıska Turks' community in Donetsk region. Hundreds of Meskhetian Turks found shelter in a Soviet labour and recreation camp in the outskirts of Sloviansk in the early 1990s. Thirty years on six families remain in the six-building facility, now in decay, awaiting to move to Turkey. © Ismayil Fataliyev
Mahammad Khalilov lives between Turkey and Ukraine. He arrived in Krasny Liman, Donetsk region, after a long exodus. After escaping Uzbekistan's ethnic riots in 1989, his family moved to Russia, then Azerbaijan, Chechnya, Ingushetia and settled in eastern Ukraine in the mid-1990s. He was included in Turkey's resettlement scheme in 2015. © Ismayil Fataliyev
When Suleyman Izzetov and hundreds of other Meskhetian Turks arrived at a disused Soviet labour and recreation camp in Sloviansk in the early 1990s, it looked like a decent temporary housing solution. With the Soviet Union in meltdown, they had travelled from the heart of Central Asia to eastern Ukraine hoping to rebuild their lives and end the community's multiple exiles.
Thirty years on, seven families, including Izzetov, are still there, living amidst the crumbling remains of the six buildings that were once used to house school summer camps. As fears of Russian invasion mount and security is increasingly unstable, the now 57-year-old father of three hopes to pack up his life again and migrate once and for all to Turkey as Ankara announced plans to restart a resettlement scheme for Meskhetian Turks living in volatile and conflict areas.
Izzetov's migration to Ukraine decades ago epitomises the community's history of exile.  Meskhetian Turks trace their origins to Meskheti, an historic region which today lies largely in Georgia's south-western province of Samtskhe-Javakheti, along the border with Turkey.  They speak a language akin to modern-day Anatolian Turkish and are also known as Ahıska Turks, referring to the region's largest city of Akhaltsikhe. Their origin is a widely disputed as some historians consider Meskhetian Turks to be ethnic Turks and others as ethnic Georgians who at some stage in history adopted or were converted to Islam.
On November 14, 1944, Stalin's government rounded up an estimated 100,000 Meskhetian Turks and deported them from Meskheti to the steppes of Central Asia. Trapped in cattle cars, an estimated 13,000 died en route. Forced relocations also involved Chechens, Crimean Tatars, Karachay and other minorities from the southern fringe of the Soviet Union.
Unlike those other communities, however, the Meskhetians were never allowed back home. Turkey joined NATO in 1952, turning their ancestral homeland into a sensitive border zone. They remained in Central Asia until the late 1980s, when many fled ethnic riots and found refuge in Azerbaijan, Russia, Turkey, Ukraine and elsewhere. Now numbering about 600,000, the community is scattered across the world.
When the conflict broke out in eastern Ukraine in 2014, Sloviansk hosted one of the fiercest battles between the Ukrainian army and Russian-backed armed formations. Between 2015 and 2017 Turkey resettled thousands of Meskhetian Turks living in Ukraine, largely from the frontline Donetsk region, providing them with newly built houses, financial assistance and temporary jobs across the country, mainly in the central province of Erzincan and Bitlis, in the east of the country. The last group arrived in Turkey in November 2017, after which the programme slowed down and came to a halt when the pandemic hit.
Izzetov and the other families in the former Soviet facility were included on the list for resettlement but did not receive the necessary ID to travel.
"We couldn't leave on time. This winter all necessary documents have been sent to Ankara," he told IWPR. "When they are ready, we will go and get them. Winter is coming… we are longing to see the others who are already [in Turkey]."
Sadri Ahmadov, the community's chairman, said that 46 families across Sloviansk were still waiting to be resettled.
"I hope the situation in Turkey improves and they [the government] will take them soon," he told IWPR, referring to the country's current economic crisis.
Around 11,000 Ahıska Turks lived in Ukraine as of 2014, in the east as well as in the southern regions of Kherson and Mykolaiv, where they were spared the conflict but endured poverty. The resettlement scheme allowed local Meskhetians a way out.
About 660 Meskhetians live in Donetsk region, but figures fluctuate as seasonal migration to Turkey is common. Muhammad Khalilov is one of the many who resettled in Turkey but regularly moves between the two countries.
"My wish is the recognition of dual citizenship between Ukraine and Turkey. If it happens, it would be easier to live and work in both countries," the 51-year-old cheesemaker from Sloviansk said.
Turkey has offered what Ahıska Turks have dreamt of for decades – a homeland. Ethno-linguistic and religious ties are strong and the country has welcomed the uprooted community since the USSR disintegrated. In 1992, the Turkish parliament unanimously passed a bill to accept Meskhetians in the country.
"About 100,000 [Meskhetians] living in Turkey have been granted citizenship and long-term residence permits," Mevlut Cavusoglu said during a meeting of the Union of World Ahıska Turks held in Turkey's Mediterranean resort city of Antalya on December 10.
Return to Georgia, however, has been problematic. The government agreed on their repatriation in 1999 as part of conditions to join the Council of Europe but the law was only passed in 2007. Since then, the community has faced bureaucratic hurdles to obtain the necessary documents allowing them to return to their ancestral homeland. An estimated 1,000 Meskhetians currently live in Georgia.
Ayşegül Aydıngün, an expert on ethnicity and national identity at the Middle East Technical University in Ankara, told IWPR that, while the elderly see Georgia as their historical heartland, the young generation considers Turkey to be their political home and prefers it in terms of future prospects.
"Despite challenges, they do it for the sake of their offspring… Those with money send their children to study in Turkey or buy properties there and tell them to remain in Turkey and that they will join them when they retire," the scholar said.
Ahiska Turks' high expectations were not always met once in Turkey, often facing legal constraints and difficulties in finding work.
"The 'grandchildren of the Ottomans' narrative taken as a hallmark of their national identity is little consolation to arriving Meskhetians if they could not afford to feed their own grandchildren," Irina Levin, a migration researcher and associate director of the Melikian Centre at Arizona State University.
Kinship has allowed Meskhetians to better integrate into Turkish society than, for example, Syrians, noted Aydıngün, but lack of knowledge about the community can spark tension.
"There is always a certain distance between local residents and newcomers," he told IWPR. "When the state sets good conditions and fully supports [migrants] economically, this distance widens."
Meskhetians' trauma and the poverty of the community, however, have earned them sympathy of communities like Bursa's, where up to 17,000 Meskhetians relocated after fleeing pogroms in Uzbekistan in 1989.
Despite increased tension in eastern Ukraine, some Meskhetians are torn between leaving and remaining.
Kamil Bashatov is one of them. He wants his children to move to Turkey, but the 51-year-old father-of-four would rather remain on the land he has called home since he arrived from Uzbekistan in 1989.
"We will not be able to sell the house at a proper price because this is a war zone," the farmer told IWPR. "And what job will I have there? Cleaning up someone's yard? It is much better here."
Although Sloviansk was currently quiet, he said that memories of the 2014 fighting were still vivid.
"If the situation worsens, I will leave for sure," he continued. "I am not going to walk under bullets again."
This publication was prepared under the "Amplify, Verify, Engage (AVE) Project" implemented with the financial support of the Ministry of Foreign Affairs, Norway.