Mariupol: Life After the Drama Theatre
Actors from the venue that became a symbol of the horror of war reconsider their future.
Mariupol: Life After the Drama Theatre
Actors from the venue that became a symbol of the horror of war reconsider their future.
Eugene Kravets and Anna Nimayer on stage with fellow actors in Mariupol.
Anna Nimayer on stage. The actress was invited to participate in the opening of the annual "Freedom Festival", which is organised by renowned Latvian pianist Andrey Osokin. She read Ukrainian poetry.
Mariupol's Academic Drama Theatre lies in ruins, only its classical frieze with its sculptural group still intact. On March 16, Russian bombing killed hundreds of people who were seeking shelter inside the building, turning the port city's key cultural centre into a symbol of the horror of war.
Most of the theatre's staff and performers have since joined the mass exodus out of the city. The Academic Drama theatre-in-exile formally began operating on May 6 in Uzhhorod, in western Ukraine.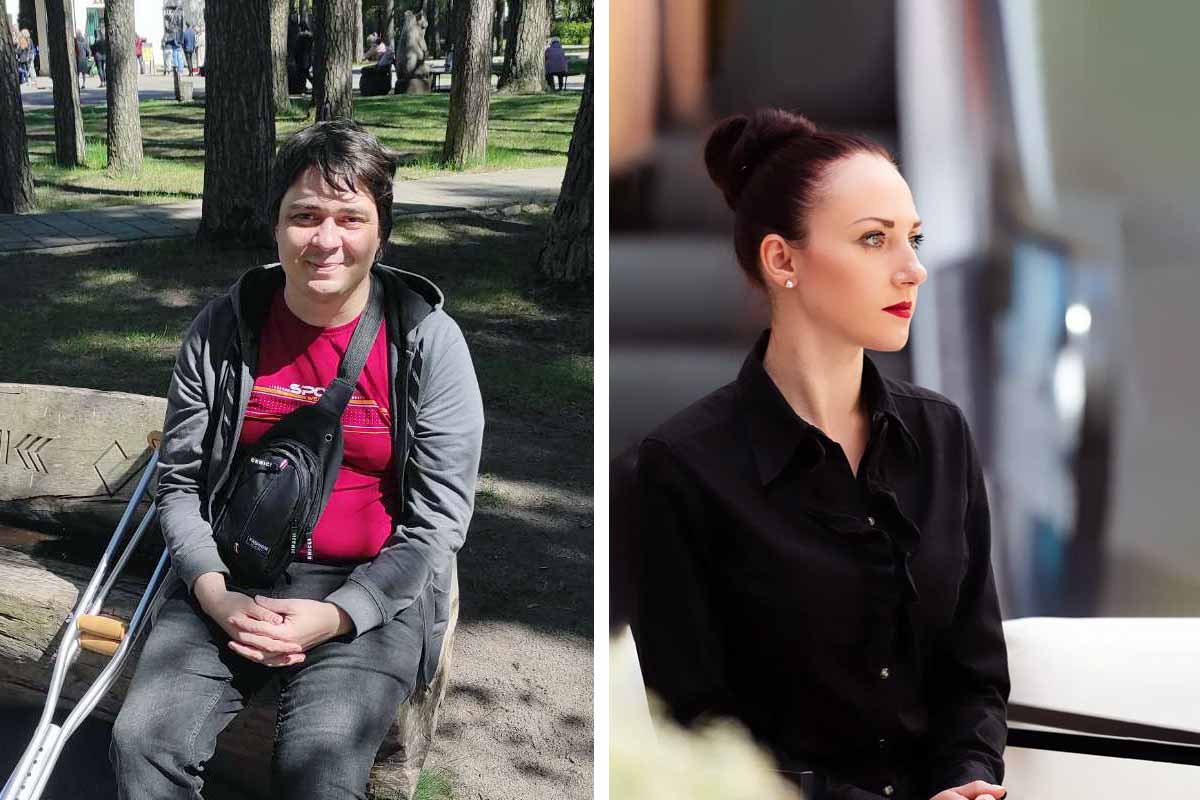 Mikhail Ivanov, sound director; Anna Nimayer, actress
For Mikhail, the theatre's sound director for five years, and his actress friend Anna, the theatre was their life until March 1, when Russian troops surrounded Mariupol.
Mikhail was hospitalised with an open hip fracture after a Russian rocket exploded close by. To avoid amputating his leg, doctors installed an external device to hold the bones together and heal. 
Artillery was constantly fired at the hospital, he recalled, with patients dying when fires broke out. His 60-year-old mother sheltered in the hospital's basement as he recovered, but on April 2 fell ill and died, either of a heart failure or blood clot. 
When the hospital was destroyed in April, Mikhail was taken to the medical facility in Makiivka, a city 133 kilometres north of Mariupol which had been under the control of the so-called Donetsk People's Republic since 2014.
There Mikhail was reunited with Anna, who had moved to the industrial city of 345,000 on March 25 to stay with her parents. 
On April 26, the two decided to flee, travelling via Russia after a filtration process in Donetsk city in which they were photographed and fingerprinted. The bus ticket cost 370 US dollars (367 US dollars) per person and took two days.
Mikhail was on crutches; Anna carried the luggage. After a six-hour wait at the Russian border, they went north, towards Latvia - travelling through the Voronezh, Lipetsk, Moscow and Pskov regions. 
They arrived in Latvia on April 28, Mikhail's 30th birthday, and he was taken to a hospital in Riga in an ambulance. 
Doctors fitted his leg with metal plates in a complex five-hour surgery. He now uses crutches or a wheelchair and will need additional surgery in the future.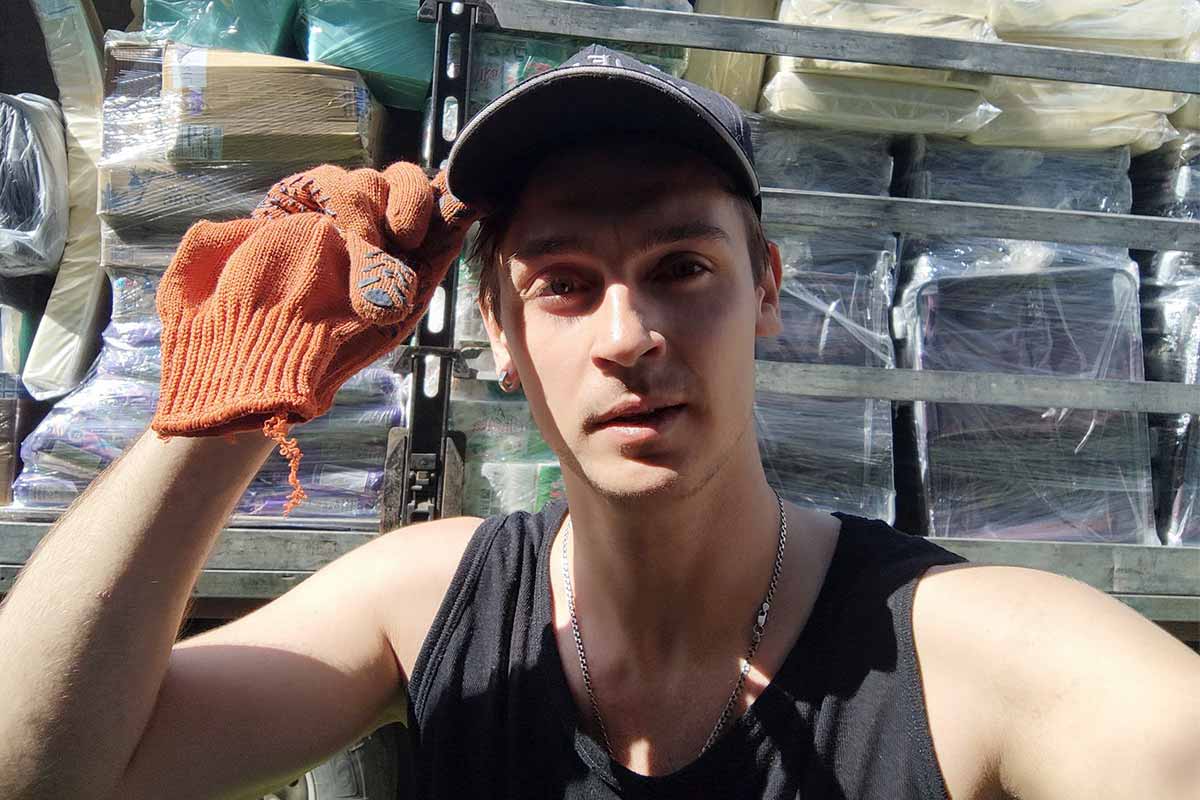 Eugene Kravets, actor
From the window of his flat, Eugene watched flames devouring the theatre where he had worked for years. He felt like his world was collapsing. 
The 32-year-old actor had performed in 30 plays in the Mariupol theatre, including starring in the Nutcracker. His actress wife Vera also worked there.
"Our last performance before the war was called How to Become a Real Hippopotamus. It was a fairy tale where I played the bad character - a dragon!" he recalled.
As the war continued, the city was left with no gas and no electricity for weeks. Eugene and Vera cooked food using and reusing the wax of burnt candles; their whole kitchen was smoky.
When a rocket later hit their building and a fire broke out, they filled their backpacks with bare necessities, grabbed their cat and fled. 
After walking 16 kilometres towards Berdyansk, a city port 85 kilometres west of Mariupol, relatives managed to find a place for them in their car. Once in Berdyansk, they waited in the fields for four days with 1,500 people for a convoy of buses to take them to Zaporizhzhya. 
Moving as far as they could from Russian troops, they arrived in Rivne, in western Ukraine. Eugene now works loading humanitarian aid into trucks, which then travel to seven regions of Ukraine. The job is hard, but he believes it will only be temporary. He dreams of returning to the stage, and eventually to Mariupol. 
"[However] I think that the theatre should be rebuilt in a different location," he said. "Where it is now is a place of death."
Victoria Agafonova, actress
Victoria was last on stage the day before Russia launched its full-scale invasion of Ukraine. The 34-year-old had the lead role in a play based on The Jay's Wing, a short story by Ukrainian writer and poet Ivan Franko. She played Jay, a symbol of freedom. 
On February 28, a rocket hit Victoria's house; the walls shook and she was badly frightened and decided she did not want to remain in a besieged, lawless city, where people were left with nothing and could attack you for a piece of bread. On March 14, she managed to leave with her parents and her cat Kisei, and headed to a nearby village. From there they paid 300 US dollars for a taxi ride to Berdyansk, a journey which before the war have cost only ten dollars. Berdyansk was occupied, but there was no shooting; unlike Mariupol, it was quiet.
A friend took them by car to Zaporizhzhia, where they spent the night in a kindergarten turned into a temporary shelter for displaced people. The evacuation trains were overflowing so she found a driver who took them to Lviv for 6,000 hryvnias (200 dollars). From there they hitched a lift to Drohobych, 77 kilometres west of Lviv, where they finally felt safe.
"I have lost count of time," she said. 
Ironically, for a month she and her family were housed in a local theatre. More recently she has joined rehearsals for a play staged by a local director. It is not a proper job, there is no money in it, but Victoria said she had now regained a taste for life.
Sergei Zabogonsky, actor
Sergei said he had always lived and breathed acting.
"My favourite role is the main character from the Russian play Moscow-Petushki by Venedikt Erofeev," the 45-year-old said, adding that for 20 years he had returned again and again to another classic role, that of a kitten in the children's play Cat House.
"Usually, young artists play this role, then move on," he explained. "I stuck to it, and became a kitten again and again."
When the Russians launched a massive airstrike on March 16, Sergei and his wife Evgenia were sheltering in a warehouse, which had strong load-bearing walls. Their eight-year-old daughter Polina was in a bomb shelter. Sergei injured his shoulder, Evgenia a leg, but they all survived. 
"We fled the next day," Sergei said.
They headed to Russia and from there found their way to the Czech Republic, settling in Liberec, 88 kilometres north of Prague. Sergei found a job in a factory which manufactures interior finishes for cars. It is a world away from his previous life. 
"In the morning at work… managers assign us to different tasks. Today I worked with heavy card and put fibreglass with paper on it," he said, adding that he would do any job to feed his family. 
"I want to return to the theatre, that is my life."