Karabakh Under Siege
As an Azerbaijani blockade continues, a Syrian Armenian in Stepanakert reflects on war and family.
Karabakh Under Siege
As an Azerbaijani blockade continues, a Syrian Armenian in Stepanakert reflects on war and family.
Syria-born Hovik Asmarian reflects on how war has haunted his family for three generations. © Arshaluis Mghdesyan/IWPR
The sole road connecting Nagorny Karabakh with Armenia - and the rest of the world - has been blocked since December 12, disrupting the supply of goods and access to critical services in the mountainous South Caucasus region.
As he sits in his living room in Stepanakert, the region's main town, Syria-born Hovik Asmarian reflects on how war has haunted his family for three generations.
"We live in a state of siege. We are coping with this situation as best we can. We understand that this blockade can last two or three weeks. Our behaviour adapted to a life in a besieged fortress," the 51-year-old told IWPR.
Karabakh is internationally recognised as part of Azerbaijan but de facto governed by ethnic Armenians who won a war over for the control of the territory in the early 1990s.
A group of Azerbaijanis claiming to be environmental activists blocked the Lachin corridor, the only land route, to protest what they described as illegal Armenian mining. Since Baku regained control of large swathes of the territory in 2020, it has transferred the right to mine to the British Anglo Asian Mining Company. Azerbaijan claims the protest was spontaneous, but Yerevan has accused it of staging the demonstrations to create a humanitarian crisis.
As Baku and Yerevan traded barbs during a session of the UN Security Council, called by Armenia to discuss the stand-off's humanitarian impact, supplies run low in the region.
"We buy just as many products as we need, we do not take everything for ourselves just because we have money and we can pay," Asmarian said. "We also think about our neighbours. I see that people are starting to take care of each other. I was told that in the early 1990s there was such a situation when the first Karabakh war was in full swing, and Azerbaijani troops surrounded Artsakh [the Armenian name for the unrecognised republic]. We have returned to these times."
Hovik, his wife Isabel and their three children arrived in Stepanakert from their native Aleppo in Syria in 2012. Their youngest child was barely two years old.
Armenians have lived in modern Syria's territory since the Byzantine era, yet most settled in the country between 1915 and 1923, when hundreds of thousands fled Anatolia, the eastern Turkish region which Armenians refer to as Western Armenia, on the onset of the ethnic cleansing. Today 33 countries, including the US, recognise it as genocide.
Asmarian's ancestors were among the many who settled in Aleppo. By the time the civil war started in 2011, the city was home to a tightly knit community of about 150,000 Armenians.
When a rocket landed near his home in 2012, Asmarian decided to leave.
"Our relatives and friends made a convoy of 14 cars. We drove 1,600 kilometres from Syria to Turkey, then through Georgia and Armenia and finally Artsakh,' he said. "We were escorted on the territory of Syria so that there would be no problems while crossing the checkpoints of Islamists," Asmaryan recalled, describing the escort as locals whose ties with the Syrian rebels secured them a safe passage. It came at a cost.
"I'll just say that we paid for each person separately."
For the family, Armenia was an obvious choice.
"We have a mental resemblance with Armenians," Asmarian told IWPR.  "We did not come here as emigrants, like those who, for example, went to Europe and need to adapt to new rules. We returned home, to our historical homeland. We do not have to adapt. Artsakh was part of [Soviet] Azerbaijan for a long time and as a result the society here is more close-knit, conservative, that is why they are mentally closer to us. They have preserved the customs of our community, as we did in Syria."
An estimated 18,000 Syrians of Armenian origin left for Armenia after the civil war began. The majority settled in the capital Yerevan. The government did not classify them as refugees but displaced peoples returning to their homeland and granted them settlement rights, providing financial aid and support to find employment.
The Asmarians, a family of traders, chose Karabakh instead. As a young couple Hovik and Isabel had honeymooned in the region; surrounded by mountains and lush, fertile fields, the couple fell in love with Karabakh, in particular with Shushi, which Azerbaijanis call Şuşa. The town is of religious, cultural and strategic importance to both Armenians and Azerbaijanis.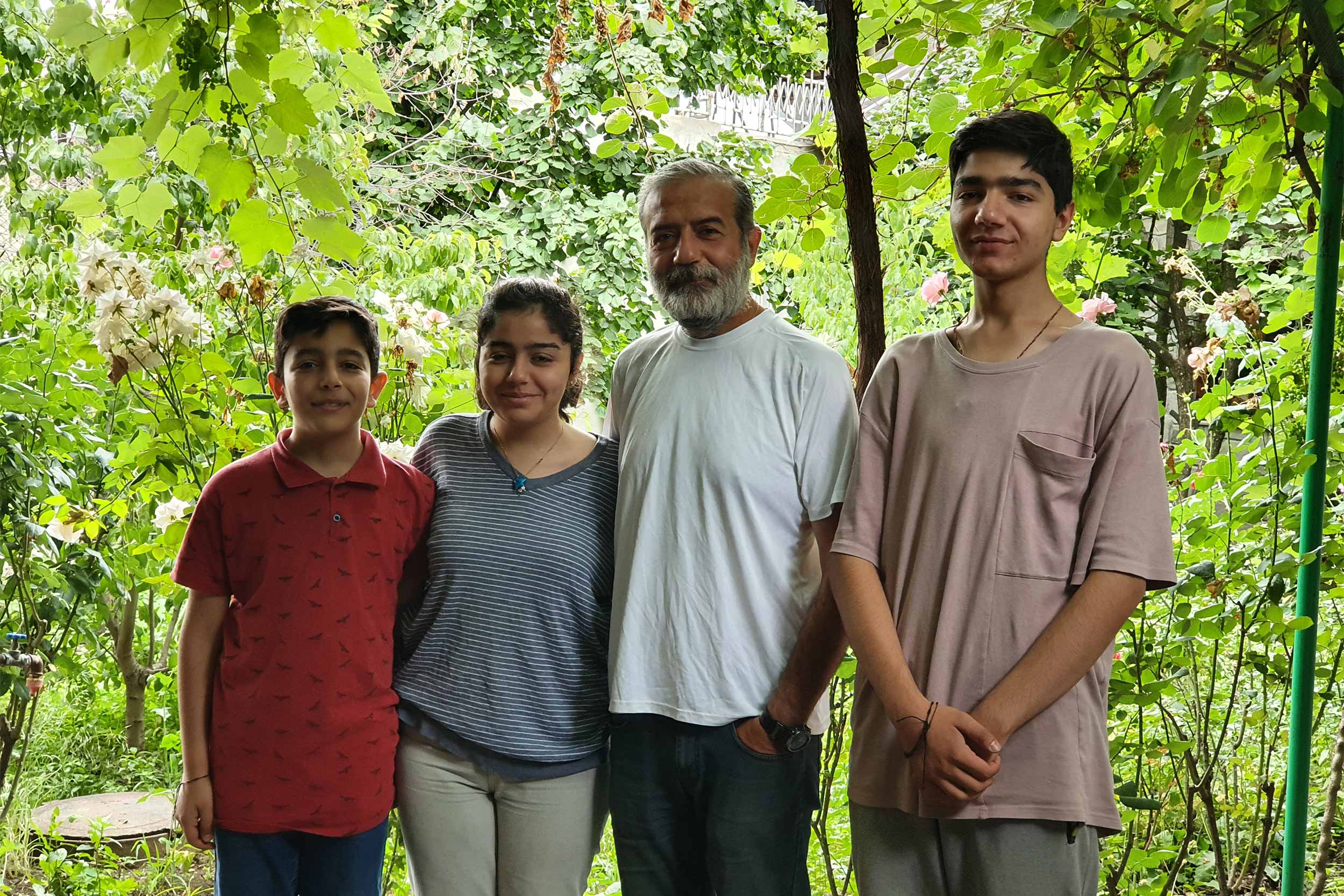 BUILDING A BUSINESS
Although originally an urban family, the Asmarians began working in agriculture.
Asmarian bought properties in Shushi and Stepanakert as well as plots of land where he started what became a flourishing gardening business.
"I brought seedlings from Syria and built gardens on 20 hectares of land. I can say that I built small Syria in Artsakh. I planted orchards of olive trees on 200 hectares of land in the liberated territories [the districts surrounding Nagorny Karabakh, then controlled by Armenian troops]. Until 2020, our business was thriving, we started to receive large orders," he recalled.
The family also opened Samra, a Syrian diner in the heart of Stepanakert.
But then on September 27, 2020, Azerbaijani troops launched an offensive along the line of contact established after the first Karabakh war, which ended in 1994. Fighting raged for 44 days, and by the time Moscow brokered the ceasefire on November 9, Baku had won back the territories surrounding Karabakh that Armenia had controlled in 1994, which were frequently referred to as a security belt.
Asmarian lost most of his land, his business, and again, part of his life.
"The war erased everything," he said.
Samra is now shut, due to lack of customers. The constant threat of renewed fighting brings fewer people to the region, including from Armenia; tourism from abroad, which until 2020 was a major source of income for local businesses, has vanished.
"I don't know what to do or what will happen in the future," Asmarian said. "Before and during the [2020] war, I knew what to do, but now, in this complete uncertainty, I have no answers. I do not trust the authorities in Armenia. They deceived us all, constantly saying that we will win soon, but in fact, suffering defeat after defeat."
Asmarian keeps a Kalashnikov rifle on the piano in the living room, and has more guns stored elsewhere.
"After the war, I got a permission from the government to legally keep Weapons at home," Asmaryan said, explaining that he fears a new escalation.
"After all, Azerbaijani troops are in Shushi, just 10 kilometres away from here [Stepanakert]. Before the war, I didn't even have a gas pistol. I was sure that the Armenian army would protect me. But, now we have to keep weapons at home. It's natural that we want to defend yourself. Who do I rely on, the Russians?
Asmarian says he wants to stay, but only in the part that is controlled by the Armenian forces.
"I came here to become a citizen of the Armenian state, and not to accept Azerbaijani rules of life for me and my children. My son is 17 years old. Next year, he is due to serve in the army, but how can I trust my son to an army whose commander shamefully lost the war?"
This publication was prepared under the "Amplify, Verify, Engage (AVE) Project" implemented with the financial support of the Ministry of Foreign Affairs, Norway.