Few Tears Shed for "Tajik Bin Laden"
Killing of veteran militant seen as al-Qaeda emissary has eased but not removed security threat in Central Asian state, analysts say.
Few Tears Shed for "Tajik Bin Laden"
Killing of veteran militant seen as al-Qaeda emissary has eased but not removed security threat in Central Asian state, analysts say.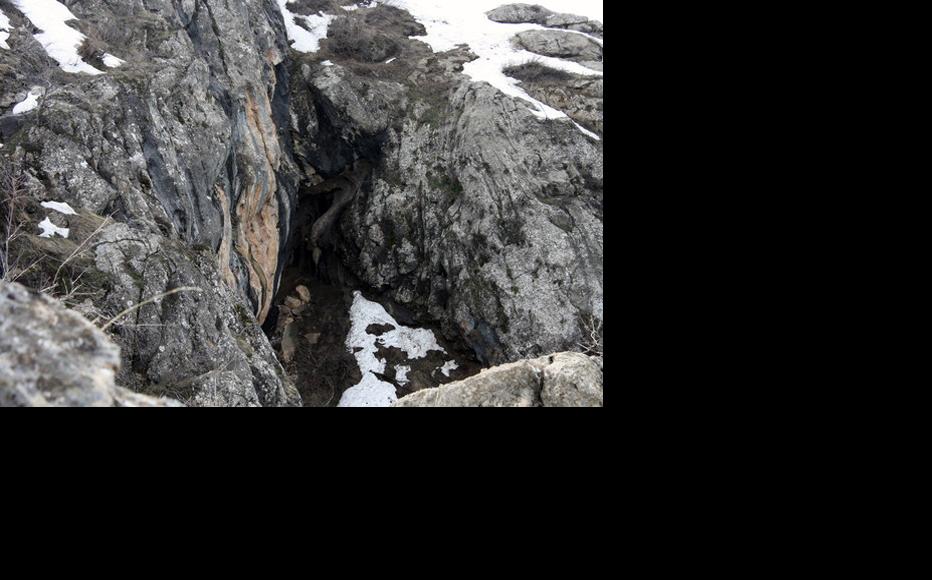 This cave was used as a hideout by Mullo Abdullo and his group. Police say they found a large stockpile of arms there. (Photo: Tajik interior ministry.)
Tajikistan's security forces have scored a major coup by killing a top militant leader allegedly linked to al-Qaeda, but they recognise that the fight against armed Islamists is far from over. 
Analysts say the government's priority must be to win over powerful local leaders in eastern Tajikistan, as well as young men at risk of being recruited into armed groups. In addition, more needs to be done to stop traffic across the long and porous border with Afghanistan.
Mullo Abdullo, whose full name is Abdullo Rahimov, was killed on April 16 during a two-day military sweep of Nurobod district, in the Rasht valley in the eastern mountains. About 15 others, mostly from the area, were killed in the operation.
Mullo Abdullo was a member of the Islamic opposition force that fought the Tajik government between 1992 and 1997. When the civil war ended, opposition leaders came over to the government side and their guerrillas were disbanded. A number of dissident commanders refused to comply, and most were picked off in army operations over the next few years, but Mullo Abdullo survived.
He disappeared from view, and is believed to have spent a number of years in Afghanistan, where he may have forged links with al-Qaeda, the Taleban, or the Islamic Movement of Uzbekistan, IMU, a group that originated in Central Asia.
After his death, deputy interior minister Saidkhon Jurakhonov described him as al-Qaeda's man in Tajikistan.
In spring 2009, rumours began circulating that Mullo Abdullo was back in Tajikistan. He was said to have crossed with a band of armed followers from Afghanistan into the eastern mountain districts, where he was trying to build support among civil war-era guerrillas.
An insider source in one of Tajikistan's security agencies told IWPR that despite years of peace, former field commanders remained a force to be reckoned with in areas that were opposition strongholds during the civil war. For years, he said, the government had turned a blind eye to their activities and tried to buy them off by giving them official posts and opportunities to make money. 
From May 2009, government troops conducted an operation targeting "illegal armed groups" and made a number of arrests. After some of these detainees escaped from a high-security prison in August 2010, the government sent more troops up the Rasht valley to track them down. Twenty-five soldiers died in an ambush in September; the authorities say Mullo Abdullo was responsible. The IMU also claimed responsibility for the attack. 
Continuing government operations resulted in a number of suspects being killed in firefights, including Aloviddin Davlatov, also known as Ali Bedak, who died in January, and eventually Mullo Abdullo, whose body was shown on national TV.
In an interview for IWPR, interior ministry spokesman Mahmadullo Asadulloev said Mullo Abdullo's death represented the culmination of two years of efforts to hunt down a man he described as "a dangerous international terrorist".
Sadulloev underlined that government forces had been assisted by ex-guerrilla commanders who had chosen not to side with the renegade leader.
It remains unclear whether Mullo Abdullo's attempt to stir up trouble in Tajikistan was his own initiative, or whether he was spearheading plans for larger-scale operations in Central Asia by the likes of the IMU, many of whose members have relocated from Pakistan to northeastern Afghanistan. 
Either way, his removal is a significant victory for the Tajik government. First, this shadowy character enjoyed almost legendary status – "Bin Laden No. 2", as one newspaper headline called him. Because he was so elusive, many analysts expressed doubt about whether he was in Tajikistan at all, or whether the story was just an invention designed to justify the counter-insurgent drive.
Political analyst Parviz Mullojonov says al-Qaeda would find it hard to find a Tajik militant able to perform the same role, let alone one of such symbolic importance.
Like Sadulloev, Mullojonov noted the importance of government efforts to coopt local powerbrokers whose loyalties might earlier have been uncertain. A deal reached with two such figures meant "the authorities were able to establish relative control over the situation in the Rasht valley last autumn", he said.
He and other analysts say that while the immediate danger of a militant resurgence has receded, it is too early to assume the threat has gone away altogether.
Small groups of armed men continue to exist in the east, and "the threat of similar groups infiltrating across the Afghan border persists", Mullojonov noted.
In response to Mullo Abdullo's death, a group calling itself the "Mujahedin of Tajikistan" issued a statement on the internet warning of retaliation against the government. Rather than being couched in the language of international jihad, the statement listed the alleged misdeeds of the Tajik authorities. The group is previously unknown, and it remains unclear whether it exists.
Retired police colonel Aliakbar Abdulloev says al-Qaeda and the IMU remain strong and are likely to make further attempts to create instability in Central Asia, Tajikistan in particular.
"Although part of Mullo Abdullo's group has been eliminated, small numbers of members have fled into the mountains to find refuge there. They will be in contact with their headquarters [abroad] and it's more than likely a decision will be taken to provide them with assistance," he said."
Despite the myth that has grown up around the dead commander, Abdulloev said he could be replaced. "They will train more Mullo Abdullos to replace him," he warned.
He said the government needed to improve its capacity to gather intelligence about insurgent movements, beef up controls along the border with Afghanistan to make it harder for militants to cross over, improve security checkpoints in Rasht, and mount patrols on routes through the mountains.
Hikmatullo Saifullozoda, spokesman for the Islamic Rebirth Party – the main opposition organisation during the civil war and now a legal opposition party – welcomed the demise of Mullo Abdullo, which he said would contribute to greater stability. But he pointed to underlying problems the authorities should be worrying about – the need to improve living conditions in this part of Tajikistan, so that unemployed young men would not be tempted to join armed Islamic radical groups.
Lola Olimova is IWPR's Tajikistan editor.
This article was produced jointly under two IWPR projects: Building Central Asian Human Rights Protection & Education Through the Media, funded by the European Commission; and the Human Rights Reporting, Confidence Building and Conflict Information Programme, funded by the Foreign Ministry of Norway.
The contents of this article are the sole responsibility of IWPR and can in no way be taken to reflect the views of either the European Union or the Foreign Ministry of Norway.