On October 24, 2023, Chernihiv's Novozavodsky District Court of Chernihiv examined the interview that Russian pilot Alexander Krasnoiartsev gave on March 24, 2022 to Ukrainian blogger Volodymyr Zolkin. © Irina Domashchenko
Exchanged Russian Pilot Sentenced in Absentia for Killing Civilian
Crime took place after fighter jet downed in Chernihiv in March 2022.
On October 24, 2023, Chernihiv's Novozavodsky District Court of Chernihiv examined the interview that Russian pilot Alexander Krasnoiartsev gave on March 24, 2022 to Ukrainian blogger Volodymyr Zolkin. © Irina Domashchenko
On October 26, the Novozavodsky District Court of Chernihiv sentenced in absentia Russian pilot Alexander Krasnoyartsev to 14 years in jail for killing a civilian, in violation of the laws and rules of war.
His Su-34 fighter jet was shot down on March 5, 2022 over the city of Chernihiv in north-eastern Ukraine. The 36-year-old pilot ejected, landed in the yard of a private residence and tried to hide, shooting 42-year-old Vitaliy Serhiyenko in the process. Krasnoyartsev was captured shortly afterwards and a month later was included in a prisoners' exchange. The trial commenced in spring 2023. 
Visiting the scene of the crime, in a suburban yard in Chernihiv, the victim's sister Svitlana Voyteshenko showed IWPR where her brother died.
"Here is where he killed him," the 41-year-old said, pointing to the spot near the chicken coop and feeding troughs where Serhiyenko's body was found. He was wearing a jacket, dark trousers and galoshes.
Serhiyenko was shot with a Makarov pistol; one bullet struck his chest and grazed a lung, while the other passed through his shoulder. He died immediately. 
Voyteshenko said that the siblings were very close. In recent years, following the death of both of their parents, they had lived together in their family home in Chernihiv's district no 9. Serhiyenko was godfather to Voyteshenko's daughter. 
"He always helped, he was a good person. We lived harmoniously and never argued," she said of her brother, an electrician.
Following the full-scale invasion of February 24, 2022, it took just a few days to occupy villages in the Chernihiv region, which borders both Russia and Belarus. 
On March 5, Voyteshenko's family heard the harsh noise of a Russian fighter jet flying low over them. It then crashed and exploded several blocks away.
"We always hid in the cellar, but on that day we were in the house," Voyteshenko continued, showing IWPR the cellar where she hid with her daughter, her partner and her brother.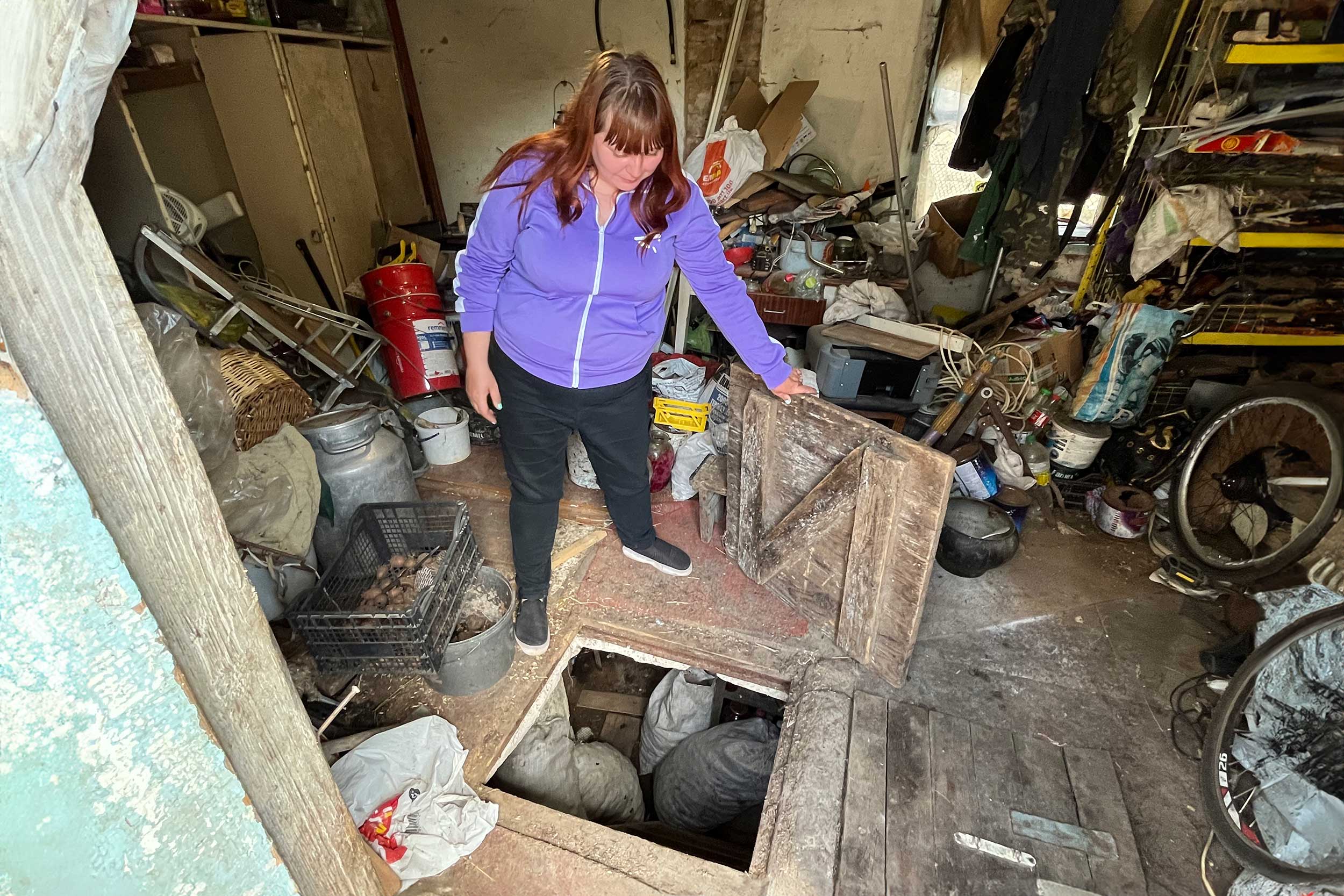 During a hearing on May 18, 2023, she told the court that when they heard the noise of the plane they thought that the houses nearby were on fire. 
The Russian pilot ejected and landed on a neighbouring house; he then slid down the roof into Serhiyenko and Voyteshenko's yard.  was godfather to Voyteshenko's
Serhiyenko went outside to see what had happened, and his brother-in-law partner, 44-year-old Serhiy Tkachenko, followed him.
Tkachenko told the court during the May 2023 hearing that they had begun walking in two different directions from the house when he heard Serhiyenko shouting, "Stop!"
"I think [Serhiyenko] saw him [Krasnoyartsev]," Tkachenko told the court on May 18. "I returned to the house, took a poker from the boiler room and ran out. When I got to the shed, I briefly saw the silhouette of a man in blue and I ran to the chicken coop. I retreated because I thought he might run back towards me." 
A few seconds later, shots were fired. Krasnoyartsev was arrested minutes later and Svitlana saw her brother's body lying on the ground.
Anatoliy Serhiyenko, a policeman whose unit arrived at the site, told the court that he had seen the second airman, Su-34 navigator Kostiantyn Kryvolapov, lying dead on the road along with the detained Krasnoyartsev. 
Serhiyenko - also the siblings' second cousin -  helped arrange the funeral for two days later, on March 7. He helped find a car, a coffin, and retrieve the body.
"If you manage to do it in two days, you can bury him wherever you want. If not, it's going to be in a common grave," Serhiyenko said in court, recounting the words from a staff member at the the overcrowded morgue. "They brought the body to us in a bag. We brought clothes to change him into. They told us not to bother; the body is already stiff, it's already in the bag. They put a new suit for burial on top of black polyethylene."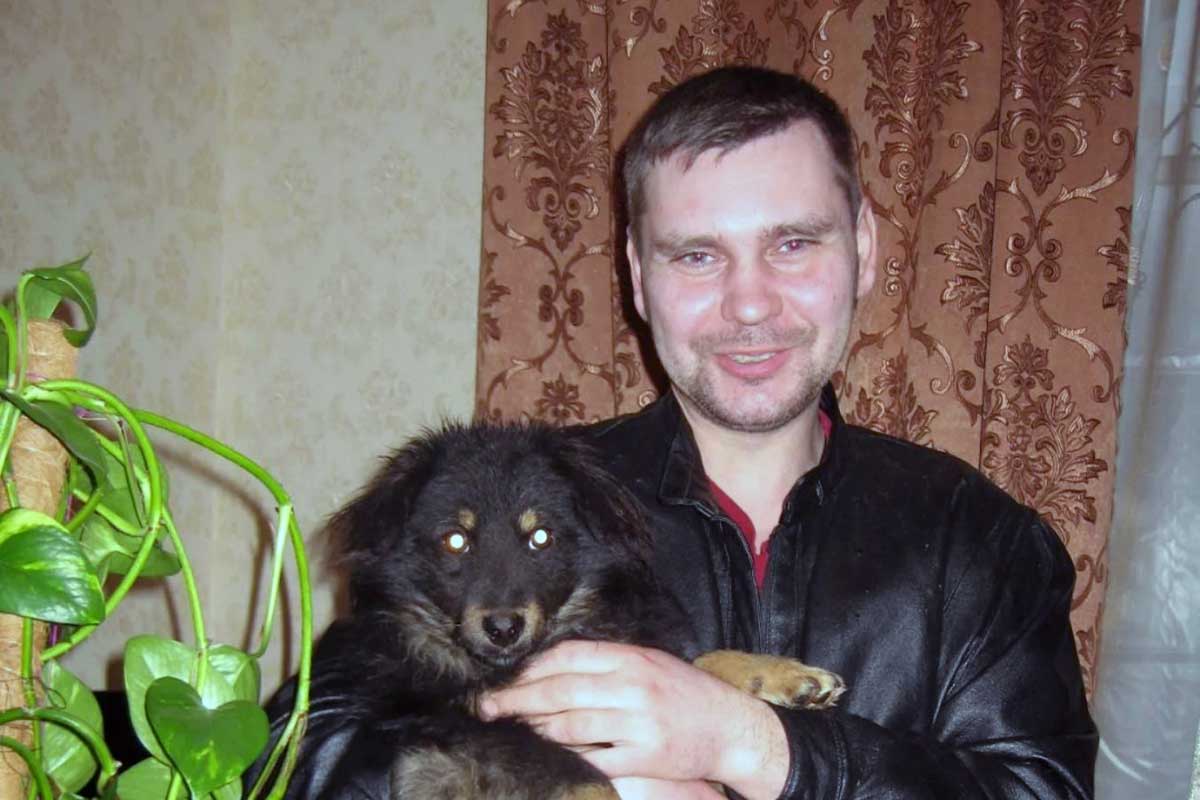 "DON"T SHOOT, I SURRENDER"
When the Russian fighter jet was downed, the commander of Chernihiv's territorial defence units, named as 38-year-old Mykola Kh, ran to the site with a comrade. As they approached the victim's house they heard gunshots and then saw Serhiyenko's body. They searched the area, including neighbours' yards, Mykola Kh explained in court.  
"In a dead-end right by the fence [of their neighbours' yard] , there was a utility room, like a shed and the latch wasn't closed. I thought maybe he [Krasnoyartsev] had hidden there; I wasn't sure. I had a rifle, and I understood that someone had killed a man. I positioned myself from the side, put the barrel of the rifle into a gap. I couldn't see what was inside; it was dark and I said, 'Surrender,'" Mykola Kh told the court. "There was silence for three or four seconds, and then he replied, 'Don't shoot, I surrender.'"
The pilot, wearing a blue jumpsuit, came out of the shed with his arms raised, holding a Makarov pistol in his right hand.
On March 24, 2022, Krasnoyartsev, who hails from Orenburg in south-west Russia, near the border with Kazakstan, gave an interview to Ukrainian blogger Volodymyr Zolkin.
"I ran behind the house, and a man ran after me, trying to catch up. I don't know if he had pitchforks or something. I used my weapon," the Russian pilot said. 
The court included the interview as evidence. A key question during the trial was whether Serhiyenko was armed or not. His sister and other witnesses refuted the Russian pilot's allegation that the victim had been holding a weapon. Similarly, Mykola Kh said that he did not see any pitchforks or axes near the deceased.
"After the death of Svitlana and Vitalik's parents, no one took care of the garden. There should not have been any pitchforks there," the victims' cousin said in court.
"The forks were broken, without handles, somewhere in the shed," Svitlana told the court.
This was confirmed by her partner, who claimed that Vitalik could not have run to the shed as it was not on his way.
THE COURT DEBATE
During the court debate on October 24, 2023 prosecutor Kirill Pugachov requested a 15-year prison sentence for the violation of the laws and customs of war under Part 2 of Article 438 of the criminal code.
"Krasnoyartsev was a combatant. The Geneva Conventions and international humanitarian law placed a direct duty on him to distinguish between civilians and military," Pugachov stated. "He understood the situation he landed in: not in trenches, not on enemy positions, not on a territory that could be called a military object. In an interview, he mentions that his task [after ejecting] was to shoot and hide, which indicates that he did not care who was in front of him, be it a civilian or a military person."
He added that the Russian major had the opportunity to fire into the air or at Sergiyenko's feet, but instead shot to kill. 
Krasnoyartsev's defence lawyer, Valentin Leskov, disagreed and requested the court reclassify the offence from war crime to deliberate murder, under Part 1 of Article 115 of the criminal code.
"He acted with one motive, to protect his own life," Leskov argued, adding that "there was a real threat." 
In court, Vojteshenko requested a life sentence for the Russian pilot.
"No one will bring my loved one back to me," she told the judges. She also filed a civilian lawsuit seeking two million hryvnias ( 55,000 US dollars) for moral damage. 
The court rejected the defence's arguments, finding Krasnoyartsev guilty and granting Vojteshenko her civil claim. 
The pilot's defence has 30 days to appeal the verdict.
Investigators are also examining the black box from Krasnoyartsev's jet to verify his possible involvement in the bombing of civilian targets in Chernihiv.
Please take a minute to complete a short survey. For any further feedback email us at editor@iwpr.net.