Election Critic Arrested in Azerbaijan
Western diplomats join local rights groups in questioning tax evasion charges against Anar Mammadli.
Election Critic Arrested in Azerbaijan
Western diplomats join local rights groups in questioning tax evasion charges against Anar Mammadli.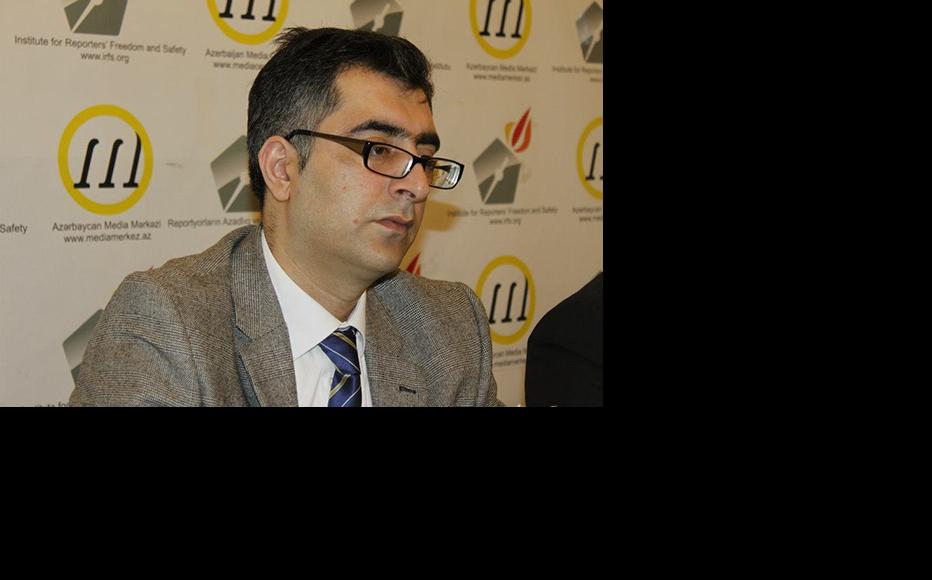 Anar Mammadli, head of the Election Monitoring and Democracy Study Centre in Azerbaijan. (Photo: EMDS)
Anar Mammadli, head of Azerbaijan's most respected election monitoring group, has been arrested in what is seen as retribution for his criticism of the conduct of a presidential election held in October.
Mammadli, who heads the Election Monitoring and Democracy Study Centre (EMDS), was arrested on December 16 along with the centre's executive director, Bashir Suleymanli, and Elnur Mammadli, head of an allied group called International Cooperation of Volunteers.
The other two were released, but Anar Mammadli was brought before a court and detained for three months.
According to APA news agency, the prosecutor general's office has accused Mammadli of evading taxes of 20,000 manats (25,500 US dollars) due on a grant of 276,000 dollars which the Washington-based National Democratic Institute gave EMDS to monitor the election. It also alleged that 163,000 dollars of this sum was transferred to Suleymanli's private bank account.
"The accusations, of tax evasion, illegal business activity, and abuse of power are invented," Hafiz Hasanov, head of the Institute for Reporters' Freedom and Security, told reporters at a press conference called after the arrest.
Hasanov said that since the government revoked the official registration of EMDS's predecessor, the Election Monitoring Centre, five years ago, Mammadli had been forced to conduct monitoring programmes as a private individual.
"EMDS did not have state registration, and Mammadli was forced to act as an individual taxpayer. But it is stupid to call this 'illegal business activity'," he said. "Mammadli is under investigation because he monitored elections. The government does not want anyone independent of it to be involved in elections."
In its assessment of the October polls in which President Ilham Aliyev was re-elected with more than 85 per cent of the vote, EMDS concluded that the election "cannot be considered free and democratic". Observers from the Organisation for Security and Cooperation in Europe (OSCE) were similarly critical, saying that the ballot had "fallen well short of OSCE commitments in most areas". 
Janez Lenarcic, director of the OSCE's Office for Democratic Institutions and Human Rights, said he was concerned by Mammadli's arrest.
"The reported arrest of Anar Mammadli is disturbing as it endangers citizen election observation," he said in a statement. "We have raised our concerns with the authorities and requested clarification on this matter."
Azerbaijani officials have generally avoided commenting on the case. Siyavush Novruzov, a member of parliament from Aliyev's Yeni Azerbaijan party, was reluctant to express an opinion when IWPR contacted him.
"Prosecutors have issued an official statement on this matter. Anar Mammadli is accused of tax evasion and illegal activity. The investigation will uncover everything, so it is hard to say anything more specific," he said.
Rashid Hajili, director of the Institute for Media Rights, told journalists that Mammadli was also being charged under a criminal code article that covers the falsification of election results via abuse of power. It was not clear how this would apply to Mammadli, since he does not hold public office.
Mammadli's wife Vafa Subhani said all the accusations were invented.
"We family members are proud of Anar and of his activities for the good of our country. This isn't easy for us, but it will pass. The most important thing is to remain honest, not to close our eyes to injustice, and to fight for those without rights," she told IWPR. "Anar has fought for democratic rights. The accusations against him are lies. His arrest is a direct result of EMDS's activities during the election."
Western envoys were quick to express concern about the case.
"The United States is deeply troubled," US Ambassador Richard Morningstar said in a statement. "The details of the charges are still unclear, but we must question whether Mr Mammadli's detention is related to his organisation's election monitoring and reporting activities. We have raised this case with senior members of the government of Azerbaijan and will continue to do so. We urge that Mr Mammadli be released immediately while the legal process continues."
British Foreign Secretary William Hague, visiting in Baku for a ceremonial signing of a contract for the Shah Deniz-2 gas field, also said he was concerned about Mammadli's fate.
"Azerbaijan and the UK have a very close economic and political relationship, but this does not impede us from raising human rights concerns with the Azerbaijani authorities," he told reporters. "For example, yesterday's arrest of Anar Mammadli – I raised this question at my meetings with the [foreign] minister and the president."
Lawyer Aslan Ismayilov said Azerbaijanis needed to call for Mammadli's release themselves, as there was no point in counting on the West for assistance.
"They need our oil, our caviar and our wealth," he told reporters.
Samira Ahmedbeyli is an IWPR reporter in Azerbaijan.