East Ukraine Election: Turnout in a Time of War
Few polling stations open, and voters in those areas were lukewarm about the polls' significance to them.
East Ukraine Election: Turnout in a Time of War
Few polling stations open, and voters in those areas were lukewarm about the polls' significance to them.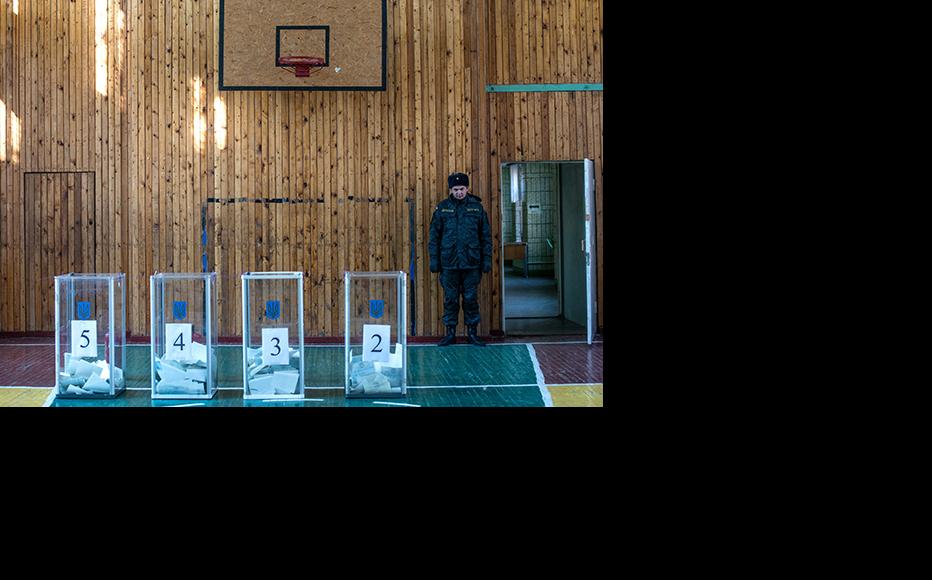 A polling booth in Kiev, October 26, 2014. (Photo by David Ramos/Getty Images)
At 81, Yefim Zvyagilsky will be the senior statesman in the new Ukrainian parliament and as such he will open the first session. He will also be remembered out as the politician elected with the highest turnout in the war-torn Donetsk region– or the lowest, depending how you count it.
Zvyagilsky stood in Constituency No. 45, which represents eastern Ukraine as a whole. The constituency was supposed to have 110 polling stations on October 26, but only four of them actually functioned. That meant that the 2,049 votes, of which 1,456 were for Zvyagilsky, had been counted by the following morning. Unsurprisingly, it was the only place in Ukraine where the results were known so soon.
Recorded turnout was put at a high 70 per cent-plus, but that was just for the electorate in those four wards. Calculated against the estimated 165,000 voters in the whole of the constituency, turnout was 1.2 per cent.
Under Ukrainian law, a election in any given constituency counts as legitimate as long as one polling station is open, and of course as long as people come to vote.
This constituency takes in the settlements of Yasinovataya, wholly under Russian rebel control; Avdeeevka, which is still in Ukrainian hands but has fighting going on nearby; and a Donetsk suburb near the airport where government soldiers are still holding out against the rebels who hold the rest of the city.
In many ways, the constituency was a mirror of election day across the patchwork of occupied, unoccupied and contested parts of eastern Ukraine.
Turnout in most constituencies where conflict is going on but where at least some polling stations were open averaged 30 per cent. But that figure is only for voters who had polling stations to go to. Nationally, turnout has been put somewhere over 40 per cent.
Apart from the security issues, many voters in the Donetsk and Luhansk regions were despondent about the collapse of normal life over the last six months, and pessimistic about the future, so they felt it was pointless to vote even if they had the opportunity.
Zvyagilsky is a respected figure in Donetsk, and was one of the founders of the Party of the Regions, which was dominant under the last president, Viktor Yanukovich.
A month and a half before the polls, I was told that President Petro Poroshenko's office had agreed to Zvyagilsky standing in order to ensure that some of the old guard entered parliament. As more results come in, we are likely to see other Party of the Regions members in parliament, aligned with the Petro Poroshenko Bloc.
In some parts of Donetsk region – Krasnoarmeysk and Volnovakha, for instance – there was real competition between candidates, sometimes accompanied by outbreaks of fighting.
Constituency No. 59, centred in the small town of Marinka, had three candidates, who were backed by the Poroshenko bloc, Dnepropetrovsk's top businessman Igor Kolomoysky and Donetsk oligarch Rinat Ahmetov, respectively. At the moment, Kolomoysky's man is leading – Valentin Manko, who leads the Dnepr Battalion financed by this powerful figure.
Meanwhile, the conflict goes on regardless of the ceasefire. The rebel Donetsk People's Republic has called a separate election for November, and its prime minister Alexander Zakharchenko has promised new assaults to capture Slavyansk, Kramatorsk and Mariupol.
"You've got to understand that Poroshenko isn't kidding anyone with his words, his mantras about peace. There is no ceasefire," one Ukrainian parliamentary candidate told me on condition of anonymity. "The situation is getting worse day by day."
The politician said that with reliable reports of a newly-arrived convoy of over 80 armoured vehicles and trucks newly to support rebel forces in Donetsk, it was time to act.
"We must deal with the Donetsk People's Republic by military means, and we must do so in the next three to four months. If we don't, it will become a black hole that sucks in the rest of the country. It must be a special ops zone, with commandos taking on the terrorists on a daily basis," he said. "Does Poroshenko get that? No, he's scared and he thinks he can come to terms. But Putin doesn't want to come to terms, and he won't."
Dmitry Durnev is editor-in-chief of the MK-Donbass newspaper in Donetsk.