Dollar Policy Divides Cuban Society
New measures mean that only those with access to hard currency can obtain essential goods.
Dollar Policy Divides Cuban Society
New measures mean that only those with access to hard currency can obtain essential goods.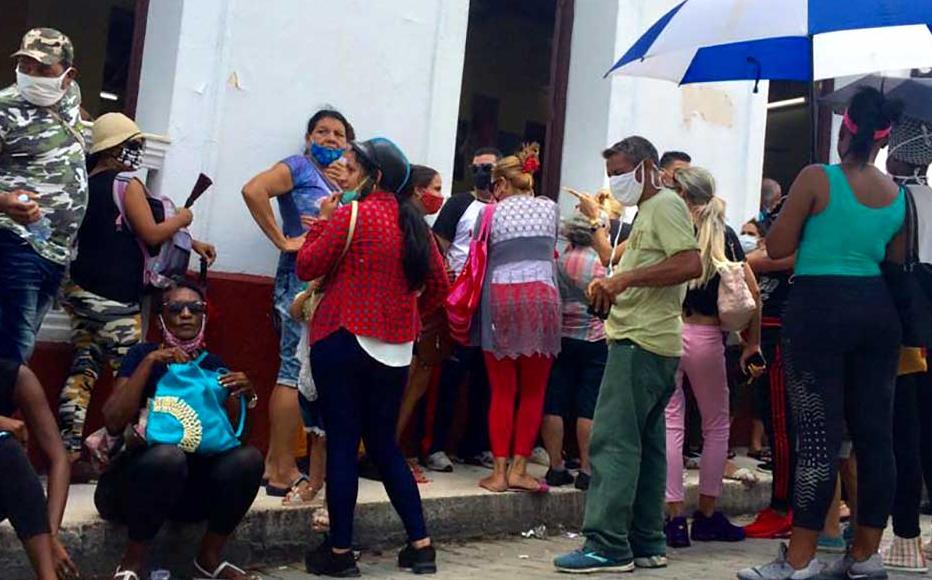 Since the arrival of the pandemic in Cuba, the country has been experiencing a worsening shortage of basic products, which translates into longer queues than usual. © L. R. Fuentes
The man selling dollars in central Santa Clara suggests we cross to the other side of the street to avoid being filmed by the surveillance cameras hidden in the park.  
He walks towards a nearby building and once there, takes a large bunch of bills from his wallet: Cuban pesos, convertible Cuban pesos (CUC) – pegged to the US currency - and dollars. 
Business is booming for the 50-year-old money-changer. Since the government approved a partial dollarisation of the economy in June, he says he has bought and sold more dollars than in the whole of the first half of 2020. 
The covert operation is over in a few minutes. The money-changer walks back to the park, having made a good profit from the transaction. 
"Hey buddy, you want to change?" he said to other passers-by. 
A decision this summer by the Cuban government, hard hit by US sanctions and the collapse of the tourism industry, to sell basic products only in government-run dollar outlets has massively strengthened the black market.
At the same time, the policy has also created a new social class: those able to buy essential goods in these stores simply because they have family abroad who send them remittances in dollars.
On June 16, Cuban president Miguel Díaz-Canel announced that essential products long absent from shops, such as chicken, oil or detergent, would be sold in dollars in a new type of state shop. 
The measure, described by some as a move to raise hard currency funds, unleashed feverish dollar buying.
Previously, only those who received remittances from abroad – just over 30 per cent of the population– had access to dollars or other foreign currencies.
Some estimates indicate that between 1,500 and 3,600 million US dollars entered the country every year, through both legitimate and informal means.
Often, foreign exchange offices in Cuba only buy currencies, with no cash for sale.  Those who do not receive money from abroad have now been forced to turn to money-changers to acquire dollars so as to be able to buy the basic goods, now largely available only in these special shops. 
Money-changing as an occupation gained momentum in Cuba after 1993, when Cubans were finally allowed to use dollars to buy goods in the state shops that up until then only sold products to tourists. Previously, owning currencies other than the Cuban peso was considered a crime.
In 2004, when the government created the CUC and began selling products in state-run shops using this new currency, the dollar lost its popularity.  
But the CUC was always besieged by rumours of an imminent disappearance and return to the dollar. Amid the pandemic, as tourism disintegrated and the US government tightened its policy against the Cuban regime, these fears for the CUC's future became a reality. 
RREMITTANCES: A SOCIAL PRIVELIGE
At only six in the morning, around 50 people are already queuing in front of the Praga shop in the city of Santa Clara.
Praga is one of 72 outlets opened by the authorities on July 20 to sell food and toiletries in dollars. Shoppers hope that they will be able to find basic goods they have been lacking for months here. 
The police keep a watch over the queue to avoid overcrowding and the sale of places. They also see that nobody spends the night there to be the first in line.   
The shop's gatekeepers prohibit people from standing in the main entrance to try and see what goods are on offer there. There are bystanders who would love to buy the goods offered in the shop, but who simply do not have dollars.
In this new fragmentation of Cuban society, some people can afford to buy what they need because they have dollars and others simply cannot. 
"I came to buy shampoo in the normal shops, but there was none," said Dunia Machado who lives in Corralillo, a municipality close to Santa Clara. "In the dollar shops, one can find everything, but you have to have dollars, and we don't."
Yamila Conyedo, waiting in line to enter the Praga shop, has a magnetic card linked to an account in dollars. She said that many Cubans were also finding ways to acquire dollars.
 "If that weren't the case, then we wouldn't see here these long queues every day," she said. "I think those Cubans that have no family abroad are always looking for alternatives to access dollars." 
Those without such contacts abroad have no option but to use salaries paid in Cuban pesos to buy dollars on the black market. 
However, the average wage in Cuba amounts to the equivalent of 31 dollars a month, not enough to buy much in the new shops.
After they began trading in July, photos of the products available there began circulating on social media. 
Many Cubans living outside the island compared the outrageously high prices of meat and canned food in Cuba with those of goods available in the US.  
Several independent media outlets published pictures of products with exorbitant prices: a sun protection cream for 29 dollars, a kilogramme of beef steak at nearly 24 dollars and even a smoked pork leg at 224 dollars.
Luis Pérez, from the city of Placetas in Villa Clara, had traveled to Santa Clara to do his shopping. Filling a supermarket trolley with detergent, cereals and jam, he spent close to 40 dollars.
Nevertheless, he said he wasn't happy with his purchases.
"I came in late, and almost everything was gone," he said. "I couldn't find chicken or any other cheap meat. It is not cheap, but this is what is available."
Outside Praga, Lisandra Alemán, a mother-of-two with no relatives living abroad to send her money, said that the government measure was a form of abuse. 
"I've been told that the toiletries shop has all sorts of products," she continued. "At home, there is not a single drop of detergent left to wash clothes. I see so many people coming out of the shop with bags full of the same things I need. I can't buy there. I'll never be able to do so."