Doctors on Wheels: Ukraine's Mobile Medical Teams
Project delivers medical aid to people in remote areas and those displaced by the war.
Doctors on Wheels: Ukraine's Mobile Medical Teams
Project delivers medical aid to people in remote areas and those displaced by the war.
Family doctor Natalya Tunik conducts a medical appointment in Sunki, a village in the central region of Cherkasy, where there is no hospital. © Photo courtesy of N. Tunik
Volodymyr Bilan, a 59-year-old who lives in the village of Sunky in the Cherkasy region, has long been plagued by health issues. He has chronic vascular and blood pressure problems, and contracted Covid-19 just before last year's full-scale invasion of Ukraine. Accessing treatment has always difficult.
"There is no hospital in our village," he explained. "To get medical attention, you need to go to the district centre. But even there it is not always possible to get qualified help due to the lack of medical personnel."
In November 2022, neighbours told Bilan about a mobile medical team that was due to visit the village and he decided to attend their clinic.
"They listened to me, conducted a consultation, examined me, did a cardiogram and provided me with free blood pressure medication," Bilan said, adding that since then he had had regular check-ups each time the team visited.
"This kind of help from doctors is very important, because there are no hospitals in the villages and medical centres are closing down."
The project, launched by doctors of the Academy of Family Medicine of Ukraine under the auspices of the World Health Organisation (WHO), has treated nearly 14,000 patients since its launch in late May, dispatching mobile units to remote areas and to assist displaced people.
The teams are kitted out with key equipment and a mobile generator to ensure that they can continue to work even during power outages.
"The most common diseases [are] impaired glucose tolerance, or diabetes mellitus detected for the first time, hypertension, post-traumatic stress disorder, bereavement," said Natalya Tunyk, a doctor who conducts weekly consultations for villagers in the Cherkasy region. "Almost all Ukrainians are in a difficult emotional state."
She recalled an incident where she was asked to be present when a mother was told that her son had been killed.
"I drew her attention to breathing techniques, gave her water to drink, because the slower you swallow and breathe, the better your heartbeat slows down," she recalled. "But all the same, a person in such a situation needs to cry."
"When we provide help, it is easier to survive stress."
A few days later, Tunyk accompanied the bereaved mother to the funeral, and was able to give her sedatives.
"The main thing is not the medicine, but the people who are nearby," Tunyk continued. "They can just be silent, but they should be nearby."
Before the full-scale invasion, Tunyk lived in the Kherson region and worked as director of the Novotroitsky Primary Medical Care Centre.
Her duties included organising medical aid, but she did not want to continue in her role after the Russian troops occupied the region.
"Performing administrative work under the occupation authorities is considered collaborationism and is punishable under Ukrainian law," she explained. "If it was just to provide medical care, maybe I would have stayed, because my family lives there."
On October 5, Tunyk was able to leave occupied territory to stay with relatives in Kyiv. Shortly after her arrival, she called Iryna Voloshina, a representative of the board of the Academy of Family Medicine of Ukraine, and has worked with the mobile project ever since, focusing on areas where residents lacked easy access to medical care.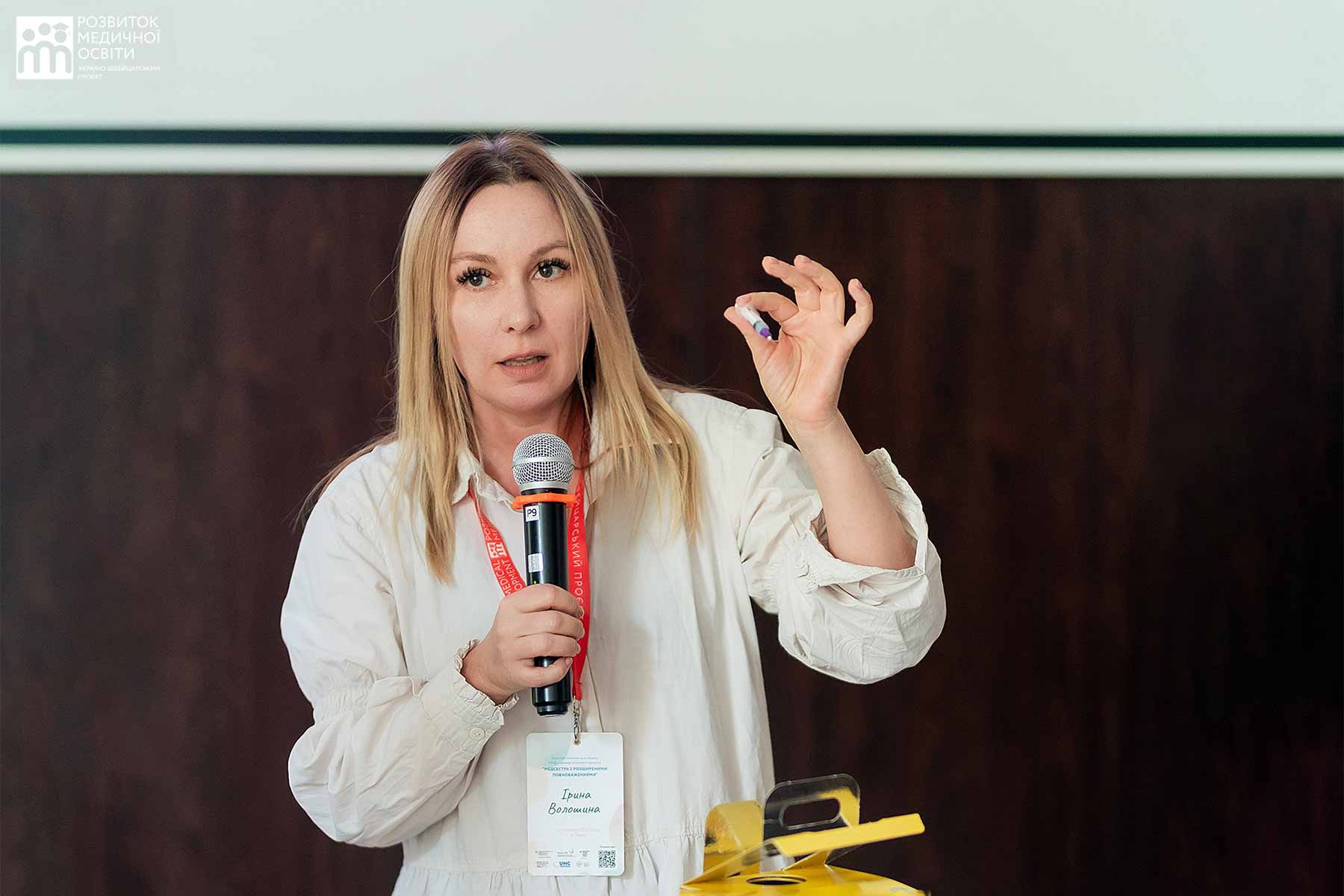 ELDERLY AND VULNERABLE
The scheme began with a pilot last year in which mobile brigades carried out 90 visits to the de-occupied communities of the Kyiv region between late May and early August 2022, providing services to more than 3,000 people. Most patients were elderly, with 60 per cent aged over 60 years old.
Voloshina said that the teams were "very positively received".
"People were waiting for our support, because in the conditions of de-occupation access to pharmacies and medicines was very difficult," she continued. "Doctors consulted in difficult conditions: without water, sewage [facilities], separate offices, proper infection control. Some medical institutions in the villages are not fully equipped with medical equipment, so we tried to bring everything with us. There are also obstacles with access to the internet."
Nonetheless, the project proved so successful that it expanded to seven regions across Ukraine. Four of them - Kyiv, Sumy, Chernihiv and Kharkiv regions had been previously occupied by Russian forces, while the three oblasts of Cherkasy, Khmelnytsky and Volyn had large numbers of displaced people.
Since the project began, Voloshina said, 13,708 patients had been seen, mostly for non-communicable diseases.
More than 50 doctors from the Academy of Family Medicine carry out consultations two or three times a week to deal with conditions such as cardiovascular and respiratory diseases, diabetes, oncology and neurological disorders. They have access to diagnostic equipment and a basket of 18 drugs that they can distribute for free. The project is expected to continue in 2023.
Tunyk said that the project had also benefited those tasked with delivering medical aid, many of whom – like herself – had been displaced or suffered trauma.
"When we provide help ourselves, it is easier to survive stress," she said. "I feel needed. I used to go abroad to visit my daughter, but I realized that my place is in Ukraine. I will be able to do much more here than just sitting in another country. I hope that soon I will be able to return to my native Kherson region."