Institute for War and Peace Reporting | Giving Voice, Driving Change
Iraqi Reporter Latest Victim of Violence Against Women Journalists
A courageous Iraqi journalist, who covered sectarian violence in the north of the country, has been murdered in Mosul, the latest victim of attacks against Muslim women reporters.
By IWPR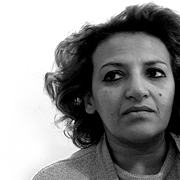 Sahar al-Haideri, 1962-2007
Sahar Hussein al-Haideri, 45, a top Iraqi reporter working in the perilous Mosul region, who fearlessly wrote about efforts by extremist forces to take control of the city and foment sectarian conflict, was murdered outside her home on June 7.
Haideri reported for a Mosul newspaper, the Voices of Iraq news agency, and the Institute for War & Peace Reporting, IWPR, where she had participated in numerous training and exchange programmes over the past three years.
Her most recent story was a moving feature on the stoning to death of a young Yezidi girl who had converted to Islam after falling in love with a Muslim boy. See "Honour Killing" Sparks Fears of New Iraqi Conflict.
Haideri had long been concerned about her security, and for the past year had contributed reports to IWPR under a pseudonym. Six months ago, her husband and four children moved to Damascus, and she had recently relocated to Syria herself.
She was on a brief visit back to her home in Mosul. Several individuals confronted her as she left her house on June 7 and shot her dead.
Earlier this week, Zakia Zaki, 35, a prominent Afghan woman journalist, and Sanga Amach, a 22-year-old television news presenter, were murdered in separate incidents in Kabul.
"Women journalists have demonstrated particular tenacity and bravery in Afghanistan, Iraq, Uzbekistan and other Islamic countries, reporting on the human costs of conflict and the efforts of mostly male-dominated power structures to undermine democracy," said Anthony Borden, executive director of IWPR, an international not-for-profit organisation which supports local journalists in conflict areas and maintains extensive programming in Iraq.
"Women are vital agents of democratic change in these societies, and the recent tragic killings demonstrate the depth and violence of opposition to their efforts," he said.
"Our psychological state is unbalanced because we live and think in fear and worry, and always think about our destiny and that of our family members, relatives and friends," Haideri told the UK Press Gazette earlier this year. "But I have never thought about quitting, as journalism is my life and I really love it."
As coronavirus sweeps the globe, IWPR's network of local reporters, activists and analysts are examining the economic, social and political impact of this era-defining pandemic.
More IWPR's Global Voices
Pham Doan Trang detained hours after the annual US-Vietnam Human Rights Dialogue.
Disquiet with an authoritarian leader, presiding over an archaic state-dominated economy, sounds familiar.