Winners of the 2007 Kurt Schork Awards in International Journalism

Sahar al-Haideri (Iraq) - Local journalist category

Mario Kaiser (Germany) - Freelance category

Kurt Schork Memorial Awards for 2007 Honour Murdered Iraqi Woman Journalist and German Investigation into Illegal Migration.

For the second year in a row, the Kurt Schork Memorial Awards have honoured a journalist killed in Iraq because of critical reporting.
Sahar al-Haideri, 44 – a mother of four and contributor to the Institute for War and Peace Reporting, IWPR, as well as Iraqi media – was gunned down in June in Mosul after receiving death threats for a series of campaigning stories highlighting the influence of religious extremists, especially in curtailing the rights of women. Al-Haideri has received the 2007 Schork award for local journalists.
"Al-Haideri's investigation of the 'honour killing' amongst Yezidis was exceptional," said Lindsey Hilsum, international editor and China correspondent for the UK's Channel 4 News and a member of the judges panel. "There is a passion to these stories, and I read them before the background notes, so did not realise she had been subsequently murdered. It is unbelievably upsetting."
The 2006 Schork Awards recognised US journalist Steven Vincent, who was killed in Basra.
In the international category, Mario Kaiser, a contributor to Der Spiegel, won for his reporting on a young Mexican women's journey as an illegal immigrant to New York. Kaiser researched the article by putting himself in the hands of a smuggler in order to understand the hardships of illegal migrants.
"This is a perennial story, brilliantly retold and made new," said the judges panel, which also included Raymond Bonner of The New York Times, writer and commentator Mona Eltahawy, Brian Groom of The Financial Times and Christina Lamb of The Sunday Times. "His resourcefulness and courage in committing himself to the hands of a coyote [smuggler] were exceptional."
The Schork Awards, administered by the Kurt Schork Memorial Fund and the media-development group IWPR, uniquely honour excellence and bravery in freelance reporting from areas of crisis and transition. Established in 2001, they celebrate the life and work of Kurt Schork, the former freelance reporter who was killed six years ago in Sierra Leone on assignment for Reuters.
The awards, and a prize of $5,000 each, will be presented to Kaiser and al-Haideri's husband on November 14, at a ceremony at the Frontline Club in London hosted by CNN chief international correspondent and Schork Fund advisory board member Christiane Amanpour. The evening will include a debate on the challenges of reporting from the world's most politically problematic and isolated countries – including Burma, North Korea, China and Iran.

About the Winners
Sahar al-Haideri - 2007 Winner, Local journalist category
---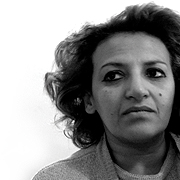 Sahar al-Haideri, 1962-2007
Biography
Sahar al-Haideri died because she was an Iraqi journalist who dared to ask questions, and who gave a voice to Iraqis who do not want their country to be torn apart by sectarian violence or terrorised by al-Qaeda's local franchise organisations.
Haideri, who was 45 and the mother of four daughters, reported from her home city of Mosul, considered Iraq's second most dangerous location for journalists, after Baghdad. She was gunned down near her house in Mosul on June 7, after receiving 15 death threats because of a series of campaigning stories she wrote highlighting the influence of religious extremists, especially in curbing the rights of women. Ansar al-Islam claimed responsibility for the attack.
Al-Haideri had been reporting for IWPR since 2005. The first story she pitched to IWPR was about how insurgents were trying to impose Taleban-style restrictions on women in Mosul. In the 17 reports and eight radio features that Sahar contributed to IWPR, one common theme stood out – the struggle for control over Mosul and how this affected its people, its women most of all.
"She sacrificed herself for her job," says her husband Haitham Mustafa.
Sahar was highly conflicted about her position. While raising concerns about her security and seeking to leave, she continued to report and write more than ever.
"Our psychological state is unbalanced because we live and think in fear and worry, and always think about our destiny and that of our family," she wrote in March 2007 in a piece for the UK Press Gazette. "But I never thought about quitting, as journalism is my life and I really love it."
It seems her enemies knew that the only way to make her quit was to kill her.
Winning Story
Story Background and Context
"Honour Killing" Sparks Fears of New Iraqi Conflict
In May 2007, I received a manuscript from Sahar al-Haideri about the brutal murder of a young Yezidi woman in the town of Bashika. Less than a month later, Sahar herself died at the hand of ruthless gunmen.
Sahar was murdered because of her work, because of the kind of stories she covered. Her investigative report into the "honour killing" of the Yezidi girl is a prime example of this.
Sahar refused to look the other way. In a war-torn country where violence has become the rule rather than the exception, she kept vigilant watch on the everyday tragedies that surrounded her.
On April 7, a mob stoned a 17-year-old girl to death while bystanders applauded and filmed the killing with their cellphones. Duaa Khalil Aswad, a Yezidi from Bashika, 25 kilometres east of Sahar's home town Mosul, died because she had fallen in love with a Muslim boy. It was not the first love story of its kind, nor was it the first "honour killing" in a region where women are subject to many restrictions. But it was the first time the crime had actually been documented.
Video footage of the murder soon circulated in Mosul, and a copy was sent to Sahar, too. She forwarded it to me in an email she headlined "Panic, Horrors, Terror". In a two-line message, she summarised how shocked she was at the gruesome pictures – even though she had witnessed so many horrible scenes in the past three years. She wrote, "Because she turned to Islam and abandoned Yezidi. This is freedom of religion."
In her next email, she said she was going to Bashika the following day, and asked whether I had really watched the video. I could tell the scenes of the helpless girl in her red skirt, trying to protect herself from the rocks and the kicks, were haunting Sahar. She was astonished when the police chief in Mosul told her the killers would probably never be prosecuted.
In order to find out what had really happened, Sahar travelled twice to Bashika and talked to eyewitnesses and neighbours.
As she was investigating the murder, violent clashes between Muslims and Yezidis started to erupt in the region. Dozens of Yezidis were killed in apparent revenge attacks. What had started out as the story of an individual tragedy rapidly escalated into a political and sectarian drama that threatened to open up yet another front in the Iraqi civil war. In August, when suicide bombers drove trucks into several Yezidi villages in the Sinjar area, killing more than 400 people, there were many who attributed the attacks to the conflict created by Duaa's murder.
Sahar's report was picked up by many Kurdish newspapers and websites and sparked a debate about honour killings and whether the perpertrators should be prosecuted like any other murderer.
Her story differed substantially from other reports done in the region because unlike many local journalists, she did not write from an ethnic or nationalist point of view – Arab, Yezidi or Kurdish – but simply set out the facts and the different sides of the story in a professional manner.
On the morning of June 7, exactly two months after Duaa died in Bashika, Sahar al-Haideri left her house in Mosul to run some errands. She did not get very far - a group of armed men was waiting for her and gunned her down. A courageous voice was silenced by force.
Sahar's legacy is the body of work she leaves behind.
Susanne Fischer is IWPR's Middle East Programme Manager.
Also see: Iraqi Reporter Latest Victim of Violence Against Women Journalists and other stories by Sahar al-Haideri.

Mario Kaiser - 2007 Winner, Freelance journalist category
---
Mario Kaiser
Biography
Mario Kaiser is a contributing writer for the German newsmagazine Der Spiegel. He studied American Literature, Political Science, and Economics at the University of Bonn, Germany, and received a master's degree in journalism from New York University. After living in New York for seven years as a contributing writer for the German weekly Die Zeit, and Geo magazine, he moved to Berlin in 2004 and to write for Der Spiegel.
Migration has been a focus of his reporting for years. He has written about people smugglers in Albania, life and death in the Mexican border town of Ciudad Juárez, a Turkish prostitute in Germany struggling with her faith and her family, and young Russian immigrants of German descent feeling lost in their forefathers' country. For "The Devil's Path," he joined a young Mexican woman on her illegal journey to the United States.
Mario Kaiser is a co-author of the books "The Beslan File" and "Tsunami: Story of a Global Quake" and a recipient of the Henri Nannen Prize, Germany's highest print journalism award, the German Award for Social-Issues Reporting, and the European Commission's Lorenzo Natali Prize, for reporting on human-rights issues.
Winning Story
Story Background and Context
The Devil's Path
This is the story of a young Mexican woman's journey as an illegal immigrant to New York. I followed the woman as she left her village in the south of Mexico, crossed the U.S. border in the Arizona desert and three days later arrived in New York. It is the story of the longest border in the world between a poor and a rich nation, a border that, after the terrorist attacks of September 11, 2001, has been virtually sealed off. Looking beyond the struggle of the journey, the story examines the forces that drive Mexicans to become a link in the migration chain, and the tide of change it has unleashed on both sides of the border.
Migration has been a focus of my reporting for years. I have written about people smugglers in Albania, life and death in the Mexican border town of Ciudad Juárez, and young Russian immigrants of German descent feeling lost in their forefather's country. In "The Devil's Path," I wanted to look at both the forces and the effects of migration. I wanted to take the issue from the abstract to the concrete. I wanted to give it a face.
I split my on-the-ground reporting into two parts, one focusing on the border and the other on the woman's journey to New York. I first went to Arizona and the Mexican state of Sonora to familiarize myself with the part of the border I was most interested in, the Sonora Desert.
The desert is the most dangerous area for crossing the border; more migrants die there than in any other sector. Yet since September 11, 2001, it is one of the few parts of the border that have not been sealed off, and the smugglers have turned it into their busiest corridor.
I started on the U.S. side of the border and spent two weeks following a border patrol agent of Mexican descent in Douglas, Arizona, and a team of agents in Tucson who try to rescue migrants abandoned by smugglers in the desert. The agent in Douglas became an important character in my story, as he embodies one of the ironies of this border. Many of the agents who try to keep the migrants from entering the United States are of Mexican descent.
On the Mexican side of the border, in Agua Prieta, I stayed at some of the guesthouses where the smugglers gather the migrants before crossing. Pretending to be a prospective customer, I spoke to smugglers in order to learn more about who they are, the way they work and how they treat migrants. I also spent some time with a priest who established a shelter for migrants next to his church. What emerged was the picture of a border town that is both a starting point and a dead end, an unsafe haven for stranded migrants that ran out of money and are too ashamed to go back to their villages.
One of the challenges of reporting this story as a freelance writer was to get an assignment. The reason was that I wanted to accompany a migrant from the beginning to the end of the journey. That required putting myself in the hands of a smuggler, and while many magazines were interested in the story, none was willing to take responsibility for this kind of reporting. So I set out without an assignment.
My search for a protagonist began in Tulcingo del Valle, a small town in the state of Puebla that had turned into a satellite of New York. Everybody who migrated from Tulcingo to the United States went to New York. And every migrant who came home to visit brought back a piece of New York. The language. The money. The fashion. The dreams. People started calling their town Manhattan Chiquito.
I walked around Tulcingo for almost three weeks trying to find a coyote, a smuggler who would take me to the other side, to Nueva York. It wasn't hard to find the coyotes in Tulcingo. Everybody in town knows who they are and where they live. The problem was always the same: either I didn't trust the coyote or the coyote didn't trust me. Some of them suspected that I was an undercover border patrol agent, others wondered if I was a terrorist. None of them believed that I was a journalist. One smuggler finally agreed to take me and then, as we were about to depart, doubled the price. The journey ended before it began.
I left Tulcingo frustrated and went back to Agua Prieta hoping to find a coyote who was willing to take me. Again, the coyotes either didn't trust me or doubled the price. I put on the baseball cap and the small knapsack I was carrying to blend in with the migrants and walked to the border station to enter the U.S. That is when I got caught in the system.
The immigration officer thought it suspicious that I had been in Mexico for three weeks and was carrying only a small knapsack. He asked me to follow him to a room that was empty except for a table and two chairs. Over the next hour and a half, several officers, the next always higher-ranking than the previous, entered the room and questioned me. They looked at the visas in my passport, especially the ones for Albania, Cuba, China and Egypt.
They wanted to know everything I had done in Mexico. And then they got to the heart of the matter. Did I have any Arab friends in the U.S.? Had I met any Arabs in Mexico? Had I ever flown on Pakistan International Airways? I asked why they were questioning me for so long. They said it took time to run my information through the F.B.I. and C.I.A. databases. I had nothing to hide, nothing to be afraid of, and I got nervous.
A few weeks later I went back to Tulcingo. The mayor was out of town, so I sat down with the police chief. I told him about my failed attempts to find a coyote who would take me. The police chief looked at me and said, "Let me talk to Don Angel." He knew Don Angel well; he was the coyote who had smuggled the police chief's son to New York.
The police chief set up a meeting with Don Angel and instructed me what to say. I speak Spanish well and have dark eyes and dark hair, but still, it was easy to tell that I wasn't Mexican. The police chief decided to present me to Don Angel as the son of a Mexican father from Guadalajara, where people are fair-skinned, and a German mother. Don Angel nodded and said, "I'll take you."
The fact that the police chief had brought us together assured both the coyote and me. Don Angel trusted that the police chief wouldn't bring him an undercover agent, and I trusted that Don Angel would treat me in a way that wouldn't get him in trouble with the police chief.
Don Angel had a small group scheduled to leave for New York in a few days, and the police chief knew one of the migrants. That is how I found Cándida Merino, the face of my story. I was introduced to Cándida and her parents, and they allowed me to spend some time with them. It helped me understand Cándida's life in Mexico, and it helped her understand what I was doing. She was the only one in the group who knew that I was a journalist.
A few days later our journey began. It lasted three days and three nights. We took cars and airplanes. We crawled and ran. I had my German passport and a cell phone taped to my stomach, determined to use either one only in an emergency. I was able to take notes, claiming to write a diary. Cándida felt comfortable having a man by her side. She knew that many women have been raped near the border. And I was glad to have Cándida by my side, since it gave me a certain legitimacy as a stranger in the group.
The irony is that I was more afraid of getting caught at the border than Cándida. Mexicans caught by the U.S. border patrol are simply dropped off on the other side of the fence. But a German who could enter the country legally would have seemed very suspicious to the border patrol, and I was certain I would be barred from entering the United States for a long time. I wanted to get to the other side almost as much as Cándida.
---
IWPR is honoured to administer the Kurt Schork Awards.